Letters from Lodi
An insightful and objective look at viticulture and winemaking from the Lodi
Appellation and the growers and vintners behind these crafts. Told from the
perspective of multi-award winning wine journalist, Randy Caparoso.

March 23, 2020 | Randy Caparoso
Final farewell to Lodi's mysterious, mythical, red haired ZinFest muse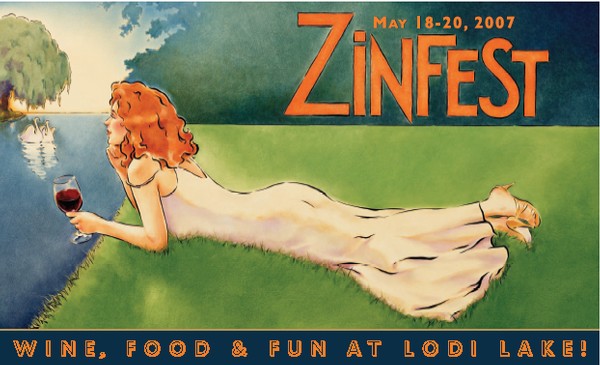 In 2020 Lodi's biggest annual wine festival, formerly known as ZinFest, was to take place on May 15-16, rechristened as Lodi Row x Row Festival. Alas, because of our global battle to flatten the curve of COVID-19, the festival has been cancelled. All previously paid purchases are being refunded.
Rest-assured, though, a 2021 Lodi Row x Row Festival is most definitely on our calendar for May 14-15 of next year, and will offer the same (probably more!) extravagance of over 200 Lodi grown wines to taste, cooking and wine education "schools," and live music on the lush, green, wooded peninsula between Lodi Lake and the rolling Mokelumne River. To paraphrase our former governator, "We'll be back."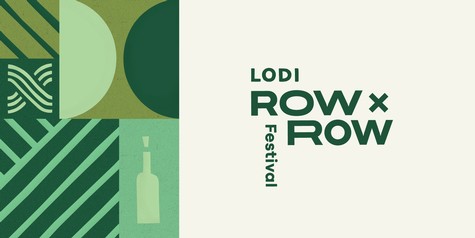 There is, however, another "alas" that ZinFest attendees of our previous 13 festivals might have already noticed, which is that we have also said goodbye to the beautiful, mysterious "red headed lady" depicted each year on our Lodi ZinFest poster. While we have moved on to our Row x Row theme, we will all miss her — at least in our dreams, or conceptions, of the good life and sumptuously friendly wines of Lodi wine country.
So as one final farewell to this now-classic image, we are sharing one final look at the lady's guises over the last 13 (of 15 total) vintages of Lodi ZinFest.
First, to give credit where credit is most definitely due, all the ZinFest posters were the work of artist Vince McIndoe whose depictions of the red headed ZinFest beauty was inspired by the Belle Époque — an approximately 40-period in French and Belgian history just before World War I, known as the "Beautiful Age," marked by a burst of artistic creativity and optimism pervasive in culture, fashion and the arts.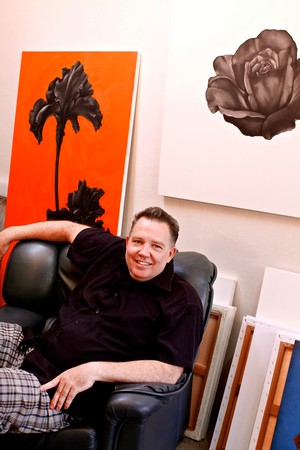 In a note sent by the artist (living in Korea at the time) sent five years ago, Mr. McIndoe told us, "When designing my posters, I was always inspired as much by the Belle Époque as Lodi Lake Park, the beautiful backdrop for all the ZinFests. You could not design a better setting, and my red haired muse fits right in there."
Says Stuart Spencer, Lodi Winegrape Commission's Executive Director, "Typically, during our planning, we never over-managed the process, but rather relied on Vince's artistic talent to create a poster that captures the spirit of the event. We always looked for the red-haired lady to be the iconic element connecting with people on an emotional level. And year after year, Vince delivered the right image!"
Adds Mr. McIndoe, "My red haired lady was a bit of a gamble at first, but she has become well loved by everyone who has seen our designs. Having attended Zinfest, I have a connection to the people and the splendid beauty of the lake area. I am inspired by the Lodi winemakers' wines, and their pride in making it.
"In my posters I have always tried to capture the spirit and serenity of the area and people — the subtle but everlasting beauty of Lodi rather than glamour. What Lodi has to offer is a lot more than I can express on the canvas."
Twelve more years of the iconic ZinFest lady in all her red haired beauty and mythical element, the bucolic Lodi Lake Park...
In 2008, the sensuousness of Lodi grown wine and the striking beauty of our iconic red haired lady came into harmonious fruition: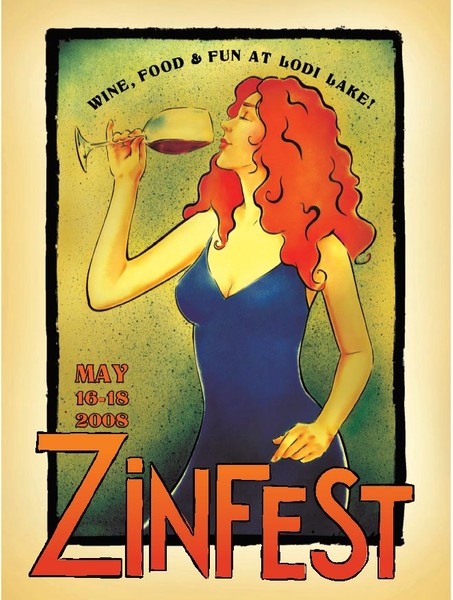 In 2009 — a spontaneous burst of passion, gaiety and glory: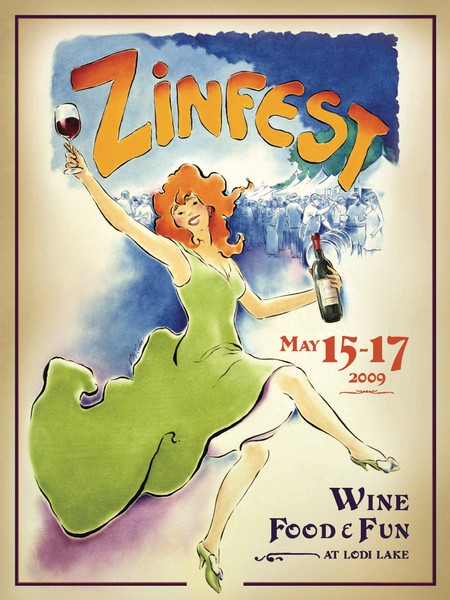 In 2010, our mythical ZinFest lady cut loose in the spring of one of Lodi's most memorable vintages: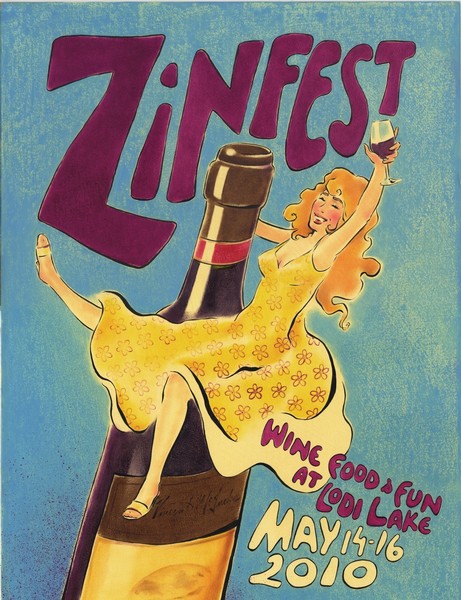 In 2011, there were hearts on red, red fire in Lodi Lake Park: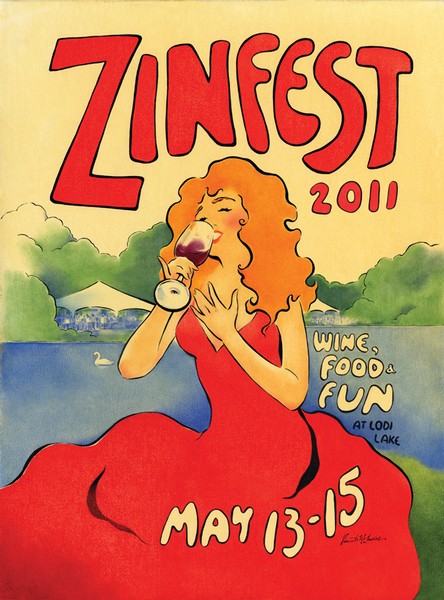 In 2012, it was all about de-wine, de-wine, de-wine:
In 2013, our mythical lady made a return as the Belle Époque of the ball: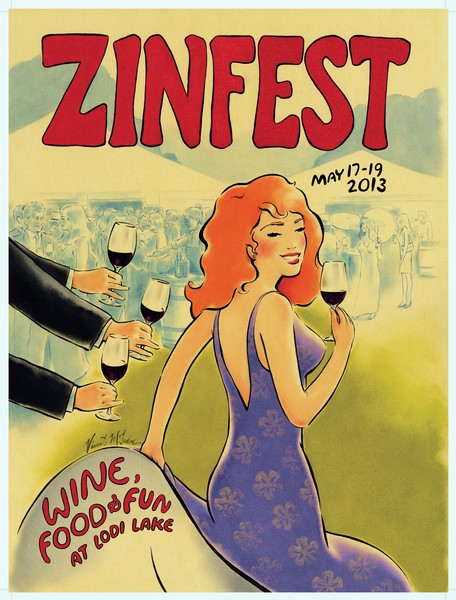 In 2014, she was our maiden-in-the-shade: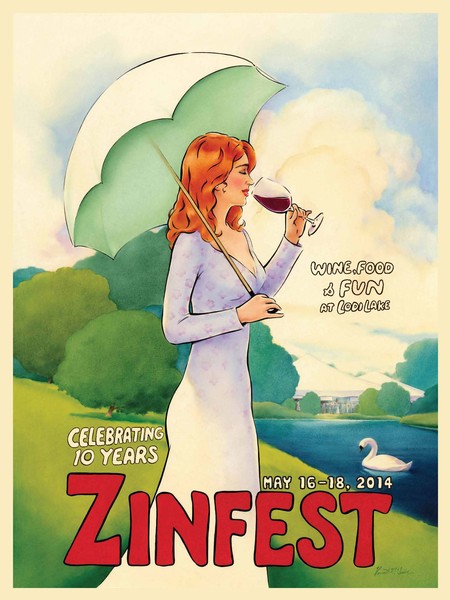 In 2015 — a theme of rustic wine country life and romance: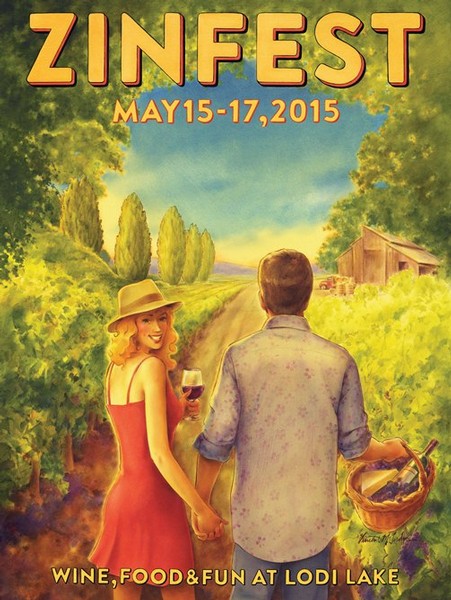 2016 found our red haired lady honing her Lodi wine tasting skills directly from the barrels: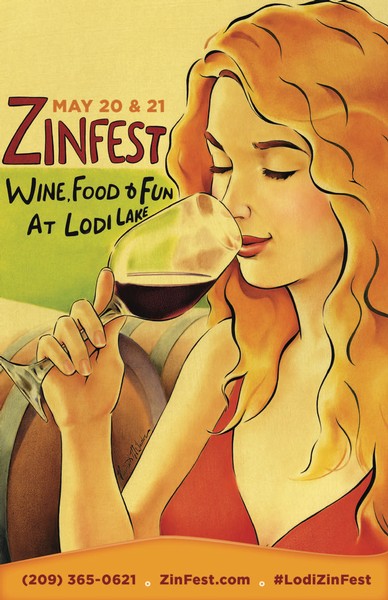 In 2017, a stunning close-up of our mysterious red haired muse: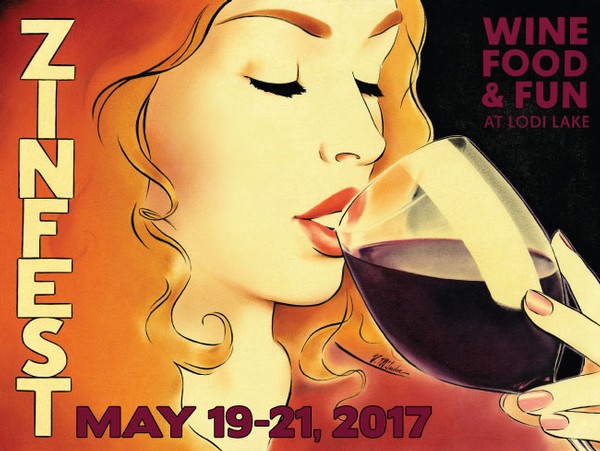 In 2018, a show of leg, a leafy pillow, and a purple haze of grapes in the sky: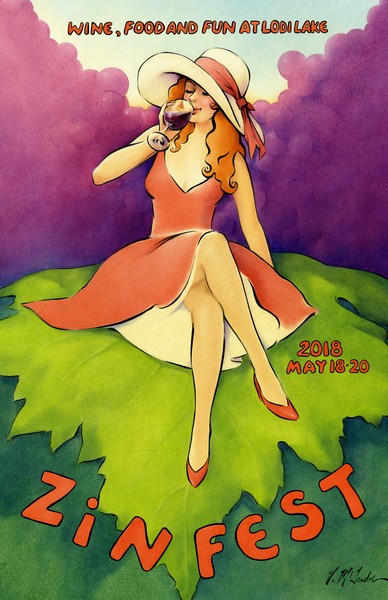 Comments
Commenting has been turned off.