Letters from Lodi
An insightful and objective look at viticulture and winemaking from the Lodi
Appellation and the growers and vintners behind these crafts. Told from the
perspective of multi-award winning wine journalist, Randy Caparoso.

June 15, 2020 | Randy Caparoso
Exotic plan for early summer fêting — Mettler Family's Muscat Canelli and steamed whole fish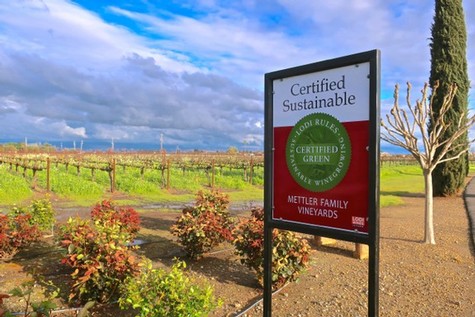 Summer starts this Saturday, so let's talk about white wines!
It is a mistake, to begin with, to dismiss slightly sweet or medium sweet white wines out of hand. When well balanced with lots of palate freshening acidity you hardly noticed the sweetness, and that's when they become more of a connoisseur's wine: like the 2019 Mettler Family Vineyards Salice Bianco Lodi Muscat Canelli ($19), which is a stunningly exotic marvel — light as air, delicate as a flower petal (weighing in at only 10% alcohol), and redolent with fragrances and fruit qualities suggesting honeysuckle, frangipani (what they call plumeria in Hawaii), drippy white peach and mandarin orange blossoms, finishing with an unerringly balanced, lip-smacking freshness despite nearly 4% residual sugar.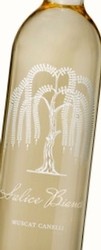 No, the Salice Bianco (named after the willow trees on the Mettler family's property along Harney Ln.) is pretty serious stuff. You can enjoy it by itself, especially on a warm breezy Delta day, or with a whole range of foods — such as shellfish or white fish spiced with ginger or a little bit of red chile pepper (see our recipe for Chinese style steamed whole fish at the end of this post). Or if you prefer to top off a summer meal with it, we'd recommend any number of recipes for mixed fresh fruit in a ginger lime nectar. Gastronomic heaven.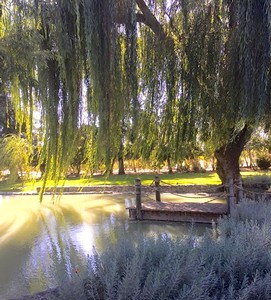 Mettler Family Vineyards, after all, takes their Muscat Canelli (a.k.a. Muscat blanc à Petits Grains) as seriously as their Cabernet Sauvignon — since the 1980s the Mettlers have been Lodi's exponent of multiple clones of this grape, which became the family specialty when they began producing their own wines in 1998 — as well as their other estate grown varietals such as Albariño and Chardonnay (among the best in the region) and their cutting-edge bottlings of Aglianico and Pinotage, on top of the "traditional" (for Lodi) grapes like Zinfandel and Petite Sirah.
The Mettlers are good at what they do because they've been doing it for a while. Co-owner Larry Mettler first took over the family grape-growing business in 1970 from his dad Carl. Carl himself was a sixth-generation farmer, and his grandfather George Mettler was one of five brothers who immigrated from the Alsace region of Germany (although Alsace is now part of France) to South Dakota in the mid-1800s, and soon after trickled down to northern San Joaquin Valley just before the turn of the last century — hence, the numerous closely-to-distantly related Mettlers now living on the east side of Lodi wine country.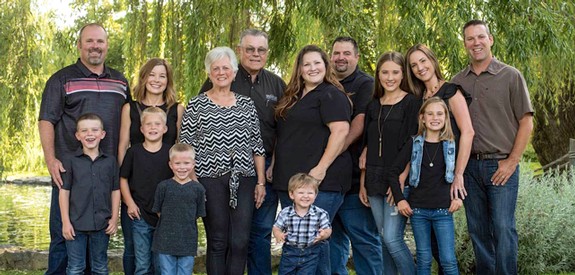 Larry's son Adam Mettler is the family winemaker, and he holds down a "day" job as the Director of Wine Operations for the much larger Michael David Winery. Not to toot his horn, but you may already know that in 2018 Adam was named Wine Enthusiast Magazine's "Winemaker of the Year" (and that's for the entire world).
But according to Adam, it was his mother Charlene Mettler who pushed and prodded the family to come together and "take it to the next level" back in the late nineties, and start turning their grapes into their own wines. Adam's older sister Kim Mettler-Eells is now the winery's General Manager. Younger sister Kelli Mettler Costamagna is the Director of Sales, and Kim's husband Jason Eells serves as Vineyard Manager.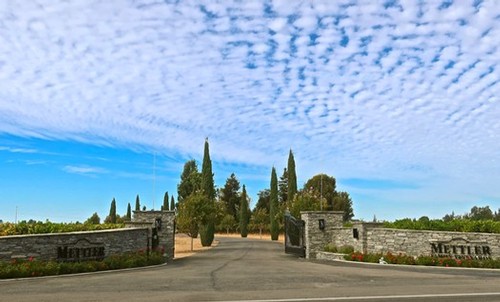 The Mettlers themselves would point to the natural benefits of growing wine grapes in Lodi's warm, steady Mediterranean climate — grapes such as Muscat blanc, Aglianico, and Zinfandel having originated in Europe's Mediterranean regions. Still, leaving nothing to chance, the Mettlers are meticulously conscientious growers (like many of the region's farming families, they still sell most of what they grow to other wineries), fully embracing the lofty standards required for LODI RULES for Sustainable Winegrowing certification. Going even further, a good chunk of their properties (over 800 acres) is also certified organic by CCOF (California Certified Organic Farmers).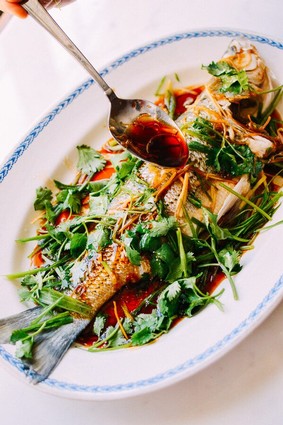 Asian Style Steamed Whole Fish
Muscat Canelli has an easy affinity with Asian-style dishes because the common usage of chile peppers, peppercorns, and ginger brings out the unique spice or faintly peppery qualities of the grape, while the typical sweetness of the wine balances spicy hot sensations and soothes the palate.
The following recipe for Dong festive steamed whole fish is culled from Jeffrey Alford and Naomi Duguid's fascinating, James Beard Award-winning cookbook/travelogue called Beyond the Great Wall, which covers the culinary regions of the "Other China" (particularly Tibet, Xinjiang, Inner Mongolia, Yunnan, and Guizhou).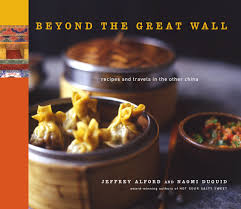 Our input: You needn't be slavish to this recipe, which is just one of many versions of Asian-style steamed fish, often done with red snapper, sea bass, or flounder (for good, doable variations, see The Woks of Life's Chinese Style Steamed Whole Fish or Hawaiian Electric's Steamed Fish).
For instance, in Hawaii (where mullet, kumu, moi, or baby-sized opakapaka are often steamed whole) we typically add crushed garlic and rough-cut sprigs of cilantro to our steamed fish, and peanut or salad oil is usually sizzled with a dose of soy sauce. Either way, a Muscat's peppery spiced, flower, and citrus-laced fruitiness makes an ideal match for the chile spices, the usage of hot oils as well as the high umami/savory taste of soy and scallions. Absolute proof that the best wine matches are not always bone dry!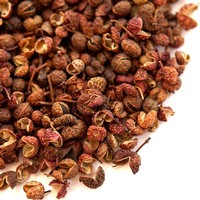 The Daguids' rendering:
One 1½ lb. red snapper cleaned and scaled
¾ tsp. salt
1 tbsp. minced ginger
2 scallions, cut lengthwise into ribbons and then into 2-inch lengths
1 red cayenne chile, seed and cut into thin strips
Generous 1 tsp. peanut oil (or vegetable oil)
5 or 6 Sichuan peppercorns, lightly crushed
To steam fish, you will need a 12 to 14-inch wide bamboo steamer and a wok with a wide pot with a bamboo or metal steamer insert. You will also need a deep heatproof plate (there will be some pan juices) that fits into the steamer and is wide enough to hold the fish (curve fish or trim off the end of the tail if necessary).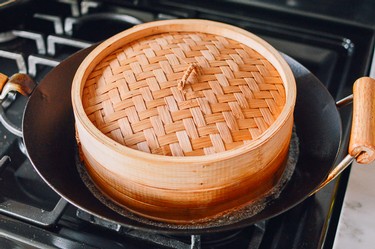 Wash fish well and dry. Place fish on the cutting board and cut 2 or 3 parallel diagonal slashes on each side, cutting down to the bone. Rub all over lightly with salt. Rub minced ginger into the slashes and into the fish cavity. Place fish on a plate, and sprinkle scallion ribbons into the cavity and over the fish. Sprinkle any remaining ginger over the top of the fish, and then sprinkle on the red chile strips. Place the plate with the fish in the steamer basket or insert.
Place the wok or pot on the stove and add about 2 inches of water. Place the steamer basket in the wok or pot (make sure the water level is below the steamer), and bring the water to a boil over high heat. Cover the steamer tightly and cook for 10-11 minutes, until the fish is firm and the flesh in the slashes is opaque and flakes when pulled with a fork.
Meanwhile, just before the fish is done (at about the 9-minute mark), heat the oil in a small wok or skillet. When it is very hot, toss in the Sichuan pepper, lower the heat to medium, and cook for 30 seconds. Remove from heat.
Uncover the cooked fish and pour the hot oil over it. Lift the steamer out and onto a work surface, then remove the plate from the steamer. Serve the fish on the plate, with its pan juices, hot or at room temperature. Serve with steamed white rice.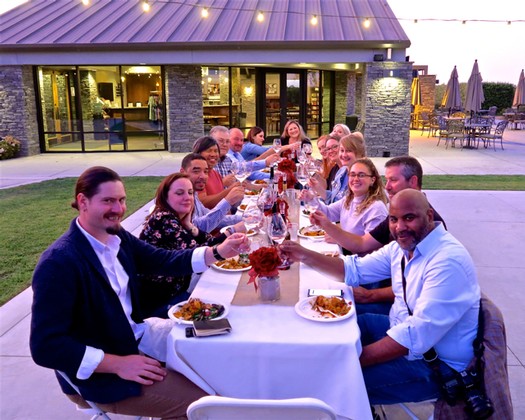 Comments