Letters from Lodi
An insightful and objective look at viticulture and winemaking from the Lodi
Appellation and the growers and vintners behind these crafts. Told from the
perspective of multi-award winning wine journalist, Randy Caparoso.

May 23, 2018 | Randy Caparoso
16-wine blind tasting: Exactly how do Lodi grown wines compare to the rest of the world's?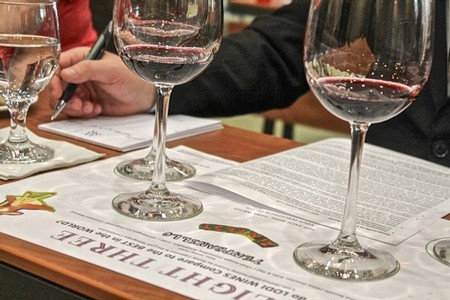 Exactly how do Lodi wines compare to not only those of the rest of California, but also to counterparts in France, Spain, New Zealand, or other wine regions of the world?
This was the question addressed at our 16-wine blind tasting held last week Friday (May 18, 2018), as a ZinFest pre-event. The goal was not to find who makes the "best" wines. As the classic British wine writer André Simon once put it: We can all have good taste, but not the same taste. Our purpose, rather, was to "discover" sensory distinctions. What makes Lodi different – and in that sense, what makes Lodi wines worthwhile?
Putting it another way: How can, say, a California Sauvignon blanc begin to compare to a Sauvignon blanc based white from France's Sancerre or New Zealand's Marlborough regions, when a Sauvignon blanc grown in Napa Valley barely resembles one grown a few miles away in Lake County, or Lodi? Differences in both terroir – the catch-all term for climatic and topographic conditions adding up to "sense of place" – as well as style and purposes can be so divergent that wines often end up with more dissimilarities than similarities in terms of both aromas and palate sensations, even when made from the same grape varieties. As well they should.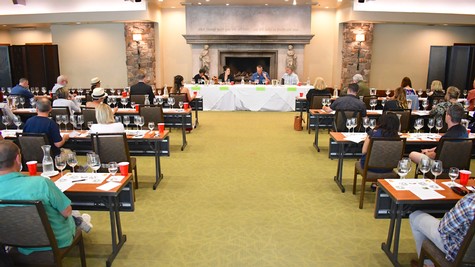 Which was exactly what the 60 or so wine lovers experienced in one of the four rounds of wines – comparing bottlings made from Grenache blanc (a.k.a. Garnacha blanca), Sauvignon blanc (a.k.a. Fumé blanc), Tempranillo and Mourvèdre (a.k.a. Mataró) – in our particular blind tasting. Neither the participants nor our three panelists, lending their verbal skills as professional tasters, were told the exact identities of each wine (only the grape varieties). The panelists:
• Jienna Basaldu - Wine Director of Sacramento's Echo & Rig, and recent winner of the Court of Master Sommeliers André Tchelistcheff scholarship and 2017 San Francisco Luxicon blind tasting competition.
• Chad Joseph – Lodi based consulting winemaker (including the acclaimed Oak Farm Vineyards and Harney Lane Winery).
• Jeff Morgan – Co-Proprietor of Covenant Winery (based in both Berkeley and Israel) as well as author of a dozen wine and culinary books, former West Coast Editor of Wine Spectator, and founding instructor at Rudd Center for Professional Wine Studies (Culinary Institute of America Napa Valley).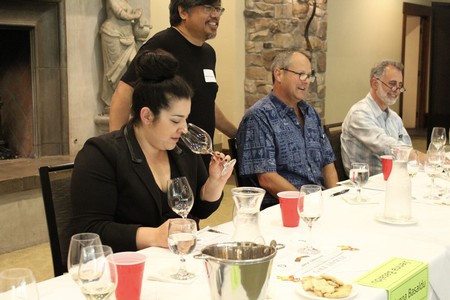 For this report, we also need to thank two people for lending their photographic images of the event:
• Suzanne Ledbetter – Lodi based wine and culinary journalist also known as The Fine Foodie Philanthropist, as well as member of the Ledbetter farming family who own Vino Farms.
• Frances Siria – Digital Marketing Specialist who helps businesses in the Lodi area (including Wine & Roses Hotel & Spa, where our blind tasting took place) grow their online reach and exposure through her social media and photography skills.
The wines, along with impressions shared by the panelists as well as a few of the participants: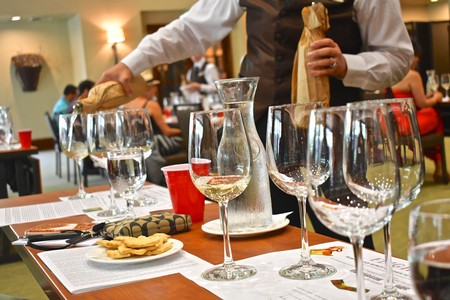 First round of Grenache blanc being poured (Suzanne Ledbetter)
Round 1 - Grenache Blanc & Grenache Blanc Blends
• 2016 Espelt, Garnacha Blanca (Emporda, Spain)
• 2016 Fields Family, Lodi Grenache Blanc (Alta Mesa AVA)
• 2017 Acquiesce, Lodi Belle Blanc (Grenache Blanc/Roussanne/Viognier; Mokelumne River AVA)
• 2016 Domaine La Roquète, Châteauneuf-du-Pape Blanc (Grenache Blanc/Clairette Blanche/Roussanne; Southern Rhône Valley, France)
Chad Joseph: All these wines showed well, and the ones from Lodi wines were especially clean and true to varietal. Fields Family was especially interesting: Because of the mineral aspect and the pretty perfume fruit, I thought it was from Spain, for sure.
Jeff Morgan: The first three wines (Espelt, Fields Family and Acquiesce) were bright, light and quite refreshing. I liked the two Lodi wines the best, although the Spanish wine was also quite nice. It was the French wine that ended up coming across as a bit on the heavy-handed side.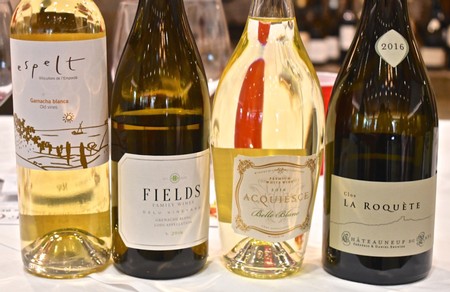 Mark Chandler (Lodi City Councilman and former Executive Director of Lodi Winegrape Commission): Jeff Morgan's comment on how hard it is to distinguish Old vs. New World wines was apt here. I thought the Fields Family had to be from the Old World – where else can get that kind of acidity? The Acquiesce, by comparison, had the pleasingly soft acidity and ripeness of warm climate grapes you would expect out of Lodi. Both were stylistically different, both quite lovely – and both from Lodi.
Susan Manfull (author of Provence WineZine): I was bowled over by the first flight. Coming of age in nearby Fresno, I would never have dreamed that Lodi winemakers could ever produce either of the two well-structured Grenache blanc based wines we tasted – lovely crisp acidity, pleasant minerality, and layers of flavor reminiscent of green apples and grass. Especially the Acquiesce Belle Blanc; a wine with a quiet confidence giving the La Roquète a run for its money – at half the price.
Susana Rodriquez Vasquez (winemaker, Peltier Winery): I really liked the aromatic Asian pear notes and rounded mouth-feel of the Spanish Garnacha blanca. I also appreciated the higher acidity and aromatic stone fruit quality of the Fields Family. Of the two Grenache blanc blends, the soapy-floral notes of Viognier stood out a little for me in the Acquiesce. I found the Châteauneuf-du-Pape Blanc's smooth balance of oak and stone fruit/pear/green apple to be a little more appealing.
Ryan Sherman (co-owner/winemaker, Fields Family Wines): The highlight of this flight for me was that Jienna Basaldu – a Court of Master Sommeliers-tested sommelier and winner of a prestigious blind tasting competition – could not pick out our Grenache blanc as being from Lodi. Blind tasting is tough; but talking to her afterwards, I learned she was truly surprised by the wine, and that it was the only wine out of 16 that she couldn't nail.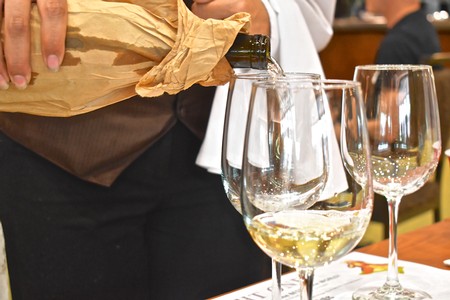 Dan Panella (owner/winemaker, Lodi's Oak Farm Vineyards): I thought these wines revealed the full spectrum of what the grape can do. The Espelt from Spain had an almost cinnamoned apple pie aroma; which I wasn't expecting, and didn't find in the other three wines. The Fields Family was brightest in terms of acidity, and the Acquiesce had a fuller, more weighted mouth-feel – probably the influence of other varieties in the blend, (particularly Viognier). By way of contrast, the Châteauneuf-du-Pape saw noticeable some oak aging (the Acquiesce sees zero oak), which was in no way offensive; in fact, very pleasant.
Sue Tipton (owner/grower/winemaker of Acquiesce Winery): I really liked all the wines in this line-up. Even though there was variation in the wines, it was so much fun not to be able to distinguish where in the world these unusual wines came from!
Suzanne Ledbetter: The Acquiesce was my personal favorite; not just because I am familiar with (owner) Susan's wines, but also because they have a certain finesse. The Châteauneuf-du-Pape Blanc was by far the most intense in color and flavor, with a very appealing silkiness. Overall, I think Lodi Grenache blancs are good if not extraordinary expressions of the grape on the market.
Scott Reesman (sommelier, Wine & Roses Hotel's Towne House Restaurant): I was happy that I was able, for the most part, to identify the classic wines in each flight. But in this round, it was a challenge to rule out the Fields Family Grenache Blanc, which had "Old World" qualities. This was what made this entire blind tasting exercise so compelling.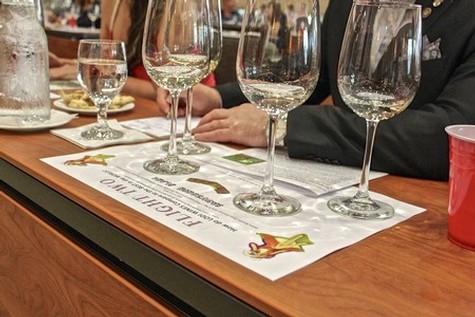 Round 2 – Sauvignon Blanc
• 2016 Domaine Hippolyte Reverdy, Sancerre (Loire River, France)
• 2017 Dog Point Vineyard, Marlborough Sauvignon Blanc (New Zealand)
• 2017 Peltier Winery, Lodi Sauvignon Blanc (Cosumnes River AVA)
• 2014 Robert Mondavi Winery, Oakville (To Kalon Vineyard, Napa Valley) Fumé Blanc (21% Sémillon)
Chad Joseph: All the wines in this round were true to their regions. For instance, there was no mistaking the "green" New Zealand style of the Dog Point, which was a little over-the-top for me. The Peltier stood out among all four wines because of its restrained grassiness, its light and elegant mouth-feel, crisp acidity, and pleasingly balanced tropical fruit notes.
Jienna Basaldu: I legitimately had a difficult time discerning the Lodi (Peltier) from the Sancerre. There were only slight nuances – the flinty/sea shell/lime qualities in the Sancerre, and the slightly more fruit focused, ruby red grapefruit quality in the Peltier – that finally led me to make the correct call in my identification. The Dog Point's intense pyrazines (i.e. intrinsic compounds suggesting green vegetables, herbs or grass) seemed to be missing the tropical fruit usually found in Sauvignon blancs, which made me think it could have come from Chile. The Mondavi To Kalon stood out from all the rest because it showed more age in its color and roundness; and also because of its rich, polished oak and the textural quality of Sémillon, which you didn't find in the other wines.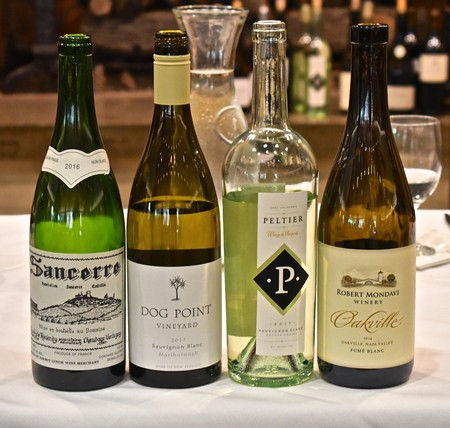 Jeff Morgan: Because the pyrazines in Sauvignon blanc are such a giveaway, this was the only flight in which I actually guessed the correct appellations of three of the four wines. The Sancerre was classic Loire Valley; and the New Zealand searingly bright, and seriously grassy. Peltier's Lodi Sauvignon blanc was the most balanced and seductive, and my favorite of the group; whereas the Mondavi To Kalon – usually a fabulous Bordeaux style Sauvignon blanc from one of Napa's most famous vineyards – came across as a little ponderous.
Susana Rodriguez Vasquez: I found the Sancerre to be very, light and elegant, whereas the Dog Point was very strong in thiols (volatile compounds, often contributing tropical fruit qualities to Sauvignon blancs), with slightly reductive H2S (hydrogen sulfide). I was pleased by my own wine (Peltier), which I recognized; and I found the Mondavi to be very well balanced with oak/sweet aromatics in the nose, with a vanilla/coconut taste.
Mark Chandler: I recognized the Peltier as a Lodi Sauvignon blanc, but (winemaker) Susy's lip smacking acidity and spot-on varietal character bowled me over. The Sancerre was nice, but I thought the New Zealand wine was flawed (as a wine judge, I would have pronounced "no award" for all that veggie character).
Ryan Sherman: I flipped on the Sancerre and the Peltier in my notes; thinking the Sancerre was Californian and the Peltier was French. Both were great. But well done, Peltier!
Suzanne Ledbetter: According to one of the talented panelists, it was difficult to determine which wine was from Sancerre and which was from Lodi. Maybe I'm biased, but this speaks volumes about the quality of Sauvignon blanc now coming out of Lodi. Kudos to Peltier for its wine's crisp acidity, and balanced flavors of grapefruit and apples; although I also really enjoyed the Reverdy Sancerre with its hints of kaffir lime, medium body and crisp acidity.
Sue Tipton: What a difference in each Sauvignon blanc, very distinct! Loved hearing the panel discuss how they can tell whether a wine is from a warm climate or cooler climate; but Peltier's, in the end, was my favorite!
Scott Reesman: I was very impressed by the Peltier from Lodi, despite recognizing the fact that there was a Sancerre in this group (one of my favorites wines on the planet).
Keith Watts (owner/grower of Lodi's Keith Watts Vineyards): This wasn't the first time I've enjoyed the Peltier Sauvignon Blanc. This tasting only confirmed its New Zealand-like characteristics of grass, grapefruit and florals for me.
Dan Panella: There was no mistaking the Reverdy as a Sancerre – it was flinty, a little smoky, and had an Old World earthiness. The pyrazines in the Dog Point was so over-the-top, I found it out of balance. The Peltier, on the other hand, was very well balanced with its floral aroma and subtle grassiness. While well constructed, I mistook the Mondavi Fumé Blanc for a white Bordeaux because of the way the oak seemed to strip away the fruit aromatics and replace it with a bit of vanilla; which is fine, if that's your thing.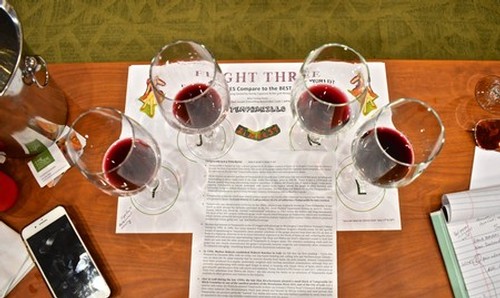 Round 3 – Tempranillo
• 2015 Abacela, Fiesta Umpqua Valley Estate Tempranillo (Southern Oregon)
• 2014 Tinto Pesquera Crianza, Ribera del Duero (Spain)
• 2015 McCay Cellars, Lot 13 Vineyard Lodi Tempranillo (Mokelumne River AVA)
• 2014 Numanthia, Termes (Toro, Spain)
Chad Joseph: Tempranillos force you to think in terms of Old vs. New World. Spanish wines tended to be more gamy in flavor, with more grainy tannins. In this round, I thought the Oregon Tempranillo by Abacela was from Lodi, and that the Lodi Tempranillo was from Oregon. McCay's Lodi Tempranillo showed more restraint, with the lightest texture and most approachable weight – a classic for savory foods.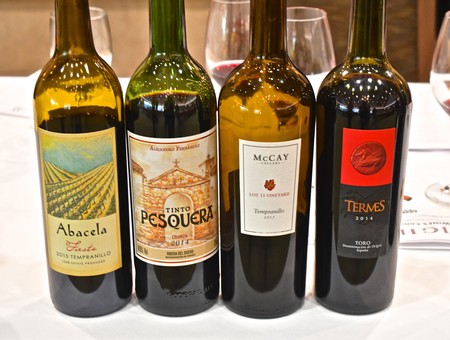 Jeff Morgan: I really enjoyed the Tinto Pesquera, which was elegant and well balanced; showing just the right blend of fruit, spice and subtle oak. I also liked the McCay, which was a little more robust.
Susana Rodriquez Vasquez: Despite some brettanomyces (a yeast contributing earthy or leathery qualities, and considered a flaw in excessive amounts) present in the Pesquera, it had some really nice plum aromas and smoky/fruity mouth-feel.
Keith Watts: The McCay Tempranillo was very well balanced; a long and smooth finish – and, simply, it tasted great!
Sue Tipton: The American wines really showed well against the Spanish, which to me were marred by off notes.
Mark Chandler: In this round, I liked Abacela's bright, forward fruit and bold tannins; but the cranberry/blueberry notes and restrained touch of French oak in the McCay was very seductive.
Suzanne Ledbetter: The Oregon Tempranillo was very "New World" with its ripe, plummy fruit which, ironically, led most folks to think this was the Lodi wine. Of the two Old World wines, Tinto Pesquera was bretty (i.e. the slight "barnyard" of brettanomyces), and the Numanthia had the most weight and tannin. Yet it was the McCay that some people described as "Old World" because of its elegant red fruit, cocoa and pronounced acidity. If anything, this shows that Lodi can strike a balance between New and Old Worlds, like an artist on a tightrope, high above the ground.
Dan Panella: The Abacela was a surprise for me because I didn't realize that Oregon could get fruit this ripe and full bodied, yet so nicely balanced. The Tinto Pesquera was "Old World" all the way, with an interesting earthiness not quite to my taste. I found McCay easier to spot as a Californian because it was more fruit forward, but still very balanced, with good structure.
Ryan Sherman: The Numanthia was my jam, and my other favorite was McCay's Lot 13. Great to see them going head to head!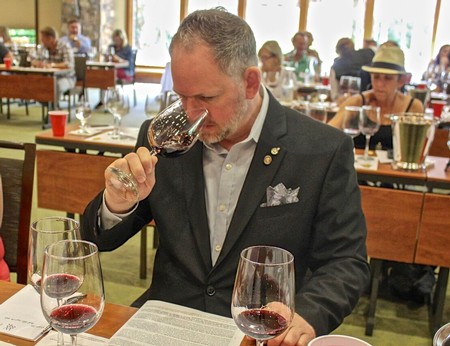 Round 4 – Mourvèdre
• 2014 Skinner Vineyards, El Dorado Estate Mourvèdre
• 2015 Domaine Tempier, Bandol (Provence, France)
• 2016 Bokisch Vineyards, Sloughhouse-Lodi Monastrell (barrel sample)
• 2016 Neyers Vineyards, Evangelho Vineyard Contra Costa County Mourvèdre
Chad Joseph: There was considerable diversity in this line-up, although all the wines had a trace, yet still distinct, notes of gaminess in the fruit, for which Mourvèdre is well known. Still, I was totally shocked and pleased by the Bokisch Monastrell: Of all the wines, showing the most density of color, tannin and fruit – all very well balanced. I did not guess that it was from Lodi – I thought it was Spanish, for sure!
Jeff Morgan: This flight was the biggest surprise for me. The Bokisch barrel sample was really nice, and I preferred it over the Skinner and Neyers. Where I was really off big-time was the Domaine Tempier, which I have visited but still found to be so big, fat, ripe and luscious (I loved it) that I assumed it was from California. I even went so far as to tell the room, "French winemakers can only dream of getting their grapes ripe like this." Nothing like being loud and wrong!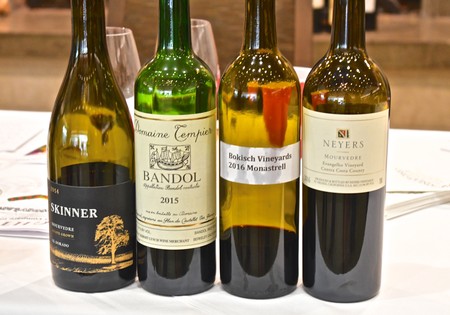 Susan Manfull: All the wines in this flight were exceptional; although differences in style – particularly Old World versus New World – were revealing. The Tempier expressed more personality than the others, with its terroir expression and integrated fruit and tannins, while the other three wines were more fruit forward. The Bokisch was impressive – elegant and earthy with notes of chocolate and tobacco – despite being made from very young vines. Imagine what the vines will produce as they mature!
Keith Watts: The Bokisch was easily my favorite in this group.
Ryan Sherman: This was my favorite flight. Both the Bokisch and Neyers just killed it. Tempier was, well, Tempier, which is always great. But the Bokisch barrel sample was killer. The Neyers, which is in my wheelhouse, fooled several people sitting around me with its more whole-cluster Euro-leanings – super-tasty!
Sue Tipton: Hard to tell these wines apart! All were very well made and great examples of the grape.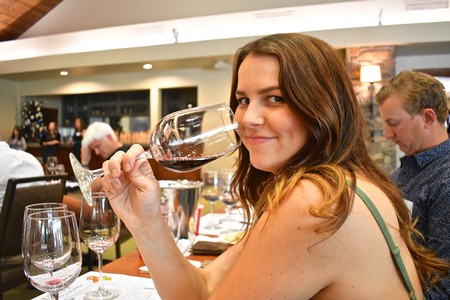 Maddie Shinn (with Aaron Shinn) doing her blind tasting due diligence (Suzanne Ledbetter)
Mark Chandler: The Skinner was stunning – like a lot of Rhône reds coming out of El Dorado these days – and the Bokisch was nice and full-bodied, with a long, yummy fruity finish. There was none of the Bokisch left in my glass to dump out! The Neyers was also very nice; its lean, crisp acidity a testimony to the cooler Contra Costa climate. Although tasty, the Bandol was not quite as compelling for me.
Scott Reesman: Like everyone else, I was very impressed by Bokisch's Monastrell – can't wait to see where this wine goes from here!
Suzanne Ledbetter: The Skinner was impressive with its bright fruit, showy tannins and integrated Old World-ish brett. The Neyers was inky, and also had Old World qualities. The Bandol, with its complexity of ripe fruit, medium to heavy tannins and slight brett was another favorite. But the eye-opener was probably the Bokisch, described as having the best density of all the Mourvèdres.
Dan Panella: The Skinner was a stand-out; with a little bit of raisin-like flavor, but masterfully done. I was less excited about the Bandol – hard to find Mourvèdre qualities through the Old World character. I was not surprised to find, after the wines were unveiled, that the Bokisch was a barrel sample, since it had new barrel aromatics – a toasted graham cracker quality, still not overpowering the grape character. I identified the Neyers as New World since it reminded me of Mourvèdre from another California vineyard; very minimal oak, lower alcohol, very pleasing.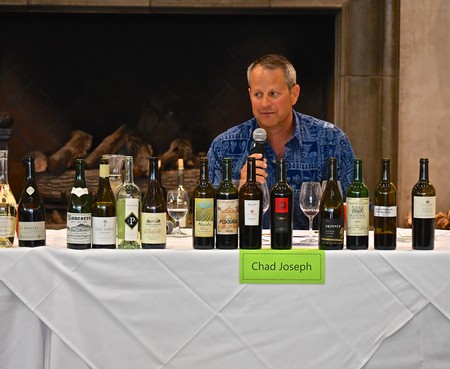 Final Thoughts In Retrospect
Chad Joseph: It is always humbling to taste blind; especially when you are tasting wines from around the globe, not just Lodi. As a winemaker, we tend to get "cellar palates," and the experience of wines from other regions always gives you a broader perspective. That said, I was pleasantly surprised by how well Lodi wines fit in among the wines from elsewhere. I think that there were a few cases in which a few predisposed biases were debunked, and I was enlightened by some newly emerging wine styles. It definitely reinforced why it is so great to be making wine in Lodi!
Jienna Basaldu: I honestly believe Lodi's strength is in its white wines, which I found very pleasantly surprising in this tasting. This is what may raise Lodi's profile on the international stage. I felt that the Grenache blancs and Sauvignon blancs were the show stoppers, and I've really enjoyed the Lodi Albariños and Vermentinos I've had in the past. I also really liked the varieties usually associated with Mediterranean climates – where Mourvèdre and Tempranillo typically thrive. Again, I think this is the route to go for Lodi, as these wines displayed lower alcohol, higher acidity, and considerable secondary complexities I typically do not find in, say, Lodi Zinfandel.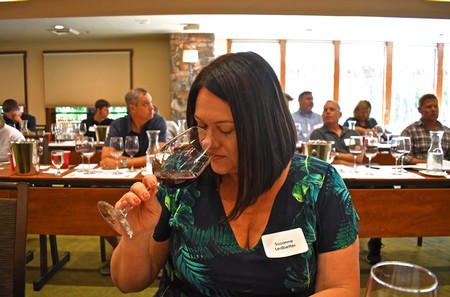 Jeff Morgan: Lodi, despite its relatively long history in U.S. wine, still exhibits the enthusiasm and excitement normally reserved for "emerging" wine regions. This fresh, lively attitude among the vintners, along with the quality of the wines themselves, is very inspiring! Twenty years ago it was probably a lot easier to identify wines by region in a blind tasting. Today – whether because of global warming, "Parkerization" of winemaking, or simply the fact that we winemakers have so many more tools at our disposal – it has become more challenging to say, with great certainty, "this wine is from Lodi," or "this one is from Spain."
Susan Manfull: All four flights should have squelched any lingering doubts that Lodi is not the one-trick pony that most people have long seen it. This blind tasting was what drew me from the East Coast to attend Lodi's ZinFest, and it ended up underscoring the quality of Lodi vineyards, the diversity of the wines produced in this AVA, and the immense talent of the vintners producing these wines.
Tim Carl (Napa Valley Register): The quality and breadth of wines displayed at the blind tasting was both enthralling and eye-opening. To nail both a Sauvignon blanc and a Mourvèdre, both coming from Lodi, against some pretty stiff competition, was both impressive and perplexing. Does this mean Lodi has the ability to grow high quality grapes from nearly any grape? I am intrigued. I certainly came away with a new appreciation for Lodi as a compelling wine region. Given the current interest in wines beyond Cabernet Sauvignon and Chardonnay, it seems that Lodi finds itself in an enviable market position.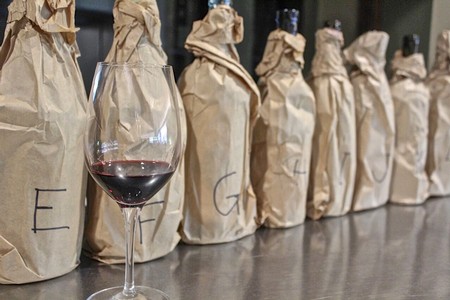 Keith Watts: Having the format be a blind tasting was the perfect way to let Lodi wines be compared without any preconceived opinions. It is obvious from the blind tasting that Lodi can produce wines that compete with the best regions of the world.
Markus Niggli (owner/winemaker, Lod's Markus Wine Co.): Among the whites, I see more of a future in Grenache blanc; and Lodi's Tempranillo and Mourvèdre are showing they can have finesse and class without the expected "powerful" presence. The fuller bodied wines in this tasting were mainly from the Old World countries; whereas Lodi wines seemed to shine with more sense of balance and elegance. The takeaway is that the Lodi wines seemed to stand up against other regions/countries, showing well for a fraction of the price.
Monette Keil (Lodi's d'Art Wines): The blind tasting open my eyes to the fact that our Lodi wines are fruit forward compared those of Europe, which seem to be very organic with hits of soil and asparagus. This experience also taught me to taste with my nose and to see with my eyes – not to judge the wine by the label or region it came from.
Scott Reesman: Speaking from "outside the bubble" – that is, being able to taste Lodi wines outside the wineries, not knowing what they are – in my opinion the Lodi wines not only fared well in this tasting, they stood out. I was very proud when the wines were revealed to find that some of my favorites were, in fact, wines from Lodi.
Aaron Shinn (owner/grower of Lodi's Shinn Farms and manager of Round Valley Ranches): Since education is the foundation of advancement in any industry, for Lodi to continue moving forward we must embrace comparative tastings like these in order to further what we already know: That the wines from the Lodi appellation truly belong in the company of the finest wines in the world!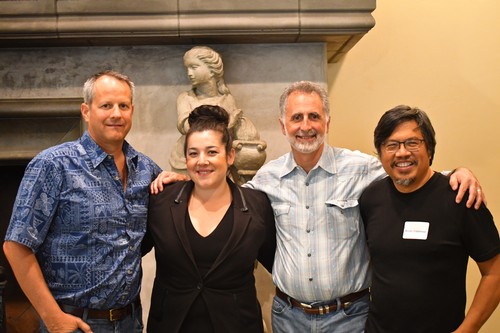 Comments