Letters from Lodi
An insightful and objective look at viticulture and winemaking from the Lodi
Appellation and the growers and vintners behind these crafts. Told from the
perspective of multi-award winning wine journalist, Randy Caparoso.

December 2, 2016 | Randy Caparoso
Rippey Family wines embody everything wonderful and innovative about Lodi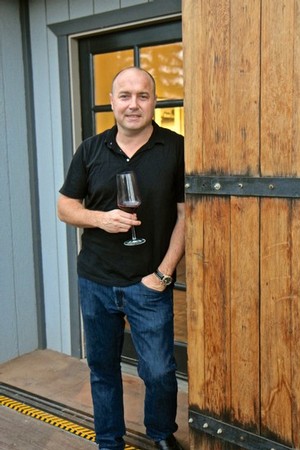 The Rippey Family Signature
Even most true-blue Lodi wine lovers have yet to catch on to Rippey Family Vineyards, who produce and show their wines at the site of Lodi Vintners, north of the City of Lodi (technically in the CDP of Acampo) along the railroad tracks where they are bisected by Woodbridge Rd. This is a historic spot, dating back to 1900. It is here that Urgon Winery was built to serve as Lodi's first growers' cooperative, in response to monopolistic prices set by El Pinal Winery, which dominated the San Joaquin Valley wine industry at the turn of the last century.
"We are a four-generation Napa family," says Tyson Rippey, who manages the wine production facilities at Lodi Vintners, "but we've been here in Lodi for 17 years. Our Lodi winery has been my baby, while my father, brother and wife have been concentrating on managing our Sonoma/Carneros facility (Carneros Vintners, the family's second custom crush facility)."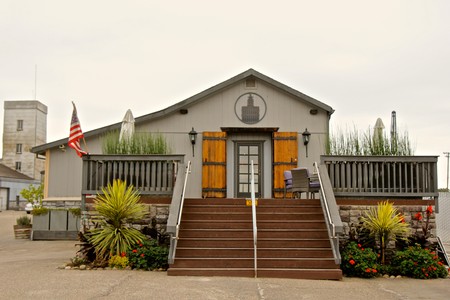 In fact, Lodi Vintners was the Rippey family's first venture into the wine industry. It was Tyson's father Dennis who transitioned the family from construction and land development to wine production; although Tyson and his brother Nathan can recall crushing Petite Sirah grapes in their grandfather's St. Helena garage as kids.
What any visitor would discover at the Lodi Vintners tasting room is that Rippey Family wines happily combine the artisanal, small lot, handcraft quality associated with Napa Valley wines with the incredible value and innovation of more and more Lodi producers.
At the end of this past November we sat down with Mr. Rippey and let him tell his family's story:
"We're about 50/50 Lodi/Napa-Sonoma right now, although recently we have been buying more land and vineyards in Lodi. The fun thing is that we are probably the only family with tasting rooms and vineyards in both areas.
"The fun thing for consumers is that they can walk into our tasting room in Lodi and make a comparison between, say, Zinfandel and Petite Sirah grown in Napa vs. Lodi – makes the wine tasting experience more interesting.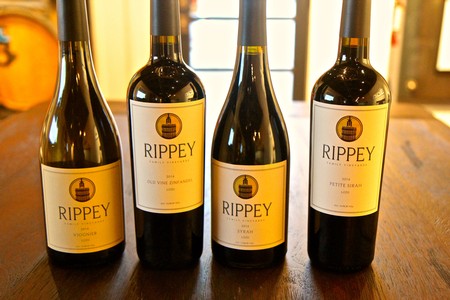 "Ours is more of a 'passion project.' Our main business is still custom crushing for other wineries. But we've always had the desire to produce out own wines under our family name. But when Cycles Gladiator (once Lodi Vintners' major client) was sold in 2013, we were finally prompted to start our own brand.
"All the Rippey Family wines are produced in quantities of 200 cases or less. That's why we don't have huge market visibility right now. You'll find our wines in a couple of retail stores or restaurants, but mostly we're a hand-sell, from right here in our tasting room.
"All of our wines (including Napa Valley grown bottlings) are under $30 – maybe a little too low for what you get. But like I said, we're in it mostly because we enjoy it. We realize most people still haven't heard of Rippey Family wines – most of them were created only within the past year and a half. But as we grow, we'll start to build our identity."
Quick notes on the Rippey family's current slate of Lodi grown wines:
2014 Rippey Family, Lodi Viognier ($15) – Extravagant tropical fruit aroma with lush, peachy tones (absolutely no oak influence); completely dry (no tutti-fruitiness), round yet zesty, fluid, full bodied (14.4% alcohol) feel in the mouth.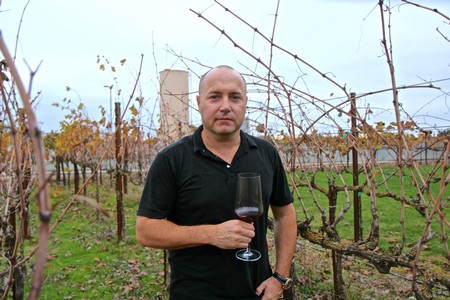 2014 Rippey Family, Lodi Old Vine Zinfandel ($20) – Luscious, picture-perfect "raspberry jam" aroma of the grape, with red cherry tones typical of Lodi grown Zinfandel; on the palate, a plump, round, layered feel to the fruit, with a sheer vanillin oak veneer, tasting smooth as the proverbial baby's bottom.
2014 Rippey Family, Lodi Petite Sirah ($20) – Perhaps because this aggressive varietal – peppery spiced blueberry with sweet toned kitchen herb nuances, wrapped in a big (14.9% alcohol), dense, gripping tannin feel – warrants it, this seems to be the only Rippey Family bottling that comes with a good smack of smoky/toasty oak, which serves to fill out the wine's voluminous feel
2014 Rippey Family, Lodi Syrah ($20) – Fragrant, bright and flowery iteration of the grape (as opposed to the ultra-ripe, raisined fruitiness typical of most domestic Syrahs) with a light, breathy minerality; these floral, earth toned notes couched in rounded, fleshy, yet nimble (opposite of plodding) sensations in the mouth, very much in what seems to be the "Rippey Family" signature.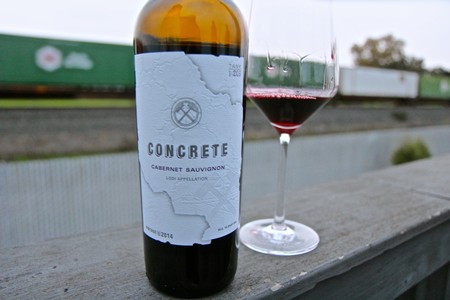 The Groundbreaking Concrete Wine Company
In addition to the family's Lodi Vintners custom-crush business, Tyson Rippey is personally involved in an equal partnership in Concrete Wine Company with Joseph Smith (the winemaker at Lodi's Klinker Brick Winery, also produced at Lodi Vintners) and Barry Gnekow (consulting winemaker for Klinker Brick Winery as well as Michael David Winery and Mettler Family Vineyards; and as former winemaker of J. Lohr Vineyards & Wines, a lot of the brains behind this Central Coast operation's phenomenal success).
Mr. Rippey tells us, "We take great pride in our Concrete Wine Co. project, which has already been named one of the Top 10 Hot Brands by Wine Business Monthly (in 2014). The exciting thing about Concrete is that it gives two veteran winemakers complete freedom to use all the technology and grapes at their disposal to make an ideal Cabernet Sauvignon, and as complete a Zinfandel as you can possibly make."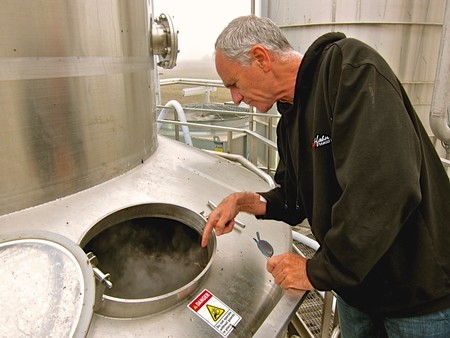 The technology Rippey speaks of is actually threefold; involving usage of
• Throw-back giant sized, square concrete fermentation tanks (as large as 20,000 gallons) originally installed at the old Urgon Winery site during the 1940s; retro-fitted with stainless steel coils for temperature control.
• A super-high-tech machine called Flash Détente, first installed at Lodi Vintners by Gnekow in 2010; which basically involves rapid heating of black skinned grapes (2-5 minutes) to very high temperatures (up to 190° F.) followed by instantaneous cooling in a vacuum chamber, resulting in grape cell walls instantly transformed into steam while color, tannin and flavors from the skin are released into a juice, which can then be transferred immediately into barrels for fermentation and aging.
• More conventional fermentation (by today's standards) of destemmed red wine grapes on the skins; in temperature controlled stainless steel tanks, followed by the usual barrel aging.
The initial product of this blend of three minds and old, conventional and cutting-edge approaches to vinification was a 2012 Concrete Lodi Zinfandel ($20) – an unrepentedly flashy, ultra-saturated style of Zinfandel oozing with maximized "mouth-feel," fulfilling the three architects' goal of achieving a self-described "Vertical Palate."
The threesome's latest release – the 2014 Concrete Lodi Cabernet Sauvignon ($20) – is easily as generous as Cabernet Sauvignons more than two times the price: plump, luscious, lightly herbal fruit aromas leaping from the glass and tingling the nose; sweet oak embellishments becoming more apparent in a broad, velvety mouth-feel, supported by moderate yet well muscled tannin. In that sense, a terrific value, and classically "Lodi."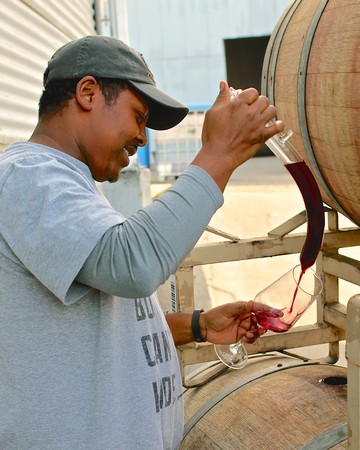 Comments