Letters from Lodi
An insightful and objective look at viticulture and winemaking from the Lodi
Appellation and the growers and vintners behind these crafts. Told from the
perspective of multi-award winning wine journalist, Randy Caparoso.

November 18, 2015 | Randy Caparoso
Estate Crush's quintessentially "Lodi" wines
Estate Crush's Bob Colarossi and Alison Leibich Colarossi
When Bob Colarossi and Alison Liebich Colarossi plan their Thanksgiving libations, they literally get to choose from over 90 different wines that they produce in their Downtown Lodi winery, called Estate Crush.
Estate Crush is a custom-crush facility serving over 80 separate clients. This means they make wines for basically over 80 wineries at a time; about half of them commercial brands, many of them Lodi based as either local growers and/or independent entrepreneurs looking to get their own brand started up, and not to mention the Colarossis' own Estate Crush brands.
The Colarossis also operate a tasting bar at Estate Crush (open for business Fridays through Sundays), where they offer at least 16 different wines to sip by the glass or bottle, on top of selling their multiplicity of wines at retail. Although they customize wines according to each of their clients' wants and needs, you still find a consistent style prevalent and virtually every wine produced at Estate Crush. Mr. Colarossi very much favors a clarity of fruit and, when possible, natural vineyard expression in his wines.
Therefore, it is rare to find an Estate Crush vinified wine that is excessively high in alcohol or tannin. A sense of balance and crispness of acidity are pervasive across the board. Mr. Colarossi often talks about the culinary influence of his Italian descent in his background. "I prefer a balanced wine," he tells us, "because they don't overpower food... a wine should be flavorful, but also allow the flavor of food to come through." Italians know where their priorities are.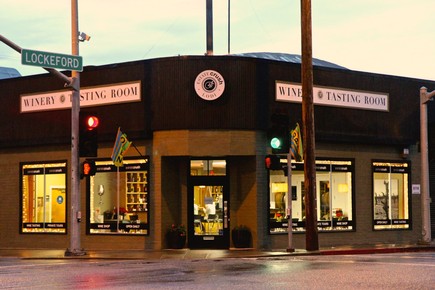 With that, we asked Bob and Alison what they're thinking of enjoying on Thanksgiving Day next week. Out of all of their wines, they selected these four as their current holiday favorites:
2013 Estate Crush, Lodi Albariño ($18)
There are probably no wine consumers as familiar with Albariño – a white wine grape native to Spain's coastal Rías Baixas region – as Lodi wine lovers. The varietal is, for all intents and purposes, Lodi's "Chardonnay," as numerous Lodi wineries now specialize in this grape (rather than Chardonnay), which grows effortlessly in Lodi's mild Mediterranean climate – engendering powerfully fragrant white wines with completely natural, ample acidity.
Estate Crush's Albariño is quintessentially crisp and crystal clear: fragrances of white flowers, citrus, white peach and a filigreed green leafiness; and lemony tart without being sour in its refreshingly dry medium body. This, says Mrs. Colarossi, is a perfect "starter wine" – perking up the palate before sitting down for the full Thanksgiving meal.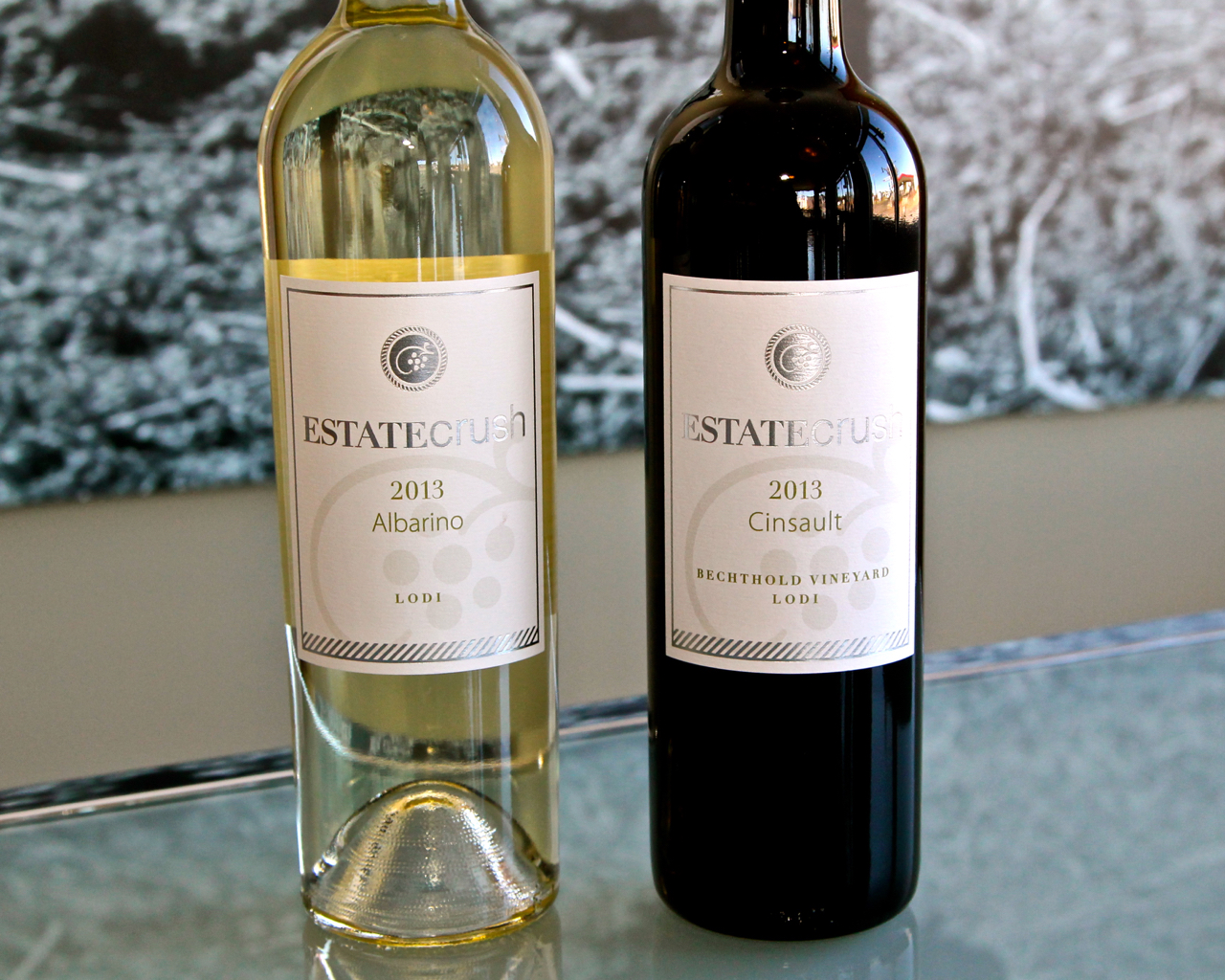 2013 Estate Crush, Bechthold Vineyard Lodi Cinsault ($26)
Over the past five years Estate Crush has been one of the dozen or so specialty producers who are allotted grapes from Bechthold Vineyard – a 25-acre own-rooted Cinsault planting still owned by the same family that planted it 129 years ago (the oldest vineyard of any sort in the region). Today, Bechthold Vineyard is leased and meticulously (also organically) farmed by Phillips Farms, and was named California's 2014 "Vineyard of the Year" by California State Fair.
One sip of Estate Crush's Cinsault tells you exactly why Bechthold is so venerated: belying its moderately pigmented ruby color, powerfully perfumed fruit soars acrobatically from the glass with suggestions of strawberry, pomegranate and rhubarb pie; and on the palate, zesty yet limber, silky textured fruit sensations dance gently within a light feeling, medium-weight body. All told, one of the most unique (and certainly one of the rarest) red wines in the world.
Says Mrs. Colarossi, "This is the perfect wine for a Thanksgiving dinner with all the trimmings – the turkey meat, spiced stuffing and sweet cranberries – precisely because it is so delicate and well balanced."
2012 Tall House, Lodi Teroldego ($22)
This deep colored, purplish, glass staining red wine is a great example of what Lodi excels in these days: exotic varietals made from European grapes of ancient lineage (Teroldego is native of Northern Italy), selling for an outlandishly moderate price that is in no way a measure of the wine's unique, high flying quality. Tall House is one of Estate Crush's own "house" brands; with labels depicting the tall water towers typical of 100-year old homesteads, still dotting the Lodi country landscape.
The nose of this Teroldego is deeply concentrated – of blackberry/mincemeat-like pie spices, laced with black licorice – and signals the dense, thick, meaty yet fluid, fleshy sensations on the palate. An aggressive yet rounded tannin level fills out a full body; yet the feel is still of moderation, primarily because the wine's alcohol levels off at 13.9% (lower than that of the vast majority of Zinfandels, Merlots and Cabernet Sauvignons produced today).
Needless to say, says Mr. Colarossi, "this is the wine for those who prefer roast beef or lamb for Thanksgiving... we may prefer something lighter with our turkey, but there's always that relative who prefers a big Cabernet no matter what – they get to drink Teroldego at our house."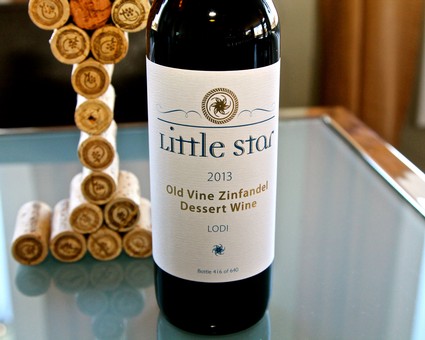 2013 Little Star, Colarossi Family Vineyard Old Vine Dessert Wine ($22; 375 ML.)
Crafted from the Colarossis' home planting of head trained Zinfandel on the west side of Lodi's Mokelumne River AVA (also producing the Colarossis' Stellina Zinfandel), this is a dark purplish-red, partially fortified, sweet dessert style wine, finished at about 10% residual sugar and 19% alcohol. According to Mr. Colarossi, "we used 'second-crop' grapes that had shriveled on the vine, picking it on October 30 at 33.4° Brix (i.e. sugar reading)."
The Little Star's nose is ripe, sweet, almost tropical in its raisined fruit notes; and while sweet, the sensations are lush, smooth, viscous and velvety on the palate. Says Mr. Colarossi, "the ideal dessert for Little Star is a flourless, 'molten' chocolate soufflé in the style of the famous Roy's restaurants, but barring that, we'll go for ice cream with fresh berries and a chocolate sauce." Another thought: good old fashioned peach Melba (peach and raspberry sauce over vanilla ice cream).
Now, that would make a dreamy Thanksgiving!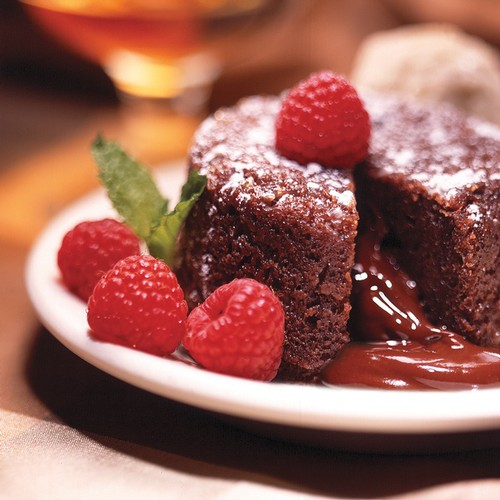 Roy's restaurants' style of "molten" hot chocolate souffle
Comments