Letters from Lodi
An insightful and objective look at viticulture and winemaking from the Lodi
Appellation and the growers and vintners behind these crafts. Told from the
perspective of multi-award winning wine journalist, Randy Caparoso.

July 14, 2017 | Randy Caparoso
Enduring demand for... teinturiers!
What is a teinturier? Now, that's a good question for a wine themed game of trivial pursuit.
Teinturier is the French word for "dye," but in respect to wine, it refers to a type of black skinned grape possessing red colored flesh or juice. Teinturiers are unusual because the flesh of the vast majority of red wine grapes is absolutely colorless, devoid of pigments.
All the familiar red wine varietals – Cabernet Sauvignon, Merlot, Pinot Noir, Zinfandel, etc. – are white pulped. All the color in wines made from these varieties is derived from the skins of those grapes – the pigments extracted during the fermentation process (since red wines are always fermented skins, seeds and all – the skins also contributing the tannin as well as much of the flavor components associated with these varietals).
Teinturier grapes are relatively rare these days because, well, they're just not considered anywhere near as fine as varieties like Cabernet Sauvignon, Merlot, Pinot Noir or Zinfandel. Yet at one point in the history of California wine – namely the 1920s and 1930s – as much as a third of the state's entire wine production was from red pulped teinturiers (at least according to Appellation America).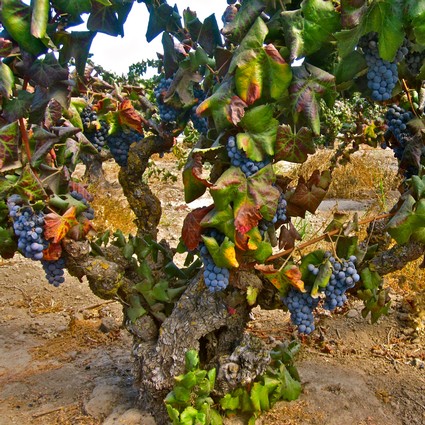 The reason: Prohibition – that period of time in the U.S. (1919 to 1933) when production, transportation and sales of "intoxicating liquors," including wine, were outlawed, except for the few wineries receiving sacramental or medical dispensations. But obviously it wasn't just the clergy, bootleggers or moonshiners who found ways around these technicalities. There was also one provision left in the Volstead Act that allowed the head of each household to produce up to 200 gallons a year of fermented beverages for personal consumption. That adds up to about a 1,000 bottles – or nearly 3 bottles a day, if you're drinking it all by yourself – per family.
The challenge, of course, was that you had to make it yourself. As soon as Prohibition was enacted, overnight countless Americans became avid winemakers.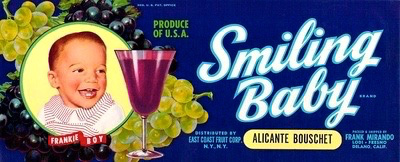 Which meant that, also overnight, wine grape growers all over the state – particularly in Lodi, which had the advantage of existing fruit packing sheds (it was the Tokay table grape, after all, that brought wealth to the City of Lodi in the 1890s and early 1900s) located all along the railways – found themselves scrambling to plant more vines to meet the exploding demand.
But it wasn't the "finer" grapes like Cabernet Sauvignon or Pinot Noir that were planted. This became the heyday of the teinturiers, since it was the red pulped varieties that were known to possess the sturdy antioxidant qualities necessary to withstand the long railroad journeys from the West to East Coasts; arriving in Grand Central Station with the least amount of spoilage.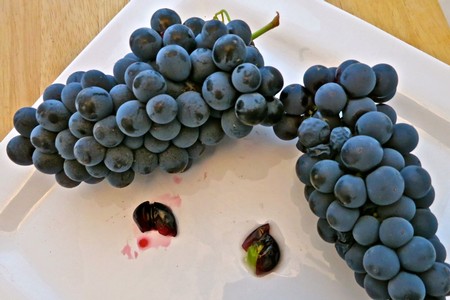 In a catalogue called Black Juice Grape Varieties in California, published in 1928 by the California Department of Agriculture, no less than 6 commercial varieties of "red juice" grapes were recommended to meet the "rapid development of eastern shipment":
Alicante Bouschet
Alicante Ganzin
Grand Noir (a.k.a. Calmette or Grand Noir de la Calmette)
Lenoir (a.k.a. Jacquez or Black Spanish)
Petit Bouschet
Salvador
Since then, all but Alicante Bouschet have pretty much disappeared in commercial California vineyards (although Grand Noir is still to be found in sporadic field mixes of a few surviving pre-Prohibition vineyards in Lodi as well as the North Coast).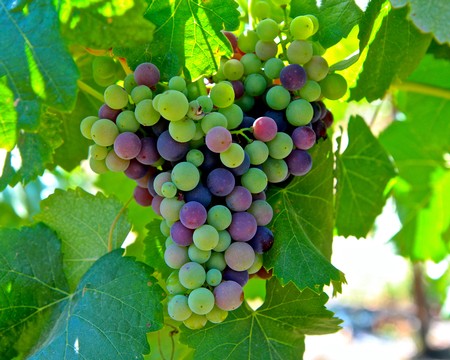 Alicante Bouschet is a crossing of two grapes: the teinturier type Petit Bouschet (itself a cross of Teinturier du Cher and Aramon) and the white fleshed, black skinned Grenache. The variety was developed by French viticulturist Henri Bouschet in 1866, and probably found its way into the U.S. shortly thereafter.
While the best known and most widely planted of the teinturier grapes, Alicante Bouschet is hardly on the tips of tongues of average American wine consumers. Nonetheless, a number of growers in the Lodi region still specialize in this variety. The Fry family at Lodi's Mohr-Fry Ranches, for instance, has been cultivating a 14-acre block of Alicante Bouschet since 1921. The original head trained vines were pulled out five years ago, but have since been replanted on trellis.
Why? Bruce Fry tells us, "Alicante Bouschet is still in great demand. We had to pull out our old vines because it became diseased, and the numbers just weren't adding up. But this year we'll be getting our third harvest from the new vines. In 2016 the new vines gave us 5 tons per acre, and this year we'll probably get 8 tons (over 100 tons total) – which is good because it all goes to one winery, who uses every bit of it to blend into their varietal programs, such as their Cabernet Sauvignon."
Alicante Bouschet may not be in big demand as a varietal wine, but in the decades since the repeal of Prohibition there has always been a handful of commercial wineries still producing it. During recent years, Lodi wineries such as Harmony Wynelands and m2 Wines have produced excellent examples.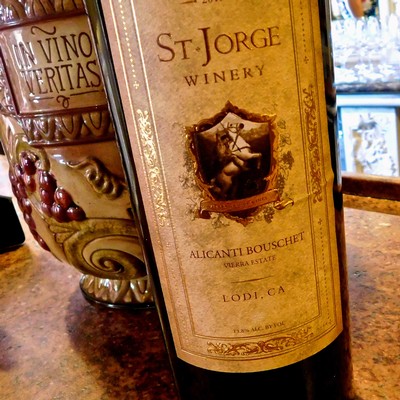 Among current releases of Lodi grown bottlings, the 2013 St. Jorge Vierra Estate Lodi Alicante Bouschet ($28) is probably the most representative of the varietal's black color and densely structured attributes. Black cherry and pomegranate-like fruit aromas are embedded in harmonious, rich oak, and the meaty flavors are framed by lively, edgy acidity and strapping, muscular tannin. Definitely a red wine for meaty, fatty dishes like duck or lamb in deglazes or sauces, laced with fresh or sun dried fruit like cherry or pomegranate.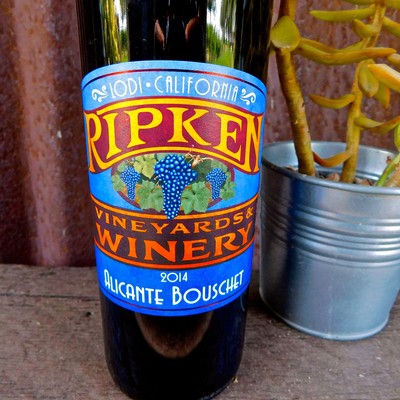 Displaying a similar fruit and acid profile – but with a lighter shade of ruby and more moderate alcohol (12.9%) and tannin – the 2014 Ripken Vineyards Lodi Alicante Bouschet ($26) braces the palate with zesty, sour cherry sensations, tinged with floral fragrances suggesting pomegranate and elderberry. While relatively mild in tannin (for the varietal), Ripken's rendering has the classic acid edge which has always made Alicante Bouschet favorable for fresh grape packing, favorable for blending with other grape varieties, and favorable with food: imagine this wine with salmon, wood roasted or pan fried with a blueberry sauce; or a roasted pork loin in a pomegranate glaze...
Which is exactly why teinturier varieties like Alicante Bouschet will always have a place among the world's most distinctive, and beautiful, vines, grapes and wines!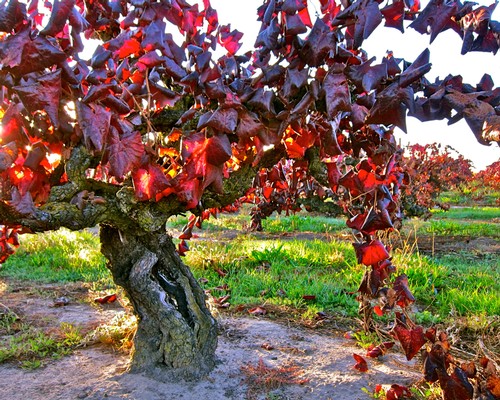 Comments