Letters from Lodi
An insightful and objective look at viticulture and winemaking from the Lodi
Appellation and the growers and vintners behind these crafts. Told from the
perspective of multi-award winning wine journalist, Randy Caparoso.

June 4, 2019 | Randy Caparoso
Luiz Alberto on East vs. West - Terroir speaks louder than winemaking in Lodi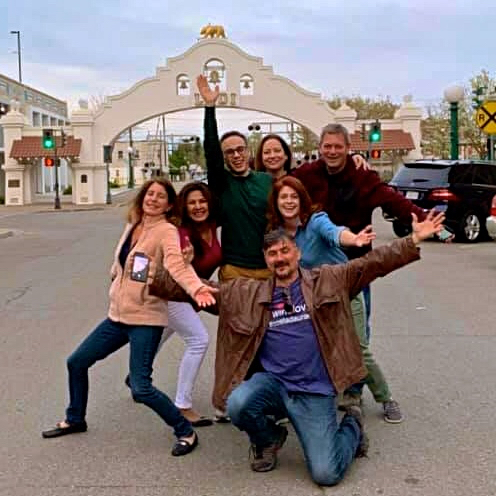 For this blog post, we are pleased to feature the words and impressions of a guest writer: Luiz Alberto, the Brazilian born, Boston based founder/author of The Wine Hub, one of the most popular multifaceted consumer-service sites on the web, where Mr. Alberto regularly plies his boots-on-the-ground international experiences to share his vinous pearls of wisdom.
Mr. Alberto, however, is not just another "blogger." He's also a dreamer and schemer, and a visionary and incendiary, of the highest order, on a global scale. Intrigued by the simple concept of wine bringing people of all walks of life together – and wine, after all, is the most social of beverages (it's like coffee, but with the liberating touch of natural alcohol) – a few short years ago Alberto founded the #winelover community as a Web site and as a Facebook page, the latter now sporting over 23,400 followers or "members." On Instagram, as of this week, nearly 7 million images have been posted on the #winelover community page.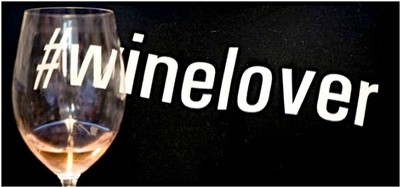 When visiting Lodi this past March 31-April 4 with five other high-powered bloggers on a trip sponsored by Snooth (an enormous online sales and social wine networking page) and the Lodi Winegrape Commission, Mr. Alberto shared some of his thoughts on his work – or shall we call it an impassioned, missionary fervor? – with his runaway #winelover community over glasses of efficacious reds, during a dinner hosted by Mettler Family Vineyards: "With #winelover, I suddenly found how easy it was to meet and make amazing friends all around the world. It's not just wine lovers and fellow journalists and bloggers, but also winemakers, Masters of Wines, grape growers, and everyone connected to the wine industry, and the #winelover community connects every one of them together – and not just online, but also in person, at conferences and celebrations in places like Austria, Sicily, Greece, all over Spain and, of course, the U.S. #winelover has become a tool for bringing everyone together!"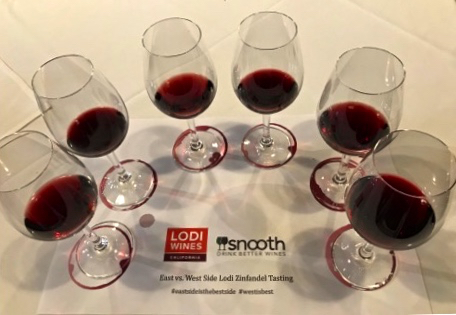 And "the word" on Lodi grown Zinfandel according to Mr. Alberto:
For those of you who read my previous article about Lodi on Snooth — "WHY AM I SO IN LOVE WITH LODI? 7 reasons why I love the place, the people, and the wines" — this is a continuation of my "Reason #6: Zinfandel: East vs. West: Two different kinds of beauty."
Before we get to our blind tasting (as seen in the photo above) let me first give you an overview of East vs. West.
The east side of Lodi is basically the vineyards located east of Hwy 99 in the Mokelumne River, Borden Ranch, and Clements Hills AVAs. The west side of Lodi is at the western end of the Mokelumne River AVA (west of Hwy 99).
With that being defined, let's get to the differences in the "terroirs" and then, consequently, in the wines: The east side is a little warmer. The soils are sandier and water tables are lower. This translates into smaller berries, which in turn results in higher skin to juice ratios. In the glass what is noticed is their firmer tannins and shaper acidity. To make a long(er) story short(er), the reverse applies to the West.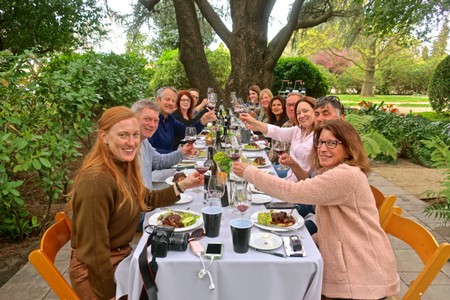 I have to admit I was a little anxious about this tasting. First of all, it was a blind tasting! And, to make things worse (or, as it turned out to be, better), this was at the beginning of our "Snooth trip," so I had basically to rely on the theoretical knowledge we were getting from our guide: The one and only Randy Caparoso. Soon I discovered that Randy was spot-on in his descriptors of what "should be East (or West)," such as the tannic structure, acidity levels, and taste profiles. He was so good that I managed to get all the wines right (as, I believe, did most of us).
We had six wines to taste. The information that was given to us by Randy was that three of them were from the "East" and three were from the "West." Let's see them along with some comments on three of the wines?
"East Side": Lot 13 - Estate Vineyard 2015 Zinfandel - McCay Cellars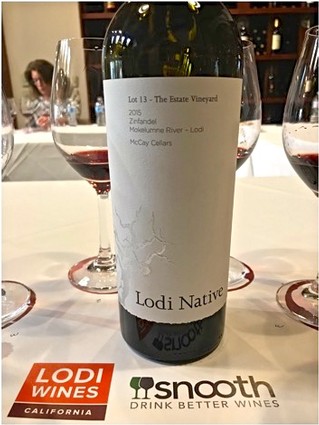 "West Side": Wegat Vineyard 2015 Zinfandel - Maley Bros. Vineyards
"East Side": Stampede Vineyard 2014 Zinfandel - Fields Family Wines
This was my favorite wine of the tasting. A "classic east side wine." Bright red-ruby color, fresh acidity, red berries, juicy, and… delicious!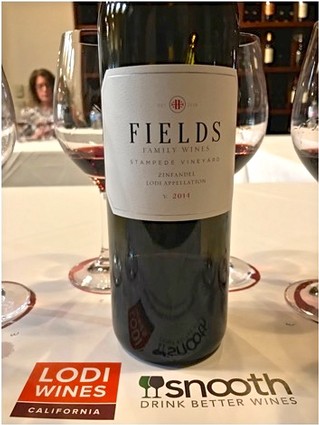 "East Side": Ironstone Vineyards 2016 Zinfandel - Rous Vineyard
"The east vs west blind tasting of Mokelumne River Zinfandel was quite the educational experience as, in general, we were able to differentiate between the two sides. However, the one wine that gave me the most difficulty was the 2016 Ironstone Vineyards Rous Vineyard Reserve Ancient Vine Zinfandel. Whereas this wine had a pronounced cherry aroma and bright fruit flavor (as expected from its east side location), it also finished with rounded tannins and hints of earthiness and mushrooms which is more prevalent from west coast Zinfandels. A delicious wine." — Todd Godbout (of the Wine Compass Blogspot)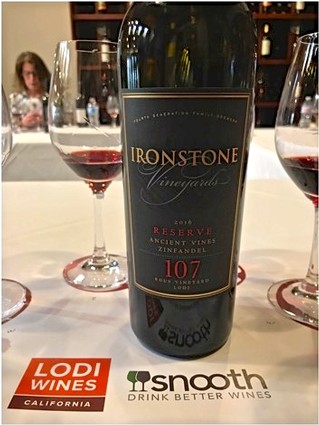 "West Side": Soucie Vineyard 2016 Zinfandel - M2 Wines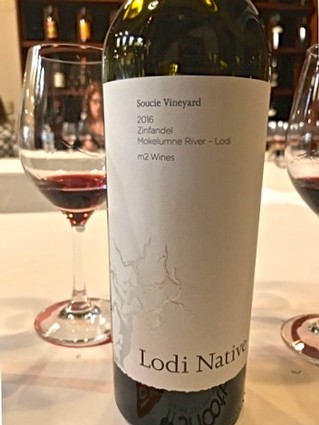 "West Side": Scottsdale Vineyard 2016 Zinfandel - Harney Lane Winery
"How one grape grows in one, region a few miles apart, yet taste oh just slightly different. At a blind tasting of east vs west side Lodi Zinfandels put me to the test to identify which side the wines came from. There are distinct profiles for each side. My favorite was the 2016 Harney Lane Scottsdale Vineyard Zinfandel which hails from the west side. What I liked the best is the pepper on the finish mixed with the blue, red and black fruits. That is totally me! Although the spice is a characteristic of the east side, this vineyard sits on the west side, closest to the east side. I guess you can say it kind of borders the east side, hence the little characteristics spice from the east side." — Debbie Gioquindo (who writes as the Hudson Valley Wine Goddess)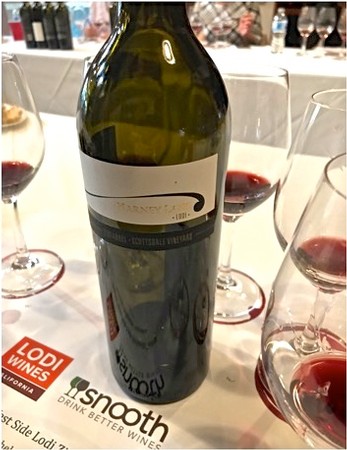 I think this tasting says it all. The Zinfandels of Lodi show a strong sense of location. Some love the ones from the "East"… some love the ones from the "West." In my own case… I love both!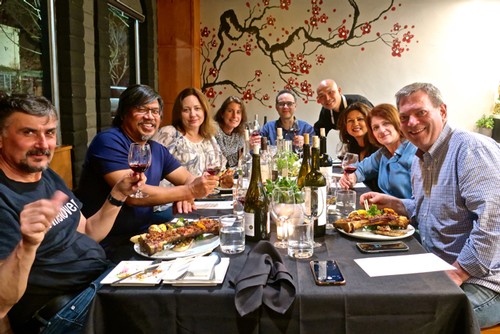 Comments