Letters from Lodi
An insightful and objective look at viticulture and winemaking from the Lodi
Appellation and the growers and vintners behind these crafts. Told from the
perspective of multi-award winning wine journalist, Randy Caparoso.

November 4, 2021 | Randy Caparoso
Dueling Zinfandels by the prestigious Matthiasson and Marchelle brands from Lodi's oldest (1889) vineyard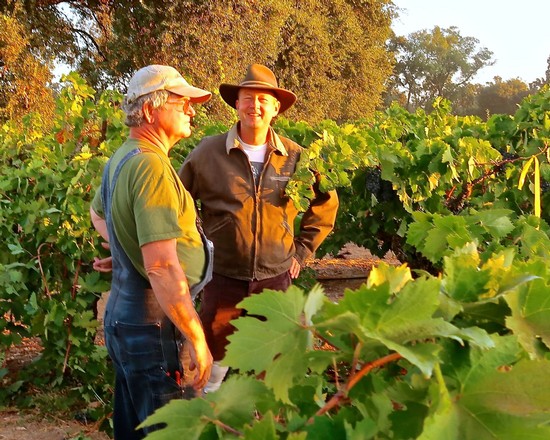 It's not like it was a competition. But at the break of dawn of September 11, 2019, two of California's most cutting-edge vintners harvested grapes from Lodi's oldest Zinfandel block, called Royal Tee Vineyard (planted in 1889 by Joseph Spencer), at the very same time.
The lowdown on the two winemakers:
Steve Matthiasson is the owner/grower/winemaker of the Napa-based Matthiasson Wines. He produces what he calls "classical expressions" of grape varieties. For Matthiasson, this means minimal intervention style wines that express the purity of grapes as opposed to a brand style, conventional expectations of varietal character, or sensory qualities he would consider intrusive, such as the smell and taste of oak barrels.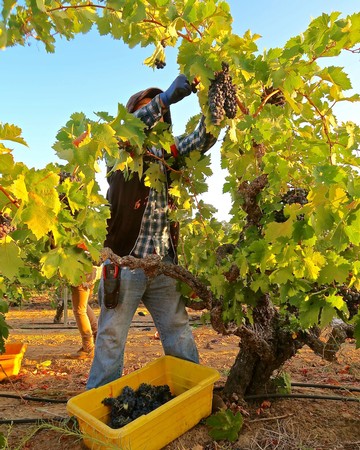 Because he started his business in 2003 as a vineyard management company (after helping to put together the Lodi Winegrower's Workbook in the late 1990s, which evolved into the industry-leading LODI RULES for Sustainable Winegrowing), Matthiasson achieves his goals as a winemaker through control of grapes from the ground up. Consequently, his MO is to pick grapes at much lower sugars and higher acidity than the rest of the industry, while still retaining great clarity of fruit expression. This has resulted in lighter, purer styles of wines that have also been described as ideal "sommeliers' wines," often found on the wine lists of the nation's most prestigious restaurants.
Greg La Follette, of Sonoma County's Marchelle Wines, which we have highlighted in our blog posts before, is a winemaker who has amassed a huge reputation in the industry along with an international following for his science-driven yet light-handed, vineyard-driven styles of Pinot noir and Chardonnay, sourced primarily from Sonoma Coast. La Follette's significance to Lodi is the fact that he has also been producing ancient vine wines from Lodi. His approach to winemaking has unveiled vivid sensory qualities distinct to Lodi's terroir, or "sense of place" — qualities that are unlike that of any other region in the world, helping to define what makes Lodi special.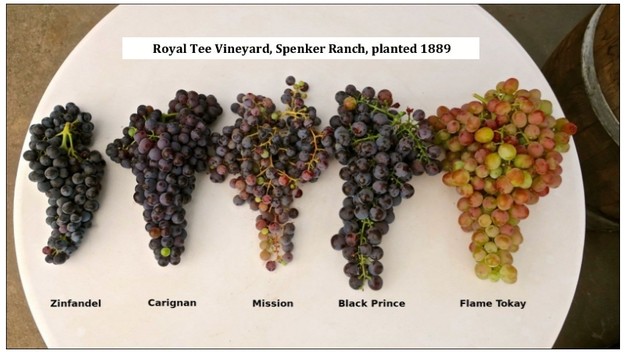 The 2019 Royal Tee Vineyard Zinfandels made by Matthiasson and La Follette are both field mixes reflecting the five different grape varieties growing in this historic 4.95-acre block. According to a grapevine count done by Jessie's Grove Winery owner/grower Greg Burns, the great-great-grandson of Joseph Spencer, the vineyard consists of approximately 84.5% Zinfandel, 10.5% Carignan, 4% Flame Tokay, .5% Mission, and .5% Black Prince (a.k.a. Rose of Peru).
The grape percentages in the 2019s estimated by both Matthiasson and La Follette vary slightly because of their selective picking. La Follette, for instance, prefers to deliberately pick a higher percentage of the "odd" grapes — the Flame Tokay, Mission, and Black Prince — simply because, as he puts it, he likes to "add to the choir" of grapes singing in his wine.
Our tasting notes, plus winemakers' comments, on three Royal Tee Vineyard Zinfandels bottled from two vintages, which were blind-tasted yesterday (November 3, 2021) in order to parse sensory qualities in as unvarnished a fashion as possible: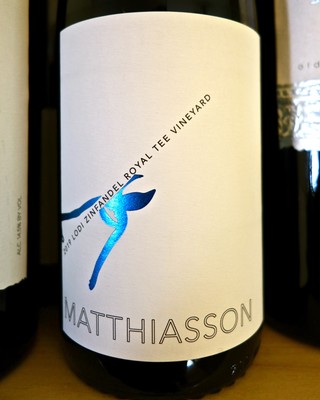 2019 Matthiasson, Royal Tee Vineyard Lodi Zinfandel ($49) - Ultra-bright, fresh and floral nose teeming with concentrated red fruit qualities suggesting cherry, strawberry, and smidgens of dried fig (almost tea-like), red licorice, and peppermint/pepper-like spice. On the palate, the wine had lots of structure built by lively acidity and moderate tannin while retaining a silky texture. The beauty of this wine is its brightness of fruit qualities, unimpeded by perceptible oak, which remains far in the backdrop.
According to Mr. Matthiasson, this field blend follows the vineyard mix of approximately 84% Zinfandel and 10% Carignan, with smaller proportions of Flame Tokay, Mission, and Black Prince. The blended grapes were native yeast fermented as 50% "whole cluster" (stems left intact) in open-top stainless steel tanks, which received twice-daily manual punch-downs, before aging in neutral Burgundy barrels for 10 months. The wine finished at 14% ABV (alcohol).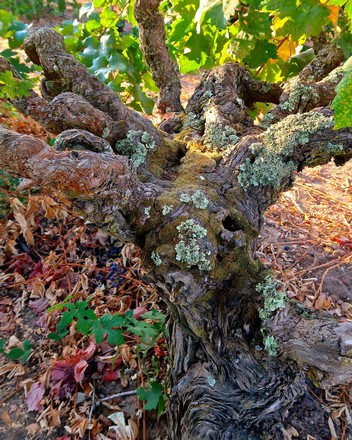 Matthiasson adds, "Our goal with Zinfandel is always to channel the older California style of the grape that used to be called 'California Claret,' not the more contemporary 'Port-style of Zinfandel that has become synonymous with the variety. Our Zinfandel is meant to be fresh, juicy, and prominent in acidity. The nose has a brambly spice with a cornucopia of fresh berries — raspberry, blackberry, strawberry, marionberry, you name it — and while zingy and fresh, it finishes with a thread of loamy soil as a reminder that this is a serious wine. People loved it, and it sold out quickly!"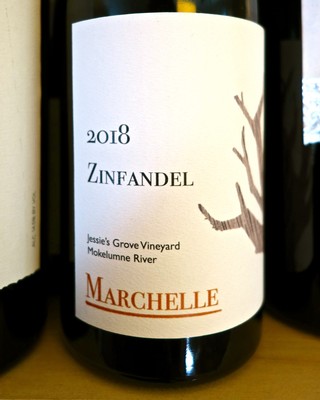 2019 Marchelle, Jessie's Grove Vineyard Mokelumne River (Lodi) Zinfandel ($34) - While made by a different winemaker and a larger proportion of Flame Tokay (7%), in our blind tasting this wine bore a striking resemblance to the 2019 Matthiasson. The nose came off just as bright and flowery, with very similar red fruit perfumes (raspberry, strawberry, and a touch of Red Vines licorice). It varies slightly from the Matthiasson in that the fruit perfumes are not quite so exuberant, and nuances such as a touch of vanilla bean, clove-like spice, and a whiff of mulch-like earthiness make the nose a little more playful. On the palate, like the Matthiasson it has a good acid backbone supported by soft yet firming tannin, and the wine comes across as bright and feminine in feel, with oak qualities pushed far into the background.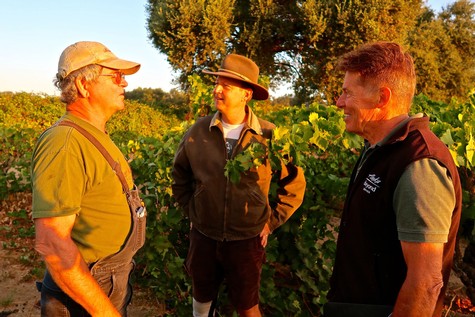 Neither the 2019 Matthiasson nor the 2019 Marchelle, it bears remarking, come across as strongly "Zinfandel" in style. Their noses are far more floral and fragrant than typical California Zinfandels, and their palate structure is much more delicate, almost like Pinot noirs. In fact, if you couldn't see the color of the wines in the glass and simply smelled them, you might think these were white wines, not reds — they're that flowery. These qualities are not reflections of the winemaker or "house" styles. More than anything, they express the Lodi appellation's particular climate and soil as well as this specific vineyard, with its unusual mix of grape varieties (different from that of other surviving old vine Zinfandel field mixes found in Napa and Sonoma counties).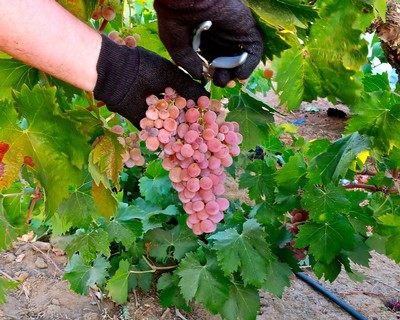 2018 Marchelle, Jessie's Grove Vineyard Mokelumne River (Lodi) Zinfandel ($34) - As with all great vineyards, sensory profiles reflecting terroir can be found in each vintage, but Mother Nature usually puts her own stamp on wines from each vintage. Typical of what we've found in other 2018 Lodi-grown Zinfandels, the Marchelle's 2018 Jessie's Grove Vineyard Zinfandel is a little meatier, a little more strongly spice toned, and comes across as rounder and more velvety in texture, compared to the softer, fruit-forward, light and silky qualities of the 2018s by both Matthiasson and Marchelle. Wine geeks would consider 2018 to be a more "serious" style (and 2019s, "friendlier," "drink sooner" wines), if only because they love the prospect of bottle-aging wines and waiting for more characteristics to be unveiled over time.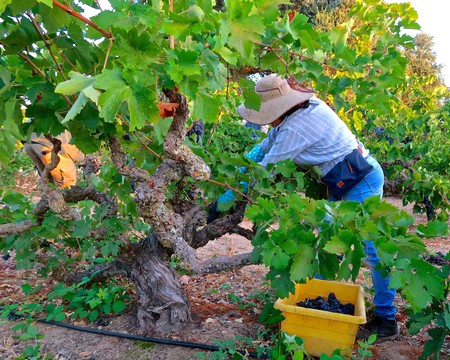 At the moment, the 2018 Marchelle is showing a sumptuous baking fruit pie aroma (raspberry, cherry) and a faint, almost dusty "old book" quality hinting at the earthiness often found in Zinfandels grown on Lodi's west side. The meatiness is punctuated by almost electrical acidity and good, firming tannin, although the wine comes across as ultra-fine, very well-rounded, and moderate in weight — still very "feminine" in feel, despite finishing at 14.6% ABV.
According to Mr. La Follette, "In 2018 I went to great lengths to retain the signature earthiness and intricate spice qualities you can get in this vineyard. This was done by native yeast fermentation, keeping the Flame Tokay, Mission, and Black Prince as whole clusters and placing them at the bottom of the tank with the destemmed Zinfandel and Carignan on top. This vintage turned out to be riper and, perhaps, more 'Zin-like' than what I've produced in the past from this vineyard. As a winemaker, I try to 'listen' to wines at all times in order to respond to what they are saying. And every year is an adventure!"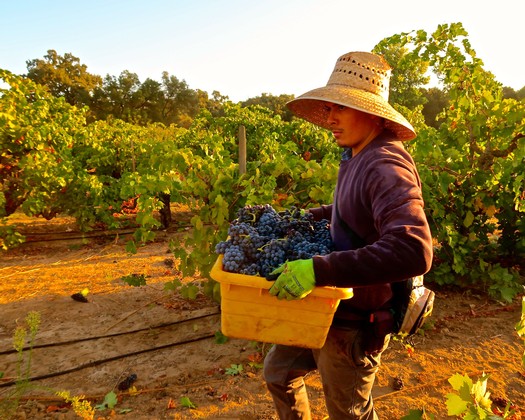 Comments