Letters from Lodi
An insightful and objective look at viticulture and winemaking from the Lodi
Appellation and the growers and vintners behind these crafts. Told from the
perspective of multi-award winning wine journalist, Randy Caparoso.

February 8, 2023 | Randy Caparoso
Dangerously easy fun at Lodi's 2023 Wine & Chocolate celebration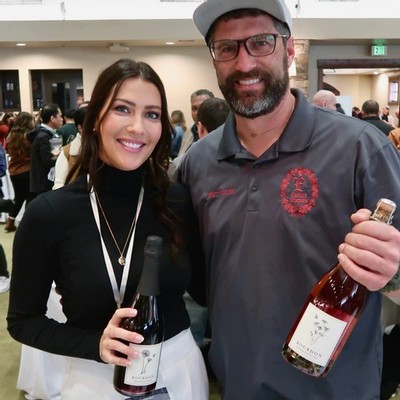 "Dangerously easy to drink" is the way popular wine blogger Hannah Spiegel (find her on vinoforbreakfast.com and @vinoforbreakfast on Instagram) described the uniquely dark and delicious Bourdon Sparkling Syrah she tasted at the 2023 Lodi Wine & Chocolate Brunch, this past Sunday, February 5th at the luxurious Wine & Roses Hotel.
You could, in fact, describe most of the wines produced in the Lodi appellation in exactly this way. It is the region's Mediterranean climate and rich yet eminently grape-friendly soils that naturally grow this style of wine: consistently round, smooth, and pungently aromatic in a fresh and intense fruit-forward fashion.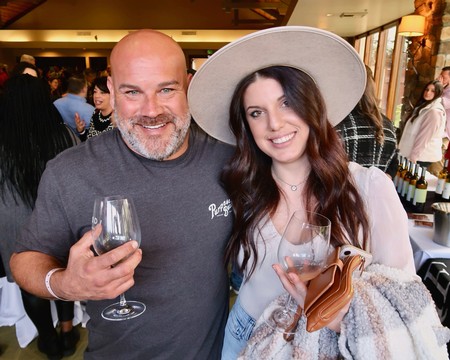 Thousands of other Lodi wine lovers enjoyed wines of this nature during this annual event's three-day festivities, which started with intimate dinners at Lodi wineries on Friday night, and drive-around winery visits on Saturday (February 3-4).
Ms. Spiegel went on to gush passionately about her meeting with the celebrity owner of Bourdon Wines: Becca Kufrin, whose countenance is better known as that of the star lead of season 14 on ABC's "The Bachelorette" as well as the winner of season 22 of "The Bachelor." Kufrin collaborates with Lodi's E2 Family Winery to produce sparkling wines that exactly fit her bottomless thirst and zest for life.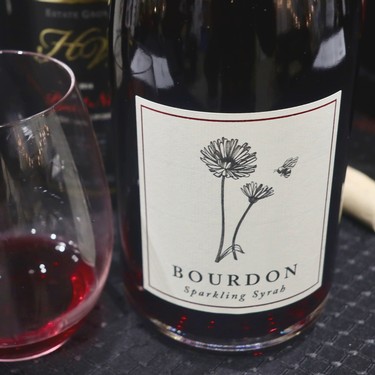 Inspired by kufrin's wines and personality, Spiegel immediately posted this on her social media pages:
🙋🏻‍♀️ It was such a treat to meet former bachelorette @bkoof at yesterday's @lodi_wine white, sparkling, and rosé brunch. Her label @drinkbourdon produces three different sparkling wines—including a cuvée, a sparkling rosé, and my personal favorite, a sparkling Syrah that we took home. The sparkling Syrah has bright blackberry and blueberry notes but is much drier in style than a Lambrusco. It's dangerously easy to drink and I have a feeling this was my first but not my last time buying this wine!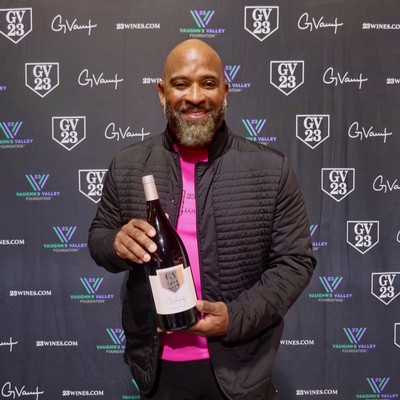 During the Saturday festivities, E2 Family Winery also showed off the wines produced in collaboration with two more celebrity personalities: Legendary Oakland Raiders-affiliated Pro Football Hall of Famer Fred Biletnikoff—the Biletnikoff 25 Wines personally presented by Mr. Biletnikoff's spouse, owner/CEO Angela Biletnikoff—as well as four-time Major League Baseball All-Star Greg Vaughn.
Mr. Vaughn is also celebrated locally because he is a Sacramento native. After playing for 17 years in the majors, Vaughn' founded Vaughn's Valley Foundation™ and proceeds from his Lodi-grown GV 23 Wines support community organizations in his hometown benefiting at-risk youth and T1D education.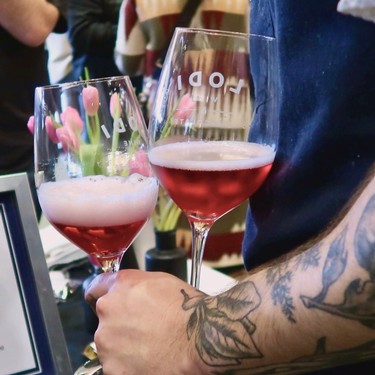 Just before the weekend, E2 CFO/winemaker Brett Ehlers was quoted to say that events such as Lodi's Wine & Chocolate are an important way of giving exposure "to small Lodi wineries such as E2." Kudos definitely go to the Ehlers family—California farmers since 1821, and grape growers in the Lodi wine region since 1921—for not only having the gumption to cultivate celebrity partnerships but also for finding creative ways to introduce countless more wine lovers to the fresh and easy (even if "dangerous!") attributes natural to wines grown in Lodi.
More photographs illustrating what a great time was had by all who came out for 2023's Lodi Wine & Chocolate weekend...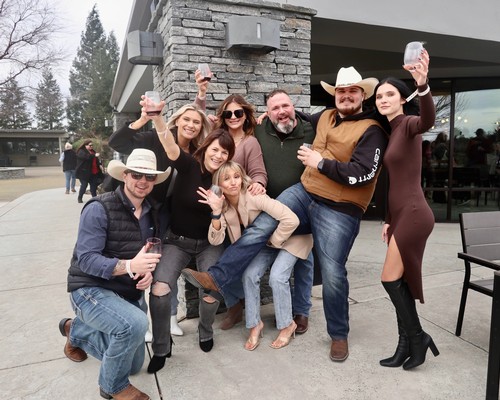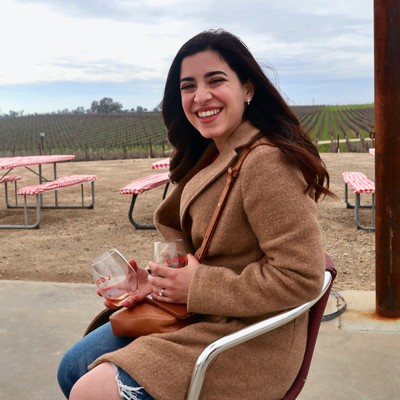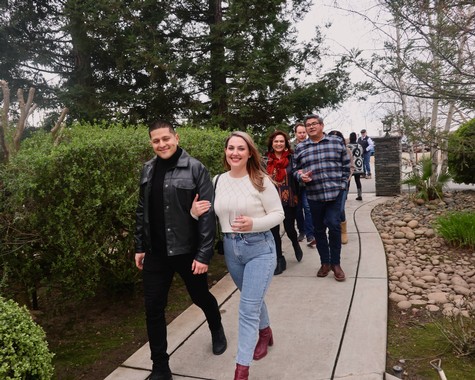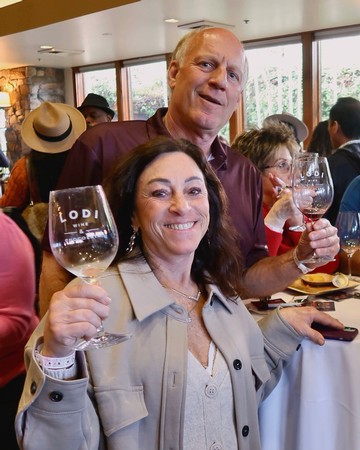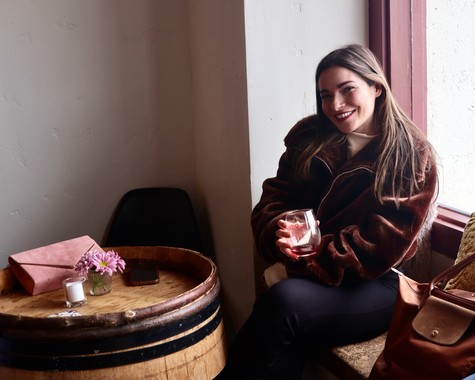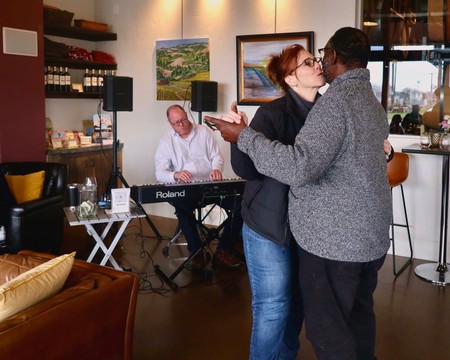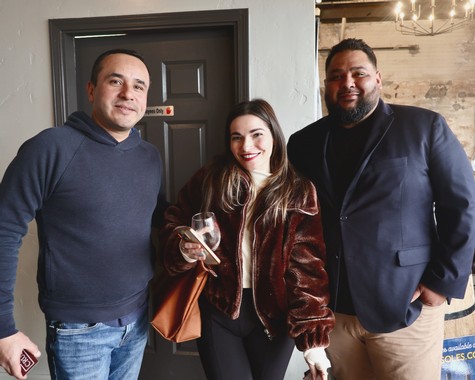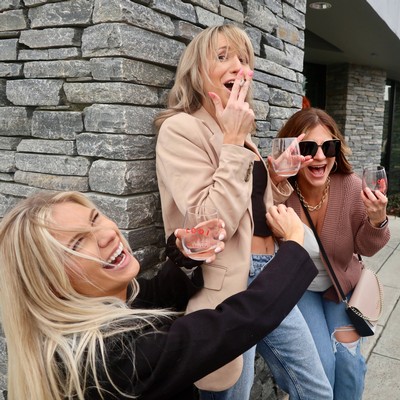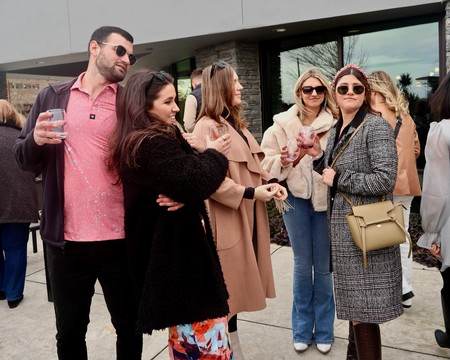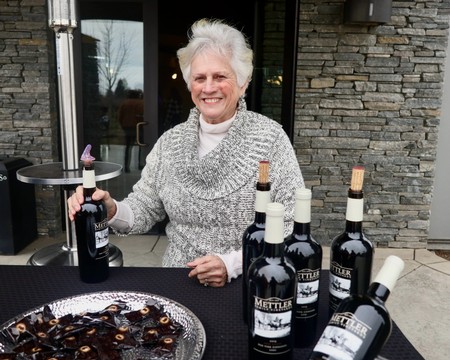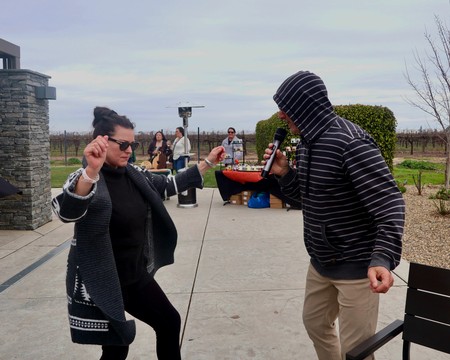 Lodi's Gina Licari feels the sudden urge to dance at Mettler Family Vineyards.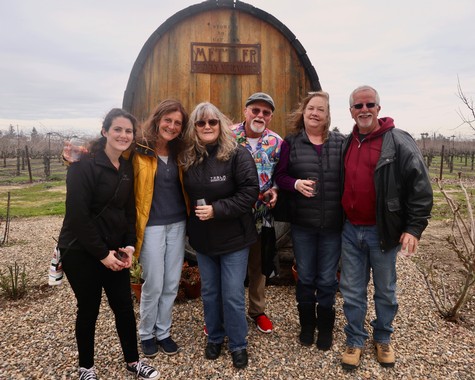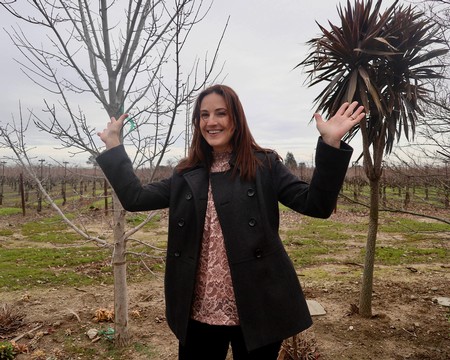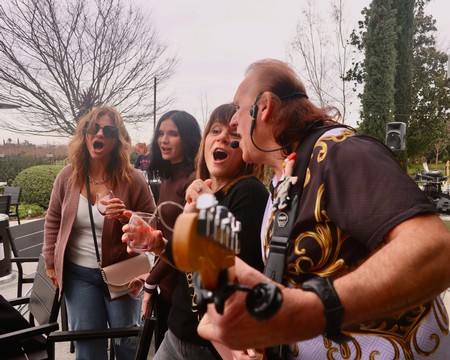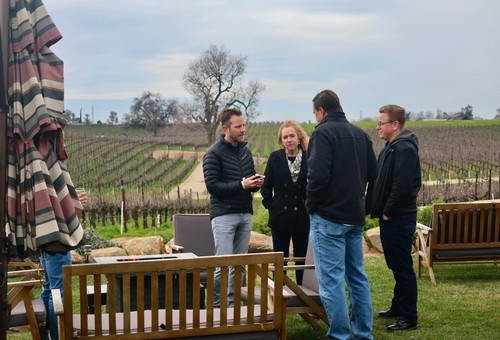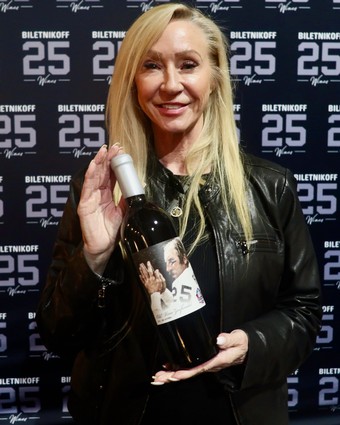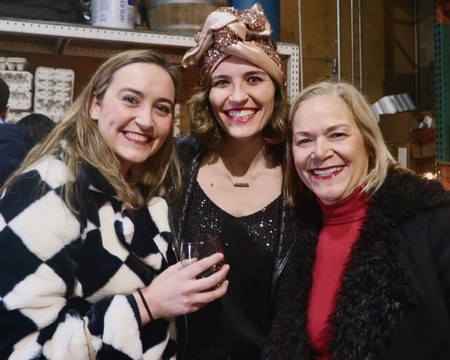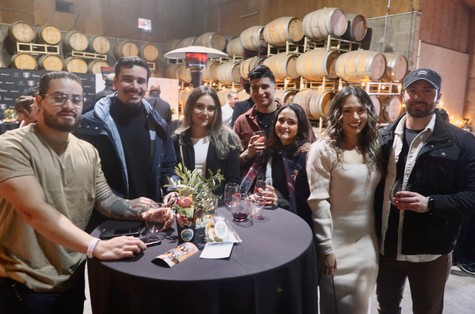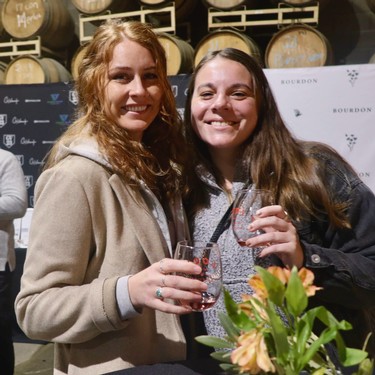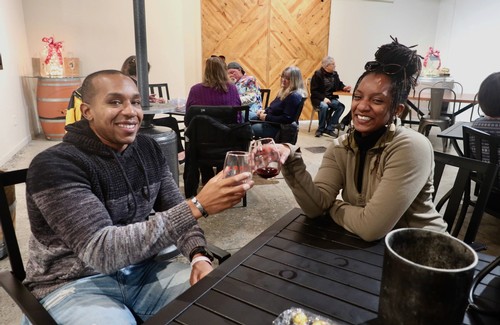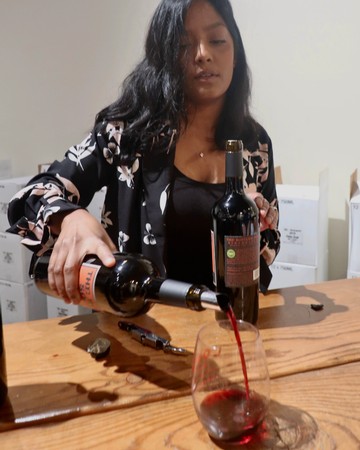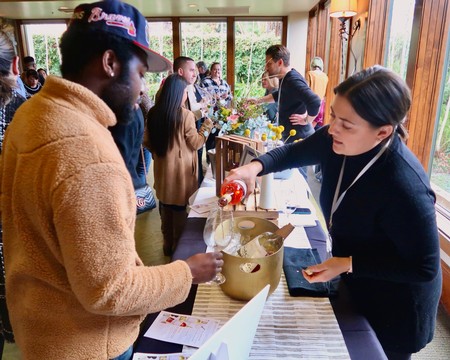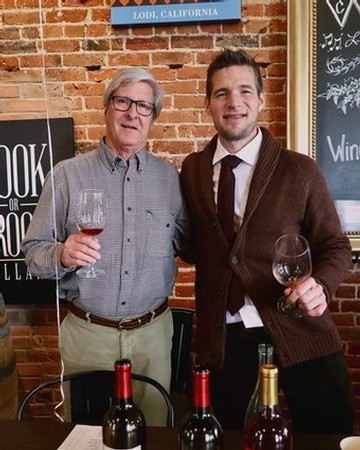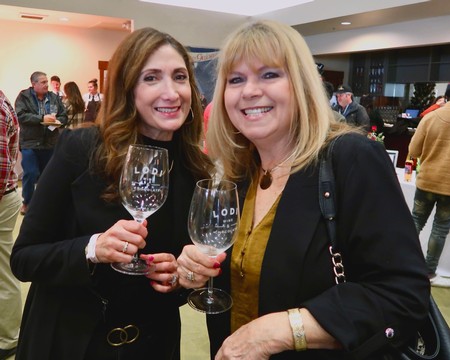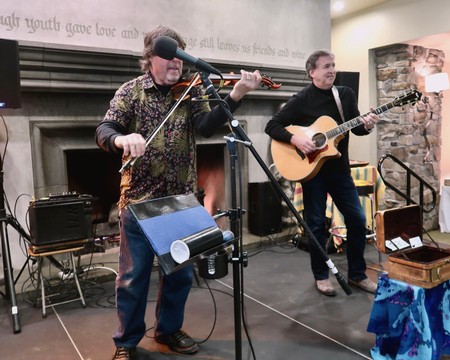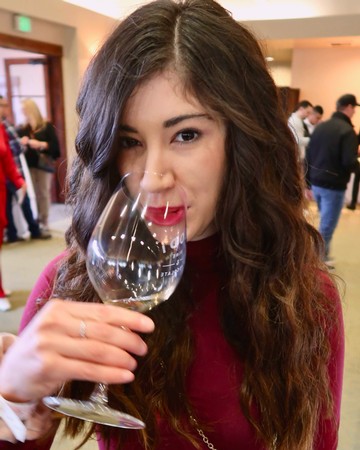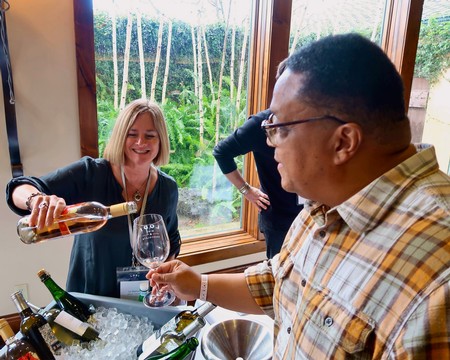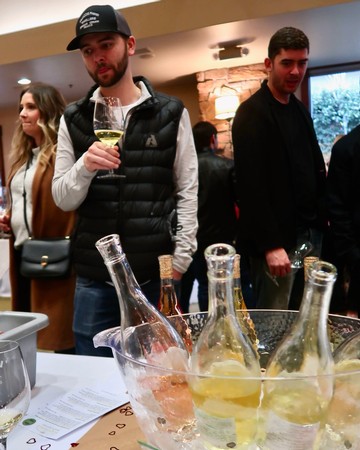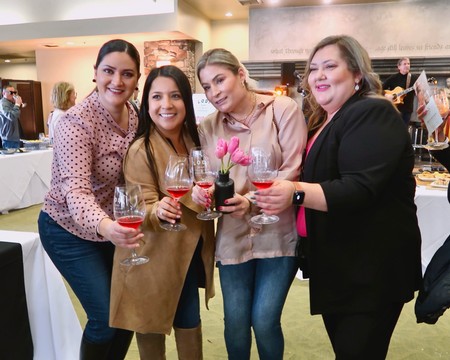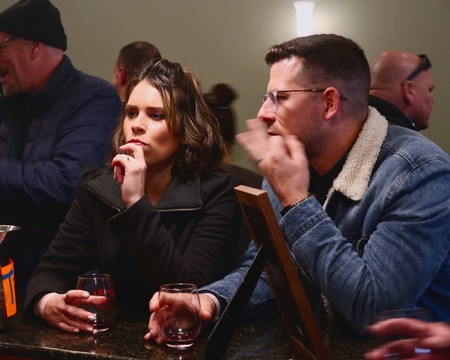 Comments