Letters from Lodi
An insightful and objective look at viticulture and winemaking from the Lodi
Appellation and the growers and vintners behind these crafts. Told from the
perspective of multi-award winning wine journalist, Randy Caparoso.

October 24, 2017 | Randy Caparoso
Chef Tony Lawrence's magically Zin-friendly Chocolate Salad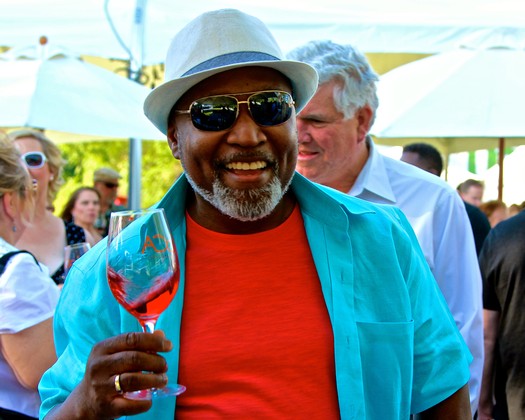 Can you imagine a perfectly delicious, healthy salad that is also a perfect match for Lodi's lush, sumptuous, gentle styles of Zinfandel?
For the past 11 years, Philadelphia's Tony Lawrence, the "Global Wine Chef" of "A Chef For You," has been demonstrating his incredibly Zin-friendly Chocolate Salad at either the yearly ZAP (Zinfandel Advocates & Producers) events in San Francisco or at the Lodi ZinFest taking place during May of each year in Lodi Lake Park.
This might sound too good to be true (please see the recipe below), but this combination works for a number of logical reasons. For starters, chocolate (Chef Lawrence uses chocolate in both a vinaigrette and in brownie "croutons") with dry, full bodied red wines is always a surprisingly good combination. Why? Because both chocolate and red wines have a major taste component in common: tannin.
Chocolate starts off as raw cocoa derived from the cacao seed, which is very strong in bitter tannin. The addition of sugar, cocoa butter or milk, of course, is what makes chocolate such a luxurious treat. Red wines like Zinfandel derive both their color and their phenolic texturing from the high-tannin skins and seeds with which they are fermented. And it is the luscious, zesty fruit sensations that make Zinfandel so delicious – backed up by the sturdiness of alcohol and, normally, a good dose of oak sensations (which add additional tannin) contributed by barrel aging.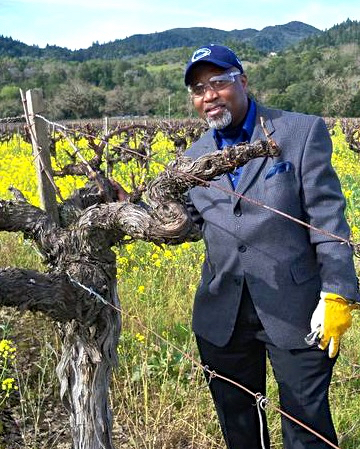 We asked Chef Lawrence how he was first inspired to create his Chocolate Salad. He tells us: "It started in January 2006, when Stuart Spencer, co-owner and winemaker at Lodi's St. Amant Winery, asked me to partner with them at the 'Epicuria' event taking place during the annual Zinfandel celebration put on by ZAP. In this wine and food exhibition, a select few wineries team up with chefs to showcase the best Zinfandel and food pairings.
"A few weeks before, Stuart had sent me two of his wines – the 2005 St. Amant Marian's (Vineyard) Zinfandel, and the 2005 St. Amant Mohr-Fry Ranch Zinfandel. As a chef, I always have my own way of creating a dish for a wine. First, I examine the wine; starting by chilling it to about 40 degrees. This gives every wine a neutral start for my palate. Both St. Amant Zinfandels were 15.6% alcohol; aromatic with cocoa-braised, black raspberry jam, chewy and juicy in the mid-palate, and long, solid and racy in a candy-like finish. Every 10 minutes, for up to 40 minutes, I tasted and made notes on how the wines opened up.
"At colder temperatures, wines show more richness of fruit and less alcohol. As they warm up, they are less fruit – more tannin and alcohol become present in the taste, and astringent textures emerge in the back and finish. St. Amant Zinfandels have that classic old vine taste of deep wild berries, cooked condensed fruit, candied jam, raspberry liqueur, and cocoa aromas. I wanted to think outside the box. What can I do to highlight the rich, concentrated, layered and complex tastes that make St. Amant's old vine Zinfandels so unique?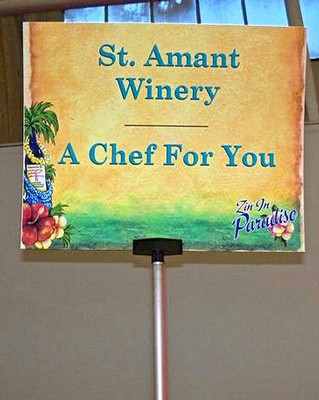 "Going to my well-stocked pantry, my first thought was to go with a rich, savory, luxurious dish, but to avoid barbecue, gamey or meaty ideas. I wanted to be creative; not mirror what all the other chefs would be bringing to the big event. Something new, bold but elegant to serve on about 1,300 tasting plates.
"I mixed together raspberry vinegar, milk chocolate syrup, virgin cold-pressed olive oil, rice wine vinegar and fresh raspberries in a blender and pulsed until smooth. Tasting for balanced acidity, and then tasting the wine, I found that this combination cuts though the wine, but seemed to take some of the fruitiness and complexity away. So, I added a little raspberry syrup to highlight the ripeness of Zinfandel fruit and retain the old vine integrity.
"This gave me a more refined, focused, balanced dressing/vinaigrette – technically, more of a sauce or gastrique. I tossed a spring mix of greens with baby spinach, sun dried cranberries and crumbled Gorgonzola, adding the chocolate vinaigrette. At first, the salad was wonderful but too singular and soft. So, I toasted a brownie, cut it into croutons and tossed them into salad, and the result was ... heavenly! Like that priceless moment when you hear those six lucky numbers on a lottery ticket.
"Last but not least, I think this pairing is the perfect fit for St. Amant's Lodi Zinfandels because of the late Tim Spencer (Stuart Spencer's father, and founder of St. Amant Winery with his wife Barbara), who was a big, happy-go-lucky person. He was a true rebel, always thinking outside the box."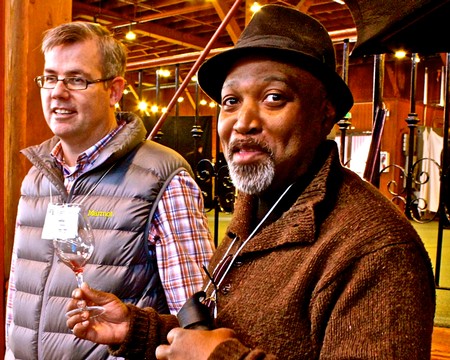 Chef Tony Lawrence's Chocolate Salad
Serves 12 guests:
14 oz. package of spring mix salad
8 oz. package of baby spinach leaves
8 oz. Gorgonzola cheese, crumbled
8 oz sun dried cranberries
10 oz. brownies (or good store-bought brownie), cut into croutons for toasting.
Dressing:
In a blender add 2 cups of olive oil, 6 oz. of good dark chocolate syrup, 6 oz. raspberry syrup, 3oz of rice wine vinegar (note: balanced by taste on acidity and the fruitiness of the Zinfandel).
This salad should be dressed when you are really to consume it. To dress salad, in a large bowl place both salad greens and drizzle dressing to coat evenly. Add and toss Gorgonzola, then drizzle a little more dressing and plate with topping of sun dried cranberries and 2-3 bite-size brownie-croutons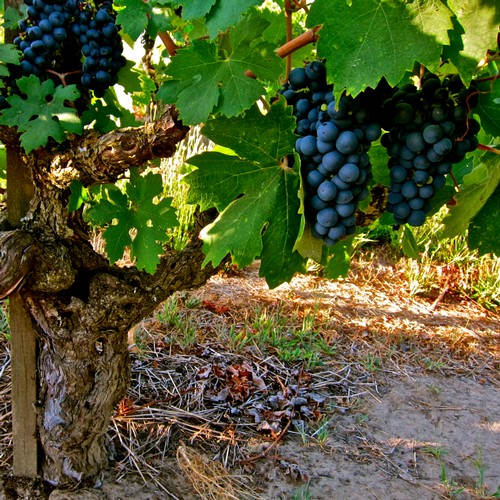 Comments