Letters from Lodi
An insightful and objective look at viticulture and winemaking from the Lodi
Appellation and the growers and vintners behind these crafts. Told from the
perspective of multi-award winning wine journalist, Randy Caparoso.

December 4, 2018 | Randy Caparoso
California's first Mencía just released by Lodi's PRIE Winery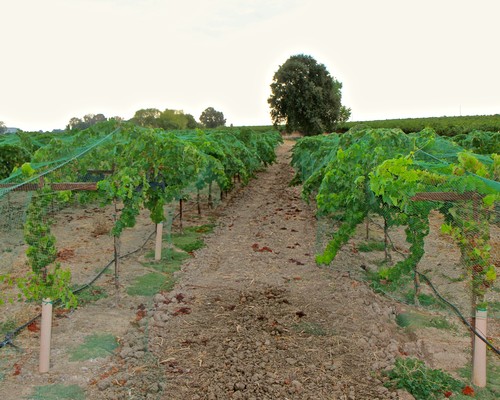 At the beginning of this month (December 2018), PRIE Winery quietly released its 2017 PRIE Silvaspoons Vineyard Alta Mesa-Lodi Mencía ($33). Only 1 barrrel (adding up to 22 cases) was made; representing, as it were, the first commercial bottling of Mencía grown and produced in California – significant even if a single barrel is less than an eye-drop in the vast ocean of wine produced all around the world each year.
But it means something because, well, big things always start off as an inkling in someone's mind; followed by a first cautious, maybe even shaky, step.
As wine grapes go, Mencía is a relatively little-known red wine varietal, even if cultivated in Spain's Bierzo region probably since the days of the Roman Empire. While Mencía is not a mainstream varietal, there are more than a dozen different brands imported into the U.S. from Spain. Consequently, over the past twenty or so years, Mencía has become something of a wine geek's varietal.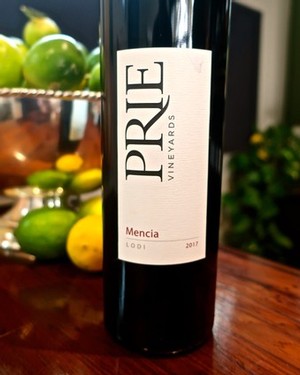 When asked why he planted Mencía in his Silvaspoons Vineyards in the first place, Lodi grower Ron Silva told us, in his usual unvarnished style, "It seemed like an interesting thing to do."
We have written several times over the years of Mr. Silva's habit of putting carts before horses; that is, planting grapes without really knowning if any winery would be interested in it. Twenty years ago, for instance, he instigated a modest trend by planting Verdelho after finding the grape growing in the patchwork quilt of tiny, lava rock walled gardens in his ancestral home of Ilha do Pico – one of the lonely volcanic islands in the Portuguese Azores. "Somehow, cuttings of Verdelho fell into my suitcase," he has explained; and today, Silva's plant material is registered with U.C.Davis' Foundation Plant Services and available to the rest of the American wine industry.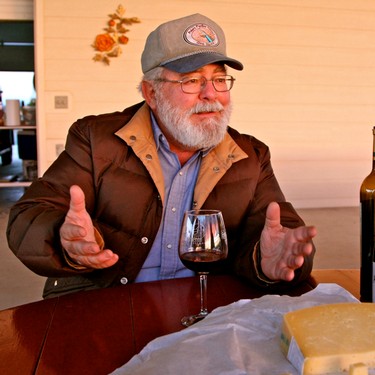 As it turned out, Verdelho – along with Torrontés, Touriga Nacional, Tinta Amarela, and other examples of underappreciated, up-and-coming varieties courageously taken up by Silva – is now one of many grapes which have found a natural second home in Lodi's Mediterranean terroirs, adding to the region's growing reputation for "alternative" wines.
Before committing 100% to planting less than an acre of Mencía in his Alta Mesa-Lodi vineyard, Silva did his due diligence by purchasing a mixed case of Spanish produced Mencías from a specialty retail store in California. Says Silva, "I read somewhere that the grape was thought to be related to Cabernet Franc, but the Spanish Mencías I tasted seemed to have a fruit profile with a closer resemblance to Zinfandel than to a Cabernet, only with a rustic quality more typical of European wines."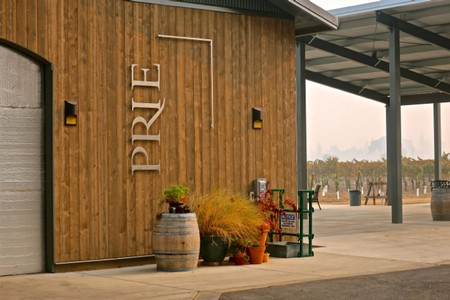 Mencía, as recent DNA profiling has established, is not related to Cabernet Franc. If anything, its closest relative appears to be a Portuguese grape known as Jaén do Dão, a grape even far more obscure than Mencía (correctly pronounced, incidentally, as men-thee-ah).
As you would expect, wine journalists who revel in geeky grapes have written quite a bit about Mencía. It produces a red wine of sensory qualities so elusive, it invariably inspires somewhat colorful rhetoric. Eric Asimov of the New York Times, for instance, has described Mencía based reds as "haunting... in all its exotic fruit, wildflower and mineral glory." In SFGate, Jon Bonné once wrote of the grape's "primal, sometimes fierce aromas... beautifully sanguine, in addition to floral, spicy, animal scents and powerful mineral... (and) blood is a scent I don't usually discuss... in polite company." The Chicago Tribune's Bill St. John describes Mencía as a red wine like "many colored buddhist prayer flags fluttering in the wind... red and blue fruits... wet black stone, slate stone... and a kind of 'wine-iness,' a grape-y sapidity... liquid, juicy in texture..."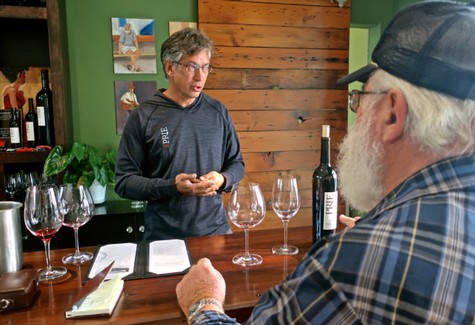 It takes far less of a flight of fancy to appreciate the 2017 PRIE Mencía's intense cherry skin perfume, which comes laced with tea-like scents and tannin, while tasting firmly dry with a tannin/acid edge and sensations suggesting more minerals than fruit.
This past November, PRIE's married winemaking team of John and Lisa Gash invited Ron Silva to their winery for a final tasting before the launch of their first Mencía in December. Mr. Silva swirled, took a whiff, a sip and said: "The rustic quality of this wine comes across more like a European wine than a California varietal in that there is more on the palate than in the nose. Also like a European wine, there is a nice balance of tannin and acid – nothing soft and fruity about it."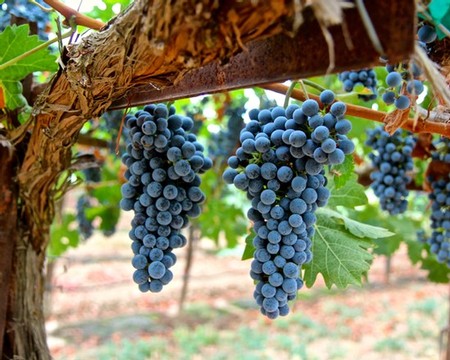 Prompted by Silva's observation of the wine's low-key aroma, Mr. Gash transfered his pour from a narrow, tulip shaped glass to a round "Burgundy" bowl. Finding, as he expected, more perfume when swirled in the more voluminous glass, Gash commented: "I agree with Ron, but there is also a beautiful, floral quality to the wine – subtle red cherry fruit, with a scent of rose petal.
"Maybe more important," added Mr. Gash, "this will make a wonderful 'food wine.'" Silva immediately concurred, saying: "Already I am thinking of dishes made with caramelized onions; maybe in a tart, served with good, aged cheeses... I also think it might be delicious with paellas made with combinations of seafood, meats and sausages."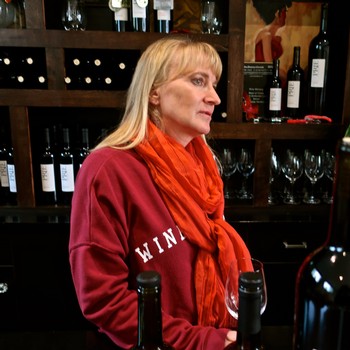 Commenting on the production, Mr. Gash told us: "The 2017 was aged in one neutral barrel and bottled early, to avoid oxidation and to preserve as much of the subtle fruit qualities as possible. We got double the amount of fruit in 2018, which will allow us to age the wine in a puncheon (i.e. roughly double-sized barrel) – again, to emphasize more of the varietal fruit character rather than the taste of oak."
Added Silva: "I hope people understand that our Mencía vines are still young – 2017 was its first harvest – although quite often a vineyard's first harvest is one of its best because of the natural balance of fruit and leaves you get in new vines. But insofar as the wine itself, our Mencía is still a work in progress. As the vines age, I think we'll get more distinct characteristics of the grape, like you find in Spanish Mencías. Still, I think we can all agree, this first vintage is extremely promising!"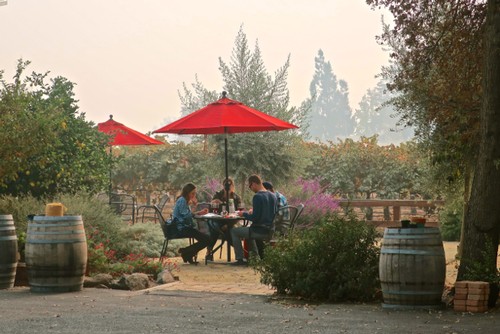 Comments