Letters from Lodi
An insightful and objective look at viticulture and winemaking from the Lodi
Appellation and the growers and vintners behind these crafts. Told from the
perspective of multi-award winning wine journalist, Randy Caparoso.

June 8, 2018 | Randy Caparoso
America's first Mencía and sharpened tastes of Lodi terroir at PRIE Winery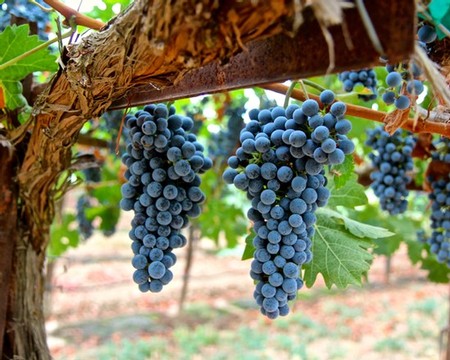 In 2017 Silvaspoons Vineyards' Ron Silva harvested his first crop of Mencía at his Alta Mesa-Lodi ranch. As far as we know, this is the U.S.'s first commercial planting of the grape.
Mencía – native of the northwest regions of Spain, close to Portugal – is a late-to-the-party black skinned grape, enjoying relatively modest yet intense adoration among connoisseurs of Spanish red wines only within the past 15 years.
What is the appeal of Mencía? Jancis Robinson – probably the most widely read wine journalist in the U.K. – describes Spanish Mencías as "perfumed" and "relatively light-bodied," yet "highly distinctive." Perfumed they are, although quite often they can be very sturdy, almost stiff, with tannin in combination with notable acidity; rendering an impact that can hardly be described as "light." More like "wham-bam," with a bite.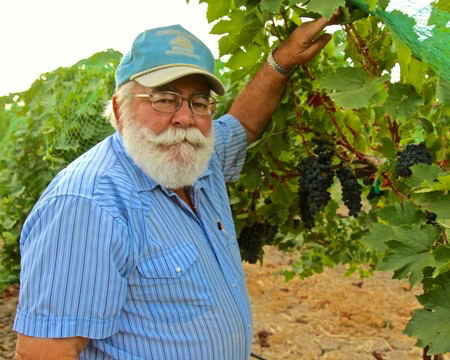 Because of his inaugural vintage's low yield, Silva divided the 2017 Mencía fruit between just two producers: Ursa Vineyards in the Sierra Foothills, and Lodi's PRIE Winery.
As we speak, Ursa Vineyards winemaker/owner Greg Stokes still has his 2017 Silvaspoons Vineyards Mencía resting in the cellar. Last week he reported: "It's coming along nicely, currently in neutral barrels (that is, barrels that have been used enough times that they don't impart a significant amount of oak flavor to the wine)." In fact, Stokes feels that the wine is deep and intense enough that the plan is to move it into a little new oak in a few weeks.
PRIE's owner/winemakers John and Lisa Gash, on the other hand, just bottled their 2017 Silvaspoons Vineyards Mencía on May 30; after just 5 months in neutral French oak. Why so soon? Says Mr. Gash, "Truth be told, our hands were forced – we only had enough for 1 barrel (whereas Ursa took four times more fruit), and we didn't want to top it off with any other kind of wine... we wanted to keep the flavor pure. So rather than risk any problem with potential evaporation, we decided to go ahead and bottle."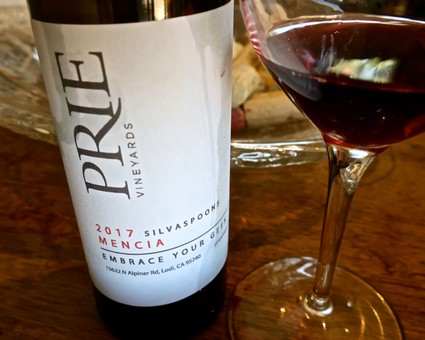 The 2017 PRIE Silvaspoons Vineyards Alta Mesa-Lodi Mencía – all 22 cases of it (price TBD) – will be released in the fall of 2018, and will also say "Embrace Your Geek" on the front label. Although reticent, the PRIE Mencía's nose is already showing an intense cherry skin perfume – a combination of a sweet red fruit aroma and rustic, tea-like tannin notes – and its feel on the palate is firmly drying, and gangly with tannin/acid edge, finishing with a mineral/earthen oomph. It tastes like no other red wine made in California; but if anything, right up any Mencía lover's alley!
So if this new, alternative kind of stuff turns you on, our advice is to contact – or better yet, drop by – PRIE Winery some time soon to get your name on their notification list.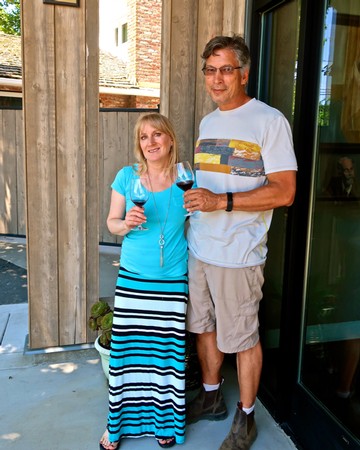 There is a reason, of course, PRIE was chosen to be Lodi's first Mencía producer: Because the Gashes' approach to wine is very contemporary in the sense that they have become smart enough to let things (or as they say, terroir) be, just the way they are. They want, say, a Mencía, a Dornfelder, a Vermentino or a Picpoul Blanc (yes, they have just come out with a Picpoul!) to taste like Mencía, Dornfelder, Vermentino or Picpoul Blanc; coming from exactly where they come from, with minimal winemaker interference.
The Gashes weren't always like that. When they first moved their base of winemaking and grape growing operations from Livermore Valley to Lodi five years ago, their wines still had a tendency to taste, well, "handcrafty" – particularly with the smell of oak and more of a winemaker's push and shove as opposed to delicate touch. Mr. Gash freely admits, "We are just now coming to a deeper understanding of vineyards and nuances coming from different soils – it's been a learning process, involving some oscillation between different experiments.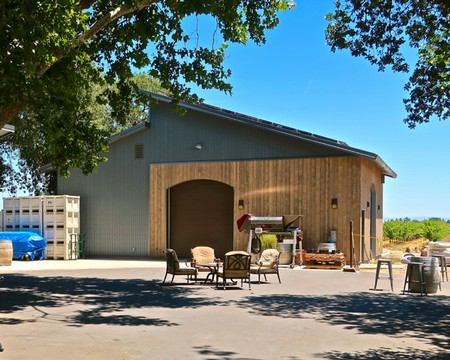 "Our compass right now is definitely headed towards lighter extraction. To represent what we find in vineyards by applying a subtle touch with our aging and barrel program. Picking decisions have a lot to do with it. We're learning how to nudge vineyards towards this direction or that to get more ideal cluster and berry sizes, which give us more concentrated flavors in a more natural way."
"We're also moving away from the idea of blending grape varieties in order to fill 'holes' in wines, and more towards single vineyard bottlings. We would much rather celebrate the character of vineyards and grapes, holes and all. As winemakers, it's all too easy to want to play 'chemistry' with wine."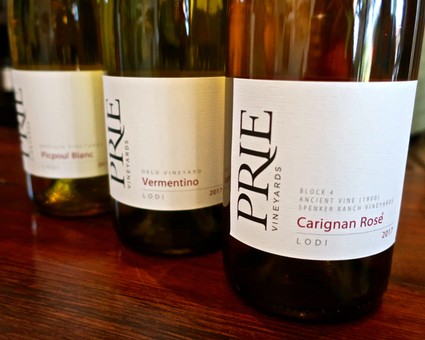 Fans of this minimalist mentality would undoubtedly find the current stable of PRIE wines extremely fulfilling. The 2017 PRIE Bokisch Vineyard Clements Hills-Lodi Picpoul Blanc ($TBD), to begin with, was picked early enough to finish with just 11.5% alcohol; resulting in refreshingly high toned clarity of mineral/lemon varietal character that is light as a feather and modestly puckery – exactly the way every Picpoul should.
The 2017 PRIE Delu Vineyard Lodi Vermentino ($23) also retains an airy light (12.1% alcohol), mineral/stony/lemony tart taste characteristic of the grape; slightly more floral (more like lavender than wildflowers) than the Picpoul – that is to say, textbook Lodi grown Vermentino.
Summer is nigh, and in 2018 everyone's talkin' up cool, refreshing rosés. If you prefer the most delicate of styles, the translucent, pale pink 2017 PRIE Block 4-Spenker Ranch Vineyard Mokelumne River-Lodi Carignan Rosé ($25) is bone dry and zesty with natural acidity; its extremely low alcohol (11.3%) allowing the flower petal sensations (rose petal, with smidgens of spice scented dianthus) to do pirouettes on the palate. This wine certainly has the classic Lodi pedigree, sourced entirely from the Spenker family's historic 1900 block of own-rooted Carignan. You won't find very many rosés (at any price) made from vines as venerable as that. Then again, this is Lodi.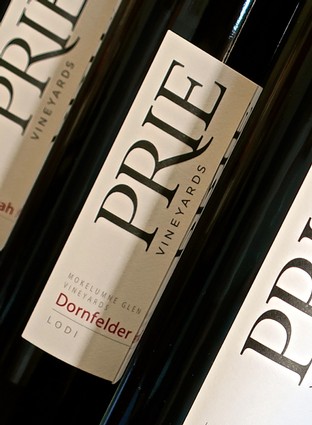 Finally, there are two new PRIE reds that exemplify what Lodi can do differently from any other region in the U.S. First, the 2017 PRIE Mokelumne Glen Vineyards Mokelumne River-Lodi Dornfelder ($27): A deep purplish red, blasting the nose with elderberry, licorice and violet perfumes that plow into the palate in dense, meaty waves; yet almost miraculously, with zero sense of heaviness or heavy-handed extraction (its sense of levity helped by just 11.6% alcohol).
Then, a pièce de resistance: The beautifully bright, ringing, fragrant 2015 PRIE Block 4-Spenker Ranch Vineyard Mokelumne River-Lodi Carignan ($27); which, despite its slightly heftier feel (14.1% alcohol), comes across as fine, silken and pure – its earth nuanced red cherry perfume allowed to sing, unperturbed, of Spenker Ranch's 117-year-old heritage (if ancient vines could talk...), constituting what is utterly unique and phenomenal about the Lodi Viticultural Area.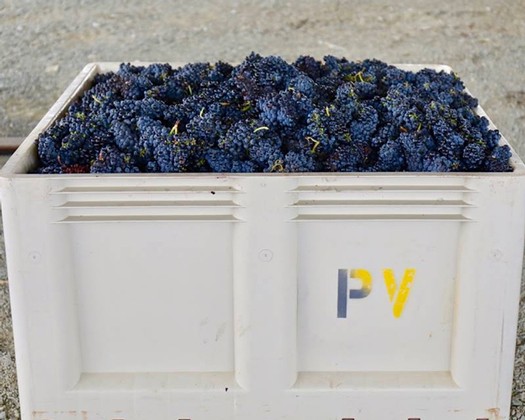 Comments