Letters from Lodi
An insightful and objective look at viticulture and winemaking from the Lodi
Appellation and the growers and vintners behind these crafts. Told from the
perspective of multi-award winning wine journalist, Randy Caparoso.

August 7, 2017 | Randy Caparoso
Borra's Markus Niggli reflects on the explosion of red wine blends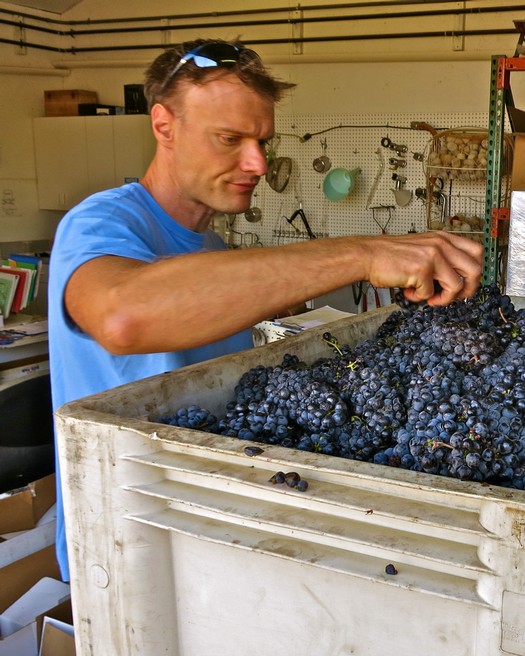 During the past three, four years, Borra Vineyards winemaker Markus Niggli has justifiably garnered considerable media accolades and consumer enthusiasm for his blends of white wine grapes; primarily sourced from Mokelumne Glen Vineyards – an east side riverside vineyard now planted with 50 German and Austrian wine grapes.
But lost among all the hullabaloo is this pervasive fact: Niggli is also a master of red wine blends; all bottled under special Borra Vineyards labels (Niggli's white wine blends are bottled under the Markus Wine Co. label).
While Niggli has been quietly fashioning seamlessly smooth, luxuriously flavorful red wine blends for going on ten years, all of the sudden red wine blends have become the California wine industry's single fastest growing wine category in terms of sales (re this June 15, 2017 Los Angeles Times report).
And it's not just because of packaging – consumers becoming enthralled by imaginative labels such as Freakshow, Petite Petit, Coup de Grâce, Tievoli, "The Other," to name just a few of some of the more successful Lodi grown red wine blends out in the market. It's also because consumers have become sophisticated enough to appreciate red wines beyond varietal labels. In other words, they no longer expect red wines to taste exactly like Zinfandel, Merlot, Cabernet Sauvignon, or any other specific varietal. Instead, consumers are more open than ever to red wines artfully blended from multiple grapes, each combination expressing its own, unique sensory qualities.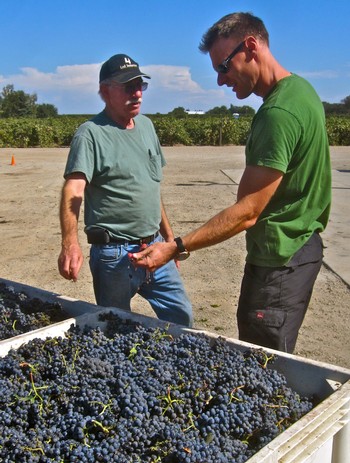 Mr. Niggli tells us: "From the beginning for us at Borra Vineyards, blends have been an important part of what we do. Since we are small, blending gives us a chance to increase our volume of production. But more important, I believe that every grape can enhance the flavor profile of a wine. I create blends to make particular wines better.
"For example, our 2014 47.5° Red Wine has Petite Sirah as its base because of its concentration of black fruit, plus tannins that are generous yet soft. Blending the Petite Sirah with Syrah adds further depth and funk to the wine, while a smaller portion of Mourvèdre gives an acid tone, a sense of freshness and its own red fruit quality. The entire combination shows off the best of what we can grow in Lodi" – a huge plus for Niggli, given his European background and natural instinct to think of quality in terms of vineyards or regions, as opposed to the varietal character of individual grapes.
One of Niggli's more original blends is his 2014 "Intenso," which combines the qualities of Borra grown Zinfandel, Merlot, Petite Sirah and Cabernet Sauvignon. Says Niggli, "You won't find too many blends like Intenso – all the grapes used in this wine are typical stand-alone varietals, but together they create a complex, intense, multi-layered whole of its own.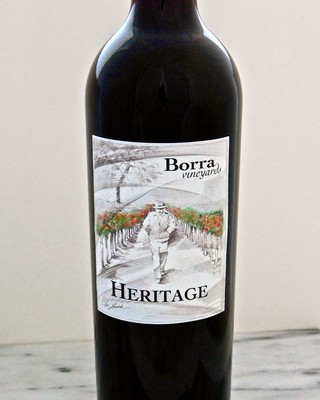 "Our Borra Vineyards club members have become used to the emphasis on blends in our program, which started with our first 'Fusion Red.' Every year since then, our red Fusion (usually consisting of Syrah plus two to three other grapes) has been our #1 best seller here at Borra."
Mr. Niggli acknowledges that the trend towards red blends is fairly recent. "Reception of our blends was a little slow at first; especially for restaurants, who were not all that interested in them – perhaps because it's a little harder to pair food with unfamiliar red blends. But the retail stores always found space to work with them."
Niggli is particularly enthusiastic about his 2013 "Finesse" – a classic combination of Cabernet Sauvignon and Merlot in about a 60/40 proportion. He tells us, "The Finesse is drinking very well right now, now that it's had a little bit of bottle-age. With recent climate changes, we tend to pick red grapes fairly early, at a higher acid levels, which is perfect for wines meant to be appreciated with more bottle-age. Higher acid balance allows wines to settle, and the tannins to soften while the fruit starts to emerge.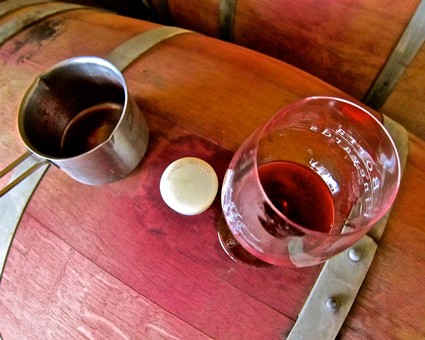 "Our Finesse blend has the structure of Cabernet Sauvignon, complimented by the fine tuning of Merlot. 2013 was a very interesting year. Grapes were ripening very quickly early in September but then they leveled off, with sugars barely moving. We decided to pick on the earlier side instead of waiting longer. As a result, grape pH was just perfect. Merlot came in early, in mid-September; and Cabernet Sauvignon came in the first week in October. Looking back, that was 3 weeks earlier than the previous year (2012); but today mid-September-to-early-October harvests seem 'late.' Times are changing, but all for the better for Lodi style reds!"
Our notes on Borra Vineyards' current releases of red red wine blends:
2014 Borra Vineyards, Lodi Fusion Red ($20) – 60% Syrah, 25% Zinfandel, 14% Petite Sirah and 1% Mourvèdre. Effusively fragrant raspberry aroma with sprinkle of black pepper and vanilla bean; full bodied (14.7% alcohol, but soft, silky, long and richly red fruit-focused on the palate. Recommended with teriyaki style grills or Chinese style baby back ribs.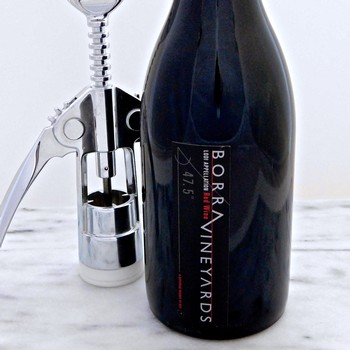 2014 Borra Vineyards, Lodi 47.5° Lodi Red Wine ($35) – 80% Petite Sirah, 10% Syrah and 10% Mourvèdre. Crafted from the winery's best barrelss and a cut above the Fusion in depth and complexity; thus, considered the winery's "top-of-the-line" blend. Rich ruby color and forward, raspberry/cherry liqueur-like intensity in the nose. On the palate, beautifully fruit focused (very subtle sweet oak notes); round, fleshy, velvety, and restrained in weight (14.4% alcohol). Winery recommends braised shortribs with mushrooms. We'd suggest cheese grits or soft polenta to match, as there's something to be said for both foods and a wine that "melts in the mouth."
2013 Borra Vineyards, Lodi Finesse ($22) – 60% Cabernet Sauvignon and 40% Merlot. Purplish ruby and aromatic nose suggesting cassis and subtle herbal/cedary notes enhancing a lavish black cherry fruit quality. Smooth, well rounded and velvety textured, with moderate weight and fleshy, upbeat, even-keeled feel from beginning to end. Very European sense of "finesse."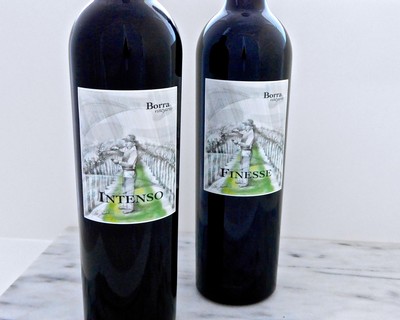 2014 Borra Vineyards, Lodi Intenso ($22) – 30% Zinfandel, 30% Merlot, 30% Petite Sirah and 10% Cabernet Sauvignon. As with most their red wine blends, grown in the Borra family's Gill Creek Ranch in Lodi's Clements Hills AVA. Exuberant aromas of fresh black cherry, with suggestions of sun dried cherry, something of a dried herb quality, and just a smidgen of vanillin oak. Meaty, moderately full feel (14.4% alcohol); vibrantly flavorful on the palate, with mildly filling yet round, smooth tannin.
2013 Borra Vineyards, Lodi Heritage Field Blend ($25). 70% Barbera, 10% Carignan, 10% Petite Sirah and 10% Alicante Bouschet. A co-fermented blended red sourced primarily at the winery's Mokelumne River winery site, representing perhaps the most distinctive, terroir driven (i.e. very strong "sense of place") red wine grown and produced in all of Lodi. Nostril tingling wild berry nose tinged with a dusty earthiness, minglng with eucalyptus-like notes. Firm, meaty, notably zesty sensations framing the earthy/berry flavors, with moderately sturdy tannin. Recommended with thyme roasted lamb, duck, roasted pork or spare ribs.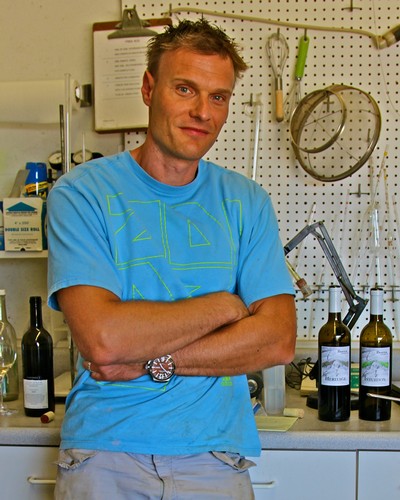 Comments