Letters from Lodi
An insightful and objective look at viticulture and winemaking from the Lodi
Appellation and the growers and vintners behind these crafts. Told from the
perspective of multi-award winning wine journalist, Randy Caparoso.

October 11, 2018 | Randy Caparoso
Bokisch Vineyards releases groundbreaking Monastrell (a.k.a. Mourvèdre)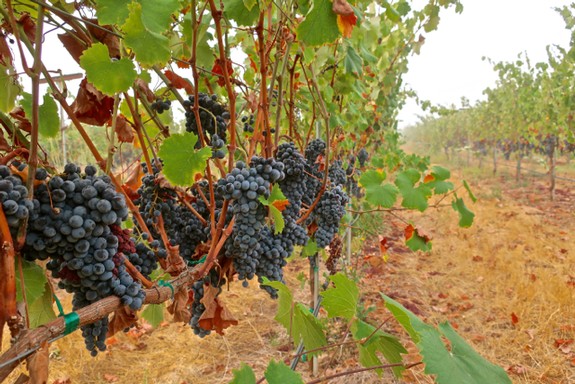 This past weekend, Lodi's Bokisch Vineyards debuted a Monastrell – a Spanish moniker for the varietal more commonly known as Mourvèdre – that has to be described as no less than groundbreaking. For Lodi, as well as for California in general.
First, the wine in question: The 2016 Bokisch Vineyards Sheldon Hills Vineyard Sloughhouse-Lodi Monastrell ($25) is a dark ruby colored wine showing off an elusive yet compelling nose suggesting sweet Santa Rosa plum and sun dried cherry, tinged with rosemary/thyme-like fragrances against a faint backdrop of coffee/mocha spices and roasting meats. On the palate, the wine is meaty textured with a medium-full body that has a dense, textured, viscous feel – like a vinous equivalent to fluid, savory demi-glace – without being weighty or plodding; the plummy/dried cherry sensations playing with the kitchen herby/mocha spice sensations all the way into a lip smacking finish. In short, good enough to eat!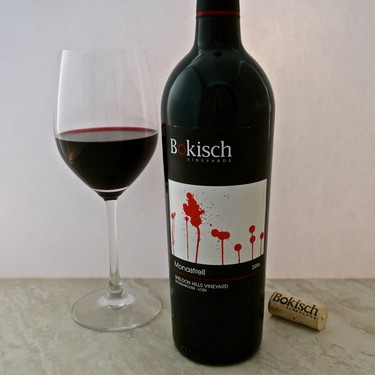 The inaugural vintage of the Bokisch family's 2016 Sheldon Hills Vineyard Monastrell – made from vines planted just four years ago in Lodi's Sloughhouse AVA – was taken out for a test drive of sorts this past May, during a 16-wine blind tasting put on as part of Lodi's annual ZinFest. In this tasting, the 2016 Bokisch was blind tasted alongside two outstanding California Mourvèdres – a 2014 Skinner Vineyards from El Dorado and a 2016 Neyers Vineyards from Contra Costa County's acclaimed ancient vine Evangelho Vineyard – as well as a classic 2015 Domaine Tempier Bandol. If anything, the spiritual home of Mourvèdre/Monastrell (also known as Mataró in both Spain and California) is still considered to be Bandol, although the grape also remains significant in Spain.
In response to this blind tasting, Napa Valley Register reporter Tim Carl proclaimed (in his follow-up article, called Lodi Rising) that Bokisch's Sloughhouse grown Monastrell "would give any Bandol from France a run for its money."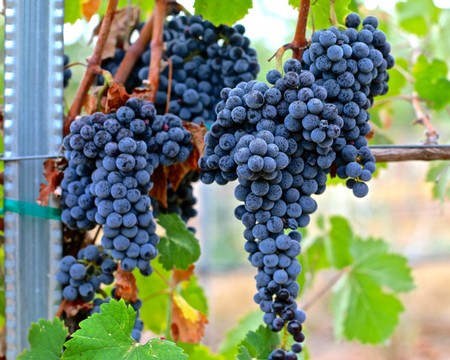 In expressing a preference for the Bokisch over the other three wines in the blind tasting, Covenant Wines owner/winemaker Jeff Morgan (who has also authored several wine books and was the former West Coast Editor of Wine Spectator Magazine) admitted that he mistook the Bokisch for the Bandol; mostly because he found the Bandol to be slightly "big, fat, ripe" – qualities more likely to associated with California rather than French wines. He found the Bokisch to be more savory and deeper, which you would expect more from a French wine.
Chad Joseph, an acclaimed winemaker who consults for a number of Lodi's finest wineries, wrote to tell us: "I was totally shocked by the Bokisch Monastrell because, of all the wines, it showed the most density of color, tannin and fruit – all very well balanced... I did not guess that it was from Lodi – I thought it was Spanish, for sure!"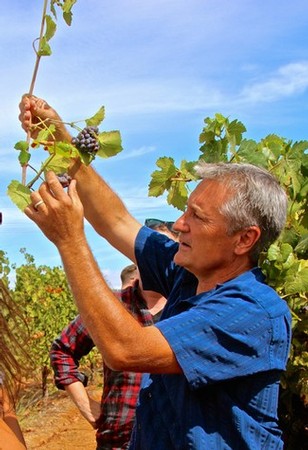 Therein lies the significance of Bokisch's 2016 Monastrell. When Markus and Liz established their brand in the late 1990s with the specific mission of becoming California's leading grower and producer of Spanish varietals (which they have accomplished!), Monastrell was part of their portfolio. But early vintages of Bokisch Monastrell were sourced from a vineyard called Belle Colline, located in Lodi's Clements Hills AVA and pulled out after the 2014 vintage. Belle Colline produced beautifully complex Monastrells with perfumes of fresh berries and kitchen herb spices; but, typical of many Lodi reds, the Belle Collines were always markedly soft, easy textured wines, with lower degrees of color and phenolic substance (particularly tannin).
After crafting 2016 and 2017 Monastrells from Sheldon Hills Vineyard, Bokisch winemaker Elyse Egan Perry tells us: The Sheldon Hills Vineyard Monastrell is a totally different animal from the Belle Colline Monastrells. It is bigger, darker, more tannic – more of what I would consider a classic style of Mourvèdre; similar to what you find in Bandol or some of the Monastrells in Spain."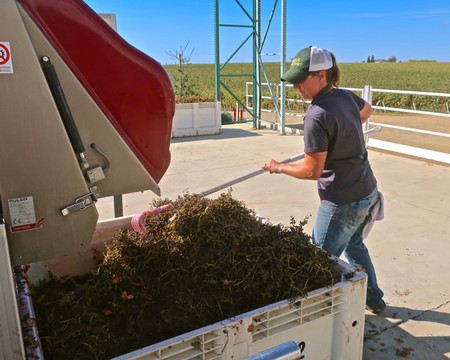 The point is not to suggest that a Lodi Monastrell might be "better" than a Bandol or other California Mourvèdres, but to bring attention to the fact that there are winegrowing sites in Lodi that produce Mourvèdre based reds with every bit of the dense, savory texturing, terroir related transparency (i.e. strong "sense of place"), and almost mystical, sensory defying qualities for which the grape has long been known. What a difference a site makes!
Says Markus Bokisch himself: "The reason we planted Monastrell at Sheldon Hills is because of two factors that are particular to this variety – its natural vigor and its late ripening (as of October 11, for instance, Bokisch's 2018 Sheldon HIlls Monastrell grapes are still hanging on the vine). Sheldon Hills Vineyards is comprised of some very old, volcanic, mud flows (predominantly Redding Series soil). These orange-red soils have little nutrient value, and tend to mute the vegetative growth inherent to Monastrell.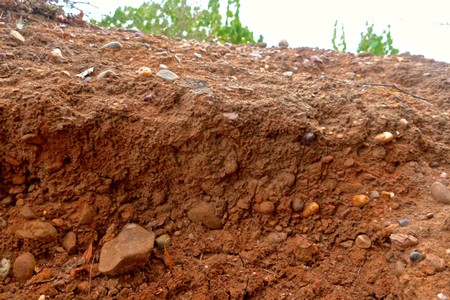 "Also, Sheldon Hills is located at the north-east corner of our Lodi AVA, within the Sloughhouse sub-AVA. Its remote location, furthest from the Delta breezes which define our region climatically, means that this site has enough heat to ripen this slow-maturing variety." Yet at the same time, Sloughhouse vineyards experience slightly cooler night-time temperatures than most of the rest of Lodi.
One of California's most cerebral viticulturists, Mr. Bokisch also shared these historic insights and inspirations: "No wonder Monastrell is vigorous and slow maturing – its origin is from the Levant, the area of Syria, Lebanon and Palestine, which often basks in hot summer weather, yet has little rainfall. It was brought over to the area of Valencia, in Spain, by the Phoenicians, before the Romans conquered the Iberians who lived there. It languished as a local variety for over a thousand years, before being picked up, and transported north, along the Mediterranean coast. My selection comes from France, near the area of Bandol by the Côte d'Azur (French Riviera), where this variety found a new home about 500 years ago.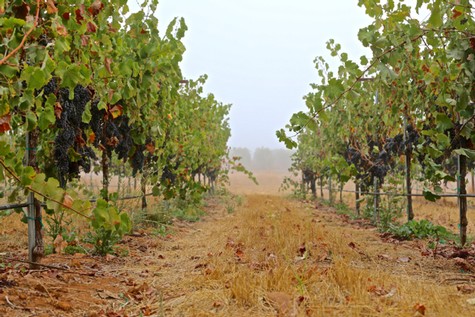 "I first planted Monastrell because of a book I read many years ago, Adventures on the Wine Route by Kermit Lynch, which exposed me to Domaine Tempier and their famous wine from Bandol. I immediately bought a bottle and marveled at what the Mourvèdre grape could do. I promised myself that, one day, it would be in my vineyard, and that I would make wine from it.
"Today, my Monastrell is planted in a gently east-facing slope, corralled in between Cabernet Sauvignon and Petit Verdot blocks. It's taken me four years to build up enough budwood to plant out all 10 acres. It'll take another two years before the entire block ripens evenly. At the moment, I have five buyers – from Napa, Sonoma and Lodi, including Bokisch Vineyards – that source from this vineyard. The rest are on a waiting list."
"Lodi rising" indeed!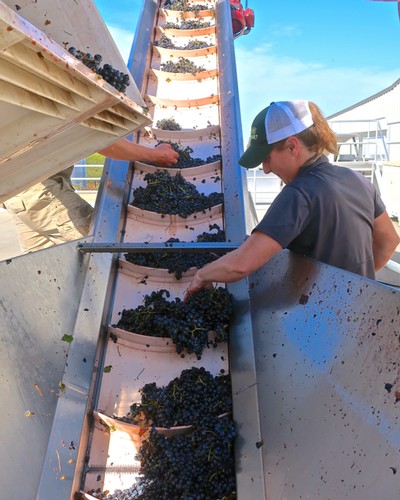 Comments