Letters from Lodi
An insightful and objective look at viticulture and winemaking from the Lodi
Appellation and the growers and vintners behind these crafts. Told from the
perspective of multi-award winning wine journalist, Randy Caparoso.

March 9, 2016 | Randy Caparoso
Bokisch Vineyards opens new tasting room in Lodi's Clements Hills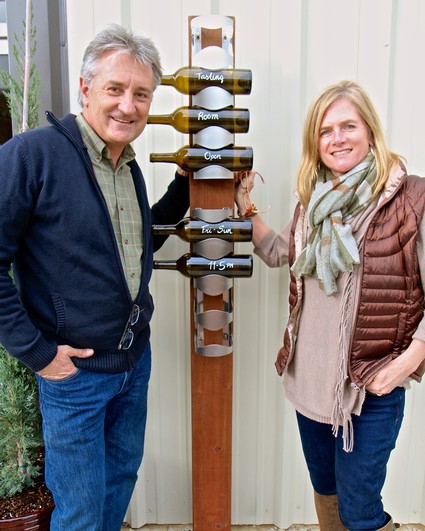 Bokisch Vineyards' Terra Alta Vineyard has always been one of Lodi wine country's most spectacular, photogenic, yet very rarely seen (at least by visiting wine lovers) sites.
It sits in Lodi's Clements Hills Viticultural Area, east of the City of Lodi, which is a region of bucolic, rolling hills and gravelly clay soils – in dramatic contrast to the decidedly flat, fine sandy loam landscape of Lodi's more historic Mokelumne River AVA, surrounding the little City of Lodi.
There is a fresh, shiny newness about Clements Hills – most of its planted vineyards did not go into the ground until the 1990s – and what's even newer is Bokisch Vineyards' long awaited tasting room, which "softly" opened during last month's Wine & Chocolate Weekend.
This is fantastic news for the legions of loyal, longtime Bokisch aficionados; who now have a place to go, show off to visiting family and friends, taste and buy the sleek, multi-award winning, contemporary style wines grown by Bokisch Vineyards – all crafted from Iberian varieties such as Albariño, Tempranillo, Graciano, Verdelho, Verdejo, Monastrell, Garnacha Blanca and Garnacha tinta, not to mention some of best dry rosado (i.e. rosé) and ancient vine Zinfandel in the region.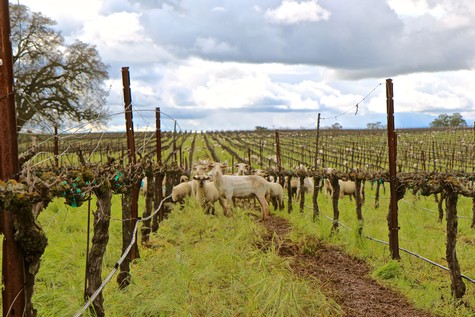 Owner/growers Markus and Liz Bokisch will be cutting a ribbon in celebration of an official Grand Opening, this coming March 19-20, of their tasting room located at 18921 Atkins Rd. (Lodi, CA) – accessed off of Brandt Rd. to the south, or from Hwy. 88 (near Clements) to the north. The tasting room hours will be on Friday-Saturday-Sundays only, between 11 AM and 5 PM.
"We're so excited" exclaimed Ms. Bokisch, "finally... it only took about 14, 15 years!" The 100-acre Terra Alta Vineyard site holds a special significance to the Bokischs – who now farm over 2,000 acres in five of Lodi's seven sub-appellations – because, says Ms. Bokisch, "Terra Alta was what brought us to Lodi in the first place."
Adds Mr. Bokisch: "Terra Alta was our first vineyard in Lodi. We planted our first block, 17 acres of Syrah, in 1996, and the balance (another 65 acres) the following year. We didn't actually move to Lodi until September of 1998. Where our new tasting room is now, used to be our shop, housing our agricultural equipment – tools, tractor parts, a welding bench... the way it looked before, I couldn't imagine it being turned into the tasting room you see now."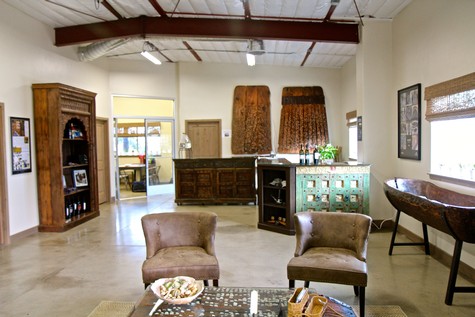 One of the special things about the Bokisch tasting room is that it is separated by floor-to-ceiling glass from the Bokischs' winery; and so visitors will always have a first-hand look at the winemaking process while experiencing the wines. Hanging on the walls above antique wood tasting counters are two large objects representative of Mr. Bokisch's Spanish heritage: downright primitive looking wood trillos, or grain threshing boards.
As you walk into the Bokisch tasting room from the parking area, you also can't help but notice the grounds layered with crushed walnut shell "gravel," sourced from the ShellPro Inc. facility close by on Atkins Rd., which specializes in milled agrashell products (a natural extension of the nut and stone fruit industries which dominate Lodi agriculture today).
Says Mr. Bokisch, "We think of the walnut shell walkway as part of our commitment to sustainability. 100% of Terra Alta Vineyard, for instance, is both CCOF (i.e. California Certified Organic Farmers) and Lodi Rules (for Sustainable Winegrowing) certified."
Ms. Bokisch adds, "It's also why we've been utilizing all those natural 'lawn mowers' you see out in the vineyard today" – in reference to the large flock of noisy, busy sheep, milling about between the rows of Terra Alta Vineyard, making breakfast, lunch and dinner out of this past winter's cover crops.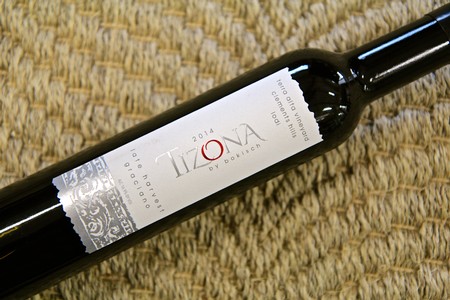 Finally, the brand new Bokisch Vineyards tasting room will be giving the family an opportunity to craft and sell smaller lot wines, such as their first vintage of sweet dessert wine, the 2014 Tizona Terra Alta Vineyard-Clements Hills Late Harvest Graciano ($25/500 ML).
Says Bokisch winemaker Elyse Perry: "In 2014 we decided to let some of the Graciano hang a few weeks longer, and the sugars got up to 28° to 32° Brix. The beautiful thing about Graciano (a black skinned grape normally used for dry red table wines) is that it retains its high acidity like none of our other grapes ever can, and so the wine is perfectly and naturally balanced – even at about 45 grams of residual sugar, and a natural alcohol (i.e. no fortification) of 16.9%."
Our tasting notes on the Tizona Late Harvest Graciano: deep purplish red color and luscious, raisined, caramelized, plummy aromas and flavors with absolutely no oxidative notes; then in the mouth, this moderately full (not heavy!) dark wine is bright, rich, velvety and vibrant all the way through its long, sweet, lip smacking finish. Where else in California – heck, where else in the world – will you be able to experience such an original, and stunningly sumptuous, dark, exotic beauty?
Come on out to Lodi's Clements Hills!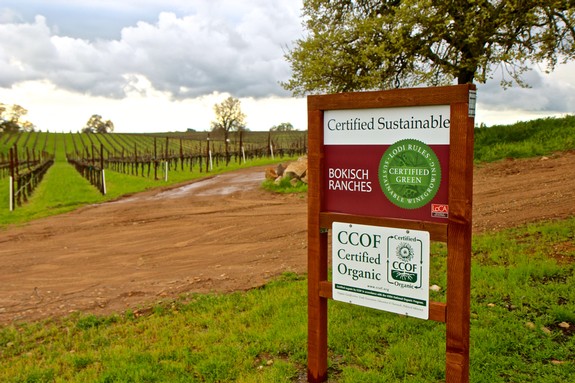 Comments
Nicholas Karavidas
@ Mar 11, 2016 at 9:24 AM
Congrats you guys! I remember the exact time when you first made your move to Lodi......& the fact that I'm always blaming you for getting me to come here. It was one of the best moves I've ever made. Thanks for your vision, tenacity, intuition & commitment to quality. Nicholas Karavidas
Carol Burns
@ Mar 11, 2016 at 6:33 PM
Congratulations!! Very excited for you. You are so respected in the community and an asset to the wine industry.
Patrick Boyle
@ Mar 22, 2016 at 1:09 PM
Congrats! And kudos too on the interior design it looks both inviting, fexible and functional.