Letters from Lodi
An insightful and objective look at viticulture and winemaking from the Lodi
Appellation and the growers and vintners behind these crafts. Told from the
perspective of multi-award winning wine journalist, Randy Caparoso.

February 5, 2016 | Randy Caparoso
Beyond Super Bowl 50: why you should be in Lodi!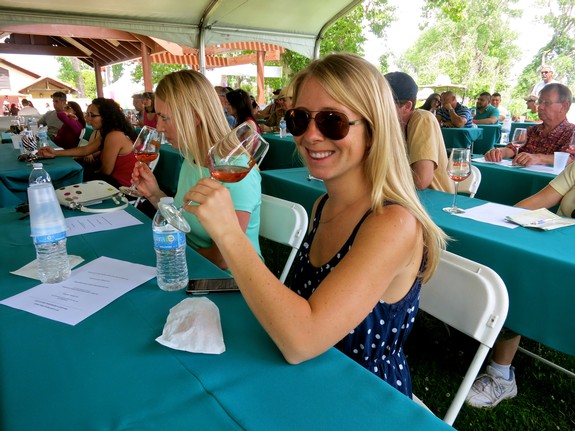 Attention Super Bowl 50 visitors: where is the place to be this weekend or following the Big Day?
Why, in California wine country, of course. Not just any part of California; even better, the historic Lodi wine region, which was recently named the 2015 Wine Region of the Year by Wine Enthusiast magazine.
We won't count the reasons why lovers of wine and the good life are lovin' Lodi right now. We'll let Alexandra Fondren, who contributes to the All the Swirl blog (by the Charles Communications staff), do that for us. She did a wonderful job, in this blurb posted this past January 6, 2016. Says Alex:
Lodi, California: Beyond the Vine
When people think of Lodi, California they tend to think of one of two things: great wine and/or Creedence Clearwater Revival. While both are more than worthy of a rapt audience, the historic town and surrounding region actually offer far more than first meets the glass.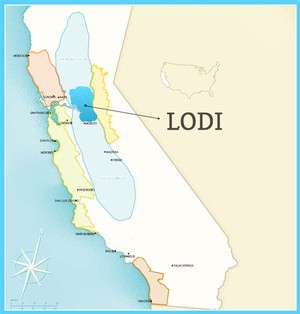 Lodi enjoys a mild, Mediterranean climate year-round, cooled each night by breezes off the delta. the same breezes that brought the America's Cup to the Bay Area for the first time recently. The region has managed to retain the kind of small town American charm that one usually can't find outside the Midwest, let alone in California. Thanks to the thriving wine grape-growing business (which ironically boomed during Prohibition), it's common to meet locals whose 19th century ancestors tended to the same vineyards and farms that still bear their common name. And though they are famously warm and welcoming to outsiders, they have done a pretty good job keeping their Central California oasis a well-kept secret.
But that sleepy reputation is about to change. Not only has Lodi received international validation for its status as a world class wine destination (it just won Wine Enthusiast's prestigious 2015 Wine Region of the Year award and will host the annual Wine Bloggers Conference in August 2016), but it's also gaining Hollywood's attention for all it has to offer: Ashton Kutcher and Mila Kunis stopped in Lodi last summer during their low-key RV honeymoon, as did Will Smith, who visited Lodi to prepare for his role in the just-released film Concussion (2015).
Any reader of All the Swirl already knows all that Lodi has to offer on the wine front. This month, we wanted to share all the other qualities beyond wine that keep us yearning to get "stuck in Lodi again" (and again…and again). Here are just a handful of activities including some family friendly ones that make Lodi the ultimate weekend destination for local and international visitors alike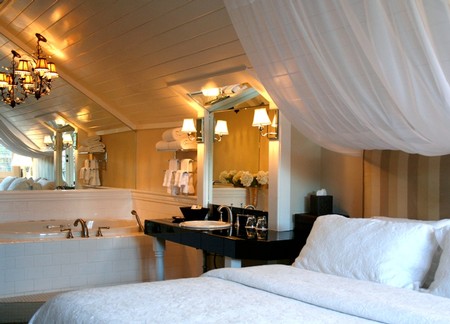 Foodie Farm-to-Table Mecca - Lodi is located in the San Joaquin Valley, California's top agricultural producing region. This area is often referred to as "The Greatest Garden in the World" and the "Nation's Salad Bowl," where fresh fruits, vegetables, and nuts are produced, packaged and shipped all over the world. My favorite is Towne House Restaurant at the elegant & uber stylish Wine & Roses hotel (where Ashton & Mila stayed). Don't miss the Tamale Pancake! Other winners are Alebrijes for gourmet Mexican cuisine, Pietro's for excellent Italian, and of course, the original A&W!
Cheese Central – Speaking of mouthwatering delicacies, it's only appropriate that such a renowned wine destination should have one of the best cheese shops outside of San Francisco. Owned by Lodi's beloved Cindy Della Monica, stop in for a cheese tasting and explore her extensive selection of both local and imported offerings. Cindy's artisanal beer selection is also impressive.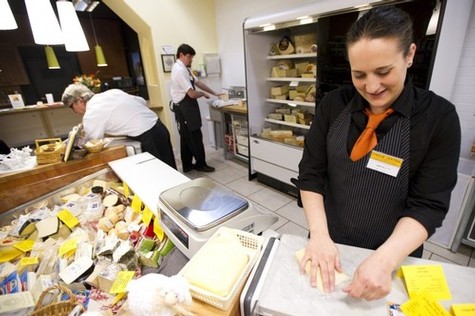 For Adventure Seekers, the Lodi Parachute Center - The Parachute Center is one of the largest and oldest drop zones in the United States, serving the sport since 1964. They welcome skydivers of all skill levels at the drop zone. Anyone can go on a tandem jump.
Downtown Lodi – A dozen wineries and one excellent brewpub now call downtown Lodi home. Walk the cobbled streets from tasting room to tasting room. Visit local stores and antique shops. Have a leisurely lunch at any one of the welcoming restaurants.
Mokelumne River Kayak Trips – Visitors can take a guided trip or rent their own kayaks from Headwater Kayak Shop. Take a leisurely trip out on the Mokelumne River or go on the evening social kayak. If you want to know special spots to skim along, ping us at press@charlescomm.com, Lodi vintner Tim Holdener of Macchia Wines is quite the savvy navigator of the waterways.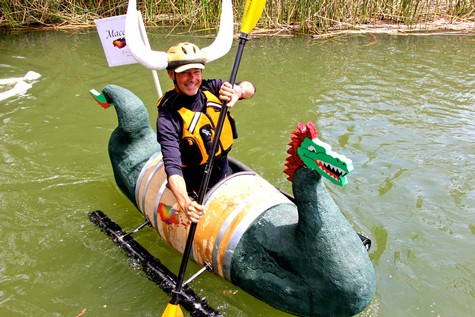 Cosumnes River Preserve - Within the 50,000+ acres of the preserve, Lodi has over 11 miles of pristine hiking trails. Unlike popular Bay Area trails, Lodi hikers can go for hours without spotting another human being, enjoying the solitude and the serene majesty of classic California nature. The preserve is home to more than 250 bird species, more than 40 fish species, and some 400+ plant species have been verified. Keep an eye out for Greater and Lesser Sandhill Cranes, Northern Pintail, Swainson's Hawks, and Black-necked Stilts.
Sandhill Crane Festival – Every year between October and February, thousands of Sandhill Cranes descend into Lodi's rich delta wetlands to roust at the end of a long migratory journey, some from nesting grounds as far away as Siberia. As they greeted California's earliest explorers, these magnificent birds darkened the skies over winter marshes. In awe-inspiring numbers, and with a prehistoric call, stately gait, and elegant choreography, the Sandhill Crane continues to attract and inspire birders and nature enthusiasts from all over the Pacific Northwest. Each year thousands of visitors make their way to Lodi area wildlife refuges and farmlands to experience first hand one of nature's spectacles.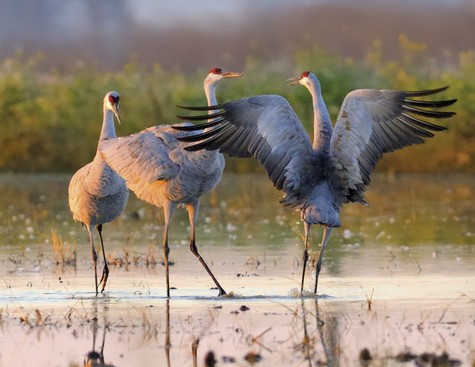 Micke Grove Zoo - Featuring over 180 birds, mammals and reptiles, visitors will enjoy native animals and exotic species from all over the world in Lodi! Catch a glimpse of several threatened species such as the Southern Pudu, Fossa, and Waldrapp Ibis. Exhibits include the Tropic Forest Canopy with its Brazilian Tree Porcupine and Provost's Squirrel and the Island Lost in Time featuring lemurs, parrots and radiated tortoises from Madagascar.
World of Wonders Science Museum - Where adults as well as children go to explore dozens of exciting and educational hands-on exhibits that focus on energy, electricity, magnetism and more.
Lodi Lake - The Discovery Center hosts a mounted collection of the animals and birds that are found along the Mokelumne River. Vintage photographs of the lake area, along with interpretive educational games make a visit to the Center enticing for all ages. Afterwards visitors can take a walk along the 1.5 miles of nature trails lined with mature oaks, cottonwoods and willow stands overlooking the river. This 58-acre riparian wilderness area is home to over 200 species of birds. Paddleboats and canoes can be rented and a beach area is available for those who wish to swim during the summer months.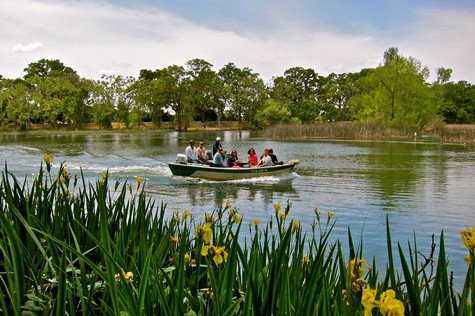 San Joaquin County Historical Museum - Visitors come here to get transported back in time, whether it's to the San Joaquin County schoolhouse and the authentic blacksmith shop or by taking a walk on the sunshine trail - a recreation of a trip across California from west to east including waterways, bridges and native California plants. And in classic Lodi style, farm-enthusiasts can observe authentic tractors from the early 1900's and view hundreds of antique farm implements.
The Serpentarium – Courageous former Slytherins will be delighted to learn that Lodi is home to Northern California's largest Serpentarium. There, over 50 different breeds of snakes are on display, as well as other exotic reptiles such as bearded dragons, geckos, chameleons, mantella and horned frogs, emperor scorpions, tarantulas and various other creatures. Visitors can learn about the snake breeding process and even hold one for a picture...if they dare!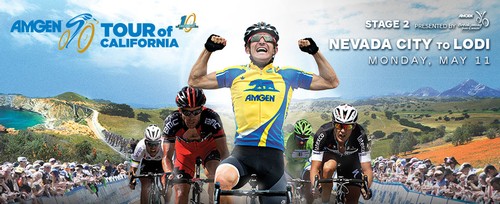 Cycling - Lodi is a cycling destination. Last year it served as a host city for AMGEN Tour of California (Stage 2 finish) and will host again in 2016 (Stage 5 start). It is home to other cycling events as well, such as Giro D'Vino and Cyclefest. Lodi bike routes are available as a resource for cyclists on the Visit Lodi website: www.visitlodi.com/lodi-bike-routes. On any given afternoon, you might pass a peleton of winemakers or growers getting fit together.
All of these activities exclude Lodi's outstanding 85+ boutique wineries as well as the region's three flagship annual wine festivals: ZinFest at Lodi Lake (May 13-15, 2016), Wine & Chocolate (February 13-14, 2016) Sip Savor Lodi in September. All three events attract hundreds (often thousands) of wine lovers from all over the world.
With so much to explore beyond the vine, get thee to Lodi in 2016!
By Alex Fondren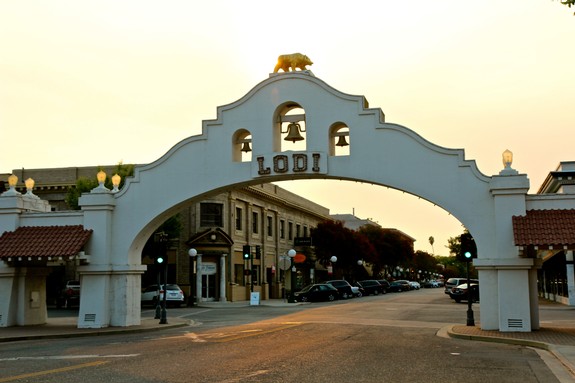 Comments