Letters from Lodi
An insightful and objective look at viticulture and winemaking from the Lodi
Appellation and the growers and vintners behind these crafts. Told from the
perspective of multi-award winning wine journalist, Randy Caparoso.

July 15, 2021 | Randy Caparoso
Beating the heat with fresh, new California style coolers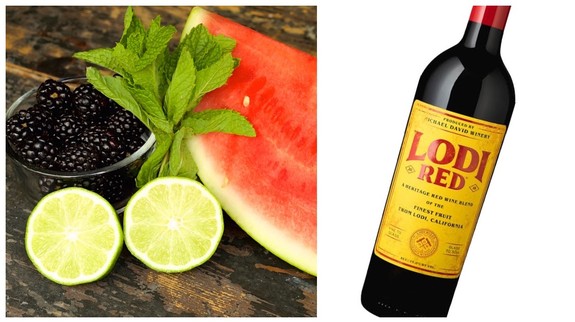 It's getting hot, and I don't have to tell you — it's hotter than usual. Mother Nature is telling us something. I'm not just talking about what we can do as citizens of the world, each of us doing our part to alleviate the extreme repercussions of climate change. But also what we can do as wine lovers to bring relief to ourselves, our friends, and our family.
Number one, drink wine over ice cubes. We need to cool our body temperatures while hydrating ourselves. Alcoholic beverages, admittedly, have a way of removing rather than adding fluids to our bodies, but more than half of the wine-drinking world came up with a solution to this perpetual predicament long ago: Drink icy wines with fruit juices. In other words, the drink many of us might have thought we said aloha oe to long ago — wine coolers.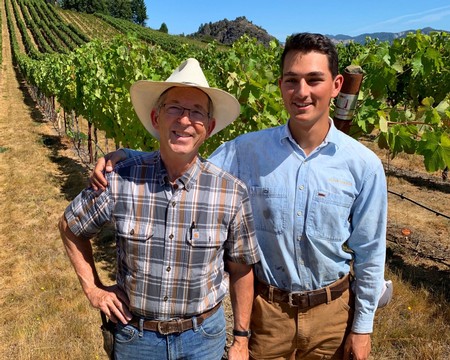 The Story of Lodi's Two California Cooler Kings
Most of the world has forgotten this, but once upon a time, there were two Lodi High School friends, named Michael Crete and R. Stuart Bewly, who came up with a packaged bottle combining wine and fruit juices in the time-honored way called wine coolers and sangrias (spritzers, for white wine mixes). That was in 1976, and they called their product California Cooler. Conceived and produced, of course, in good ol' Lodi, CA.
The way the story goes, Crete and Bewley raised $140,000 among other friends and family here in Lodi to launch their project nationwide. Their "focus group" parties were the stuff of legend — where they invited over friends and family in the neighborhood, or around Crete's grandparents' pool, and everyone tried out batch after batch of mixed wines, fruits, and carbonated sodas. By 1985, they were selling a reported 12.3 million cases, netting some $125 million, each year. According to Bewley, the winery in Lodi needed to be outfitted with "the second-fastest bottling line in the Western Hemisphere" (re vice.com) — spinning out 1,600 bottles a minute, 24 hours a day, seven days a week, just to keep up with the demand.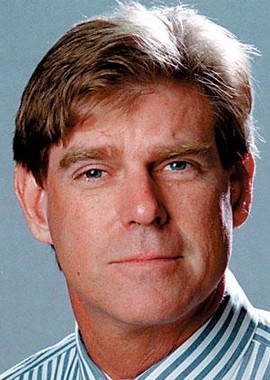 At that point Crete and Bewley did what any other red-blooded entrepreneurs would do after achieving unfathomable success: they cashed out and moved to permanent homes on tropical islands, where women in bikinis could wave palm fronds at them all day. Just kidding. Mr. Crete remained in Lodi and went on to explore various other business ventures. Mr. Bewley sentenced himself to a different life of drudgery (as owner/grower of Alder Springs Vineyards). They did sell California Cooler in 1985 to a giant liquor company (Brown-Forman) for a reported $146 million, which is peanuts compared to what other moguls deal with nowadays.
But the bottom line is that California Cooler addressed a need that was as important in the early 1980s as it is today: a drink that is vinous yet cool, light, and refreshing. Not every wine needs to come out of a corked bottle and be sipped in a balloon-sized crystal wine glass served by a snooty sommelier in a tuxedo jacket. There's something to be said about island ladies, or bare-chested men with 6-pack abs, bearing palm fronds.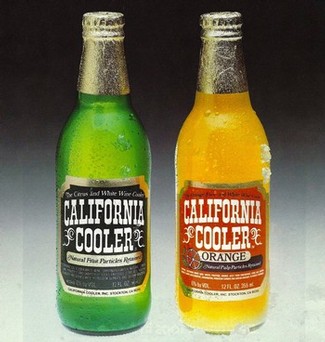 Old-timers will also recall that in the early 1980s, the big corporations began coming out with their competing brands of wine coolers. The Lodi boys created quite a stir. E. & J. Gallo's version was called Bartles & Jaymes, signified by two fictional characters, in an avalanche of print and television ads, doing their best to get "bumpkin" as closely associated with "country" as possible. Probably wouldn't fly today.
Sales of products like California Cooler and Bartles & Jaymes dropped, as it were, to almost nothing by the late 1980s. But that doesn't mean icy, fruit-infused wine-based drinks have ever gone out of style. It just means that people learned how simple it was to make them for themselves at home, with much fresher ingredients.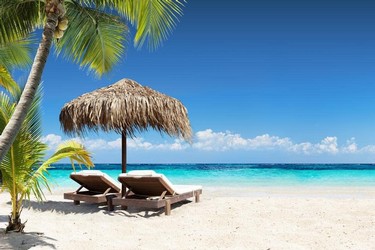 The same thing for restaurants — it is no longer unusual to find bar menus with endless twists on, say, the classic sangria, made with fresh fruits, wine, and pricey liqueurs (although you can still find canned versions of Bartles & Jaymes, sold in flavors like Ginger & Lemon, Cucumber & Lime, Grapefruit & Green Tea, and Watermelon & Mint).
If anything, for all of the following recipes you'll need a good-sized sangria pitcher, and Lodi-grown wines are strongly recommended for their intrinsic value and naturally round, fruit-driven characteristics. Enjoy...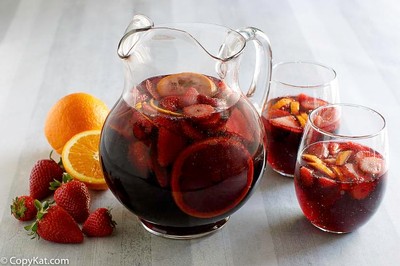 Sangria pitcher. copykat.com.
Mexican Style Sangria
There are many ways to beat the heat, but few are as effective as the classic Mexican-style sangria. In this basic recipe, found on The Busy Abuelita, you can use virtually any inexpensive red wine (although you can also use a $50 Cabernet Sauvignon — knock yourself out, it will still come out great). The more important ingredients are the fruit (besides pineapple, consider using chopped apples, any kind of citrus wedges, watermelon, sliced peaches, blackberries, strawberries, raspberries, or blueberries) and the liquors (consider a dark or spiced rum for extra zip).
• 1 bottle (750 ML) of Lodi red wine
• 1 cup orange juice (no pulp)
• 1/2 cup Triple Sec or Cointreau
• 1/2 cup Rum or Brandy (both, if you like)
• 1 orange, sliced
• 1 cup pineapple chunks
• 1 liter lemon-lime soda (chilled)
In a large pitcher, combine wine, orange juice, triple sec, rum, and orange slices. Refrigerate for 8 hours or overnight. Add pineapple chunks and/or other fresh fruits about 30 minutes before serving. Pour the sangria mix into glasses with lemon-lime soda to get the carbonated sizzle.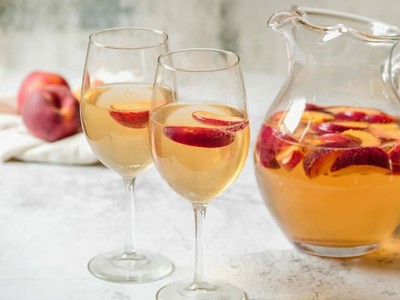 Fresh Peach Sangria
When bottled wine coolers were all the rage, the peach-infused brands were always my favorites. I could down an entire bottle in a minute, still dripping wet after an ocean swim in Hawaii. I agree with the recipe found in Tori Avey's blog that a good peach sangria needs to consist of a combination of white wine, fresh peaches as well as peach schnapps (the latter gives a concentrated taste, boosting the flavor of "peach").
• 1 lb fresh yellow peaches, sliced
• 1/4 cup sugar
• 3/4 cup peach liqueur or peach schnapps
• 1 bottle (750 ML) of Lodi white wine
• 1 liter ginger ale (chilled)
Place the sliced peaches at the bottom of a serving pitcher. In a small saucepan, bring 1/4 cup of sugar and 1/2 cup of water to a boil. Stir until the sugar dissolves completely. Remove from heat and let it cool. This is your simple syrup. Pour the simple syrup, peach liqueur, and white wine over the peaches. Stir. Place the pitcher in the refrigerator and let it sit for at least 2 hours, or overnight.
When ready to serve, top the pitcher off with chilled ginger ale and stir gently. Serve in wine glasses, allowing a piece of fruit or two into each glass. For a more carbonated option, you might top off each glass (half filled with the sangria/fruit mix) with the ginger ale, rather than pouring it into the pitcher.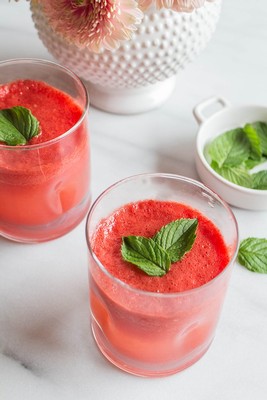 Fresh Watermelon Wine Cooler
The recipe for this frothy refresher comes from Glitter Guide and is a winner on the hottest days. Add some ice cubes, if the thermometer pops its top.
•1 bottle of Lodi white wine, rosé or sparkling wine
• 4 cups seedless watermelon
• ½ lemon
• Mint leaves
Blend watermelon in a high-powered blender. Using a juicer or handheld juicer, juice the lemon half. Add fresh lemon juice with the watermelon and blend together. Pour watermelon and lemon mix into a pitcher either ¾ full or ½ full depending on how strong you want your drink.
Pour in wine to fill the rest of the pitcher and stir well. Chill for 20 to 30 minutes. When you're ready to serve, stir well again, as it does separately. Pour into glasses garnished with fresh mint leaves.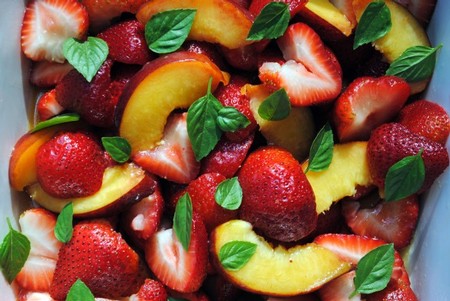 Comments