Letters from Lodi
An insightful and objective look at viticulture and winemaking from the Lodi
Appellation and the growers and vintners behind these crafts. Told from the
perspective of multi-award winning wine journalist, Randy Caparoso.

October 19, 2017 | Randy Caparoso
Autumn is the season for Lodi Zinfandel and its favorite food matches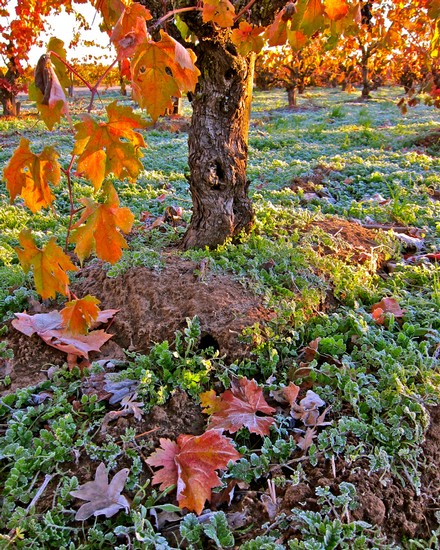 "Chilly tonight," starts off a poem by Lisa Shields – "sweater weather, and I pull out the flannel sheets..."
Now that the skies are darkening by 6:00, and the mercury is dipping below 50° at night, it's also that time of year for cozy red wines, pungent with berryish fruit tinged with aromas suggesting pumpkin pie spice and everything nice, or not.
Lodi's lush, round, often earthy styles of Zinfandel not only taste like autumn, they also seem to slip into more food contexts that virtually any other wine there is. We know, because we've made the taste comparisons – on the table, where it counts.
Yes, Pinot Noir can be just as soft and spicy in its own way (although less peppery or clove-like than typical Zinfandel), and Barbera and Riesling have acid levels that no other wines can beat (Zinfandel being almost as zesty).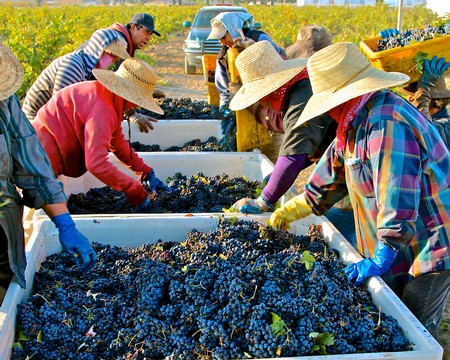 But in our experience, it's those very qualities that make Zinfandel Zinfandel – particularly those gushy, often jammy, wild berry sensations that tickle the nostrils and slip-slide over the palate like satin over a down pillow – that allow a typical varietal rendering to match foods that, say, a Pinot Noir or Riesling may find overpowering, or which might make a typically tannin-laden Cabernet Sauvignon taste as appealing as shoe leather.
So let's discuss...
Way back, before the heyday of fruity, pink colored White Zinfandel (starting in the late 1980s and going all the way through the early 2000s), Zinfandel as a red wine was most popular among California winemakers of Italian descent. Particularly, wineries such as Sebastiani, Louis M. Martini, Parducci and d'Agostini, who produced Zinfandels that were fairly light, soft and restrained; but with zesty natural fruit qualities practically begging for tomato sauces.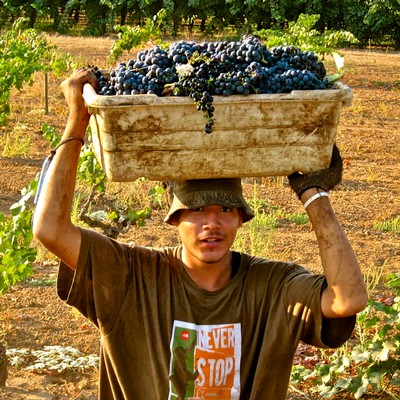 Robert Mondavi's family – who originally made their fortune in the 1920s as Lodi grape packers (see The old Mondavi home) – was also proudly Italian. Robert Mondavi himself, however, was far less a fan of Zinfandel than he was of classic French varietals, like Cabernet Sauvignon, Sauvignon Blanc, Chardonnay and Pinot Noir. Subsequently, by the early 1980s, Zinfandel was completely dropped from the Robert Mondavi Winery portfolio; leaving it up to a slew of modern day Zinfandel specialists – notably, leaders like Ridge, Ravenswood, Turley, Robert Biale and Rosenblum – to carry the torch for the varietal category with fuller, heftier, riper fruit expressions of the grape.
One of the criticisms of the "newer" styles of Zinfandel started by Ridge in the '60s, Ravenswood in the late '70s, and Turley, Robert Biale and Rosenblum in the '90s has been that they are so darned full in alcohol – 14% at the lowest, and often over 16% (whereas "big" for the Sebastiani and Louis M. Martini Zinfandels of the past was 13.5% alcohol) – that they overwhelm the senses.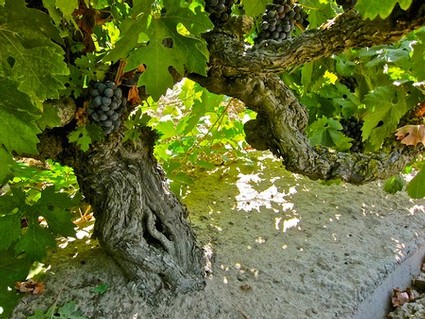 Big alcohols, however, have never kept these wines from tasting fantastic with food; particularly foods that Americans love to eat – like multi-spiced, charred, dry rubbed racks of baby back ribs, pulled pork doused in piquant-red barbecue sauces, grilled beef with chimichurri sauce, or lamb chops dripping with fat and butter. Gastronomic nightmares, of course, for vegans and vegetarians; but nirvana for carnivorous Zinfandel lovers.
The state of Zinfandel today is such that 13.5% to 14.5% alcohol is now considered to be on the light or medium bodied side; and a Zinfandel is not really "big" until its alcohol is closer to 16%. The vast majority of Zinfandels are between 14.5% and 15.5% alcohol; but if you're looking for that as an excuse to criticize the varietal as a category, you're barking up the wrong tree – considering the fact that the vast majority of today's Pinot Noirs are 14% to 15% alcohol, and virtually every American Cabernet Sauvignon starts at 14.5%.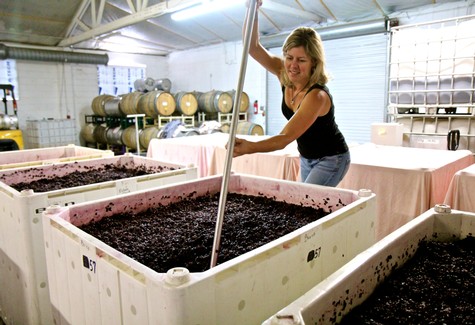 An argument could be made, however, that Zinfandel carries its weight better than most varietals; particularly Lodi style Zinfandels, which tend to come across as softer and more gentle than those of other wine regions because of their rounder tannins – reflecting the region's warm yet mild, relatively narrow Mediterranean climate, as well as rich yet porous sandy loam soils of phenomenal depth (in Lodi's Mokelumne River appellation, consistent to depths of 40 to 60 feet).
A typical 14.5% alcohol Zinfandel from Lodi, in other words, tastes softer and a tad lighter in weight than a typical 14.5% alcohol Zinfandel grown in, say, Sonoma County's Dry Creek Valley, Alexander Valley, Russian River Valley, or Sonoma Valley; and certainly lighter than typical 14.5% alcohol Napa Valley Zinfandel. Why? Because North Coast grown Zinfandels – products of more fog influenced terroir, resulting in slightly wider diurnal swings – tend to be firmer in tannin, which goes along with their deep color, bright acidity and vivid fruit aromas. Plus, because North Coast Zinfandels tend to absorb more oak qualities than Lodi Zinfandels, they invariably end up being oakier in the aroma and palate sensations.
If this sounds like a contradiction of what is commonly said about Lodi grown red wines - that Lodi grows more "robust" or heavier reds than other regions - that is exactly right: Anyone who says or writes this is simply misinformed. Ask winemakers like Turley's Tegan Passalacqua or Failla's Ehren Jordan who produce Zinfandels and other varietal reds from all the regions - North Coast, Central Coast, the Sierra Foothills and Lodi - and they'll tell you the truth is the opposite: Lodi produces more delicate styles of red wine than other regions.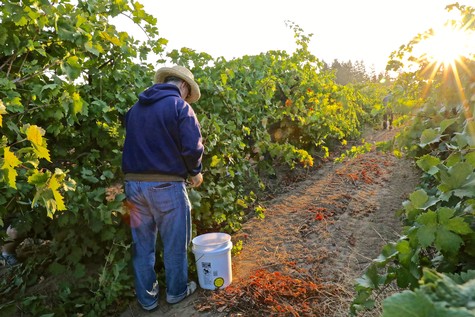 Want to taste the purest expressions of Lodi Zinfandel? We invite you to sample any of the wines bottled under the Lodi Native banner, sold in individual wineries and the Lodi Wine & Visitor Center. There were a total of nine Lodi Natives made in the 2014 vintage (see Detailed notes on 2014 Lodi Natives); and because they were all produced according Lodi Native protocols (native yeast fermentation, zero new oak and no winemaking adjustments allowed), they all show variations of the round, gentle, primarily red and blue fruit scented qualities of Lodi grown fruit, with a touch of earthiness in those grown on Lodi's west side.
There are, of course, a number of commercial brands of Lodi Zinfandel that veer towards the puristic regional style crystallized in the Lodi Native project: Wineries like Peirano Estate, Barsetti, Heritage Oak, Van Ruiten Family, Bokisch's Tizona, Ironstone, and Estate Crush's Stellina label, for instance, all tend to be more subtlely oaked, lighter in alcoholic weight, and perfumed with typically Lodi-ish red fruit qualities.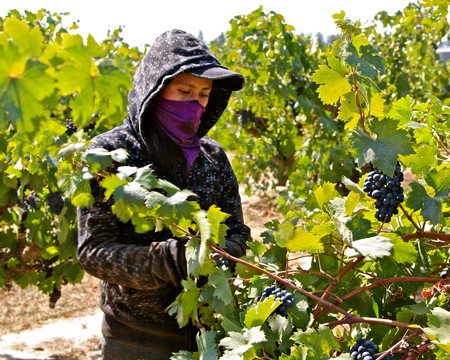 While deeper in embellishments such as French oak as well as fuller in alcohol and ripe fruit expressions, the Lodi grown Zinfandels of McCay Cellars, The Lucas Winery, Oak Farm Vineyards, Fields Family, Harney Lane, and Watts' Upstream also tend to occupy the more "balanced," even-keeled spectrum of the varietal category.
Lodi labels such as m2, Klinker Brick, Macchia, St. Amant, Michael David's Earthquake, Mettler Family, LangeTwins Family, Jessie's Grove, and Delicato Family Vineyards' Gnarly Head and Brazin tend to fall between the medium-full and "big" styles of the varietal; often with the addition of fairly rich, new American or French oak complexities. Yet their tannin levels are still modest compared to most Zinfandels from Sonoma County, Napa Valley, as well as Mendocino and Amador County.
Lodi Zinfandels, as we say, are absolutely saturated with autumn!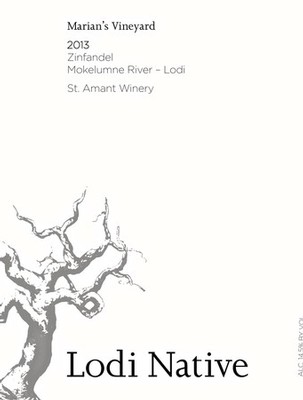 That said, some of our thoughts on cooking for today's styles of Lodi grown Zinfandel:
Ideal Zinfandel Food Matches
► For moderately sized Zinfandels (13.5% to 14.5% alcohol), old fashioned Italian dishes are still the classic match. Pasta in simple garlic infused olive oil or tomato, puttanesca or diavolo sauces, eggplant or veal Parmigiano, drunken pork (pomodori e vino), tripe in tomatoes (trippa alla Romana) – you name it, it's hard to beat the lighter, zesty, red fruit focused styles of red Zinfandel in which Lodi excels.
► For medium sized Zinfandels (14.5% to 15% alcohol) any type of "other white meat" – namely, pork – is a winner; from fennel specked Italian sausages to earthy chorizo or red pepper spiced linguisa (always a great excuse to visit Lodi's famous Lockeford Meat & Sausage Services), not to mention chops, roasts or cylindrical tenderloins of pork tenderloin smothered in wine, pungent green herbs, or even zesty barbecue sauces.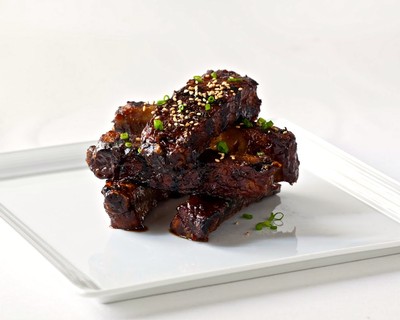 ► For bigger sized Zinfandels (closer to 15.5% or 16% alcohol), bring on the fattiest or wildest, full flavored meats – lamb, venison, boar, buffalo, elk, and maybe even squab or goose – and slather them with the seasonings and spices you love (including hot chilies, if balanced with ingredients that are mildly sweet, salty, sour, etc.), since Zinfandel's combination of tannin, acidic zest, and sweetly fruit forward flavors can handle just about anything that walks, or flies.
► When it comes to meats in Asian style marinades – particularly thin slices of beef steeped in soy sauce, palm sugar, sesame oil or seeds, garlic, ginger, and all the ingredients used in Japanese, Mongolian or Korean cooking – and then charcoal grilled or seared on smoking hot irons, plopped on steamy hot rice and served with pickled vegetables, almost any Zinfandel goes where no other red wines can; able to balance salty/sweet/sour/spicy and caramelized sensations precisely because of its jammy fruit and intrinsic, peppery spiced taste.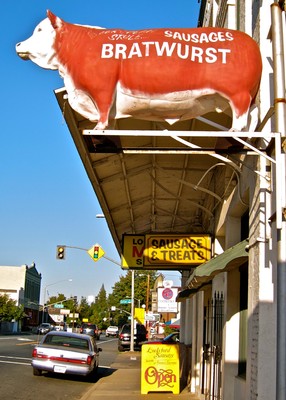 ► The zesty fruit quality of moderately scaled Zinfandels (those with softer tannins and, say, 13.5 to 14.5% alcohol) also make these styles good candidates for red-wine-with-fish combinations – particularly tuna or salmon, especially if grilled, sauced, or generously seasoned with peppery mixes to make them more zin-friendly.
► Spicy or earthy sensations, such as mustards and mustard greens (mustardy components help reduce bitter tannins), bell peppers and chile peppers (peppers heighten the grape's peppery spice), peppercorns and corning (the grape's jammy-sweet sensations balances salty sensations well), garlic and onions (accents the grape's sweetness), caramelized beets (embellishes Zinfandel fruitiness), as well as mushrooms and goat cheeses (most good Zinfandels have just enough acidity of their own to balance the natural acidity of Chèvres) all get along famously with Zinfandel's unique multifaceted profile – particularly the earthier styles of Zinfandel grown on the west side of Lodi's Mokelumne River AVA.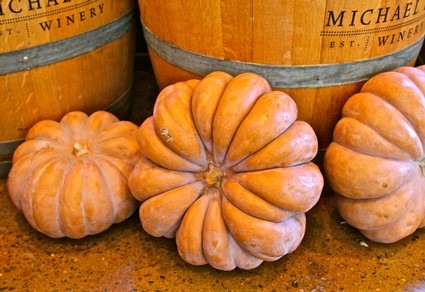 ► Remember that the sweet/acidic fruits like tomatoes, berries, cherry or pomegranate in a dish or sauce can help amplify the varietal profile while reducing the harder qualities of tannins in bigger, youthful, somewhat unruly Zinfandels.
► The aromatic Mediterranean herbs like rosemary, bay leaf, oregano, thyme, sweet basil, marjoram and savory add contrasting notes to Zinfandel fruitiness (but not so much fragrant herbs like mint, cilantro, dill and tarragon). Arugula, cress, dandelion and other peppery/nutty greens play to the grape's peppery spiciness; and spare, thoughtful use of star anise, juniper, mace, ginger, caraway, clove, and seeds of anise, poppy and sesame can all work alongside peppercorns to highlight the natural spice complexities of Zinfandel.
► As with all fine wine and food matching, it is better to avoid extremes (like overdosing with herbs or overly complicated, multiple saucing) or imbalances (especially over-salting with rock salt or seafood stocks, heavy-handed sweetening with sugar or fruits, or over-acidifying with vinegars, etc.). No red wine with a good amount of tannin is 100% forgiving in food contexts dominated by extreme sensations (too sweet, too hot, too acidic, too salty, etc.). In the end, it makes as little sense to detract from a lighter Zinfandel's obvious charms with overly aggressive foods as it would to clobber a simple dish with a super-sized style Zinfandel.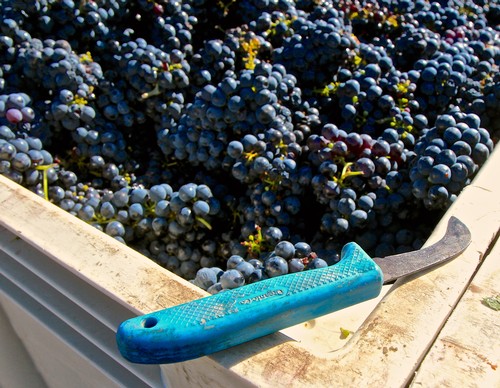 Comments