Letters from Lodi
An insightful and objective look at viticulture and winemaking from the Lodi
Appellation and the growers and vintners behind these crafts. Told from the
perspective of multi-award winning wine journalist, Randy Caparoso.

January 22, 2019 | Randy Caparoso
At ZAP's 2019 "Flights!": The question of blending vs. 100% varietal Zinfandels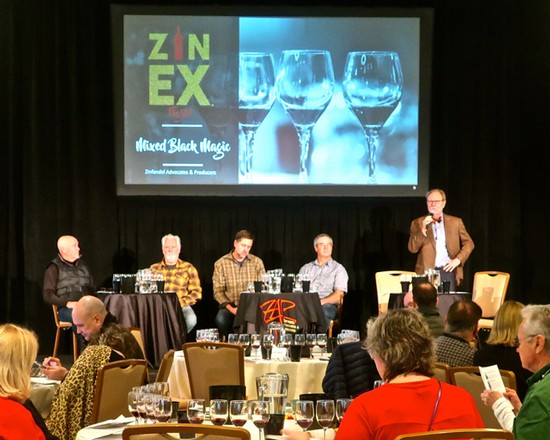 Are the best Zinfandels bottled as 100% varietals, or are they best as products of judicious blending with other wine grapes?
The answer – going by our own tasting notes of 13 different Zinfandels presented during the formal, sit-down "Flights!" tasting put on by ZAP (Zinfandel Advocates & Producers) in the ballroom of San Francisco's Palace Hotel this past January 18th – is probably this: It depends on each site, or particular vineyard, found within each appellation.
Joel Peterson, the longtime winemaker (of Ravenswood Winery fame) and ZAP co-founder who moderated the 13-winemaker panel, started off the event by saying, "Extra varieties add 'magic' to Zinfandel blend" – hence, the discussion's title, "Mixed Black Magic."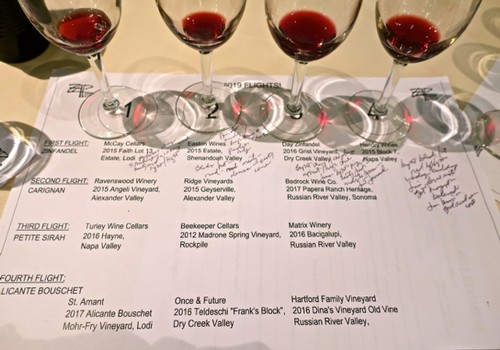 Peterson organized the tasting in four separate "flights" (or rounds) of tastings:
1. 100% Zinfandels
2. A 100% Carignan plus Zinfandels blended with good proportions of Carignan
3. A 100% Petite Sirah plus Zinfandels blended with Petite Sirah
4. A 100% Alicante Bouschet plus Zinfandels blended with Alicante Bouschet
In each round, virtually every wine stood out for its own set of unique and compelling sensory qualities, making it virtually impossible to say what was "best" or "better" from among all 13 wines.
For instance, in the second round, a 2017 Bedrock Wine Co. Papera Ranch Russian River Valley (Sonoma) bottling – consisting of 49% Zinfandel, 44% Carignan and 7% "other grapes" – was so fragrant in its mix of ripe berries and tropical, almost-mango-like perfumes, plus fine silky/zesty body, it might have been mistaken for a white wine, if not for the fact that its color was obviously a deep, purple-tinged red (plus, of course, its modicum of red wine tannin).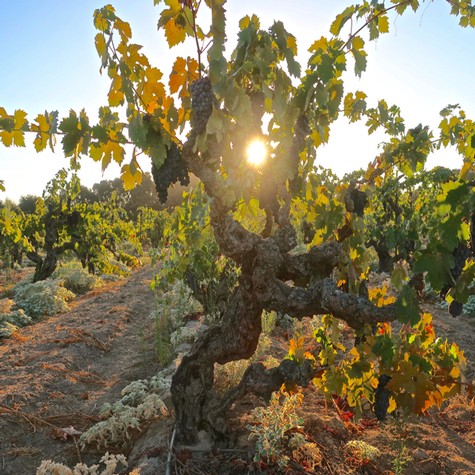 Yet in the same flight, Bedrock's blend stood in almost stark contrast to a sturdier, more distinctly peppery/herby yet plushly fruited 2015 Ridge Geyserville Alexander Valley (Sonoma), weighing in with 70% Zinfandel, 15% Carignan, 12% Petite Sirah and 3% Alicante Bouschet. Different vineyards, different proportions of grapes, and obviously, different winemaking (each winery exacts its own methodology as a matter of course) – adding up to wines that are so different, anyone (not just consumers, but also wine industry professionals) would have a hard time identifying the wines strictly in terms of being "Zinfandel," let alone decide which is the "better" Zinfandel based red.
Which, as it were, is probably the point. To each his own, especially when it comes to Zinfandels of special provenance, which stand out whether you like them or not.
To be labeled a "Zinfandel," a wine must be made from at least 75% from the Zinfandel grape. Wines made from unique, historic field blends such as Ridge's Geyersville and Bedrock's Papera Ranch do not reach that 75% threshold – and therefore are not labeled as Zinfandels – but the predominance of Zinfandel in their blends still invites comparison with pure or near-100% Zinfandels.
Yet each of the four 100% Zinfandels in ZAP's "Mixed Black Magic" event demonstrated their own fascinating sensory aesthetics: particularly the variations of berry fragrances and flavors that Zinfandel lovers find so alluring, plus structural intricacies (i.e. balances of alcohol, tannin, acidity, and sensations of both fruit and non-fruit qualities) that, in the way, made these wines even more explicitly expressive of their individual terroir (i.e. a "sense of place" in wines, resulting directly from mostly environmental factors) than the examples of Zinfandel blends presented in this tasting.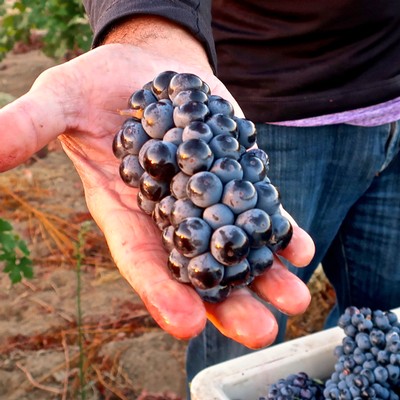 To wit, the wines in the first round consisting of pure Zinfandels:
2015 McCay Cellars Faith Lot 13, Mokelumne River-Lodi – Perfumed red (cherry/strawberry) fruit, zesty acid and sinewy, almost lean, nimble medium body, directly contradicting both varietal and regional preconceptions (that is, the common misperception that Lodi grown Zinfandels are "big," soft or flabby in their fruitiness and structure).
2015 Easton Estate, Shenandoah Valley (Amador County) – Blacker berryish fruit embedded in denser, meaty, medium to medium-full body, bright and firmly structured with zippy acidity and strong yet finely integrated tannin.
2016 Day Grist Vineyard, Dry Creek Valley (Sonoma) – Bright, upbeat, super-high toned black cherry/raspberry perfume, while equally piquant and fruit-forward on the palate, with good acid and firming tannin tucked into a svelte, medium-full body.
2015 Hendry Block 7, Napa Valley – Black fruit tinged with woodsy (whiffs of pine forest and underbrush) qualities; dense, meaty, full and masculine in feel (a near-opposite to the McCay's feminine feel), yet buoyantly balanced with fresh acidity and deftly polished tannin on the palate.
Kudos to Peterson, in fact, for putting together a group of 100% Zinfandels that reflect the best of their appellations: the McCay for its typically "Lodi," come-hither, fruit-forward delicacy; the Easton for the edgy yet bright and restrained, coiled qualities reflecting the best of Amador's higher elevation (Sierra Foothills) plantings; the Day for its irrepressibly bright, classically "Sonoma" varietal profile; and the Hendry for the combination of muscular tannin, tingly acid and earth toned black fruit qualities that distinguish so many other Napa Valley Zinfandels.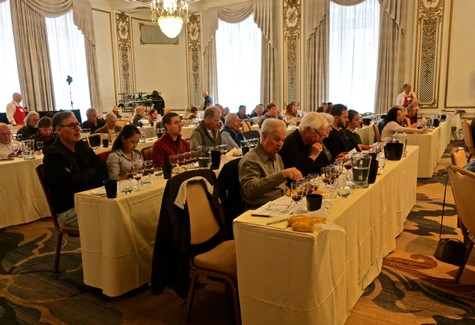 Yet even aside from the factor of terroir, noted Ehren Jordan when presenting his Day Zinfandel from the Grist Vineyard, there is also the fact that there is plenty of complexity just within Zinfandel itself – given the grape's natural tendency to genetically mutate (not unlike Pinot noir), resulting in the huge variety of selections existing in many of California's old vine plantings to this day, most certainly contributing to the diversity of Zinfandel styles grown up and down the state.
Says Jordan, "I can remember walking through U.C. Davis' Oakville station with its original Heritage Vineyard Project (underwritten by ZAP) planting of over 90 different Zinfandel selections collected from all over the state. It was a jaw-dropping experience, going from vine to vine and seeing plants with leaves that were not the same, cluster and berry sizes that were not the same, yet all these plants considered 'Zinfandel'... a phenomenal depository of genetic variation.
"Yet we do not have a complete understanding of the grape's diversity – mostly because it's just 'Zinfandel.' It's not been an industry priority. But if people were selling Zinfandel for $16,000 a bottle, I guarantee we would probably know a lot more about the variety than we do."
As fine and interesting as the 100% Zinfandels proved to be, Peterson's curation was craftily planned to build up to the flights showing the fascinating variations possible in the grape when blended with other varieties. Peterson's son, Master of Wine Morgan Twain-Peterson (also owner/winemaker of Bedrock Wine Co.), addressed the ballroom with a brief yet fascinating history of Zinfandel blending in California.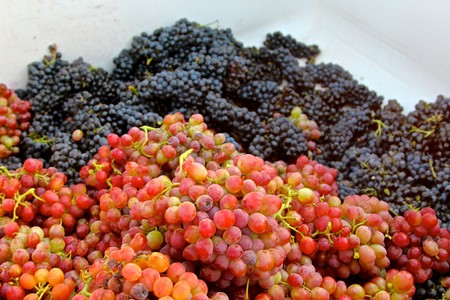 According to Twain-Peterson: "There were strong economic reasons for different varieties... The big sea change in the California wine industry took place in the late 1870s when phylloxera, an American-borne root louse, began decimating vineyards in California in the late 1870s. This led to the creation of California's Board of State Viticultural Commissioners, whose major task was to address the issue of phylloxera, as well as what to do to increase wine quality.
"In 1882, Charles Wetmore recommended discarding widely planted grapes like Mission (a.k.a. Listan Prieto) and Black Malvasia (since identified as Cinsaut in some California vineyards). In 1888 George Husmann recommended Zinfandel as the 'best' variety to plant, and recommended co-fermentations or blending Zinfandel with other varieties to offset deficiencies in different areas. Many grape growers took a scientific approach to this, planting dozens of varieties. Today, we have identified as many as 50 varieties in Zinfandel blocks across the state."
Delving into the various grapes commonly planted alongside Zinfandel – which historically have been either picked and co-fermented all at one time, or picked and fermented separately and then blended with Zinfandel at some point before bottling – Twain-Peterson remarked:
"Carignan is one of the unsung grapes in this story. It has lots of pros, adding balance to Zinfandel blends, and also good as a stand-alone varietal. Petite Sirah (a.k.a. Durif, a crossing of Syrah and Peloursin developed in the 1860s by French botanist François Durif), along with its parent grape Peloursin, was first introduced in 1884 in Sonoma Valley.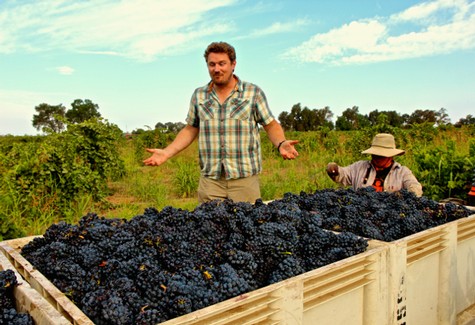 "Alicante Bouschet (another French crossing – of Petit Bouschet and Grenache – developed by Henri Bouschet in 1866) was another variety interplanted with Zinfandel, and was valued for its great color. Alicante Bouschet is probably the highest quality variety of the tiny handful of grapes known as teinturiers (grapes with red pulp, as opposed to the white colored flesh far more common in wine grapes).
"Mataro, also known as Mourvèdre or Monastrell, was used to add structure and deep primal aromatics to blends. Other varieties commonly planted with Zinfandel included Black Muscat, Cinsaut, Grand Noir de la Calmette, Grenache, Mondeuse, Négrette (planted as Pinot St.-George in California), Petit Bouschet, Syrah, Tempranillo (planted as Valdepeñas in California's early wine history), Trousseau (also called Bastardo), Valdiguié (more commonly known as Napa Gamay up until the 1990s), Early Burgundy (properly identified as Abouriou), Blauer Portugieser, Cabernet Pfeffer (identified as Gros Verdot in some vineyards), Charbono (a.k.a. Douce noir or Bonarda), Tokay, Saint Macaire, Barbera, Aramon, Aubun, and more!"
Turley Wine Cellars winemaker Tegan Passalacqua started off the third flight with a 100% Petite Sirah bottled as the 2016 Turley Hayne Vineyard Napa Valley Petite Sirah: out of all the wines presented that day, truly the "biggest," almost foreboding in its black color and robust tannin structure, yet at the same time razor-sharp and pungent in its focus of black pepper spice/black and blue fruit varietal character.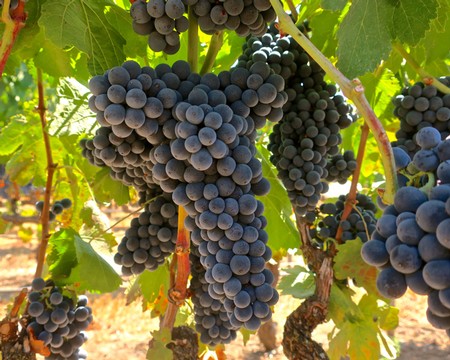 Passalacqua also brought up a provocative point, attesting to Petite Sirah's long known reputation as a stellar grape for blending, and not just with Zinfandel: "An interesting fact is that even into the 1970s, Petite Sirah was the most widely planted variety in Napa Valley. Where did it all go? Historically, Petite Sirah added color and structure in nearly all the wines from Napa Valley during the '60s and '70s. It's not something that's ever talked about, but Petite Sirah may also be the reason for the longevity of some of the best known Napa Valley Cabernet Sauvignons from the '60s and '70s. Think about that!"
One thing that was clear in the tasting: Generous proportions of Petite Sirah undoubtedly contributes to the intriguingly spicy notes and acid/tannin grip of the 2012 Beekeeper Madrone Spring Vineyard Rockpile (Sonoma) Zinfandel (80/20% Zinfandel/Petite Sirah), as well as to the exotic, pepper grinder nose and big, broad, powerful feel of the 2016 Matrix Bacigalupi Russian River Valley (50/50% Zinfandel/Petite Sirah).
In the fourth and final flight, Lodi's St. Amant Winery owner/winemaker Stuart Spencer presented a 100% bottling of a varietal rarely seen in California: the Alicante Bouschet grape, which had its biggest heyday during the 1920s, when the Lodi region was scrambling to plant more grapes to supply the legions of home winemakers across the country, as a consequence of Prohibition (which, while banning sales of alcoholic beverages, still allowed each family to produce up to 200 gallons a year of their own wine).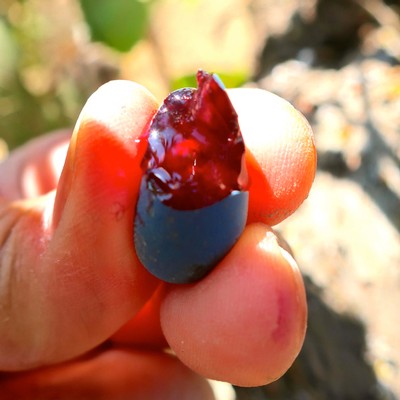 Remarking on his lavishly perfumed (blackberry/elderberry-like fruit), dense yet zesty natural acid-edged 2017 St. Amant Mohr-Fry Vineyard Lodi Alicante Bouschet, Spencer said: "Alicante is usually a late ripener – even in a heat wave, in 2016, we picked it two months after our Zinfandel, coming from the same vineyard, and the sugars still came in low enough to produce a wine of only 12.9% alcohol."
Peterson pointed out the "vibrancy," "dark fruit," and "interesting mouth-feel" of Zinfandels blended with Alicante Bouschet, amply illustrated in the black-purplish, ripe, juicy, sharp yet sleekly textured 2016 Once and Future Teldeschi Frank's Block Dry Creek Valley (75% Zinfandel/13% Carignan/12% Alicante Bouschet), crafted by Peterson himself. Another example of the moderate weight yet racy, pungently sweet scented fruit Alicante Bouschet can contribute to a blend was the 2016 Hartford Family Dina's Vineyard Russian River Valley (93% Zinfandel/6% Alicante Bouschet/1% "other").
To blend, or not to blend, Zinfandel? Undoubtedly a question best weighed in terms of your preference of vineyards, distinctions you might find in different appellations, your appreciation of individual growers, or the artistry of winemakers. Otherwise, isn't Zinfandel grand?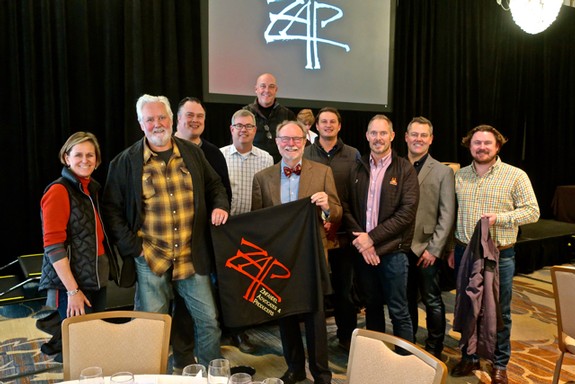 Comments