Letters from Lodi
An insightful and objective look at viticulture and winemaking from the Lodi
Appellation and the growers and vintners behind these crafts. Told from the
perspective of multi-award winning wine journalist, Randy Caparoso.

October 27, 2021 | Randy Caparoso
Phenomenal three-way blends made from Lodi grapes by Sandlands, McCay, Marchelle and Neyers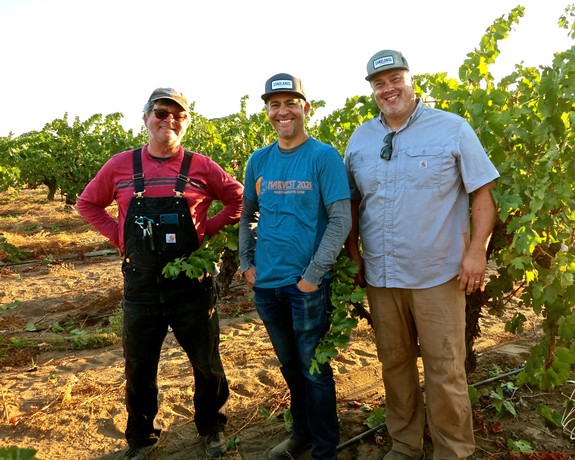 Believe it or not, some of the finest red wines to come out of Lodi over the past few years have not been varietal or even single-vineyard wines coming from, say, heritage Zinfandel sites. Lately, it's been blends of different grape varieties, grown in separate vineyards, that have been the most impressive.
Many of the world's finest wines, in fact, are blends of different grapes; not "varietals," which in the U.S. means wines consisting of at least 75% of one grape variety.
Varietal wines, in fact, are more of a New World thing. Sure, there are European wines sold by the name of their grape variety, but the vast majority of European wines are sold by their place names, or "appellations" as they are known in France. Culturally and artistically, Europeans think of their finest wines as being expressions of places — vineyards or regions — rather than grapes.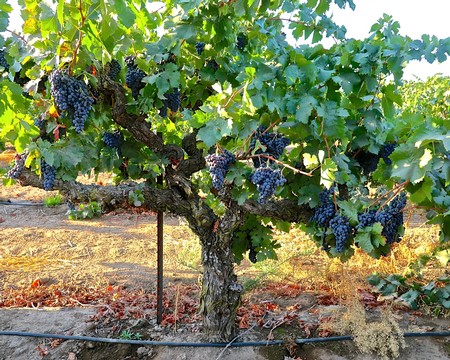 During the 1800s and first half of the twentieth century, the idea of marketing wines by the names of grapes made sense to New World producers because they did not have long-established wine regions or vineyards as they do in Europe, where winegrowing originated centuries ago. Thus, the mark of a higher quality wine from, say, California or Australia, was a varietal label, despite the fact that both vintners and consumers have always appreciated the quality of blended wines.
Today, however, a varietal wine is not necessarily the better wine. The vintners who are now producing extraordinary red wine blends from grapes sourced in Lodi all share a common goal: They are trying to produce wines expressive of Lodi, rather than a single grape or varietal.
In this post, we'll talk about four of these wines. Perhaps not coincidentally, all four of these wines are based upon blends of primarily three grape varieties; and common to many of the finest wines of the world, the quality of each of the three components in these wines is driven by vineyard sources. In Lodi, it is indeed the heritage growths, or old vine plantings, that are generally considered the finest vineyards, which is what is driving the compelling character of these blends.
The four different three-way blends and each winemaker's thought process...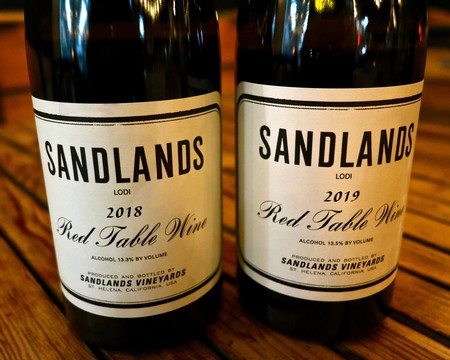 2018 and 2019 Sandlands Wines, Lodi Red Table Wine ($30)
"Red Table Wine" is as unremarkable a way to label a wine as you can think of, but there is nothing unremarkable about these bottlings, representing the first two vintages of one-third blends (Carignan, Cinsaut, and Zinfandel) bottled by Tegan Passalacqua under his personal label, Sandlands. Passalacqua is also the widely acclaimed winemaker of Turley Wine Cellars, who happens to own a vineyard (called Kirschenmann) as well as a home in the Victor area of the Lodi appellation.
Both wines are deep, rich, velvety, and multi-layered with bright, zesty, lively fruit veering towards black cherry. They positively sing in the glass and caress the palate. They are possibly the best red wines to ever come out of Lodi, which is saying a lot considering the numerous vineyard-designate varietal bottlings currently captivating Lodi wine lovers.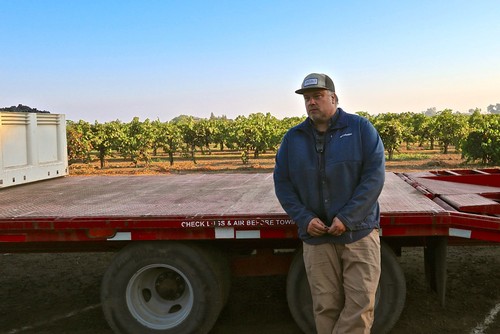 If there's a difference between the two vintages, the 2019 currently has more pop in the nose — byproducts of its youth but also, according to Passalacqua, vintage characteristics. Passalacqua describes 2018 reds from Lodi as being slightly darker, more "classically structured" and well balanced — something that "wine geeks" would appreciate. He describes the 2019s as being lighter in color, more "open-knit," capable of bringing "more joy sooner in the bottle." His observations, as it were, are informed by the fact that Turley Wine Cellars produces no less than four different vineyard-designate wines from Lodi each year. Other than his red blend, Passalacqua produces two varietal bottlings (Zinfandel from his Kirschenmann Vineyard and Carignan from Spenker Ranch's 1900 block) under his Sandlands label.
Says Passalacqua, "The inspiration for my one-third/one-third/one-third wine is Chateau Musar" — referring to the legendary, high elevation estate (hovering around 3,300 feet) in Lebanon's Beqaa Valley." Since 1959, Chateau Musar reds have been blends of primarily Carignan, Cinsaut and Cabernet Sauvignon.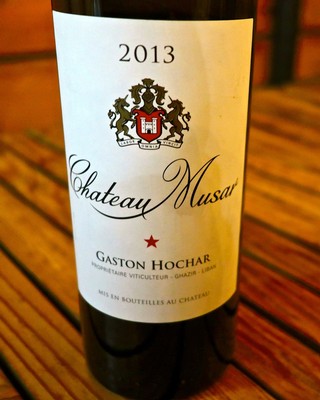 To demonstrate the sensory qualities he looks for in his Sandlands Red Table Wine, Passalacqua poured a sample of the 2013 Chateau Musar, which was deep, lively, and also multi-layered. The difference between the Musar and the Sandlands reds was that the Musar had a darker color and spicier and more herbaceous core of fruit reflecting the sensory qualities typifying its Cabernet Sauvignon component. Passalacqua explains:
When you taste each vintage of Chateau Musar, made in the exact same proportions of the same three grapes, you find that the terroir (i.e., sensory qualities resulting from the environmental conditions of vineyards or regions) is the same, the winemaking is the same, and each variety adds to other varieties what the others don't have. What you end up with are qualities reflecting each vintage; but always, the qualities that make Musar so unique, compared to any other wine in the world.
For the Sandlands reds I am blending a third each of Spenker Ranch Carignan, which was planted in 1900, the Bechthold Vineyard Cinsaut planted in 1886, and the Kirschenmann Vineyard Zinfandel planted in 1915 — three vineyards, added together averaging well over 100 years in age. What I love about it is that it's not Zinfandel, it's not Cinsaut and it's not Carignan. It's "Lodi." Or the best of what you can get out of Lodi, coming from its oldest vines.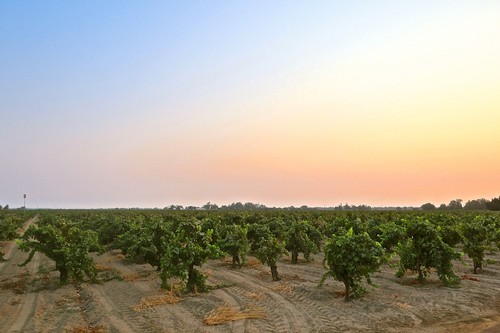 Like the Musar, the plan is for the Sandlands red to be one-third/one-third/one-third each year from the same vineyards, and in each wine, you'll be able to taste not only the distinctions of each vintage but also the essence of what makes Lodi "Lodi." The commonality each year is that they'll also be native yeast fermented, made with no additives, no new oak.
When asked why he thinks a blend of Carignan, Cinsaut, and Zinfandel, as unlikely as it may seem, ends up working so well, Passalacqua adds,
Carignan adds the acidity, Zinfandel the heft, and Cinsaut the wines' perfume and beauty. But I like to think that this blend helps people understand what the region [i.e., Lodi] tastes like. The layers of fruit, the suave texturing, and the aromatics all come from the blending of the three varieties, but ultimately they come from the region and its distinctly sandy soil.
These wines aren't hard-edged, they're very supple even though they have nice acidity. That's the beauty of Mediterranean varieties growing in a warm region with sandy soils like Lodi's. If the soils here were more extreme the wines wouldn't be as supple, they'd be harder. That's why I thought this blend would be a slam dunk.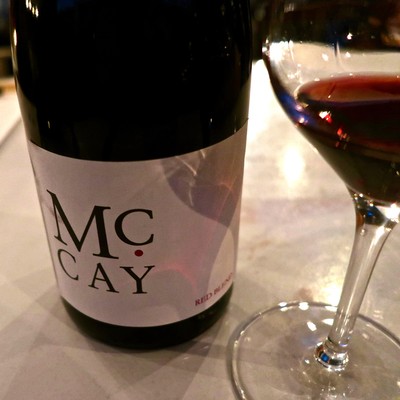 2012 McCay Cellars, Lodi Bruella Road Red ($28)
This bottle of 2012 Bruella Road Red that we tasted came out of McCay Cellars' owner/grower/winemaker Mike McCay's cellar. He declined to show his most recent release, a 2018 because it's sold out, and his 2019 is scheduled for release towards the end of this year.
Each year the Bruella Road Red is a one-third/one-third/one-third blend of three grapes grown along Bruella Road, on the east side of Lodi's Mokelumne River AVA where the soils are the sandiest (described by locals as growing in "loamy sand" rather than sandy loam):
1. McCay's Lot 13 Vineyard Tempranillo block, planted on trellis in the mid-1990s
2. Petite Sirah from McCay's home ranch (younger trellised vines)
3. Lot 13 "Faith" Vineyard Zinfandel, own-rooted vines planted in 1918.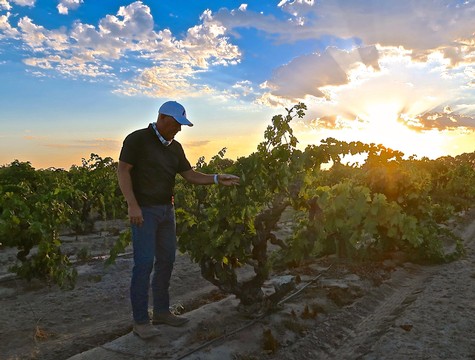 At nearly 9 years old, the 2012 Bruella Road Red is showing deep, dark, brothy fruit aromas wrapped in roasted espresso bean qualities, a core of dried herbiness, and meaty yet bright, racy, sleek sensations. McCay shares the background story of this wine:
One night, back in 2013, I woke up in the middle of the night with an idea. Just so I wouldn't forget it, I wrote it down —"Tempranillo, Petite Sirah, Zinfandel, one-third each." The next morning I saw the note and wondered what it was. But I went down to the winery and told the crew, "This is what we're doing today." Now, I thought that when we'd put the three together we'd probably have to tweak it. I assumed, for instance, that the Petite Sirah would overwhelm the other two varieties because that's what Petite Sirah does. It's why I don't use it even in smaller percentages in my Zinfandels. But amazingly, the balance came out beautiful — everything fits together perfectly. It was a one-and-done!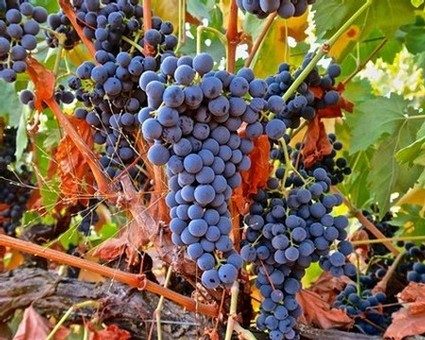 When asked why this combination works, McCay responded,
I honestly don't know. We've been doing this exact same blend every year since 2012, putting in a third of each grape. When we change it slightly, that's when we find that one variety quashes the other. The Petite Sirah obviously gives the wine its deepness, Zinfandel adds brightness and pulls everything together, and Tempranillo adds its own character plus the herbaceousness that always makes the wine so unique and interesting compared to all our other wines.
If anything, I'd describe the Bruella Road Red as a perfect expression of "east side Lodi." It showcases the terroir of vineyards on this side — the intensity, the brightness, and balance that comes naturally to east-side wines. It's not like any varietal wine or one of my single-vineyard wines. Its purpose is more to show a sense of place, to show off "Lodi!"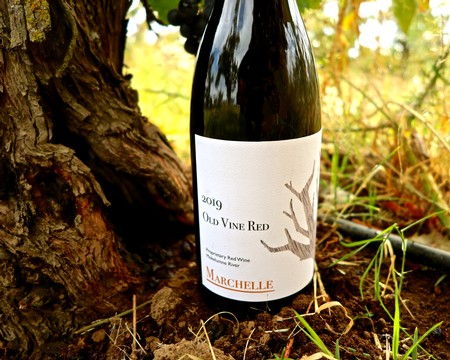 2019 Marchelle Wines, Lodi Old Vine Red ($28)
Like the Sandlands Red Table Wine bottlings, the Marchelle Old Vine Red is made from the same three grapes, all from ancient vine plantings:
1. 47% Spenker Ranch Carignan, own-rooted vines planted in 1900
2. 30% Bechthold Vineyard Cinsaut, own-rooted vines planted in 1886
3. 23% Royal Tee Vineyard Zinfandel, own-rooted vines planted in 1889
Also, like the Sandlands reds, it tastes like a million bucks (considering the outlandishly modest prices) not so much for what it is (made from vines averaging over 129 years in age!) but also for its phenomenal sensory profile: Extremely fragrant red berry aromas showing dusty black cherry, distinctive sweet black pepper and kitchen spices (cinnamon stick and fruit pies), suggestions of red licorice and raspberry, and faint earth tones like the scent of an inviting, leather-bound "old book." There is a gentle yet firm tannin feel and seamlessness to the palate, carrying the silky, snappy sensations accentuated by refreshing natural acidity.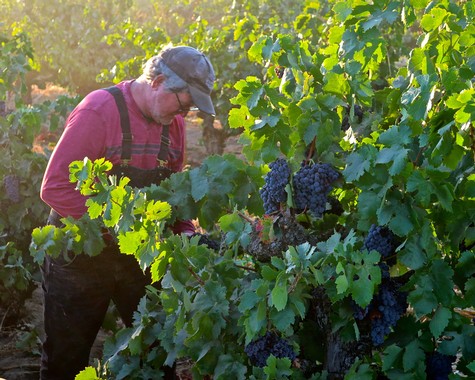 In its craftsmanship, there is also a sense of meticulous attention to detail gleaned in the sensory qualities of this wine. Not coincidentally, the Marchelle Wines co-owner/winemaker is the Occidental, Sonoma County-based Greg La Follette, renowned more for his Sonoma Coast vineyard bottlings of two of the classical varieties, Pinot noir, and Chardonnay.
The difference between the Sandlands Carignan/Cinsaut/Zinfandel blend is in the percentages; the Marchelle Old Vine Red being more dominated by Carignan (47%), albeit the same ancient vine block utilized by Sandlands. When asked what prompted him to do this blend, La Follette explained:
The concept of this blend is to tell the story of old vines unique to the west side of Lodi, with its sandy soils, giving vineyards moderate yet vigorous yields, plus the cooling influence from the Delta. There are components of each vineyard and indeed each variety that have a voice to give, as a choir would have voices that come from individuals. The playfulness of the varieties is coaxed out through whole-cluster fermentations. Zinfandel gives the fruit-forward, high-tone grace notes to the backbone of the Carignan, and Bechthold Cinsaut adds a sexiness.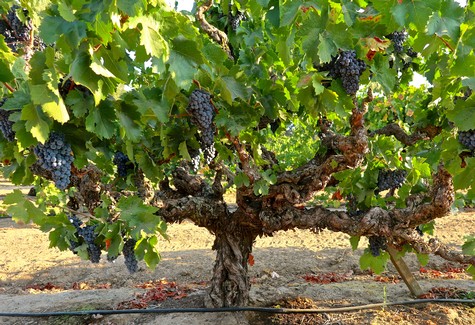 La Follette adds that, coming from these three venerated vineyards,
The wine stands on the shoulders of those who have gone before us and pioneered our industry. It's why I love making wine. These days I feel like an old vine myself, having weathered so much and, hopefully, attained a little more wisdom in my bones. As with any choir, the Old Vine Red is about the harmonizing of voices rather than anyone solo. It speaks for itself. It is all about the harmonizing of the region, and what these old vines have to say.
Where the Marchelle Old Vine Red differs the most from the Sandlands Carignan/Cinsaut/Zinfandel blend is in the Royal Tee Vineyard Zinfandel component, which is an aggressive field blend of Zinfandel (about 82%), Carignan (10%), and another 8% consisting of Mission, Flame Tokay and Black Prince (a.k.a. Rose of Peru). There was also as much as 10% Monbadon, a white wine grape also known as Burger, picked in the Spenker Ranch Carignan block. The field mixes in both the Royal Tee and Spenker Ranch components were co-fermented with native yeast and accentuated by the use of strictly neutral oak. Adds La Follette, on the tiny percentages of additional grapes in the blend, "Each of the small amounts of their voices can be head in the blend if one listens closely!"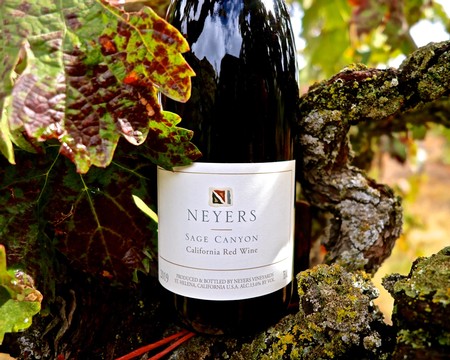 2019 Neyers Vineyards, Sage Canyon California Red Wine ($29)
The Napa Valley-based Neyers Vineyards, whose wines are distributed in every state, has been producing a "Sage Canyon" California blend for going on 20 years. According to owner/grower Bruce Neyers,
For many years I'd been infatuated with the red wines of France's Southern Rhône Valley. During my years working with importer Kermit Lynch we specialized in these wines... delicious blends of exotic grape varieties not often seen in California. On our return, we made a California counterpart of traditional southern Rhône red wine, and we call it Sage Canyon Red.
The 2019 Sage Canyon Red's three-way blend consists of 60% Carignan — 40% of that component coming from the 1900 block in Spenker Ranch, 25% from an old vine block (dating back to the early 1960s) on Lodi's Harney Lane, and managed by the Mettler family's Arbor Vineyards, and the rest from Carignan blocks in Mendocino and Contra Costa County —plus 30% Mourvèdre (from Contra Costa County and Arroyo Grande Valley) and 10% Grenache (from a Lodi vineyard near Elk Grove). In the winery style, all three parts are native yeast fermented, 100% whole cluster (i.e., none of the grapes destemmed), and aged in a combination of neutral barrels and larger oak formats (foudres and demi-muids).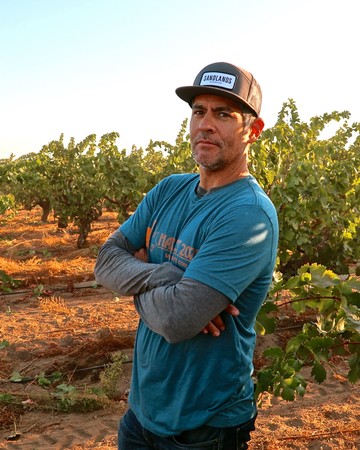 The 60% predominance of Lodi-grown Carignan gives the 2019 Sage Canyon a red fruit (cherry/strawberry), kitchen/pumpkin spice, and white pepper perfumes that leap from the glass, plus a pointedly natural sense of acidity that makes gives the wine bright, lively, teeming qualities, underlain by moderate tannin and the plump red berry qualities that fill out the palate with a meaty, bouncy feel, practically salivating for savory dishes (think autumnal pasta or wintry meat stews!).
Adds Neyers,
Stems [from the whole clusters] are kept in the fermenting must to add an exotic, rustic flavor to the finished wine. For that reason, we crush the grapes by foot, using a traditional French technique "pigeage." The 2019 has an exotic, lavender-like aroma, with suggestions of wild cherries, ginger, allspice, and freshly ground black pepper. The flavors are generous and rich, matched by an attractive suppleness that adds to their enjoyment. I've not yet found a dish that wasn't improved with a glass of this wine.
The bottom line for Lodi wine lovers — or, for that matter, lovers of any old school or Old World style of wine blended for optimal regional (as opposed to varietal) expressions — is that you should never underestimate bottlings called, simply, "Red Wine." When made by amazing vintners and sourced from phenomenal vineyards, these wines can be the most exhilarating wine experience you'll ever have.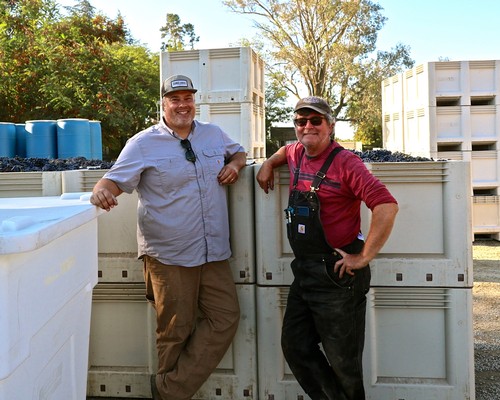 Comments