Letters from Lodi
An insightful and objective look at viticulture and winemaking from the Lodi
Appellation and the growers and vintners behind these crafts. Told from the
perspective of multi-award winning wine journalist, Randy Caparoso.

March 20, 2018 | Randy Caparoso
Acquiesce adds Clairette Blanche and Bourboulenc to their industry leading portfolio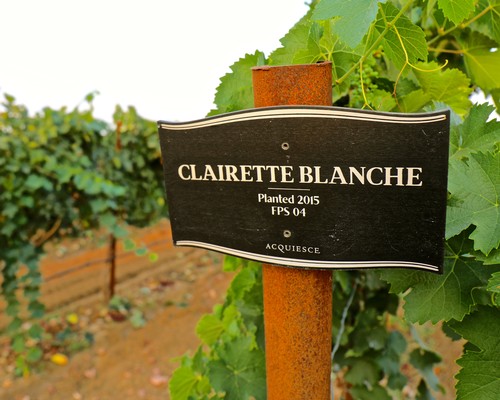 Clairette Blanche. Bourboulenc. These are the two latest white wines produced by Lodi's Acquiesce Winery & Vineyard. Never heard of these grapes? Join the crowd. We'll tell you all about them; but after that it will be up to you to get over to Acquiesce as soon as possible because less than 300 cases were made of these two outstanding varietal wines combined.
As it has been their custom since the release of their first commercial bottlings six years ago, Acquiesce Vineyards has just re-opened its tasting room doors on N. Tretheway Rd. (just south of E. Peltier) for their annual spring-to-fall run, this past Saturday, March 17.
Why has Acquiesce been closing its doors every winter? Short answer: Not because proprietors Sue and Rodney Tipton take off to sun themselves in Hawaii; but because they sell out of their wines by late fall of each year. Call her a genius, a prescient marketer, or a plain ol' lucky or all-around nice person, but founder/winemaker Sue Tipton has hit upon a formula to which a growing number of wine lovers have responded with thundering (as in the sound of feet beating up to her doors) approval.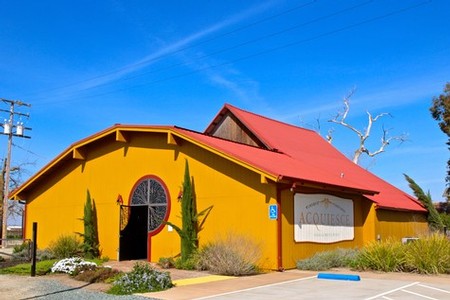 Tipton's tried-and-true formula:
1. Produce only white wines, plus one dry rosé – but no reds! According to Tipton, six years ago when she came out with her first commercial vintage well-meaning colleagues told her that her no-red-wines line-up will never work in Lodi. I guess it does.
2. Specialize in varietal wines (plus one blended white) made only from grapes native to Southern France – also often called "Rhône" varieties, in reference to the famous Rhône Valley (the grapes Tipton grows are also closely associated with France's far larger Provence and Languedoc-Rousillon regions skirting the Mediterranean Sea – but hey, if it's easier to say "Rhône" than Southern French, we'll just say "Rhône," too). As it turns out, the fact that Lodi's climate is strikingly similar to Southern France's – both technically classified as Mediterranean climate regions – has had a lot to do with the seemingly effortless quality of Acquiesce wines. Rhône grapes are, simply, a natural for the Lodi AVA, and it shows in the wines of Acquiesce.
3. Focus only on estate grown wines – nothing purchased from other vineyards. Any other winery that sells out all its wines before the end of each year would be sorely tempted to do the logical thing and simply buy more grapes in order to make up for potential lost sales. Acquiesce is not like any other winery. Tipton has always been so determined to control the quality of her wines from the ground up, she will deal only with grapes grown on her own property. Kudos for that!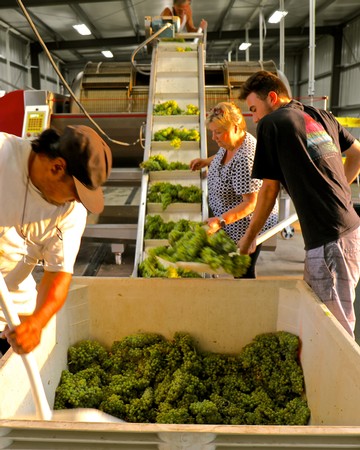 4. Produce strictly stainless steel-fermented wines, wiith no fermentation or aging in oak. A winery with no barrels – who has heard of such a thing? Fact is, they don't even do that in France, and it's Southern Rhône white wines that first inspired Tipton. But again, proof is in the pudding. People (consumers and fawning media alike) love 'em!
By now you get that Acquiesce goes its own way, which is why this winery has such a loyal following. Yet never one to rest on her laurels, as of 2018 Tipton has added two more, brand new varietal whites to her line-up – made from the aforementioned Clairette Blanche and Bourboulenc grapes – one of which is offered for sale at the Acquiesce tasting room as we speak. These two wines are part of the 6.5-acre expansion of Acquiesce's Rhône grape plantings, which Tipton undertook in 2015 in an effort to meet increasing demand.
Tipton tells us that she would have included Clairette Blanche and Bourboulenc in her original planting back in 2009 – especially since these are two of the major grape components going into the classic Châteauneuf-du-Pape Blancs of the Southern Rhône Valley – but she had to wait for the plant material to become available from the nursery at Tablas Creek Vineyard in Paso Robles. Tablas Creek is partly owned by the Perrin family of Châteauneuf-du-Pape's famous Château de Beaucastel, in partnership with the Haas family of Vineyard Brands (a major U.S. based wine importer).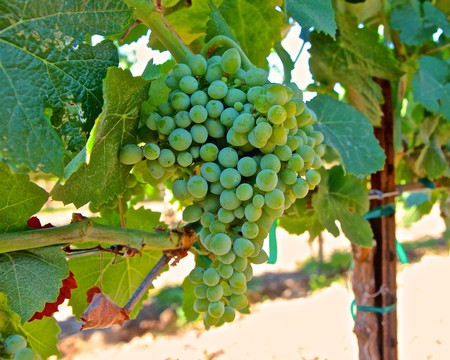 "These grapes are very rare," says Tipton, "and we were on a 6-year waiting list for them." In fact, adds Tipton, "I believe we are the first winery in the United States to bottle a Bourboulenc, since we planted the grape even before Tablas Creek Vineyard was able to" (in Paso Robles, Tablas Creek as well as the tiny Paix sur Terre winery have recently released their own Clairette Blanche).
Without further ado, our notes on the two latest Acquiesce whites, which were tasted with Sue and Rod Tipton just last week with canoes of fresh sashimi, sushi, crispy gyoza and Asian mushrooms (fantastic food matches!) at Lodi's Sushi Komachi:
2017 Acquiesce, Lodi Clairette Blanche ($28) – If you love the fragrances of violet and lavender laced kitchen herbs, you will adore this wine. This wine has more mineral and herbes de Provence-like qualities than the usual ripe fruitiness of most California white wines; these sensations hitting the palate with a crisp, bone dry, medium-full yet fresh and airy mouth-feel.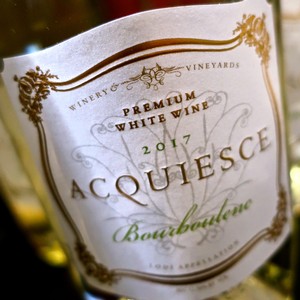 2017 Acquiesce, Lodi Bourboulenc ($28) – While you also find floral/violet-like fragrances in this white, there is a little more emphasis on minerals and lemon/citrusy qualities in both the nose and flavors. The feel is also lighter in weight than that of the Clairette Blanche – a good steely, zesty, energetic, light-medium bodied feel, pushing the citrusy sensations into a long and mouth-watering finish. Please note: This wine will not be officially released by the winery until mid-June 2018.
Last week we were also able to taste another one of Tipton's latest from the 2017 vintage:
2017 Acquiesce, Grenache Blanc ($26) – This varietal has only been getting better and better for this winery estate. The 2017 is as fresh, floral and pure as a crisp Japanese pear, with its own sense of minerality. These sensations are fine, zesty, light and fluid on the palate; finishing with a firmly dry, lip smacking, medium bodied feel.
Adds Tipton, "As the vines mature and we are able to get more crop, we will be able to play with blending the Clairette Blanche and Bourboulenc with Grenache Blanc and Roussanne, and maybe we'll be able to make even more of a Châteauneuf-du-Pape Blanc style wine... I can't wait."
Neither can we!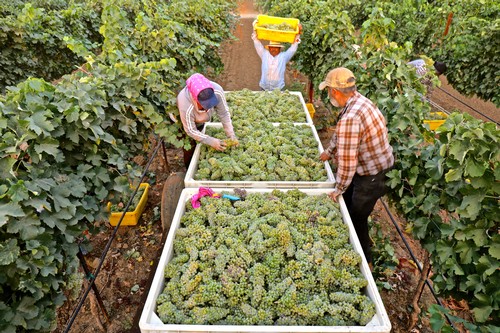 Comments