Letters from Lodi
An insightful and objective look at viticulture and winemaking from the Lodi
Appellation and the growers and vintners behind these crafts. Told from the
perspective of multi-award winning wine journalist, Randy Caparoso.

February 9, 2017 | Randy Caparoso
A mountain winery turns Lodi grown Pinotage into its specialty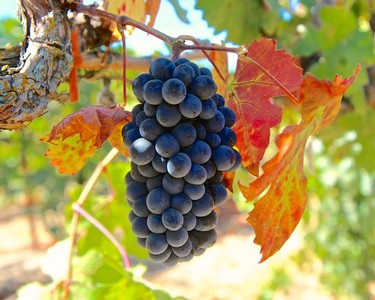 When Paul and Amy Kemp founded their Loma Prieta Winery in 2003, high up on a 2,600-ft.-high site in Santa Cruz Mountains, they planted what other growers and producers in the region have going: Pinot Noir (mostly), with a little Cabernet Sauvignon and Merlot.
And then seven years ago the Kemps took a busman's holiday to South Africa and discovered wines made from the Pinotage grape – a crossing of Vitis vinifera (i.e. European wine grapes) developed in 1925 by South African viticulturist Abraham Izak Perold. Perold thought he was crossing Pinot Noir with Hermitage (a common, if errant, synonym for Syrah), and so he called his new creation Pinotage. In fact, Pinotage is a crossing of Pinot Noir and Cinsaut (just think, it could have been called "Pinotaut").
Whatever the case may be, according to Ms. Kemp, "Paul fell in love with Pinotage... He got so excited about it, he couldn't wait to get home to make some of his own. He found two vineyards in California with Pinotage planted, and a few years later (in 2013), he grafted it over our own vineyard (total of 3.5 acres) completely to Pinotage."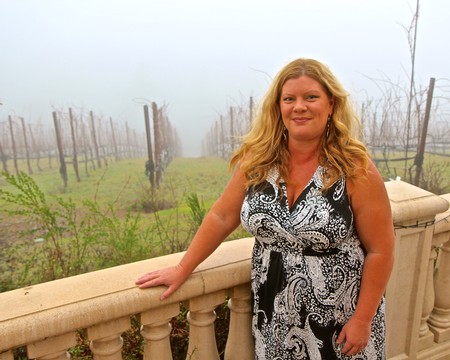 Adds Ms. Kemp, with not a little bit of pride, "Today we are the largest producer of Pinotage in North America."
The two sources of most of Loma Prieta's Pinotage bottlings are in the Lodi Viticultural Area: the Mettler family's Arbor Vineyards, identified by the Kemps as Amorosa Vineyard (see our 2016 post on Mettler family's Pinotage); and Amrik Samra's S&P Vineyards, which the Kemps call Karma Vineyard (the planting's original name).
In a conversation earlier this week, Mr. Samra – who has been farming Lodi vineyards his entire adult life (since the 1990s) – talked about the relationship between his 500-acre S&P Vineyards (located east of Galt, falling in Lodi's Jahant AVA) and Loma Prieta Winery: "Paul is the one who taught us about Pinotage. When we purchased Karma Vineyards 10 years ago, there was just a little Pinotage on it. Paul wanted to increase his supply to 40 tons, and so we grafted over more vines. We're now up to 10 acres of Pinotage. Paul doesn't take all of it every year, but that's not a problem because there are now a lot of wineries interested in Pinotage. It's become a big thing in the Bay Area. I even made 2 barrels of it for myself last year."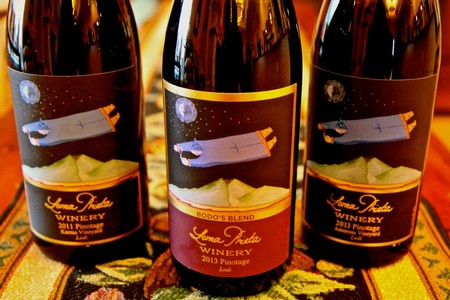 For some wine lovers, the sixty-four-thousand-dollar question is, why Pinotage? Without a doubt, as a varietal, Pinotage is an acquired taste; producing red wines of deep color and plump, palpable texturing, but with aromas and flavors tinged with qualities that have been described as everything from old socks and Band-Aid to bananas and nail polish remover.
Amy Kemp tells us, "Paul loves it especially because it is so different from other California wines. The last thing he wants is a wine that tastes like Pinot Noir, Merlot or Cabernet Sauvignon. There are over 80,000 acres of Cabernet Sauvignon in California, and only about 58 acres of Pinotage. Right now, there isn't enough Pinotage, Most importantly, our customers are loving it!"
Besides Pinotage, Mr. Kemp is bullish on most everything he buys from Lodi. At the most recent San Francisco Chronicle Wine Competiton, the 2014 Loma Prieta Petite Sirah, grown by the Mettlers, garnered no less than a Double Gold and Best of Class (translation: "best Petite Sirah in the U.S."); and past vintages have achieved comparable honors in the Winemaker Challenge International Wine Competition, Florida State Fair International Wine Competition, and American Wine Society Commercial Wine Competition.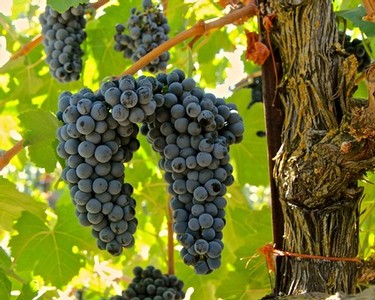 Says Mr. Kemp, "Lodi may have a reputation for bulk wines, but I personally think grapes from Lodi are a good as any in the world. Great soil and better farming will do that. Besides Pinotage and Petite Sirah, I have received Chardonnay, Roussanne, Viognier, Cabernet Sauvignon., Merlot and Malbec from Lodi, and have done extremely well with all of them."
In a tasting of multiple vintages of Loma Prieta wines one stormy February afternoon at their Santa Cruz Mountains winery, we came away with three general impressions:
• The luscious cherry/blackberry/blueberry qualities of Lodi grown Pinotage in the Loma Prieta bottlings are so intense, the notoriously "odd" aromas of the varietal are effectively buried – amounting to faint whispers of, say, rubber boots (which, when you think of it, is more of a comforting odor... seriously!) or a compellng feel akin to minerality on the palate.
• Loma Preita's Lodi grown Petite Sirahs are probably lauded because they are not overly big, ripe, and bruising with tannin or green-tasting oak – qualities typifying many, if not most, California Petite Sirahs – but rather, more floral and focused, with generous tannins tucked neatly into a moderately full body, with restrained oak.
• Loma Prieta's finest wines may not be their pure varietal bottlings of Pinotage or Petite Sirah. In fact, their "Bodo's Blend" – Lodi grown Pinotage artfully blended with approximately 20% Petite Sirah – is startlingly original, combining the funkadilic peculiarities of Pinotage with the dense, svelte and mouth-filling qualities of Petite Sirah.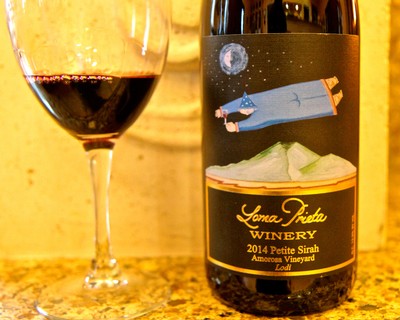 That said, some detailed notes on Loma Pietra's most recent bottlings:
2012 Loma Prieta, Karma Vineyard Lodi Pinotage ($45) – Fragrant fruit qualities leaning towards the red cherry/cranberry side of the varietal spectrum, underlined by an dried-herby spice, a pipe tobacco smokiness, and earthy, bootstrap nuances. A full (14.2% alcohol) yet lanky feel zipped by bright acidity and moderate tannin, ending with a burst of the cherry/blueberry taste.
2013 Loma Prieta, Amorosa Vineyard Lodi Pinotage ($45) – Grown in the Mettlers' Harney Lane block, on the east side of Lodi's Mokelumne River AVA. Deep color and bold, ripe, dark berry (black cherry veering towards blueberry) aroma tinged with smoky, mineral-toned notes, which sink into a rounded, fleshy, medium-full body (13.5% alcohol), touching all parts of the palate. Top to bottom, a "complete" tasting wine.
2013 Loma Prieta, Santa Cruz Mountains Estate Pinotage ($55) - While grown in a cooler climate, high elevaton (+2,500-ft.) terroir, the Kemps count on the site's southern exposure, completely above the fog line, and narrow-diurnal coastal climate (you can see waves crashing along the Santa Cruz coast from the winery windows) to ripen their estate Pinotage. Nonethess, this is a considerably leaner, skeletal style (especially compared to the plump Lodi grown Pinotages), with even herbier, earthier, rubber boot-like qualities, filled out by toasty oak spices in its zesty medium-full (14.2%) alcohol) body. Should be interesting to follow how this mountainside planting evolves.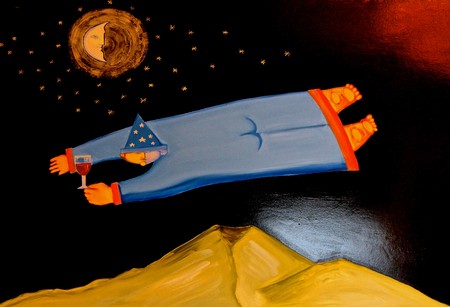 2014 Loma Pietra, Amorosa Vineyard Lodi Petite Sirah ($45) – Notably focused, black cherry/blueberry concentration – similar in fruit profile to the Amorosa Vineyard Pinotage, but without the earthy "funk" or minerality – with restrained smoky/toasty oak flourishes. Densely textured, muscular yet svelte tannin giving a solid feel to a medium-full body (13.9% alcohol); blueberry sensations finishing with a seamless, generous feel.
2013 Loma Prieta, Bodo's Blend Lodi Pinotage ($50) – Here, the faintly herby, funky, mineral/earthy, ripe toned Pinotage fruit is given an even meatier, muscular feel by a judicious dose of Petite Sirah (20%). Mineral notes seem to predominate on the palate, combining with low key, smoky oak spices to take the edge off the exuberant fruit qualities intrinsic in the Lodi grown Petite Sirah. Winner, winner, cumin, paprika or achiote spiced chicken dinner!
The beauty of Lodi's plethora of alternative grapes, in other words, is also the expanded boundaries of culinary matches. Other delicious dishes for which earthy, full yet sleekly textured Pinotage based reds practically scream? Think of Middle Eastern style saffroned lamb shanks, Asian style (i.e. soy sauce/garlic based) marinated grilled meats, or according to Amy Kemp, a "Pinotage burger" – ground beef glazed or sauced in an infusion of caramelized onions and red wine. Could make the stormiest winter night worthwhile!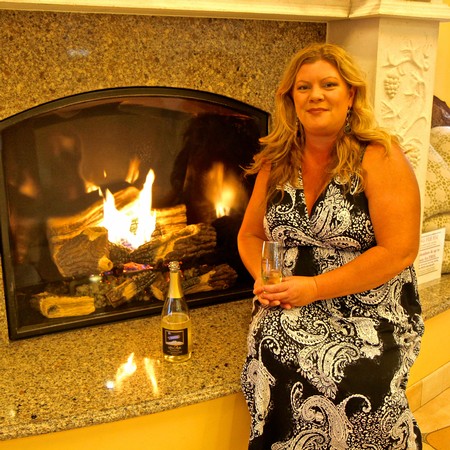 Comments