Letters from Lodi
An insightful and objective look at viticulture and winemaking from the Lodi
Appellation and the growers and vintners behind these crafts. Told from the
perspective of multi-award winning wine journalist, Randy Caparoso.

October 3, 2016 | Randy Caparoso
2016 Lodi Zinfandels, says Macchia's Tim Holdener, are showing phenomenal balance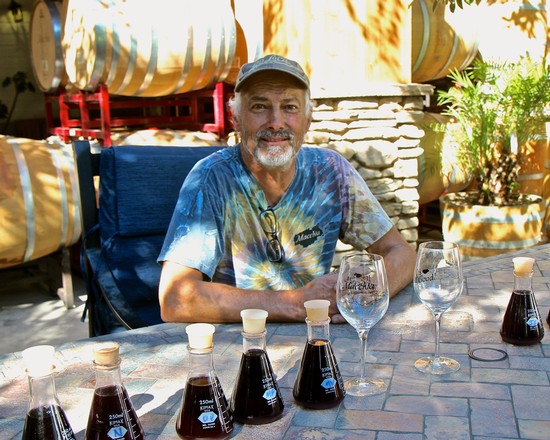 It's October 3, 2016, and Lodi winegrowers are talking about wrapping up the vintage within the next two weeks, as soon as it is humanly possible to bring in the rest of the Cabernet Sauvignon, Petite Sirah, Carignan, Barbera and other later-ripening black skinned grapes lingering in the fields.
Chalk it up to the recent spate of mild winters pushing bud break and flowering earlier in the season, or to weather events tantamount to global warming, whatever your political beliefs may be. Earlier vintages have been happening up and down the entire West Coast, not just in Lodi.
A more pertinent question might be, how does this bode for quality? If you ask Tim Holdener, the winemaker/owner of Lodi's Macchia Wines, things are looking "fantastic," particularly for Zinfandel, Lodi's pièce de résistance.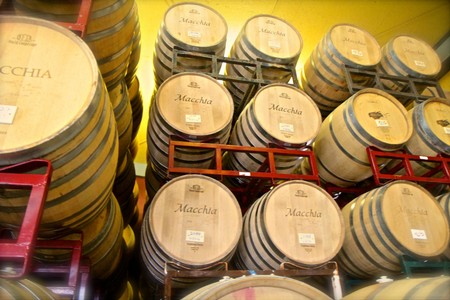 While sitting down to share barrel samples of his 2016 Zinfandels two Saturdays ago (September 24, 2016), Mr. Holdener extolled: "It's not just quality, but the quantity of 2016s that are excellent – above average. We didn't expect to bring in as much tonnage because we saw that there was a little shatter (i.e. coulure, or unfertilized berries in grape clusters) out in the fields, but everything seemed to fill out, and better yet, we seem to have all the flavors we normally have, but at lower sugars."
Asked to explain the relationship between sugars and flavors in Zinfandel grapes, Holdener explained: "If this was a normal year, we would be bringing in grapes that are sugar-ripe, but not phenologically ripe – without the brown seeds, the turned stems, and ripe flavors."
Standard practice in commercial Zinfandel production includes adding water to fermenting musts to lower potential alcohol, and adjusting acidity to make up for what might be lacking naturally in high-sugar Zinfandel grapes. "This year we are getting the opposite," says Holdener – "riper grapes with less sugar, which is ideal for the winemaker because it makes it easier to make a balanced wine without having to resort to the usual bag of tricks."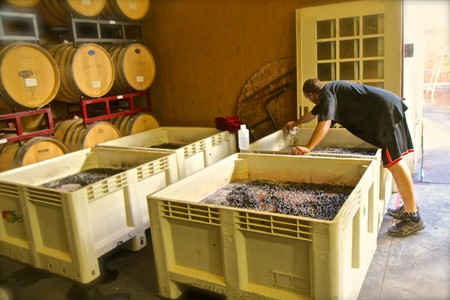 When asked what was different about the weather in 2016, Holdener speculated: "I was surprised to learn that this year we had more 100-degree days than normal, but the vines had a good head-start; so there was plenty of hang-time, with lots of canopy to help grapes develop their flavors. Plus, the weather cooled off earlier in the month (September), and there were no rain events causing problems like rot or mold. Whatever the reasons, we have been picking grapes in almost perfect, clean shape. Brix (i.e. sugar readings) in the fields have been reading 22° to 23°, but taste more like grapes we get at 25° or 26°, with better acidity. If there ever was a year when Zinfandel is able to 'make themselves,' without much winemaker interference, 2016 is probably it."
For the past 16 vintages, Macchia Wines has been producing a good half-dozen different single-vineyard Zinfandels under their black label marked by a vivid splash of tie-dye colors, marking their "spot" as a leading progenitor of Lodi wine country's modern day quality push.
It is thanks to Zinfandel specialists like Holdener that, today, there is far more interest in Lodi's special vineyards – once buried in the industrial sized tanks of giant, bulk wine producers – than ever before.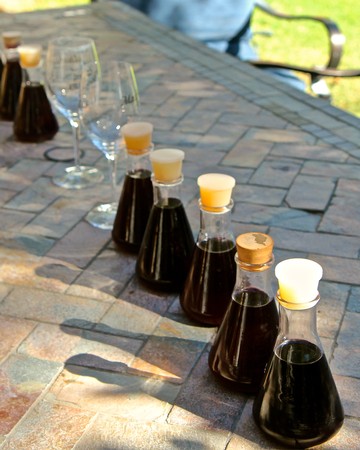 Sure, there is also a Macchia "house" style: dependably opaque, deeply colored Zinfandels bursting with sweet, palpitating, primary fruit aromas; big and full in the mouth, and at the same time, velvety in texture and viscosity. Part and parcel of the Macchia signature has always been Holdener's personal choice of hybrid oak barrels; assembled from a combination of French and American staves, combining the pungent sweetness of American oak with the more subtle, toasty veneer of the French. This is precisely why Macchia wine lovers are legion.
Nonetheless, terroir related characteristics attributable to individual vineyards can also be gleaned through Macchia fashioned Zinfandels. Since 2012, Mr. Holdener's involvement as one of the original participants in the Lodi Native project – where heritage vineyards are handled as naturally and minimally as possibly, beginning with native yeast fermentation and ending with use of strictly older, neutral tasting barrels before unfiltered bottling – has only enhanced the Macchia approach, which has always put a spotlight on sensory qualities unique to vineyards as much as a winemaker's touch.
Some of Holdener's comments (in italics) on barrel samples of his 2016 Zinfandels, sampled in order of picking dates:
2016 Rous Vineyard – Every year Rous is the first or, at the latest, second vineyard picked. A lot of this is because this vineyard (planted in 1909 on St. George rootstock, off Victor Rd. on the east side of Lodi's Mokelumne River AVA) is managed by a winemaker, Craig Rous, who does meticulous canopy management to offset his vineyard's healthy, vigorous growth, and to make sure the clusters get lots of sunlight. This year we picked Rous on August 15. The numbers were ideal – lower sugars, higher acids than just about all my other vineyards – and even now at this early stage, you can taste the floral, violet-like fruit qualities and the luxurious mid-palate flavors that make this unmistakably "Rous." This will be one of my more "perfect" wines in 2016, and I didn't have to do a thing to achieve it.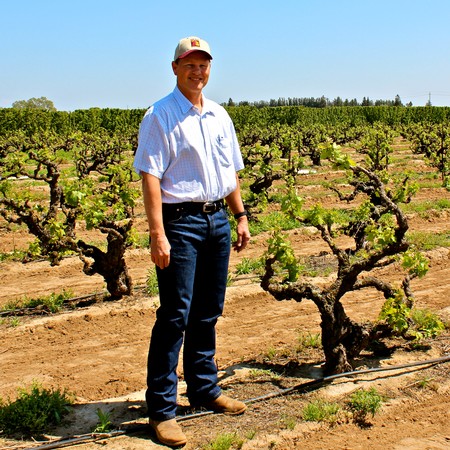 2016 Cemetery Vineyard – We picked this 100-year-old vineyard just two, three days after the Roud in mid-August. Because of its ideal sugar/acid balance, we fermented this vineyard (located near Lodi Cemetery on the east side of Lodi's Mokelumne River AVA) two ways – with natural yeast for the Lodi Native program in half-ton macro bins, and inoculated in 1200-gallon open-top steel tanks. With the inoculated portion, we added enzymes and oak dust, which explains the wine's deep, dark color and slight residual sugar – quite often, our larger tanks of inoculated wines take off quickly and then putter out, and so fermentation of last bits of sugar ends up taking longer than the native yeast wines. The Lodi Native portion is completely finished, probably because it was done in a 100-gallon bin – the color is lighter and more reddish, but the perfume, like cranberry and cherry, is much more pronounced at this time than the inoculated portion. The native yeast Cemetery also tastes like it has sharper, zestier acidity because of the dryness and the wine's moderate weight of alcohol.
2016 Oblivious – I call this vineyard, located between Rous and the Cemetery Vineyard (east side of Lodi's Mokelumne River AVA), Oblivious because the owner purchased the land under these ancient vines as an investment, not because he cares one single bit about the grapes. So I manage the farming myself, and he's happy with the check I send him once a year. The vineyard is dry farmed, and has lots of dead spots – out of 10 acres, we may get 6 tons. The yield may be miniscule, but the quality is what any winemaker would consider a treasure. We picked the 2016 on August 21, you can already taste lots of pretty red fruit with blueberry notes, and lots of good, natural acid, because of the tiny berry size.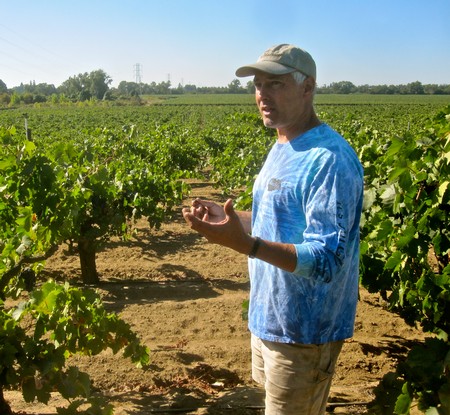 2016 De Luca Vineyard – These vines, picked at the end of August, were planted in the 1980s by Dave Devine on slopes towards the end of Peltier Rd. (in the lower elevations of Lodi's Clements Hills AVA, alongside the Mokelumne River). These are all head-trained vines, probably the most perfectly manicured in all of Lodi. The clonal selection, however, is one of U.C. Davis' higher yielding varieties, so this 2016 is typical of what we usually get – very generous, ripe fruit, blackberries and red berries, and a big, round taste, a little light in the finish. Subsequently, this has been a good component in our Mischievous (multi-vineyard) blend – not quite the complete style of Zinfandel that we usually like to see in our single-vineyard program.
2016 Wegat Vineyard (Maley Bros.) – This year we picked our Maley (a classic far-west side Mokelumne River AVA growth, located on Ray Rd. between Turner and Woodbridge) at the beginning of September; almost 10 days after Todd Maley (owner/grower) picked for himself. I like to go for a rich, full "Voluptuous" feel you get from slightly riper grapes, but you notice that the 2016 still has the natural acidity that balances out the lush, soft, middle taste. Whether picked earlier or later, the wine always ends up with that fragrant, floral perfume and silky texture, which makes this vineyard one of the most distinctive in Lodi. Of course, this vineyard has always been part of the Lodi Native program from the beginning (since 2012). I inoculated my 2016, but it still meets all the expectations associated with this vineyard. It's nice to know that there are certain spots in Lodi where, no matter what, you can always make a wine with its own sense of place.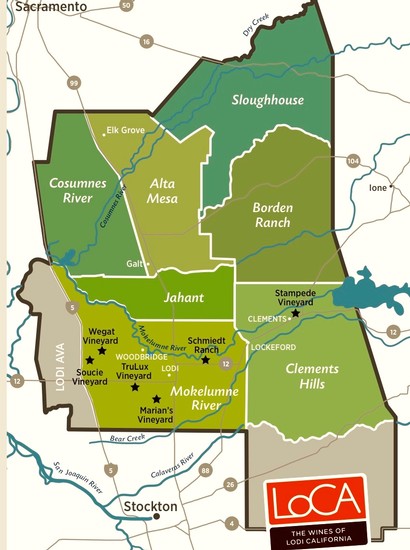 2016 Mohr-Fry Ranches – Each year we bottle this vineyard, planted in 1942 (south/central side of Lodi's Mokelumne River AVA), as "Generous." We picked this during the first week of September; but again, typical of 2016, grapes came in at lower sugars and higher acids than normal, but you can still taste the deep, dark, almost chocolaty, raspberry fruit and full, broad, earthy feel that these vines always deliver. The Fry family knows what they're doing – it's no coincidence that they were picked as the 2016 Grower of the Year (by the California Association of Winegrape Growers). As winemakers, it's good to be able to depend upon the impeccable quality we get from them each year.
2016 Clements Hills Vineyard #1 – This is one of our newer vineyard selections, located further east, deeper in the Clements Hills AVA; dry farmed, goblet-trained old vines, planted closer to the banks of the Mokelumne River, where there is less clay and a little more sand. We're starting to learn not to expect big wines from Clements Hills plantings; but more balanced wines, with good structure despite soft, round qualities. The fruit in this 2016 is fragrant, ripe, lots of red berries.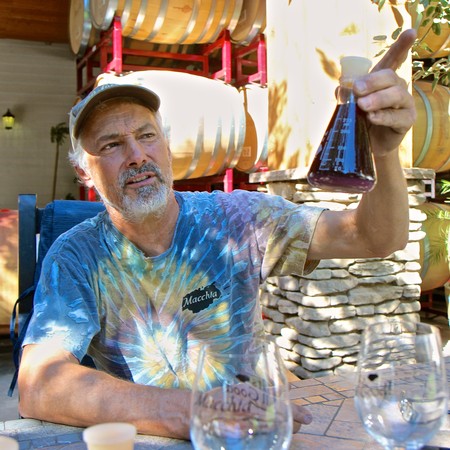 2016 Schmiedt Ranch – Another one of our mid-September picks. Sugars soaked up at 26° Brix; a little riper than we expected, and so we inoculated and made adjustments with a little water and acid. The 2016 tastes exactly like where it comes from (east side of Lodi's Mokelumne River AVA, right alongside McCay's Lot 13 and Turley's Kirschenmann Vineyard, all planted between 1915 and 1918), with its pretty cherry/red berry fragrance and zesty, almost delicate, fine feel.
2016 Watts Vineyard – McCay calls wines from these 75-year-old vines TruLux. Fact is, I've been working with this vineyard (located on west side of Lodi's Mokelumne River AVA, just south of Kettleman Lane) longer than Mr. McCay, although he deserves a lot of credit for what he does with it. We picked in mid-September and inoculated it. When produced in my style, I like the way it ends up with that sumptuous, round, svelte feel – always, a real presence in the mouth – with a slight earthiness and shy yet floral fruit nose. Top to bottom, this vineyard doesn't usually lack for anything, and in 2016 it is no different.
2016 Clements Hills Vineyard #2 – This is another century-old, head trained planting located along Hwy. 88, off Disch Rd. (between the little towns of Lockeford and Clements, in the Clements Hills AVA). It used to go to Cosentino, back in the day, and it makes a beautiful wine – fragrant, perfumey, almost violet-like, with delicate cherry-berry perfumes, and zesty natural acidity.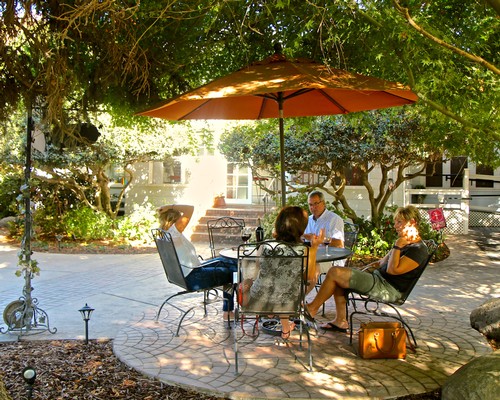 Comments