Letters from Lodi
An insightful and objective look at viticulture and winemaking from the Lodi
Appellation and the growers and vintners behind these crafts. Told from the
perspective of multi-award winning wine journalist, Randy Caparoso.

December 2, 2015 | Randy Caparoso
John Curley's fantastical Lodi images and impressions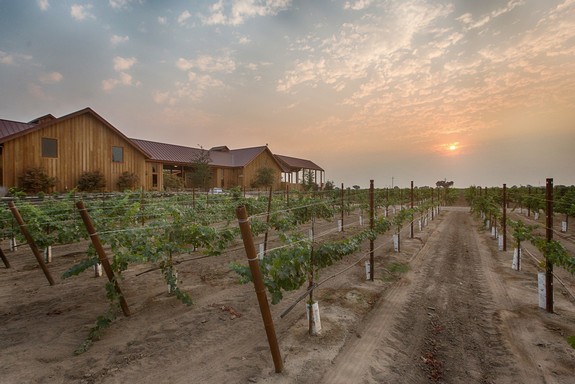 Oak Farm Vineyards and winery during a September sunset
"Keeping things alive forever" is how California photographer John Curley (please visit johncurleyclients.com) describes his ambition whenever he looks through the peephole of his camera.
This past September Mr. Curley was in Lodi wine country to photograph the Lodi Harvest SOMM Camp, co-sponsored by the Lodi Winegrape Commission and the restaurant trade magazine, The SOMM Journal.
The restaurant sommeliers attending this Camp – 28 in all – came from places as nearby as Sacramento, San Francisco, Los Angeles, Orange County and San Diego, and from as faraway as Honolulu, Chicago, Las Vegas, Denver, Minneapolis, Missouri and Wisconsin. For three days they were up at the crack of dawn, tasting wines in fields or with farm-to-table fare deep into the night.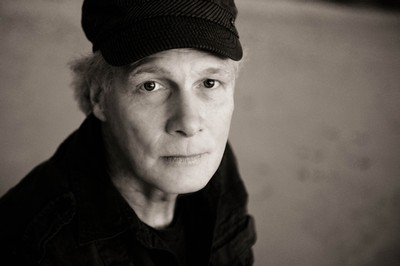 Photographer John Curley
The photos we are sharing in this post capture the surprise and wonder of these wine professionals who, like many consumers, have never thought of Lodi as a source of fine, artisanal style wines... until then. And like many first-time visitors, these sommeliers were amazed by the region's growers and winemakers; many of them from families who have been farming in the region for three, four, five or even six generations, preserving ancient vines planted as long as over 100 years ago.
Mr. Curley – who has published his photos in New York Times, USA Today, CNN, New York Magazine, the San Francisco Chronicle, San Francisco Magazine, Sierra Magazine, and many others – confesses that, like the sommeliers, "before my visit I had a typical perception of Lodi winemaking, which would be 'huh?'"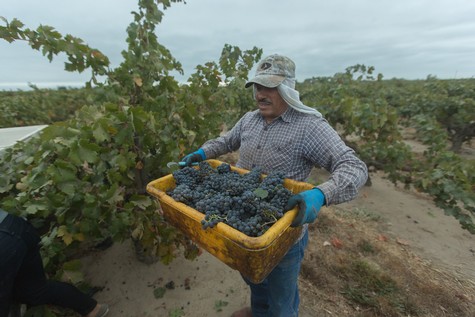 Mohr-Fry Ranch picker in 73-year-old Zinfandel vineyard
As a longtime wine lover himself, Mr. Curley was only too happy to share his impressions of Lodi:
I have to say, my visit to Lodi changed my perception of the region radically. It's always humbling to learn how much you don't know, and this was one of those experiences.
I guess like most everyone else, when I thought of Lodi wine at all, I thought of Zinfandel, but not necessarily very good Zinfandel. I had no idea how many Lodi wineries were making really good Zinfandel, and I certainly had no idea that the region has such a deep legacy with wine.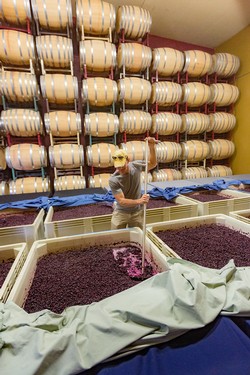 As for variety... German style whites in Lodi? Who'd a'thunk?

A lot of the trip has melded into one happy memory, but there are some moments that stand out:

# Tim Holdener (of Macchia Wines) standing by the side of the road in an industrial part of town, and telling us passionately how interesting and complex were the grapes that grew there (Zinfandel from +100-year-old Noma Ranch vines).

# The elegance of Oak Farm Vineyards and the hospitality of all the winemakers who greeted us there and welcomed us to Lodi.
# How amazing it was to learn how many of California's more storied labels source so much of their grapes from Lodi.
# How refreshing and inspiring it was to see so much pride the people have in their products, which was really brought home when the six Lodi Native winemakers told us about their "friendly" competition, and let us taste their wonderful wines, so reflective of their individual vineyards. I don't think I've ever experienced such a clear-eyed examination of true terroir.
# This may be a little off-topic, but the break-of-dawn grape picking experience we had in Mohr-Fry Ranch opened my eyes in another way. Let's just say that I thought I'd be just as good a grape picker as anyone working in the fields because, hey, how hard could it be?
Hence, these fantastical images capturing Mr. Curley's eye-opening experiences: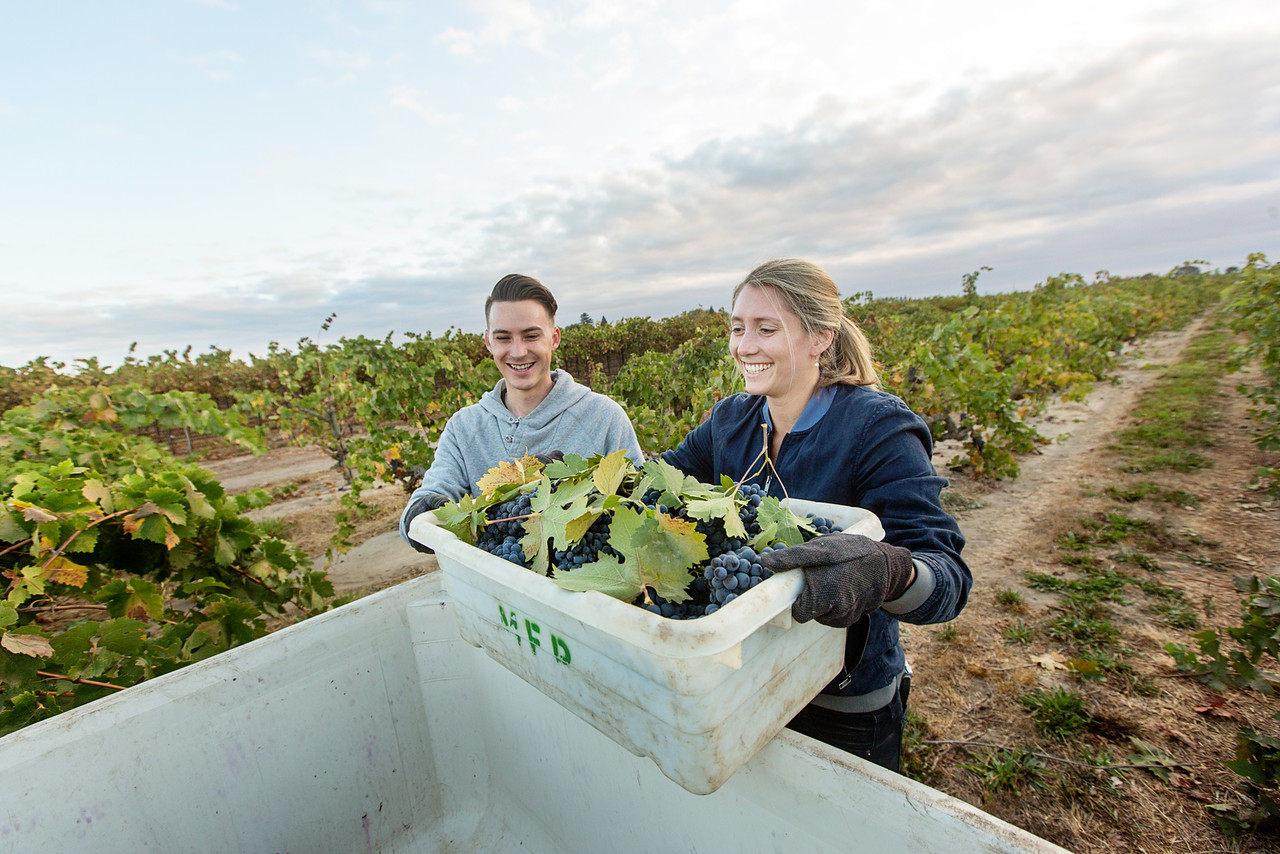 Young Southern California sommeliers (Jordan Villareal and Alicia Kemper) discover joys of ancient vine Lodi Zinfandel, first hand in Mohr-Fry Ranch at the crack of dawn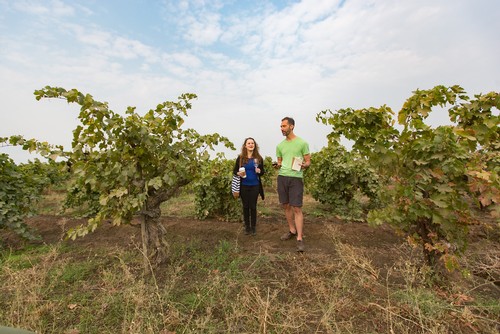 Among ancient vines: Chicago sommeliers (Miranda Elliot and Seth Wilson) in Bechthold Vineyard; Lodi's oldest, most venerated single vineyard (Cinsaut planted by Joseph Spenker in 1886)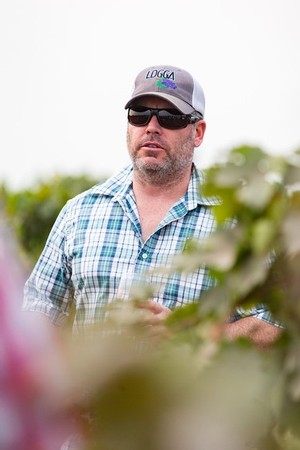 Phillips Farms' Kevin Phillips talking about the organic farming of Bechthold Vineyard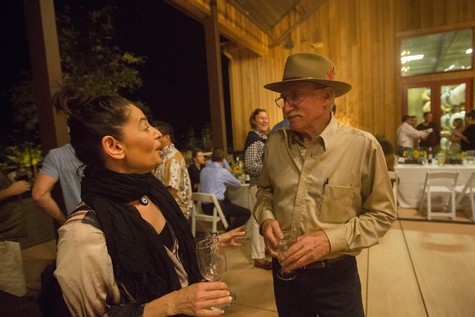 Borra Vineyards owner/grower Steve Borra with Todo un Poco chef/owner Marie Mertz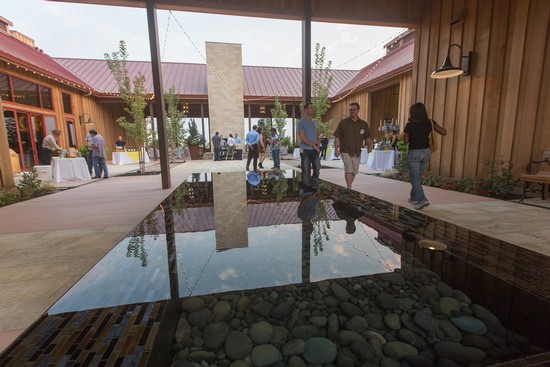 Reception at Oak Farm winery around eternity fountain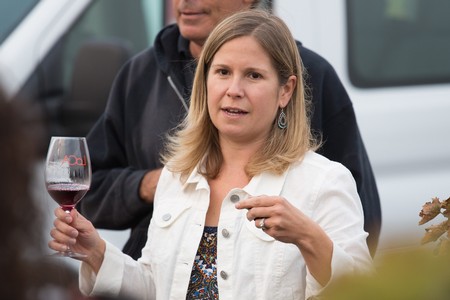 Onesta owner/winemaker Jillian Johnson field-tasting sommeliers on her Bechthold Vineyard Cinsault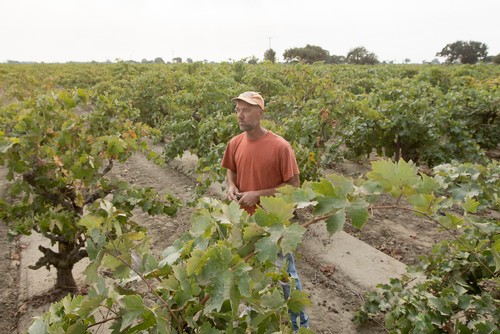 Todd Maley, whose family (cousins of the Phillips family) has been farming in Lodi since the 1860s, in his Wegat Vineyard; west side Mokelumne River AVA Zinfandel originally planted in 1958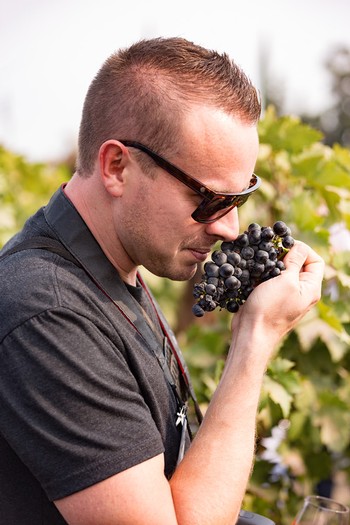 San Diego sommelier Rafael Peterson inhaling Wegat Vineyard Zinfandel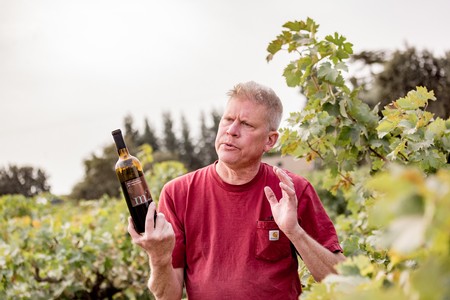 m2 owner/winemaker Layne Montgomery in Wegat Vineyard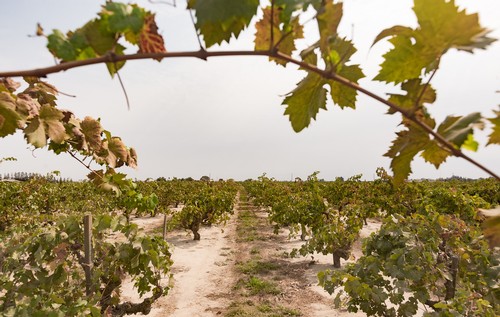 114-year-old ancient Zinfandel in the Fry family's Marian's Vineyard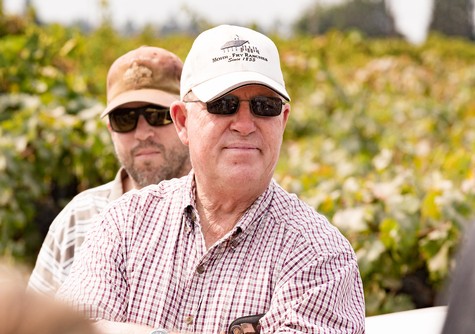 Lodi icons: Mohr-Fry Ranch's Jerry Fry with his son/vineyard manager Bruce Fry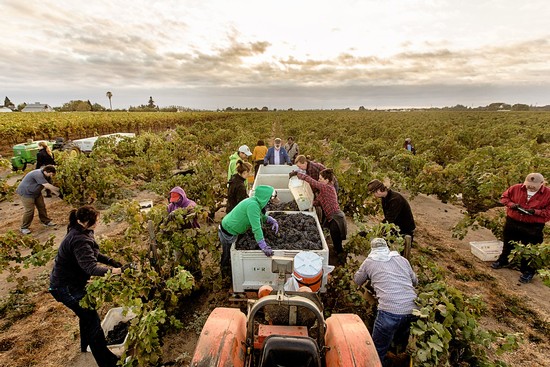 Visiting sommeliers helping with Mohr-Fry Ranch ancient vine Zinfandel harvest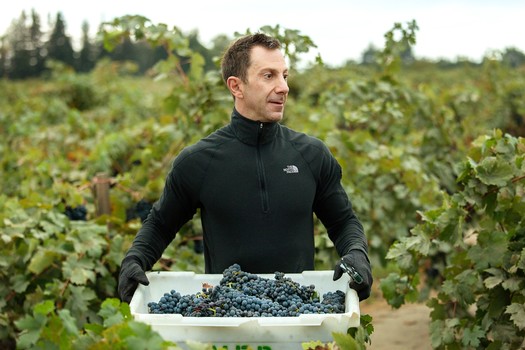 Denver wine professional Davin Teta with just picked Zinfandel from 73-year-old vines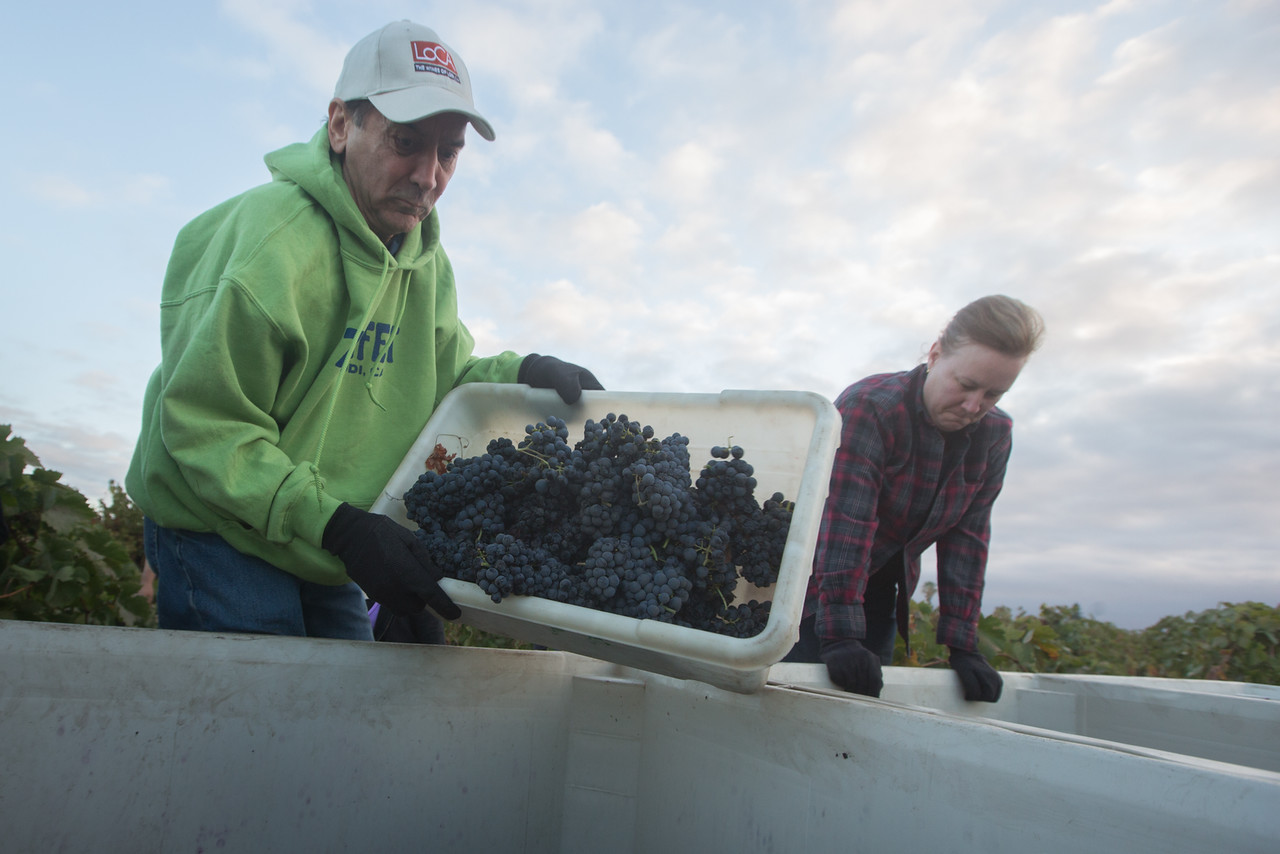 Master Sommelier Randall Bertao (Los Altos) and Kristina Bustamante (Palos Verdes) handling Mohr-Fry Ranch Zinfandel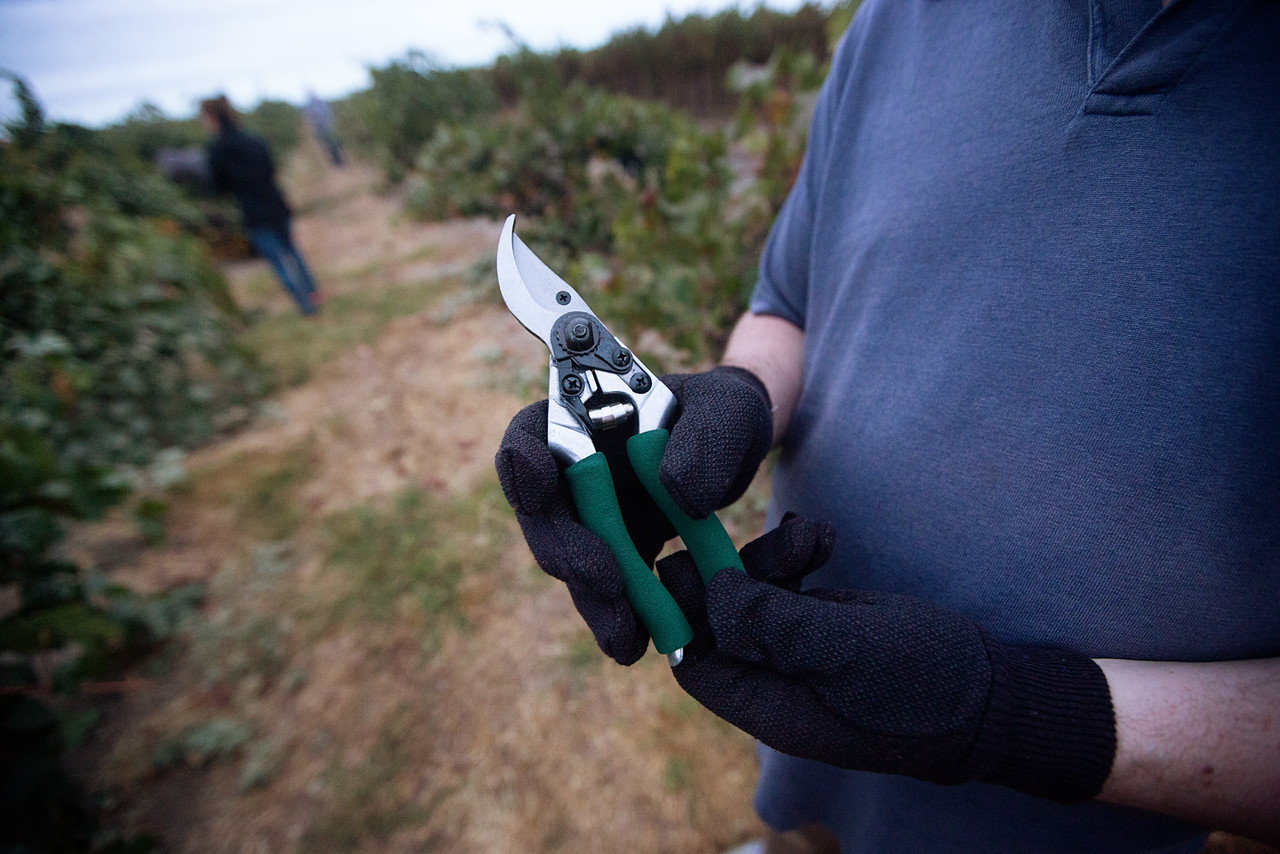 Picking and pruning shears in Mohr-Fry Ranch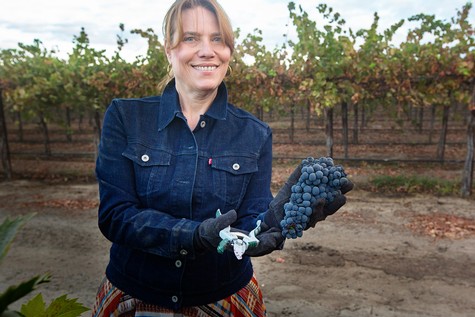 Pebble Beach Resort sommelier Paige Bindel with Mohr-Fry Ranch Zinfandel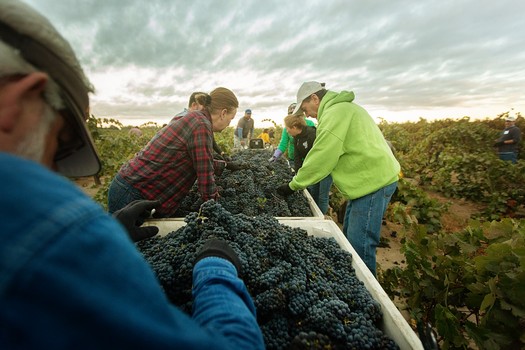 Sommeliers field-sorting Mohr-Fry Ranch Zinfandel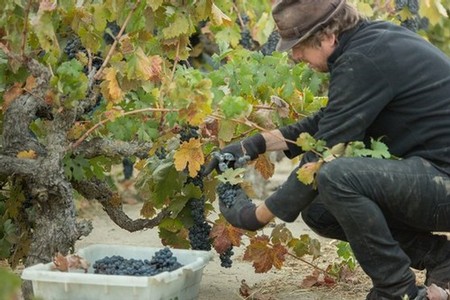 Minneapolis sommelier Timothy O'Neal picking 73-year-old Zinfandel vine in Mohr-Fry Ranch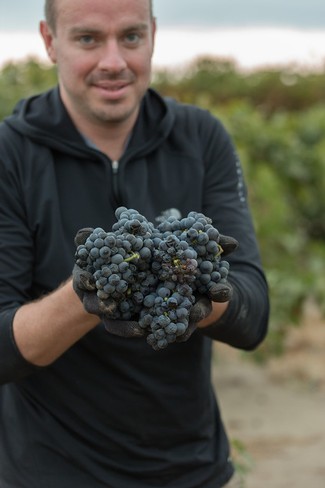 San Diego's Rafael Peterson with Mohr-Fry Ranch Zinfandel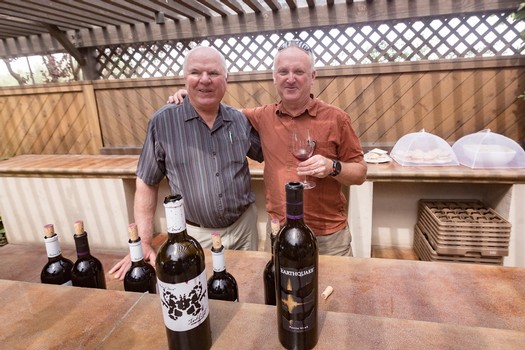 5th generation owner/growers Michael and David Phillips of Michael David Winery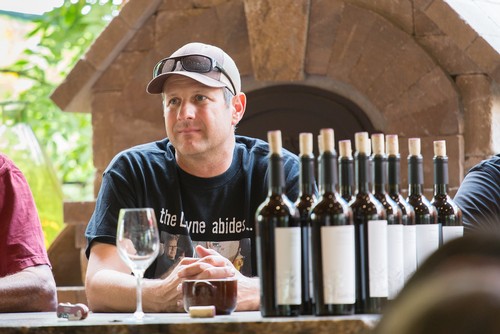 Busy Lodi winemaker: Chad Joseph, who makes the wines of Harney Lane, Maley Bros. and Oak Farm Vineyards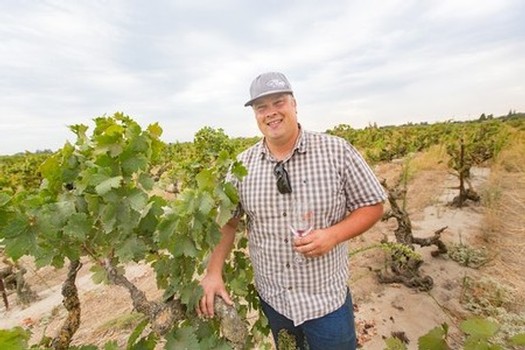 Tegan Passlacqua, the owner/grower of Kirschenmann Vineyard (ancient Zinfandel, planted in 1915 on Lodi's east side) who is also winemaker of the prestigious Turley Wine Cellars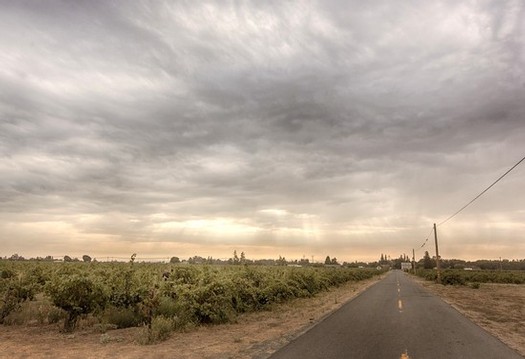 Ancient 100-year-old Kirschenmann Vineyard Zinfandel under golden-gray afternoon cover in the super-sandy "Victor Triangle" of Lodi's east side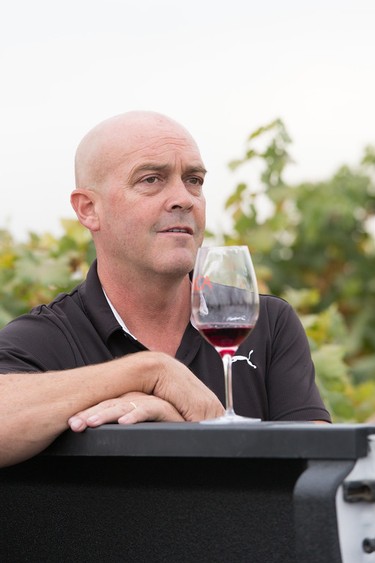 McCay Cellars owner/winemaker McCay Cellars, who cultivates his Lot 13 Vineyard (ancient Zinfandel planted around 1916) next door to Kirschenmann Vineyard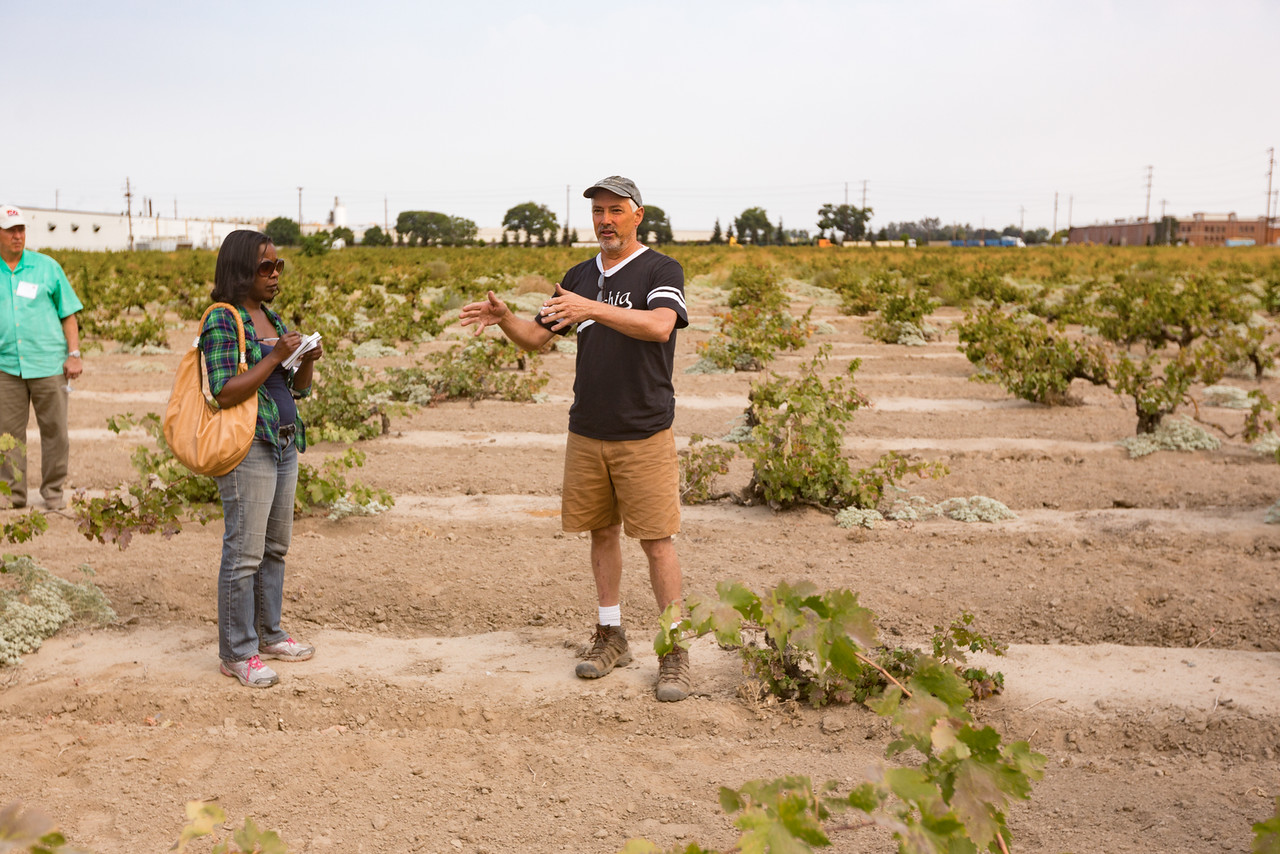 Macchia owner/winemaker in Noma Ranch, talking about the exceptionally high intensity and acidity coming from Zinfandel from these dry farmed, bonsai-sized Zinfandel plantes on Lodi's east side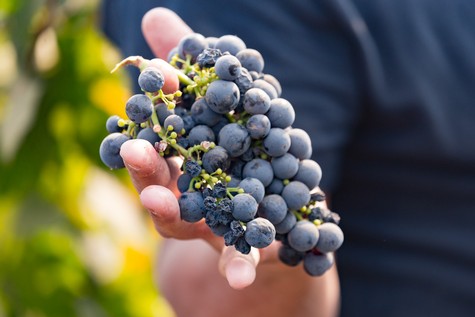 Typically tiny berried, fist-sized Zinfandel cluster grown in Noma Ranch, planted in early 1900s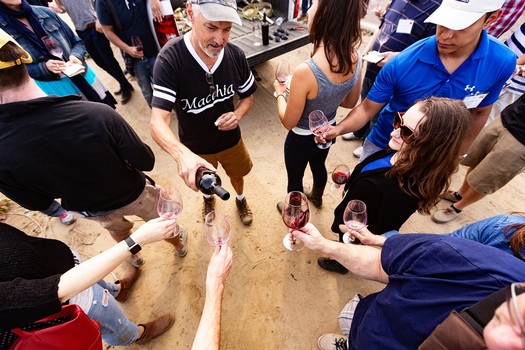 Macchia owner/winemaker Tim Holdener pouring his Noma Ranch Zinfandel to sommeliers among the ancient vines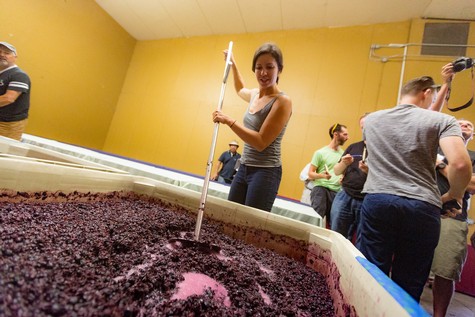 Shell Beach sommelier Robin Puricelli helps to punch down fermenting Zinfandel in Macchia winery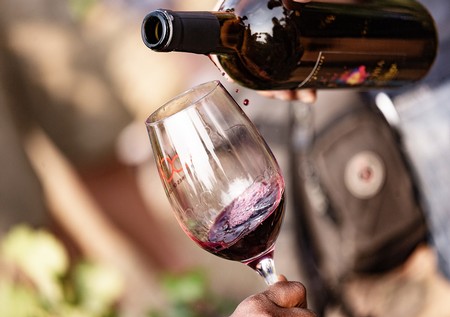 Purple beaded glass of Macchia "Voluptuous" Lodi Zinfandel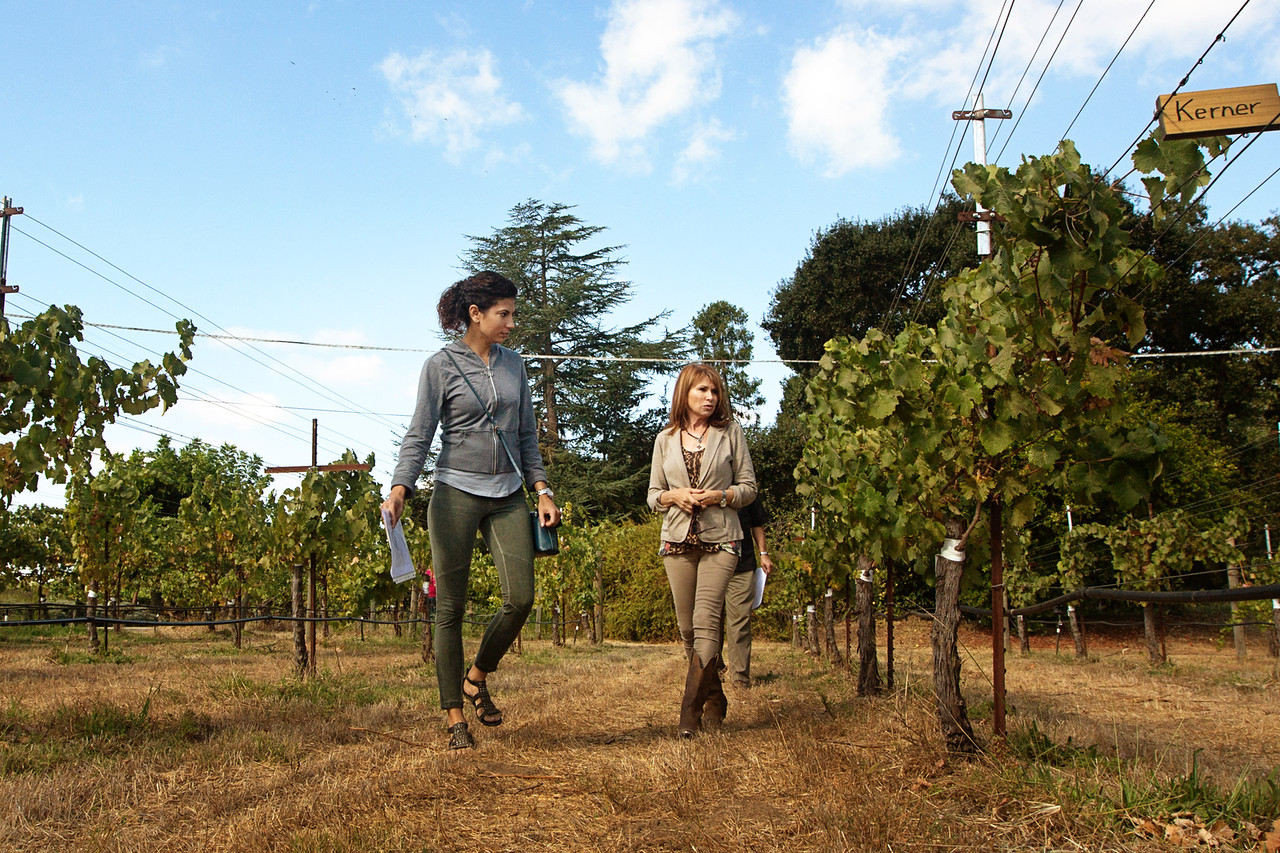 Los Angeles sommelier Naureen Zaim and The SOMM Journal Publisher/Editor Meridith May strolling through Mokelumne Glen Vineyard, planted to over 40 Germand and Austrian grape varieties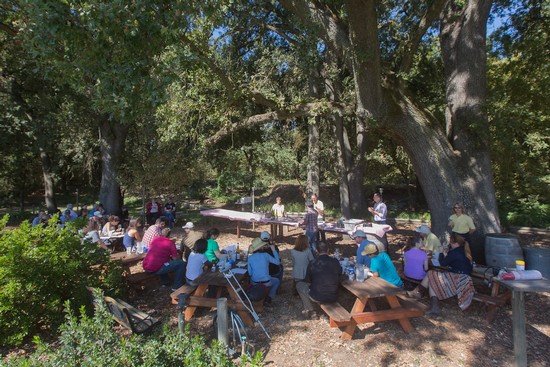 Tasting under valley oaks in a bend of the Mokelumne River in Mokelumne Glen Vineyard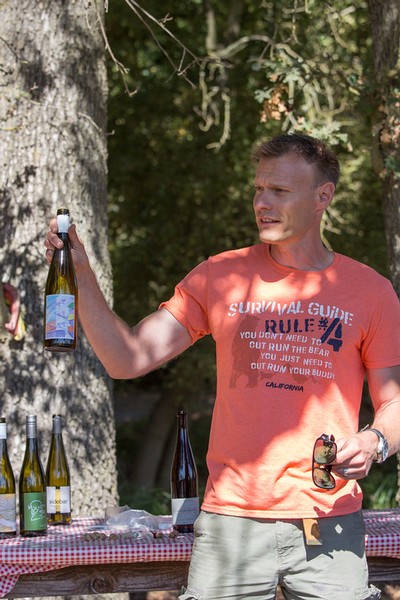 Borra Vineyards winemaker Markus Niggli presenting his Markus "Nimmo" (blend of Kerner, Gewurztraminer, Riesling and Bacchus) in Mokelumne Glen Vineyard, where these German grapes are grown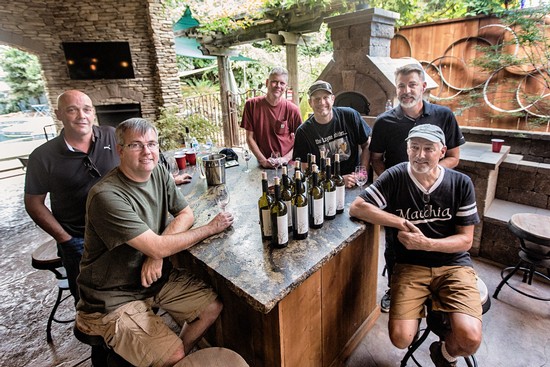 Lodi Native winemakers who have been drawing enormous media attention to Lodi's heritage Zinfandel vineyards in recent years: Michael McCay (McCay Cellars), Stuart Spencer (St. Amant), Layne Montgomery (m2), Chad Joseph (Maley Bros.), Ryan Sherman (Fields Family) and Tim Holdener (Macchia)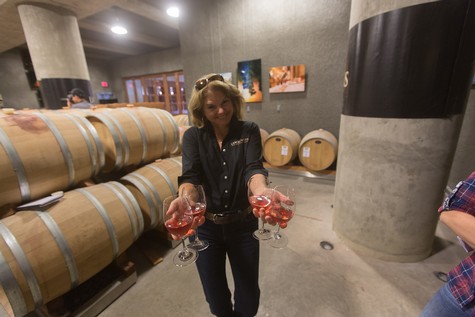 LangeTwins Family Vineyards' Charlene Lange welcoming sommeliers with glasses of Sangiovese rose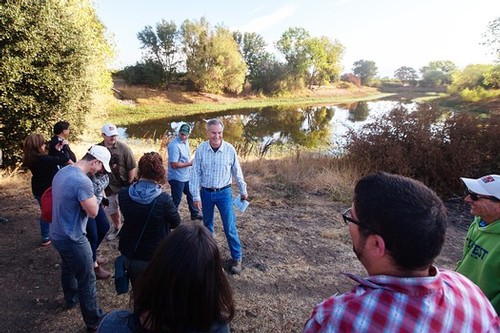 5th generation Lodi grower Bradford Lange (LangeTwins Family) talks about the riparian restoration project alongside his family's sustainably farmed vineyards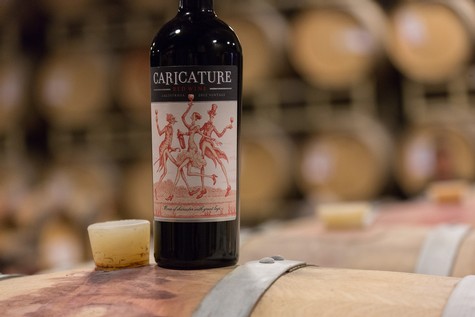 LangeTwins Family Caricature (fruit-forwward Cabernet Sauvignon/Zinfandel blend) on the barrel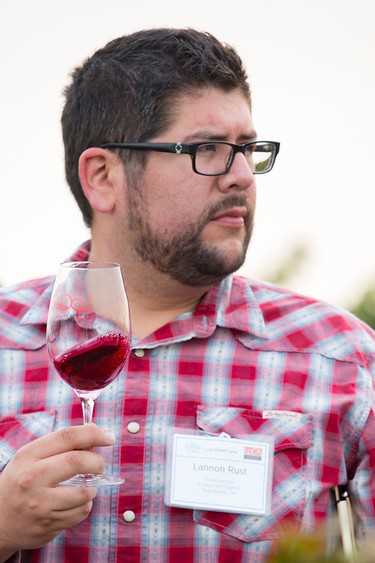 Paso Robles sommelier Lannon Rust tasting Lodi Zinfandel out in the fields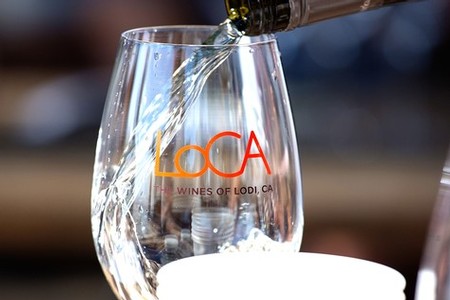 White wine from Mokelumne Glen Vineyard poured into LoCA glass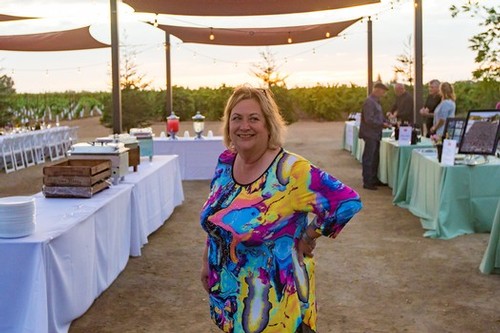 Acquiesce Vineyard owner/grower Sue Tipton, who specializes in "unoaked" Rhone style white wines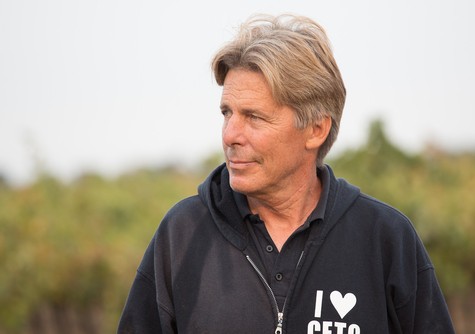 5th generation Lodi grower Greg Burns of Jessie's Grove Winery and estate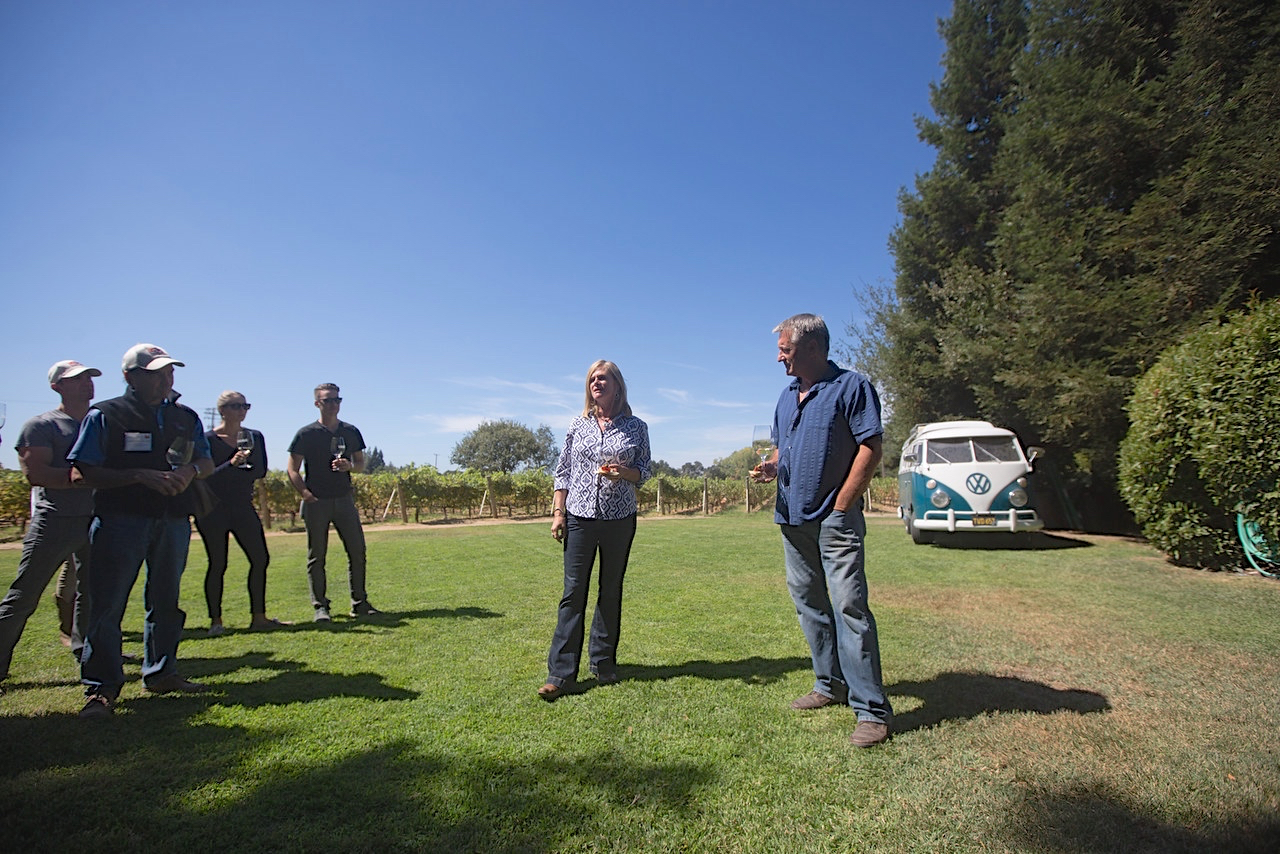 Bokisch Vineyards' Liz and Markus Bokisch, specializing in Iberian grapes such as Albarino and Tempranillo, greeting sommeliers in their Las Cerezas "home" ranch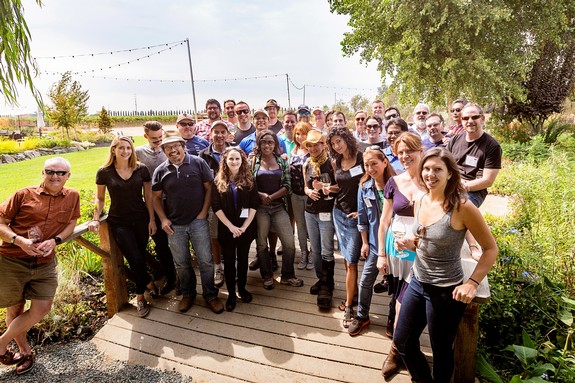 Michael David owner Dave Phillips (far left) with sommeliers visiting Lodi from across the country
Comments