Letters from Lodi
An insightful and objective look at viticulture and winemaking from the Lodi
Appellation and the growers and vintners behind these crafts. Told from the
perspective of multi-award winning wine journalist, Randy Caparoso.

April 3, 2012 | Randy Caparoso
Lodi Rules contributes to the earth, industry and community
Inspired by Earth Day coming up on April 22, the state of California has designated April 2012 as "Down to Earth Month," encouraging everyone to embrace earth-friendly California wines made with winegrowing and winemaking practices specifically defined by principles of sustainability.
For over twenty years the Lodi American Viticultural Area has been a leader in earth-friendly practices; its crowning achievement being the formation of Lodi Rules for Sustainable Winegrowing: California's first ever peer-reviewed and third party certified sustainable winegrowing program; first developed in 1992, and officially launched in 2005.
Dozens of Lodi's major growers, farming over 21,000 acres of certified vineyards, are now voluntarily implementing Lodi Rules, requiring demonstrable pro-active programs fostering biodiversity, soil and water health, community and employee well-being, and the meeting of economic needs of today without compromising the personal health and needs of future generations
Not only have Lodi growers written "the book" (literally, a 2-inch thick workbook) on certified sustainable winegrowing, Lodi Rules has since been followed by a number of other sustainable winegrowing programs up and down the West Coast. Examples: California's Central Coast Vineyard Team's Sustainability In Practice (SIP) and California Sustainable Winegrowing Alliance (CWP); as well as Oregon's Low Input Viticulture & Enology (LIVE) and Walla Walla Valley's Vinea (Winegrowers' Sustainable Trust).
Lodi Rules first evolved out of a grassroots Integrated Pest Management program launched by the Lodi Winegrape Commission during its first year (1991/1992). Through neighborhood grower meetings and the remarkable guidance and energy of the Lodi Winegrape Commission's former Sustainable Winegrowing Director, Dr. Clifford Ohmart, 70 demonstration vineyards were initially utilized to develop the program; the concerns of which Ohmart summarized as "Three Es." That is, being
• Environmentally sound
• Economically viable
• Socially Equitable
It is the two second goals, in fact, that immediately set Lodi Rules apart from other certification programs (such as California Certified Organic Farms and Demeter USA) focused on sustainable or holistic farming: Lodi Rules prioritizes the long term health of people and businesses as much as vineyards and the environment. Like a three legged stool, one does not stand without the others.
In 2005 Lodi Rules for Sustainable Winegrowing was endorsed by Protected Harvest, a leading non-profit organization that certifies stringent standards of sustainable farming organizations.
You can find further details on the Farming Standards and Certification process of Lodi Rules for Sustainable Winegrowing elsewhere on lodiwine.com.
A number of Lodi Rules certified growers are also wine producers, such as Markus and Liz Bokisch (Bokisch Vineyards), Rod and Gayla Schatz (Peltier Station), and Jonathan and Cathy Wetmore (Grands Amis Winery).
Perhaps even more crucial to the "buying in" of Lodi Rules has been the strong leadership of families who have been farming in Lodi for as long as over 100 years: including key grower/producers such as Borra Vineyards, LangeTwins Family Winery & Vineyards, and Mettler Family Vineyards.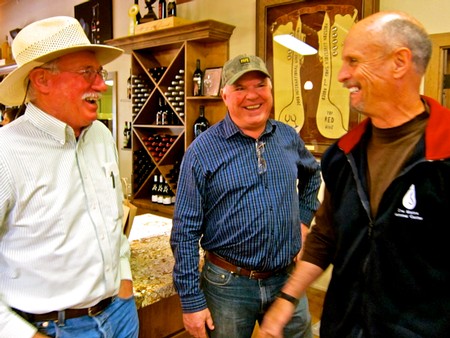 Still others, like Michael-David Winery, not only farm their own vineyards (Phillips Farms) according to Lodi Rules, but also offer substantial bonuses to their numerous independent supplier/growers who achieve Lodi Rules certification.
The result has been a steady increase of not only grape quality and prices, but also a dramatic increase in the reputation of the Lodi Viticultural Area for higher quality wines. This is true sustainability in action: an inter-connected biological system measurably contributing directly to the environment, health and economy of an entire region.
Kudos to all among this roll call of Lodi Rules certified growers:
Alpine Vineyards, Inc.
Bokisch Ranches, LLC
Bogle Vineyards
Borden Hill Vineyards
Borra Vineyards
Chatfield-Madill Vineyard
CLR Farms (Twisted Roots)
Clements Oaks I & II
Colligere Farm Management
Cory Ranch
Den Hartog International Farms
Dhaliwal Vineyard
Duarte Nursery, Inc.
Dutra Farms
Fisher Vineyard
Furry Vineyards, Inc.
Herringer Holland Land & Farming
Hunters Oak Vineyard
Joe A. Cotta Vineyards
K&S Watts Vineyards
KG Vineyard Management, LLC
LangeTwins, Inc.
Lobo Loco Wines, LLC
Manna Ranch
McQueen Vineyards (Clements Ridge)
Mettler Family Vineyards
Mohr-Fry Ranches
Pat Hale Vineyards
Phillips Farms, LLC (Michael-David Winery)
R&G Schatz Farms (Peltier Station)
Starr Vineyards
Ulricksen Vineyards
Lewis Enterprises, Ltd.
Liberty Oaks Vineyard
Roland Hatterie Vineyards
Round Valley Ranches (Grands Amis Winery)
Sam & Lynne Trio
Schulenburg Vineyard
Spenker Winery
Stanton Lange Vineyard Management, Inc.
Trinchero Family Estates
Vino Con Brio
Vino Farms
Vista Del Sol Vineyards
Vista Luna Vineyard
William-Marie Vineyard
Comments