Letters from Lodi
An insightful and objective look at viticulture and winemaking from the Lodi
Appellation and the growers and vintners behind these crafts. Told from the
perspective of multi-award winning wine journalist, Randy Caparoso.

July 24, 2017 | Randy Caparoso
Ripken's latest bold moves with Sagrantino and Teroldego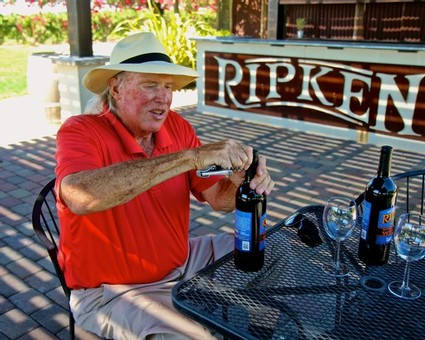 Lodi's Richard "Rip" Ripken has long been known for a philosophy he describes, simply, as taking the "road less travelled." For Ripken, who owns Ripken Vineyards & Winery, it means several things.
For one, exploring off-beaten paths around the world. It was Italy's Umbria region, for instance, that Ripken and his wife Nancy first discovered the joys of Sagrantino – the grape of Sangrantino di Montefalco, ranked as an Italian DOCG (the country's highest quality classification. That was in 2012.
"We rented a castle in Umbria," says Mr. Ripken, "and after exploring vineyards and little hilltop towns all day, each night we'd find another little terraced café to have dinner. We drank Sagrantino di Montefalco at every stop because it was so unique – a big, dark, gutsy tannin wine. Whenever you order a bottle of Sangrantino in Umbria, the first thing they do is take away the little glasses on the table and bring out their biggest wine glasses. They always say, 'For a big wine you always need the biggest glasses.'"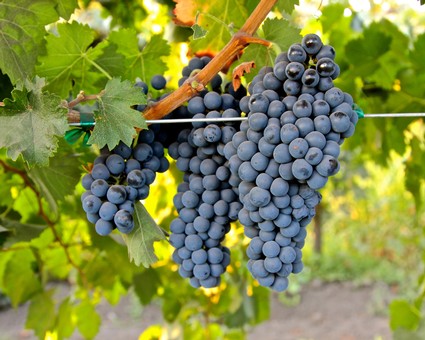 Mrs. Ripken was not surprised, soon after they returned home to Lodi, to find an order for Sagrantino cuttings on the ledgers. She's well aware of her husband's insatiable curiosity when it comes to viticulture: the Ripkens grow some 50 different grape varieties (only Rip seems to know exactly what, or where, they all are) in the 1,000 total acres of planted vineyards farmed by the family.
For Rip, such is life – always a road less travelled.
In 2015 the Ripkens harvested their first crop of Sagrantino from the 120 plants they had grafted onto existing rootstocks in their 400-acre Guard Road Ranch, located west of I-5 in the Delta section of the Lodi Viticultural Area. At the time, Mr. Ripken told us: "I don't know exactly how our Sagrantino will turn out. After destemming about a half-ton of the grapes into an open-top macro-bin, the wine will be fermented with manual punch-downs. We'll work the cap, but will try to be gentle to minimize excess tannin extraction."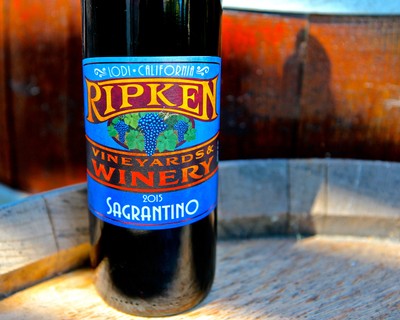 And now, the wait is over: We can report that the recently released 2015 Ripken Lodi Sagrantino ($26) is a medium bodied red wine of bright ruby color, moderate tannin and zingy red cherry aroma and flavors; its mild, palate freshening tartness suggesting cranberry or pomegranate.
Mr. Ripken freely admits that their first vintage did not turn out nearly as dark or gutsy as classic Italian Sangrantinos; adding, "We gave the wine just a subtle oak spice because of the moderate tannin and fruit." This, in fact, reflects another aspect of Ripken's "road less travelled." Ripken has a consistent style of winemaking, which has never followed the current trend towards oversized wines, big in alcohol or overweening tannin or oak. "I enjoy a wine I can sit and drink all day," he says, "preferably with a good ham sandwich."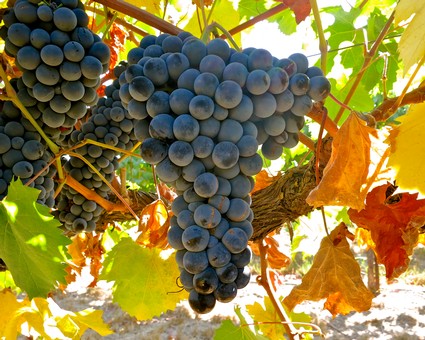 Speaking of which: Another one of the Ripkens' latest, food-friendly releases is the 2015 Ripken Lodi Teroldego ($26) – a black skinned varietal of Northern Italy origins that, like the Sagrantino, comes across as moderately weighted and with zesty natural acidity; but a slightly deeper aroma of black cherry, hinting at cassis, a note of orange peel and trace of red licorice. While restrained, the Teroldego's tannin also has a little more grip than what is found in the Sagrantino – qualities indicative of the relative comfort level the Teroldego grape has found in the Lodi appellation.
"We're not the only ones growing and producing Teroldego in Lodi," says Ripken. "The grape has been in fairly good demand all over the state the past 20, 30 years; especially since it makes good material for blending. I like it in blends myself – particularly with Primitivo and Rip's Black (the latter, Mr. Ripken's own nickname for an extremely rare crossing of Vitis vinifera – cultivated in Ripken Vineyards, of course – identified by U.C. Davis' Foundation Plant Services only by a reference number, FPS F106)."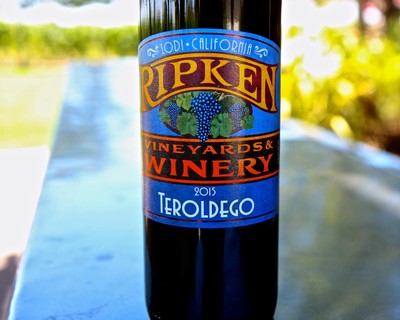 In fact, according to Mr. Ripken, blending may be the solution for many Lodi growers deeply concerned with the current drop in demand for Zinfandel, which plays such a huge role in Lodi's winegrape industry. "A lot of wineries have been backing off on contracts, and instead will be coming in at the last minute with lowball prices for Zinfandel. My son-in-law Ben (Ben Kolber, who co-owns Lodi's KG Vineyard Management) is so good that 100% of our grapes are under contract, but other growers are not so lucky.
"I've proposed that Lodi as a winegrape community make a stronger effort to promote Zinfandel as a blending grape – perhaps as a group project, with all the participants using a regional proprietary name. If not that, we need to do something about sustaining Zinfandel prices"...
Undoubtedly something that, for Mr. Ripken, involves a bold move towards a road less travelled.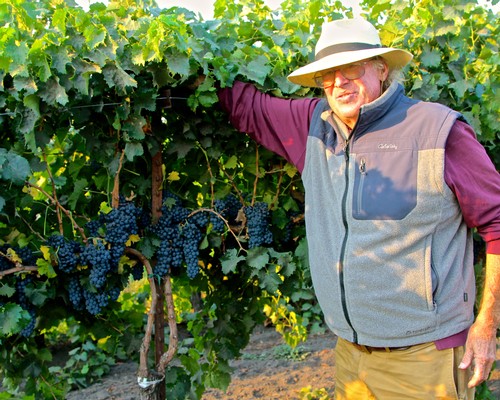 Comments