Letters from Lodi
An insightful and objective look at viticulture and winemaking from the Lodi
Appellation and the growers and vintners behind these crafts. Told from the
perspective of multi-award winning wine journalist, Randy Caparoso.

March 9, 2017 | Randy Caparoso
America's 30 largest wine producers (with ties to Lodi)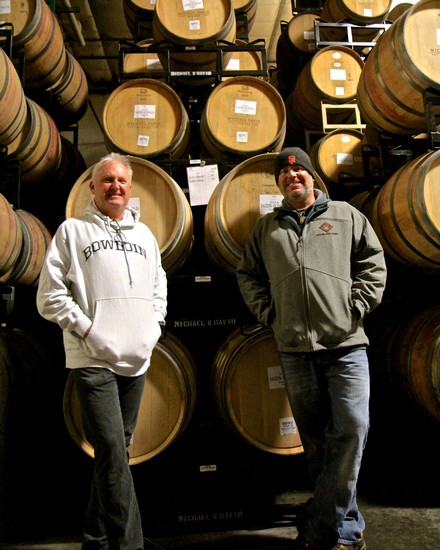 One of the more interesting reports logged by the industry trade publication, Wine Business Monthly, is a yearly list of 30 largest American wine production companies in terms of case sales within the U.S.
In the February 2017 issue of WBM, two companies with direct ties to Lodi – Delicato Family Vineyards (DFV Wines) and Michael David Winery – are listed among the 30 biggest selling companies, which account for "nearly 90 percent of domestic wine sold by volume" (according to WBM). The Lodi Viticultural Area, in fact, supplies a significant amount of wine grapes to many (if not most) of the country's largest producers.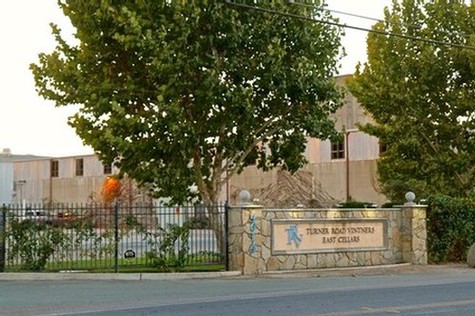 While the gigantic, Modesto-based E. & J. Gallo Winery has retained strong, long-standing relationships with Lodi growers, two of the top five wineries locate their largest production facilities within the Lodi region: Constellation Brands (which includes Lodi's Woodbridge by Robert Mondavi, as well as Vendange, Rex-Goliath and other brands produced at Turner Road Vintners, located on Lodi's west side); and Trinchero Family Estates (spearheaded by Sutter Home, now largely produced at a 660,000-square-feet facility located in the Delta side of Lodi, just west of I-5).
But just to put everything in perspective, the following is WBM's 2016 listing of top-selling companies: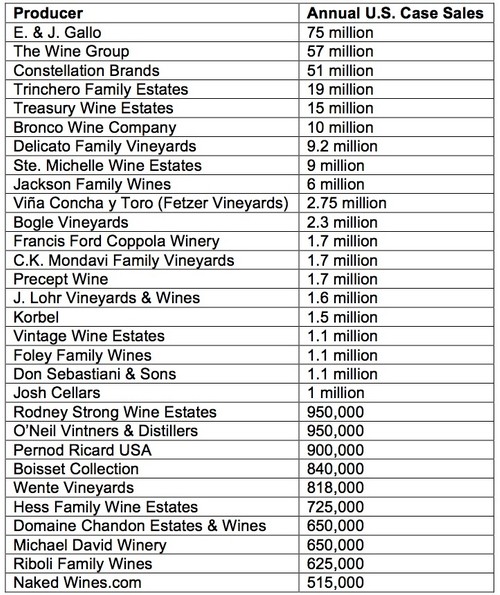 While based in nearby Manteca and managing their ever-expanding vineyard driven operation in San Joaquin Valley as well as Monterey County and Napa Valley, the Indelicato family behind Delicato Family Vineyards has farmed significant acreage in the Lodi AVA since the company's founding in 1924.
The Indelicatos, for instance, were among the first to recognize the enormous potential of the Lodi's Borden Ranch AVA; cultivating over 1,300 acres of ultra-premium wine grapes there since the 1990s, all farmed according to Lodi Rules for Sustainable Winegrowing. Today, most of their top selling wines – including their Gnarly Head and Brazin Zinfandels, and their Noble Vines Cabernet Sauvignon and Merlot – are grown in Lodi, either from their own vineyards or by numerous other growers.

In a conversation last month, Michael David Winery Co-Owner/President David Phillips made note of the fact that, "While sales of our wines in the U.S. are up to about 650,000 cases, we sell another 70,000 or so cases to export markets in Europe, Canada, South America and Asia."
Michael David's total annual sales of 720,000 cases remains puny compared to the 75 million cases sold domestically by E. & J. Gallo, but their growth has been dramatic. Thanks to uncanny winemaking and crafty marketing, they have gone from being grape suppliers to major grape buyers practically overnight.
According to Kevin Phillips, the family's Vice President of Operations: "In 1998 about 95% of what we grew in our own vineyards (about 800 acres) were sold to other wineries. Today, we use 100% of our own fruit, and buy from another 75 growers in the Lodi region. I would say that we now take approximately 10% of all the Zinfandel grown in Lodi."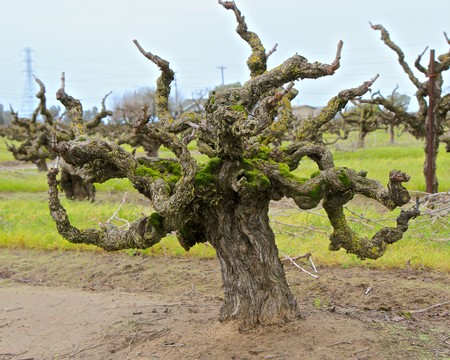 February 2017: century-old Zinfandel in Soucie Vineyard, one of Michael David's original "7 Deadly Zins" vineyards
Although runaway successes like Freakshow Cabernet Sauvignon and Petite Petit (a Petite Sirah/Petit Verdot blend) account for a good percentage of the winery's recent growth, Zinfandel remains the family flagship. Kevin Phillips tells us: "Although it's shifting, over 60% of our production (close to 475,000 cases) is Zinfandel. Out of that, almost 90% of it is 7 Deadly Zins. Each year we make a selection of our top 10% in terms of pure quality, which goes into our Earthquake Zinfandel program; and out of that, the very finest 1% is selected to go into our Lust Zinfandel."
Since arriving in Lodi in the mid-1860s, the Phillips family's ties to the region have run deep in several ways. David Phillips reminisces: "When we produced our first vintage of 7 Deadly Zins (in 2000), it represented a blend of Zinfandels from seven of the best, and oldest, winegrowing families on the west side of Lodi, most of them related one way or another to our own family. But once the brand took off, naturally we had to expand our list of grape suppliers. At least 45 growers are now contributing to the wine. All of them, we're proud to say, in the Lodi region!"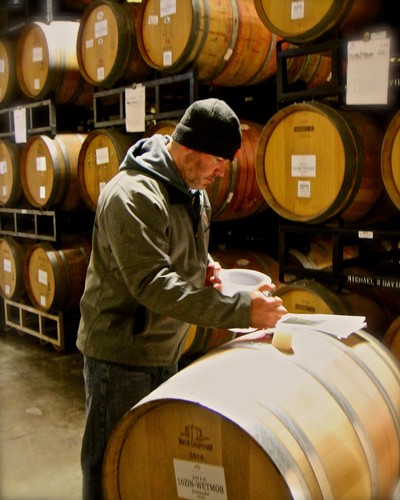 Comments