Letters from Lodi
An insightful and objective look at viticulture and winemaking from the Lodi
Appellation and the growers and vintners behind these crafts. Told from the
perspective of multi-award winning wine journalist, Randy Caparoso.
March 13, 2018 |
Kolber, Gutierrez grateful to Lodi community for helping their company grow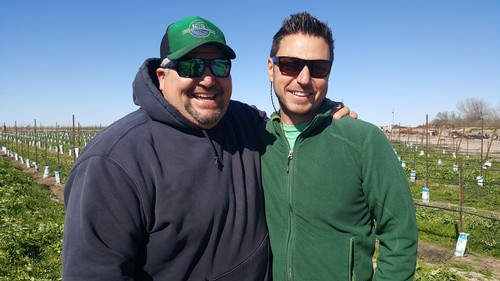 Ben Kolber and Kris Gutierrez were working in the middle of the night when a grape harvester broke down, bringing things to a screeching halt.
As they fixed the machine, the pair of Tokay High graduates looked at each other and said, "What are we doing fixing someone else's machine?"
Fast forward 15 years: Kolber and Gutierrez own KG Vineyard Management on Terminous Tract in the Sacramento-San Joaquin River Delta – a multi-faceted farming operation with 60 to 80 full-time employees tending some 2,000 acres in the Lodi American Viticultural Area, as well as Stanislaus, Yolo and Sacramento counties.
"We farm everywhere from the Delta to Sacramento to Stanislaus to the east," Kolber said.
Gutierrez was born and raised in Lodi and started working in vineyards while in high school. He can perform any required task in the field, especially when it comes to operating, maintaining and repairing equipment. Gutierrez studied farm management and viticulture at San Joaquin Delta College and received his advanced education working for Richard "Rip" Ripken, renowned viticulture and winemaking expert and owner of Ripken Vineyards & Winery in Lodi.
"It was like getting a master's degree in viticulture," Gutierrez said. "You couldn't work with anyone better that could tell you everything."
Kolber studied music and music business at Berklee College of Music in Boston before he returned to Lodi and developed relationships with growers and wineries throughout the area.
Kolber and Gutierrez were harvesting for Ripken that fateful night in 2003, when the machine broke down. Gutierrez was Ripken's vineyard manager at the time. Ben and Kris bought a harvester and formed a custom harvest company. Their clients include many Lodi families. In 2005, they bought an agricultural spraying company and serviced almond, alfalfa and grape growers.
"That really got us from being a company that worked two-and-a-half months a year to a company that worked year-round," Kolber said. "We met other people and families and they helped us get going."
KG's client base spread throughout the Central Valley, so Kolber and Gutierrez learned to farm effectively in different soil types and terroir, knowledge that came in handy as their business grew.
"We got to know how to do things in these different pockets and farm in those areas," Kolber said. "Now, being a vineyard management company is what we really like doing. It's great to control all aspects of the vineyard. We love all the relationships that we have made with the local wineries and look to grow our business with wineries outside of Lodi and try to show what an amazing AVA Lodi is."
Kolber, who operates the business, and Gutierrez, who manages equipment and logistics, also love the relationships they've developed with their employees. More than half of KG's full-time employees hail from Pakistan, including the company's first two hires: vineyard manager Asif Khan and vineyard supervisor Waheed Ahmad.
"We work like this is our company," Khan said. "They have respect for everybody. (Kolber's) not my boss. He's my family."
Said Ahmad, "I really like this company, so I work hard."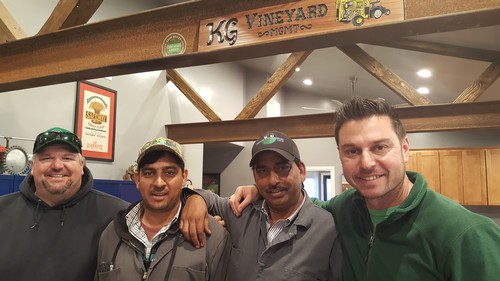 KG has crews working 24 hours many days of the year.
"We work more than we don't, so this is our family," Kolber said. "Asif is our vineyard manager. Waheed is our supervisor. But really they are family."
KG has a diverse business model and a diverse workforce.
"What's amazing is I'm Jewish, Kris is Catholic and Asif and Waheed are Muslim," Kolber said. "They have a tough job. We went through 9-11 together and the racism that came out of all that. It was very hurtful. These are very strong-willed and strong people to be here and working and doing what they do.
"I can't tell you enough how much I appreciate the hard work and effort these guys do for us and everybody, but especially these guys."
Kolber and Gutierrez recently moved their operation to what they call the Uptown Ranch on Terminous Tract. Adjacent to the buildings is a vineyard planted with Albariño.
"We have been so excited for all of our past successes in the Lodi community and look forward to growth and new challenges in the future," Kolber said.
KG is committed to farming sustainably and this year will certify more than 1,500 acres in 50 blocks in the LODI RULES program, California's first certified sustainable winegrowing program. Because of the help they've received over the years, KG is committed to giving back to the community, and Kolber has been known to lend his musical talents and perform at events when he can.
Comments