Letters from Lodi
An insightful and objective look at viticulture and winemaking from the Lodi
Appellation and the growers and vintners behind these crafts. Told from the
perspective of multi-award winning wine journalist, Randy Caparoso.

February 15, 2017 | Randy Caparoso
LVVR brings prestige style dry sparkling wine production to Lodi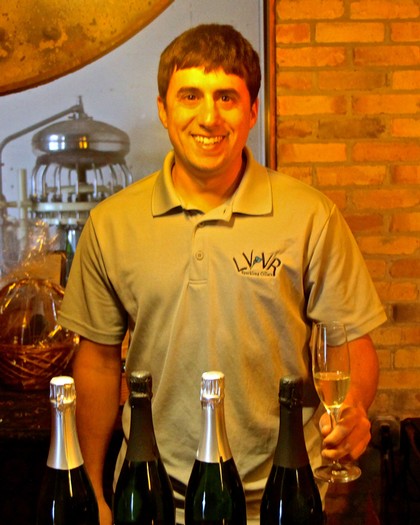 We don't usually talk about traditional Champagne style sparkling wines in our lodiwine.com blog because, frankly, the Lodi wine region has never been associated with finer styles of sparkling wine. Until now.
Quietly, with zero fanfare, Lodi's LVVR Sparkling Cellars opened its tasting room doors to the public this past July 2016; in front of a 6,000-case level production facility tucked behind a big, old wooden door, in the back of the Tuscan Winery Village – located in Lockeford, just east of the City of Lodi.
Of course, production of the finest sparkling wines – those produced in the fashion of sparklers from the Champagne region in France, called méthode Champenoise – is laborious; taking years to craft. LVVR winemaker/owner Eric Donaldson started his project in 2012; when four close friends/sisters (named Leticia, Vanessa, Virginia and Rose – hence, LVVR) with a taste for bubbly prompted Donaldson to have a go at it.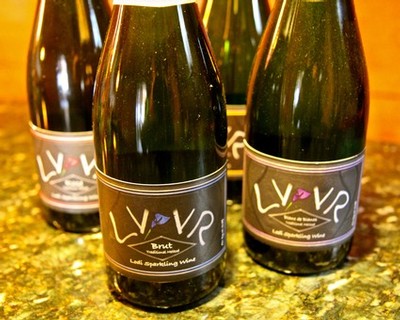 One taste of Donaldson's LVVR Brut Lodi Sparkling Wine ($20) tells you that you are experiencing authentic, meticulously wrought, Champagne inspired wine; beginning with
• Crystal clear, bright effervescence;
• A floral, subtly tropical nose reflecting a purity of Lodi grown Chardonnay (primarily suggesting citrus, apple and white flowers) laced with pungent, toasted biscuit-like aromas of Champagne-like yeastiness;
• A bracingly crisp, mouth-wateringly dry, lemon/grapefruit-like tartness – reflecting a dosage of just .5% residual sugar (dryer, as it were, than almost all the Bruts from France's Champagne, and from California for that matter) – extending into long, silky, mineral sensations, light as the proverbial butterfly on the wing.
And that's just a start. Donaldson has crafted three other star-bright, contemporary style sparklers from his initial Chardonnay based wines blended from multiple vintages (starting with a 2012), and he is perfecting an inaugural, Lodi grown, neutral barrel fermented Pinot Noir based "Reserve" sparkler as we speak.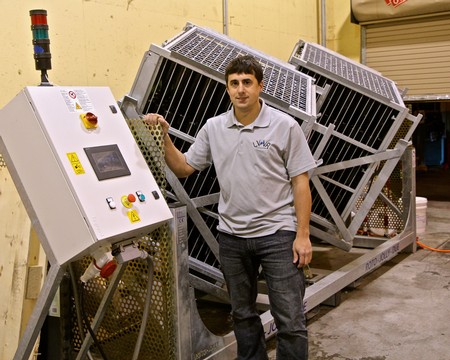 Mr. Donaldson, a native of Ohio and product of Miami University (Oxford, Ohio), brought a little bit of familiarity with the science and craft of sparkling wine production from working in the wine production industry in his home state as well as New Mexico, prior to his arrival in California in 2009, and finding himself stuck in Lodi in 2011.
Donaldson tells us: "I was working as a cellar rat for a Lodi winery, while also working for Vanessa at the Cellar Door (one of Downtown Lodi's wine bars). I happened to mention that I was thinking of starting my own business, and she suggested going into sparkling wines, Why? Because no one else in Lodi was doing it, and it seems like there is a growing market for it."
Make no mistake: From the beginning – with just a half-ton of Chardonnay grown by Larry Castelanelli off Armstrong Rd., on the west side of Lodi's Mokelumne River appellation – Donaldson has been determined to produce traditional yet new fashioned style sparkling wines (meaning, very dry, naturally tart, and airy-light) in the tradition of the world's finest sparklers, which basically involves fermentation and extended aging in the bottles from which they are poured.
Say that you don't know exactly how the best sparkling wines are made – you only drink the stuff. For a little bit of non-geeky 101, the Champagne method embraced by Donaldson involves
► Taking wine that has already been fermented completely to dryness (i.e. no residual sugar left to be turned into alcohol), and then
► Putting the wine into sturdy bottles, where a little more sugar is added along with yeast to start a "secondary fermentation," which produces the bubbly character (the result of carbon dioxide trapped in the bottle) everyone loves in sparkling wine. Re this friendly image, courtesy of respected blogger Elaine Brown's Hawk Wakawaka Wine Reviews: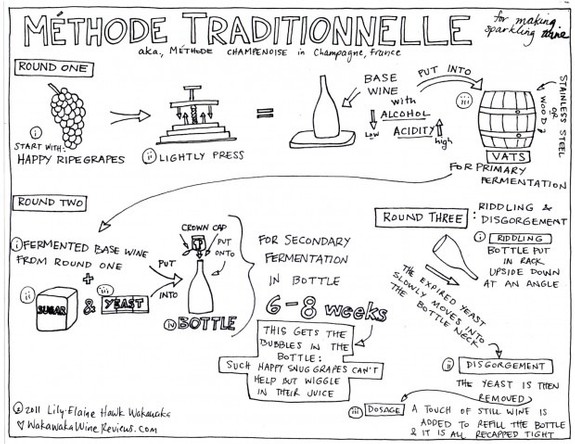 The tricky part of the Champagne method is that fermentations taking place in the individual bottles (sealed by crown caps during the process) eventually expend dead yeast cells (called lees), which cloud up sparkling wines if left in the bottle. So as far back as the sixteenth century, clever winemakers have devised systems of coaxing the floating lees into the neck of the bottle while the secondary fermentation is doing its thing.
Then when the bottle fermentation is done, the lees are "disgorged" along with a tiny bit of the cloudy wine. Immediately after, a small amount of wine, usually with a tiny dose of sugar (i.e. dosage), is added back into each bottle; and the final product is corked with the usual wiring and capsules to prevent errant popping.
For centuries the process of remuage ("riddling" of the lees) was painstakingly done by hand, one bottle at a time. Since the late 1960s it has been commercially done with the use of gyropalettes – large, machine operated cages holding over 500 bottles at a time, gently shaking the fermenting bottles over a period of a week (or several weeks) until the bottles come to rest completely upside down.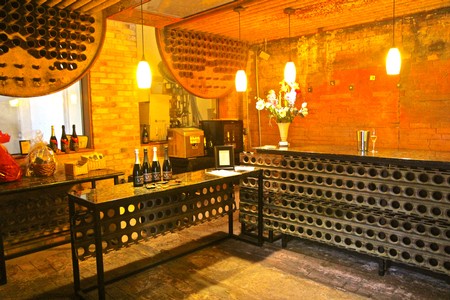 LVVR's Donaldson has invested heavily in all the accoutrements necessary for the best sparkling wine; including two separate bottling lines for the processes of post-primary as well as post-secondary fermentation, gyropalettes for the remuage, and cages to hold bottles en tirage (sitting in contact with lees) for weeks, months or years before the final disgorging, dosage and bottling.
The longer a sparkling wine sits en tirage, the deeper and more complex the flavor; and so far all of Donaldson's finished sparklers have been blends of base wines up to five years old, in the traditional style of France's nonvintage Champagnes, resting on the lees for six to nine months following secondary fermentation.
But as with everything in life, it takes more than tools to paint a masterpiece. It starts with grapes and terroir, of course, and Donaldson is totally convinced that Lodi can deliver everything anyone could want in a Champagne style sparkler: grapes of pure flavor picked at lower sugars (to produce delicate, lower alcohol base wines) and higher natural acidity (an untart, fat and flabby sparkler is a very unhappy one).
In a profile published in the latest Wine Business Monthly (Feb. 2017) – which named LVVR Sparkling Cellars as one of nation's "10 Hot Brands of 2016" – Donaldson talked about being all about the "chemistry" of grapes, and picking particularly for low pH (which is generally associated with higher acidity). "To get the profile I want, grapes are picked at sugars no higher than 18° or 19° Brix, which usually comes around August 1 in Lodi. Lower pH gives you higher acidity and less phenolics, and we gently press our Chardonnay and Pinot Noir as whole clusters.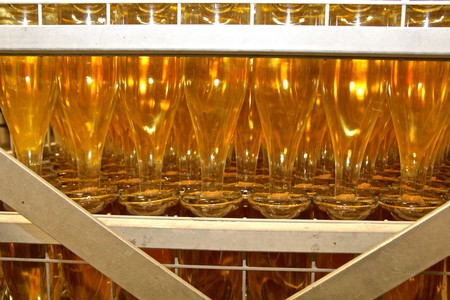 "We pick for acid because, frankly, that's where the market is going. People are looking for a firmer finish. Our wines are significantly higher in acidity than the products of typical, big commercial sparkling wine producers out on the coast. That puts us in a little bit of a niche market, but I'd rather produce this kind of wine – which may be totally unexpected, considering that 100% of it is grown in Lodi."
When asked why he chose Lodi as opposed to, say, the North Coast, where cooler climates are more closely associated with Champagne style sparklers, Donaldson tells us: "There is no doubt in my mind that the ideal grapes for sparkling wine has as much to do with vineyard management as climate. Look, I've made wine in Ohio, in New Mexico and now in California, in basically all five climate regions (re the Winkler Scale of growing degree-days), from super-cold Cleveland to the desert of southern New Mexico. This gives me some perspective.
"Lodi is neither Cleveland nor New Mexico. Here, I get an ideal balance for the style of sparkling wine I'm looking for. I want it to be lean and high in acid, but I am also looking for a fruit forward style, which I can get in Lodi. In fact, to add a little bit more pop into the aroma, I blend a little bit of Viognier into the base wine – something I picked up the habit of doing in New Mexico.
"But good sparkling wine also has to be very light and delicate, which we get by picking at lower sugars. We get a depth and complexity of fruit in Lodi vineyards – just enough that it is never overpowering. You may ask how you get that in a warmer climate. I wouldn't say that Lodi vineyards are over-cropped; but rather, that they are cropped just enough with dense canopies – particularly in vineyards trellised on quads – that the fruit is not exposed to direct sun, and just enough that it slows down ripening. And longer hang-time means more fruit expression, even when picked at low sugars.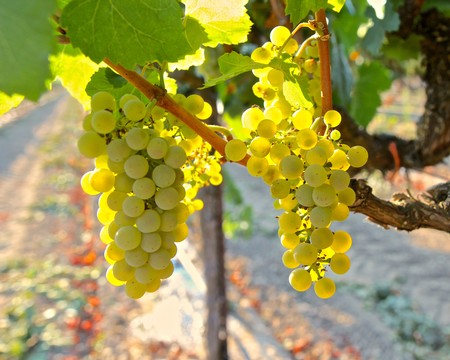 "So you can say it comes down to this: I am totally comfortable with using 100% Lodi fruit. I love Lodi vineyards, particularly Larry Castelanelli's vineyards, because it works for what I want to do."
When queried about the economy of scale concerning the health of his growing business, Mr. Donaldson is happy to say: "Production of LVVR wines is small right now, although we've grown steadily since 2012; taking about 5 tons in each of the past three vintages. But honestly, most of what I will be doing in the near future is custom work for other wineries. There's a growing demand for Champagne method wine right now – I'm already up to 10 clients, mostly local. Charmat (i.e. bulk style sparkling wines) is just not cutting it for these wineries. They're looking for more depth and complexity."
Notes on Donaldson's other three handcrafted releases:
LVVR, Rosé Lodi Sparkling Wine ($20) – Utilizing the same base wine as in the LVVR Brut – a blend of Chardonnay cuvées dating back to 2012, with a splash of Viognier – with a clear, rusty pink color attained by a touch of Alicante Bouschet. Fragrant notes of white flowers entwined with notes of red berries (tart raspberry/cherry) and rising bread yeastiness; silky smooth yet crisply focused sensations with whispers of sweetness (1% residual sugar in the dosage), finishing dry with a firm, palpable stoniness.
LVVR, Blanc de Blancs Lodi Sparkling Wine ($20) – Here, the tropical/flowery Lodi grown Chardonnay character in this multi-vintage (i.e. nonvintage) blend is heightened by a tad more residual sugar (1.5%) in the dosage; yet the lively, high acidity of keeps this wine beautifully sleek, bright, and finely balanced, finishing with a lip-smacking dryness, like a squeeze of fresh grapefruit.
LVVR, Demi-Sec Lodi Sparkling Wine ($20) – This style of sparkler is often assumed to be a "dessert" style; but seriously, the high toned acid balance keeps the residual sugar (3.2%) tasting off-dry rather than moderately sweet, while also bringing out a white peppery spiciness to the floral tropical fruit qualities; lingering with a silkiness in the middle, and lemon drop flourish in the finish.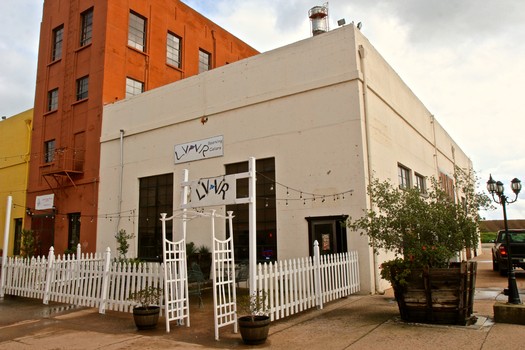 Comments