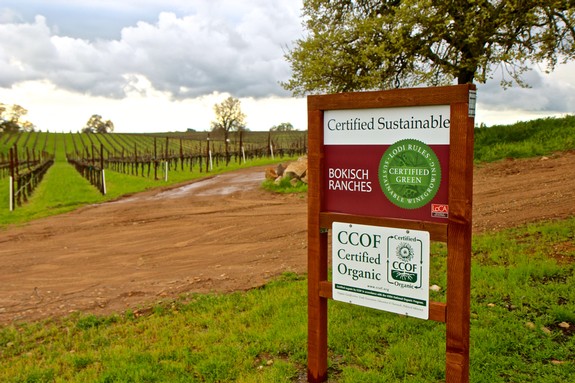 What is the difference between a wine with a sustainably farmed seal – such as LODI RULES's Certified Green, SIP Certified's Sustainable In Practice, LIVE's Certified Sustainable, or others – and one with a certified organic seal such as CCOF's Certified Organic?
Continue »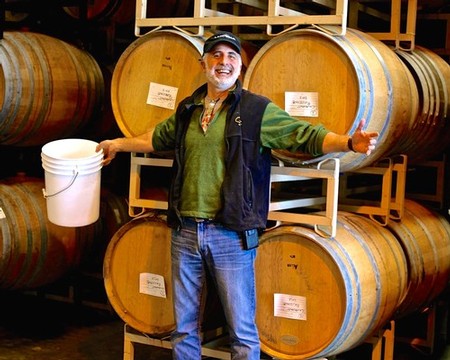 At Covenant Wines in Berkeley late last month (February 2018), winery owner Jeff Morgan laid out his two current Zinfandels, both grown in Lodi, on the table, and issued a challenge to discern the differences... Continue »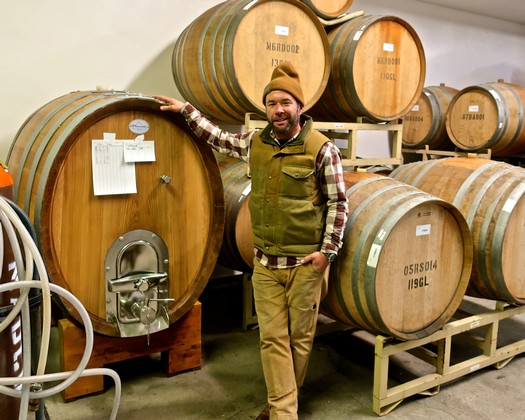 "What I enjoy seeing is people who think they know Lodi Zinfandel – they taste my Zinfandel and say, this isn't Lodi Zinfandel. Then I tell them, this is exactly what Lodi Zinfandel is."
That is what Nathan Kandler, the winemaker of Thomas Fogarty Winery & Vineyards in Santa Cruz Mountains, was saying as he was pouring his own version of Lodi's iconic varietal: the 2016 Precedent "Victors" Lodi Zinfandel ($25), sourced from an "east-side" Lodi vineyard located just north of Victor Rd....
Continue »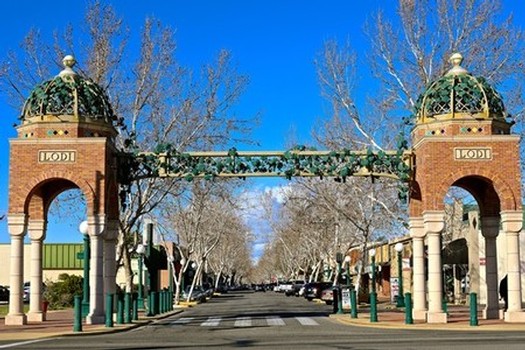 The City of Lodi, like the Lodi Viticultural Area surrounding it for 134 square miles, is built on an abiding foundation; its winegrowing industry nourished by the generosity of Mother Nature (particularly the region's mild Mediterranean climate and deep, fertile soils), and the City itself shaped by the steady hands of enterprising farmers, founding fathers and businessmen, and generations of fully invested families.
Hence, during the early 1990s when the City initiated its Central City Revitalization Plan for its original 55-acre "Old Town," visible aesthetics were prioritized as much as practical capital improvements. Construction of a Lodi Gateway (in the photo below), completed in 1997, now sits astride School St. at the corner of Lodi Avenue, ushering car and pedestrian traffic down a handsomely brick paved road into the historical heart of the City...
Continue »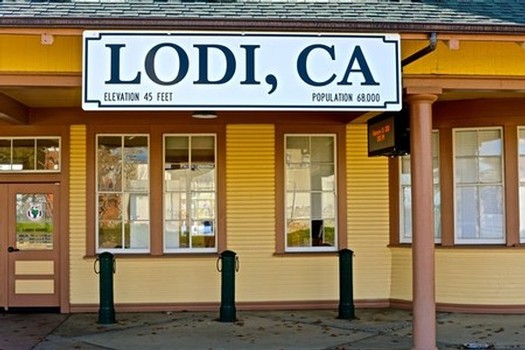 Lodi is not just America's most widely planted wine region. It is also something inextricably anchored to the City of Lodi – first settled in 1846, and incorporated in 1906 – with its own proud past, prosperous present, and even brighter future.
When the vast majority of people visit Lodi wine country today, they arrive by car. Which is a shame, since they are not stepping foot upon the platform of the beautifully restored Lodi Transit Station where they immediately learn that the City of Lodi sits at about a 45-ft. elevation, and is now home to about 68,000 residents – not exactly a tiny community, yet far from a big one. Lots of people would call that "just right..."
Continue »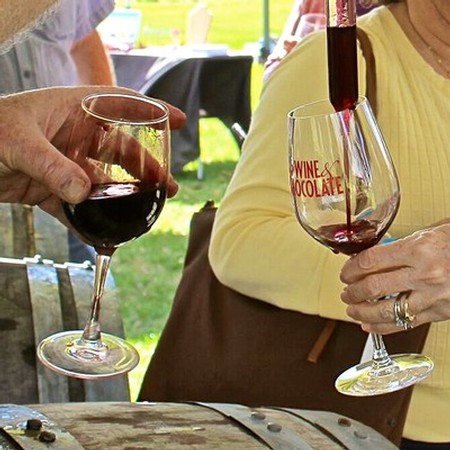 For our photographic memories of Lodi's 2018 Wine & Chocolate Weekend, we enlisted local Digital Marketing Specialist Frances Siria to chronicle some of her favorite moments, with images taken with her stealth smartphone. Ms. Siria currently serves as the Social Media Specialist for Wine & Roses Hotel, Restaurant & Spa, and has helped build a strong online presence for a number of businesses and nonprofits.
Asked about her general impressions on how the weekend went, Siria told us...
Continue »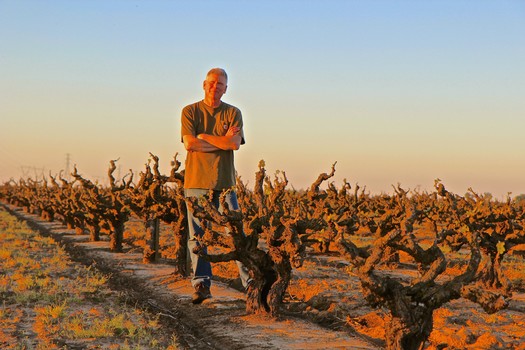 We have always described Lodi's m2 Wines as a connoisseur's brand. From the moment winemaker/co-owner Layne Montgomery opened for business in 2004 – first in a cramped industrial warehouse on the east side of town, then later (in 2014) in a sleek, ultra-modern, 6,000-square-foot customized winery/tasting room on the west side, plopped down in an open field like a geometric crop circle next to the old Western Pacific Railroad tracks – wine lovers have flocked to the m2 tasting counters for what's in the bottle, not for the hype or stately glamour.
Montgomery himself – who is rarely seen outside a t-shirt, mismatched socks, shorts or jeans – is known more for his facetious personality, occasional grumpiness, and wit as dry as the Mojave. Loyal m2 customers love it...
Continue »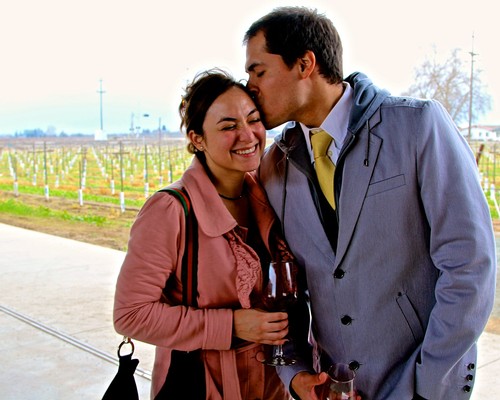 First, Lodi Wine is pleased to welcome our guest blogger Mary Orlin, who brings amazing credentials to our page. Orlin is the former wine and food writer for San Jose's The Mercurey News (2014-2017), a James Beard Award and Emmy award-winning journalist, a Certified Sommelier and WSET Advanced Certified Wine Professional, and frequent professional wine judge. Prior to 2014, Orlin contributed to local and national wine publications; most notably, producing the wine TV show "In Wine Country" on NBC for nine seasons. Her journalism career began at CNN in Atlanta, and she continues to blog her own WineFashionista site.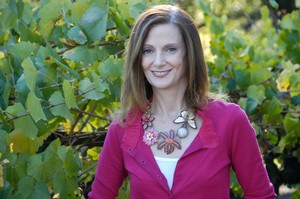 Take it away, Mary!
Love Is in the Air
Your perfect wine match is waiting to be discovered. With some 125 varietals growing in the Lodi region, there's a wine for every taste, from aromatic whites, bold and spicy reds to sparkling bubbles and crisp, dry rosé. And the best way to discover something new? Sipping and noshing your way through the 21st annual Lodi Wine & Chocolate Weekend, Feb. 10-11, 2018...
Continue »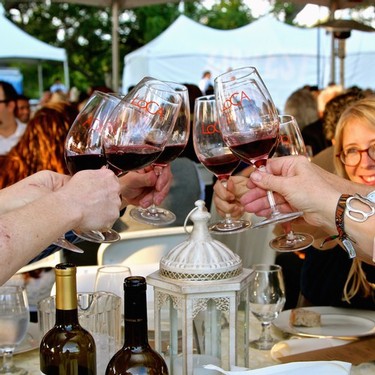 In her latest Overview of the U.S. Wine Industry, released this past January 31, 2018, Master of Wine/Sonoma State University Professor Liz Thach remarks: Many of the statistics for 2017 U.S. wine sales are in and the results show steady growth, but with increasing competition from imports and other beverages. The outlook is still positive because it is expected that 2018 will continue to see steady growth pattern of previous years, at around a 2% increase in U.S. wine sales value.
What do the latest statistics mean for consumers of Lodi wine, as well as for growers and producers in the Lodi wine region? Lodi, after all, crushes about 20% of California's entire wine grape crop (currently averaging over 4 million tons) each year... Continue »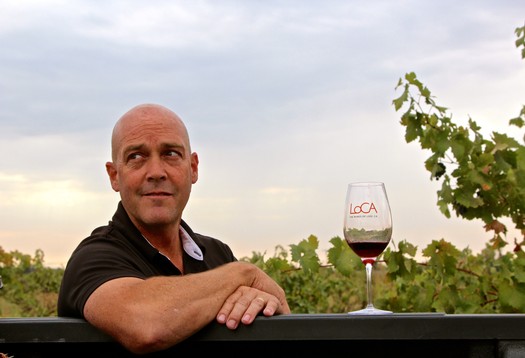 In our second interview conducted this past January 20, 2018 during the Grand Tasting/Zinfandel Experience put on by Zinfandel Advocates & Producers (a.k.a. ZAP) in San Francisco, we sat down with Michael McCay, owner/grower/winemaker of Lodi's McCay Cellars.
McCay Cellars may be small-fry in terms of commercial production – barely 5,000 cases a year, a drop in a bucket compared to Lodi neighbors Michael David Winery (over 950,000 cases) and Woodbridge by Robert Mondavi (about 10 million cases) – but has been big time in terms of contribution to the perception of "prestige" slowly but surely being accorded the Lodi Viticultural Area. Of course, this is not to be terribly naïve about this – for a lot of consumers as well as people in the wine trade, media or simply not in the know, Lodi still stands for vin ordinaire. Lodi, after all, grows the grapes for most of California's value priced wines, and California grows more than 61% of the wines consumed in the U.S. (re We've come a long way, baby)...
Continue »