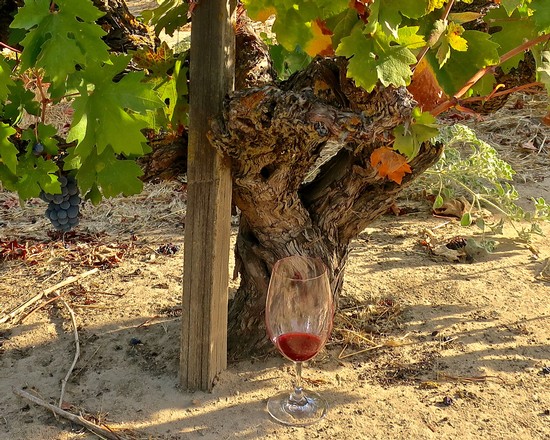 Thanksgiving means "home" for most Americans; but even if you can't physically make it back to the ranch or hometown, it's the all-American culinary delectables that bring back the feeling of home no matter where you may be.
Everyone has their go-to dishes. You don't have to actually read the recipes, for instance, to find yourself salivating over the suggestions listed by Better Homes & Gardens in their most current vision of the classic American feast:
► Oven roasted turkey rubbed from inside the skin with herb butter; with old fashioned bread or porcini-chestnut stuffing, and served with a "satiny smooth" pan gravy scraped up from the drippings (or if you're bold, with finely chopped turkey gizzards and liver)...
Continue »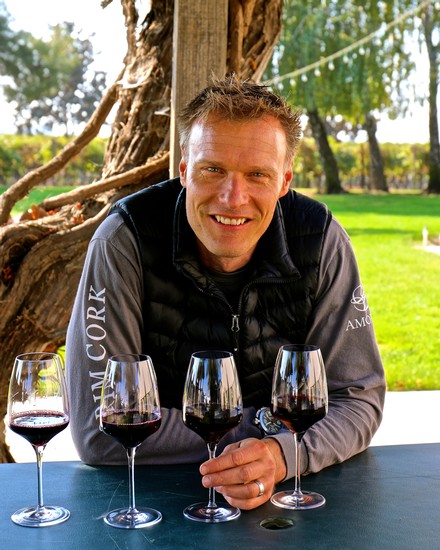 The word is officially out: At the end of 2017, Lodi's historic Borra Vineyards (the region's oldest independent family winery) will cease to exist. Borra's acclaimed winemaker, Markus Niggli, will be packing up the winery equipment – lock, stock and (literally) barrel – and moving everything to a still-to-be-announced location elsewhere in the Lodi region, where he will focus 100% on his own brand, Markus Wine Co.
While Borra Vineyards founder/proprietor Steve Borra will convert the existing winery facility and tasting room over to additional office space for his other successful business, Lodi Irrigation, he will continue to work with Mr. Niggli with Borra family vineyard operations.
Meanwhile, Niggli has just released the first of four phenomenal, reserve level (meaning, no-holds-barred viticulture and crafting) red wines bottled under his Markus label; all showing off this Swiss-born winemaker's unique, European approach to vinification (largely native yeast fermented, with minimal oak influence) and blending...
Continue »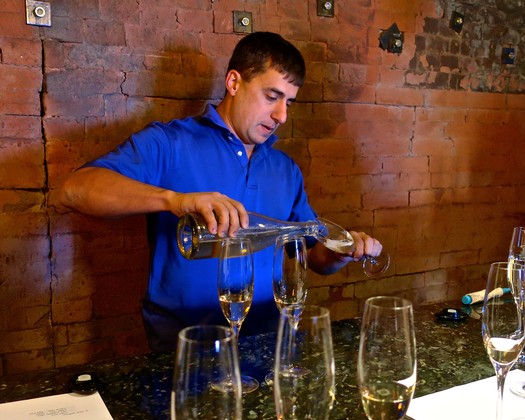 Up until recently, the Lodi wine region has never been associated with traditional Champagne style sparkling wines. That all changed when LVVR Sparkling Cellars opened its tasting room doors in July 2016 (see LVVR bring prestige sparkling wines to Lodi).
Of course, production of the finest sparkling wines – those produced in the style originating in the Champagne region in France (called méthode Champenoise) – is a laborious process, taking years to master. LVVR winemaker/owner Eric Donaldson started his project in 2012 – taking nearly 4 years until he was ready to release his first commercial sparkling wines...
Continue »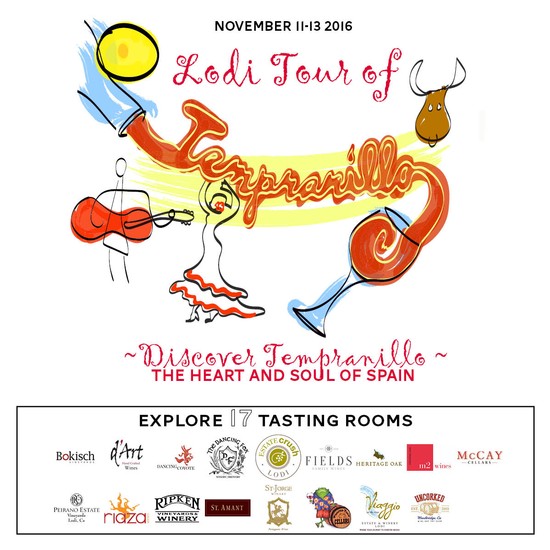 Are you ready for the second annual Lodi Tour of Tempranillo? On November 10, 11 and 12, thirteen Lodi wineries will celebrate International Tempranillo Day (officially, November 9, 2017) with barrel tastings, culinary treats, bonus discounts, and a raffle for a full case of Lodi Tempranillos. As with typical wine region drive-arounds, you can pick up your complimentary guidebook at any of the participating winery tasting rooms (see list at the end of this post) before setting out on your Tempranillo tasting adventure.
And of course, if you're not yet thoroughly familiar with Tempranillo, this is the perfect time and opportunity. So let's talk "Temp"...
Continue »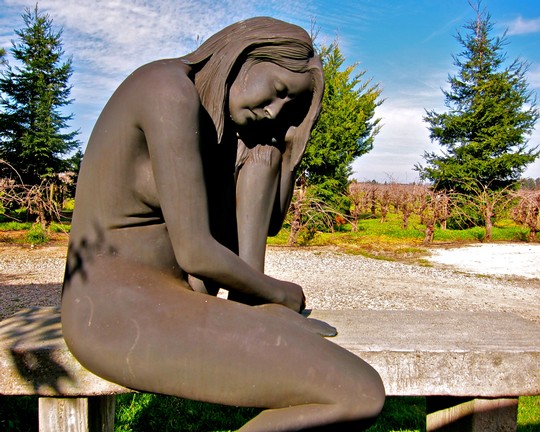 Contemplation in Lodi's The Lucas Winery's classic ZinStar Vineyard
Why are we fond of saying that Zinfandel is like "autumn in a glass?" Sure, it's part of the "romance" of wine language; but there is also a scientific reason – one that has repercussions on the aromas and flavors we perceive in typical Zinfandels, and one that has an impact on the foods that always seem to taste best with Zinfandels.
The reason is called rotundone: a physical compound found in wine varieties such as Zinfandel, Syrah, Petite Sirah and Grenache that contributes noticeable spice qualities similar to the experience of cracked peppercorns. We devote quite a bit of thought to this subject in a previous post, called Ah, the smell of spice (that is, rotundone) in autumn wines...
Continue »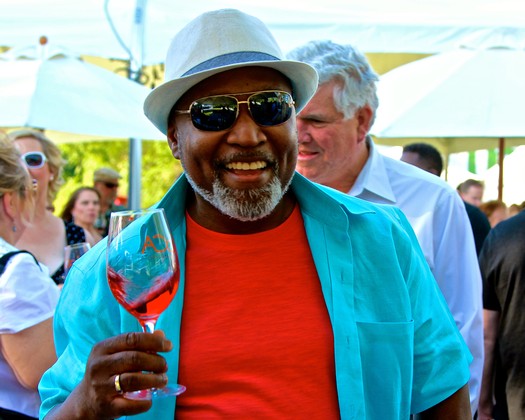 Can you imagine a perfectly delicious, healthy salad that is also a perfect match for Lodi's lush, sumptuous, gentle styles of Zinfandel?
For the past 11 years, Philadelphia's Tony Lawrence, the "Global Wine Chef" of "A Chef For You," has been demonstrating his incredibly Zin-friendly Chocolate Salad at either the yearly ZAP (Zinfandel Advocates & Producers) events in San Francisco or at the Lodi ZinFest taking place during May of each year in Lodi Lake Park...
Continue »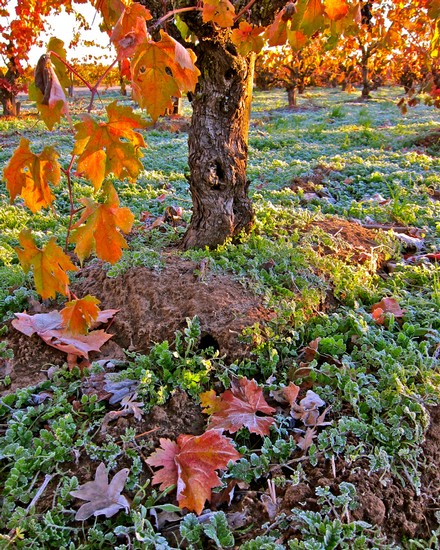 "Chilly tonight," starts off a poem by Lisa Shields – "sweater weather, and I pull out the flannel sheets..."
Now that the skies are darkening by 6:00, and the mercury is dipping below 50° at night, it's also that time of year for cozy red wines, pungent with berryish fruit tinged with aromas suggesting pumpkin pie spice and everything nice, or not.
Lodi's lush, round, often earthy styles of Zinfandel not only taste like autumn, they also seem to slip into more food contexts that virtually any other wine there is. We know, because we've made the taste comparisons – on the table, where it counts...
Continue »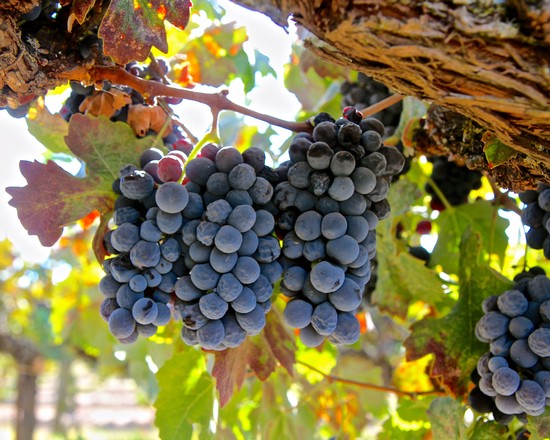 Barbera is one of those red wine grapes that have been around longer than anyone can remember. Nor can anyone remember why. Like one of those guys you can always depend upon to show up at your parties. Doesn't say much, but he's always... there.
Good example: In one of the old, classic books on California wine – Robert Gorman's Gorman on California Premium Wine (Ten Speed Press, 1976) – the author devotes over 270 pages on the enormous excitement generated by the best and latest California wines of the time. Despite the fact that, in the mid-1970s, there were close to 20,000 acres of the grape planted in the state, Gorman allots a total of only 27 words, in two sentences, to the subject of Barbera:
The varietal Barbera has many devotees among connoisseurs of California wine. The wines are usually tart, fruity, full flavored and useful for accompanying hearty, Italian style food...
Continue »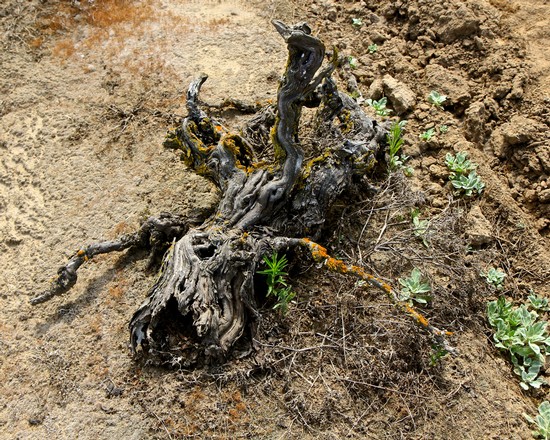 It's a good time to enjoy good ol' old vine Zinfandel. There's a little bit of chill in the air, leaves are turning color, and the mind drifts off into memories of brown spices, baking pies, stews on the stove, bread in the oven, ugly sweaters.
But enjoy those wines while you can; because – as we mentioned in a previous post, Last rites for Lodi's old vine growths – decently priced old vine Zinfandel grown in Lodi (the home of more old vine plantings than anywhere else in California) is disappearing as we speak...
Continue »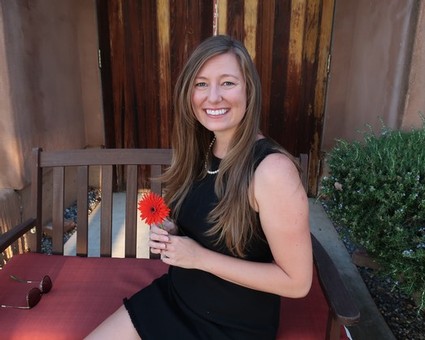 This past August 15, 2017 marked Dr. Stephanie Bolton's first full year as Lodi Winegrape Commission's Grower Communications & Sustainable Winegrowing Director.
Yes, that job description is a mouthful; and in fact, Dr. Bolton has already achieved boatloads of accomplishments to match during her first year. This, perhaps, comes as no surprise, as Dr. Bolton came to the Lodi Viticultural Area with impeccable credentials; including a Ph.D. in Plant Pathology from the University of Georgia (focused primarily on studies of Vitis vinifera vineyards), a Master's in Food Science from the University of Georgia, and a Bachelor's in Chemistry from Wake Forest University...
Continue »