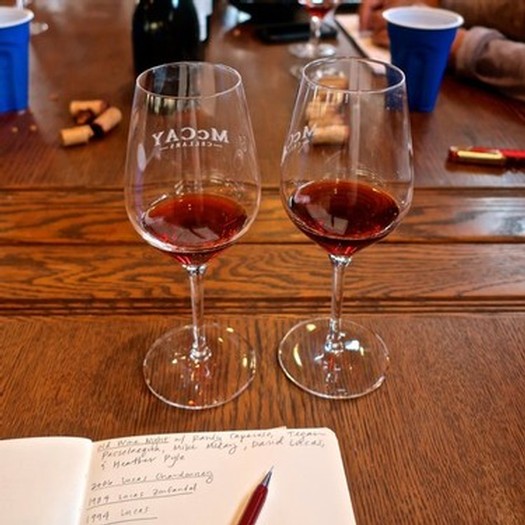 There is an old adage in the industry, oft-repeated by the usual pundits: California Zinfandels do not age.
Not that Zinfandels fall completely apart after, say, 10 or 15 years in the bottle. But rather, that they just don't get any "better," or more enjoyable, than when they are usually consumed, less than 5 years after their vintage date. The biggest concern is that all those bright, berryish, often "jammy" fruit qualities that Zinfandel drinkers love simply start to fade once the wines get old, and all you have left is, say, the harsh taste of high alcohol (a legitimate fear, since even the lightest commercial Zinfandels of today are at least 15% alcohol) or the drying taste of oak (especially Zinfandels aged in American oak barrels, which are not exactly known for their subtlety).
Ergo: The recommendation given even by most wine producers, that Zinfandel is best drunk when they are young, or pretty much as soon as they hit the market.
Continue »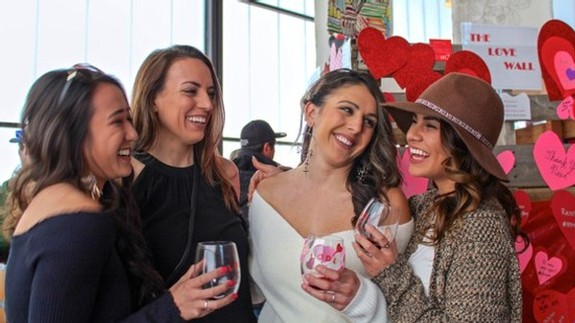 Happy Valentine's Day from Lodi wine country!
For our photographic memories of this past weekend's 22nd Annual Lodi Wine & Chocolate Weekend (February 9-10, 2019), we asked local online marketing specialist Frances Siria – who applies her multifaceted talents to her own Signature Online Marketing company – to memorialize some of her favorite moments...
Continue »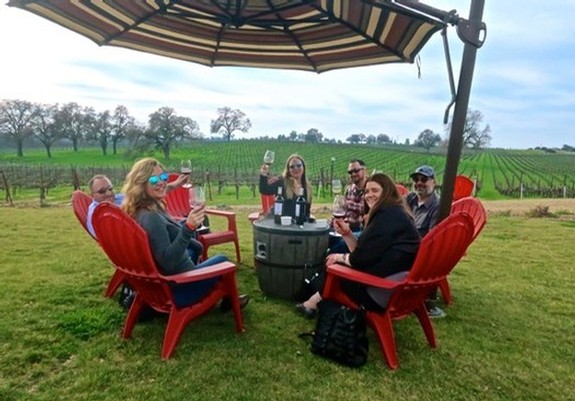 In her yearly summary of the latest statistical reports, Dr. Liz Thach MW, who teaches at Sonoma State University in Rohnert Park, describes the state of the American wine industry in 2019 as "Slowing but Steady, and Craving Innovation" (our italics).
Somewhat alarming, perhaps, to Lodi Viticultural Area grape growers – who supply a whopping 20% of the California wine grape crop each year (while California produces about 60% of all wine sold in the U.S., according to beveragedaily.com) – is the fact that, to quote Dr. Thach, "after 24 years of continuous growth in wine consumption the U.S. market slowed to only 1.2% in volume in 2018" (in previous years, the growth has been closer to the +2% range).
Nonetheless, says Dr. Thach, Americans, "desire higher quality wine and are spending more per bottle." The professor cites recent sales reports showing that wines priced at $11.99-$19.99 retail has grown by 8% in volume over the past year, while wines priced at $10 or under are showing zero growth – indicative of the fact "that premiumization continued to thrive during 2018..."
Continue »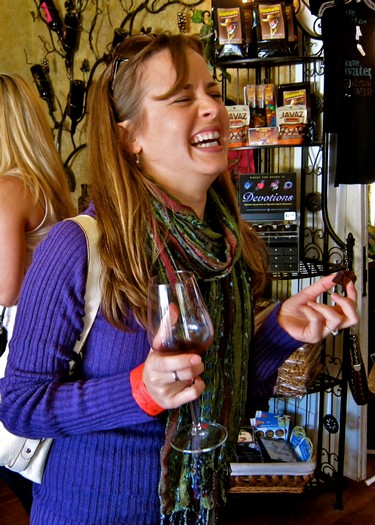 The wines of Lodi, perhaps more than that of any other wine region, are known for their round, gentle, fruit-forward qualities, which are intrinsic to the appellation's mild Mediterranean climate and grape-friendly soils.
But another big reason why Lodi's annual Wine & Chocolate Weekend attracts both seasoned and burgeoning wine lovers alike from near and far is the fact that everywhere you go, all the Lodi wineries are serving food, which is good for the body and great for the palate since the taste of wine is always amplified by dishes – especially when the match is juuust right!
Continue »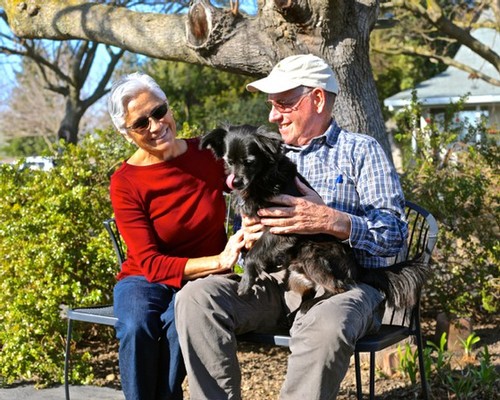 Tom Hoffman, Heritage Oak Winery's owner/grower/winemaker, likes to have things both ways. On one hand, he appreciates the beauty of pure varietals – wines expressing the qualities of one grape, and one grape only. At the same time, he well knows the advantages of blending – weaving the qualities of multiple grapes into seamlessly and intricately layered qualities that can't be achieved in 100% varietal wines.
Either way, Hoffman demonstrates a mastery of both approaches to the discipline of winegrowing and craft of winemaking in his latest releases. As he explains: "In 2012 we put in a lot of new vines and replantings with many different varieties – three to five rows of each, 65 vines per row. Hence, my latest blends and varietal reds from the 2016 vintage, and new varietal whites from 2018... Continue »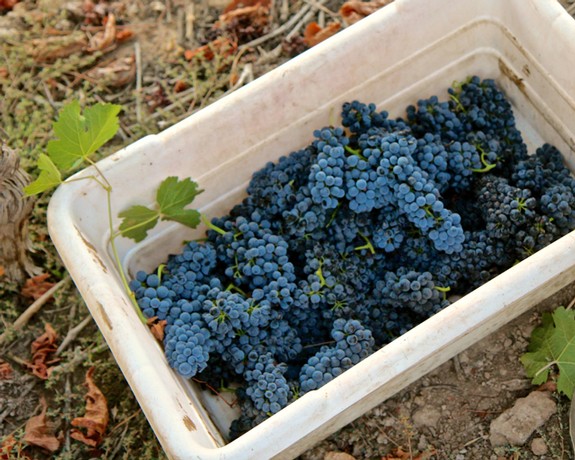 Recently, to update ourselves, we conducted a blind tasting of 14 of our Lodi grown reds fashioned from Petite Sirah (a.k.a. Durif). We found a uniformity of quality comparable to Petite Sirahs from other California wine regions (example of Lodi's competitiveness: at the recent 2019 San Francisco Chronicle Wine Competion, Lodi-based producers such as Karen Birmingham, St. Amant, Mettler Family, Peirano Estate and GoodMills Family all walked away with gold medals), as well as a little bit of movement towards styles reflecting the current evolution of California wines in general.
That is, a move towards a little more subtlety – particularly in terms of oak barrel aromas and flavors – and a little less of the wham-bam-thank-you-ma'am intensity of alcohol, tannin and ripe, sweet toned fruitiness (please see out notes on specific wines below) for which Petite Sirah has been known. Still, if anything, Petite Sirah has never been considered a "subtle" varietal, and undoubtedly never will, even in more restrained guises...
Continue »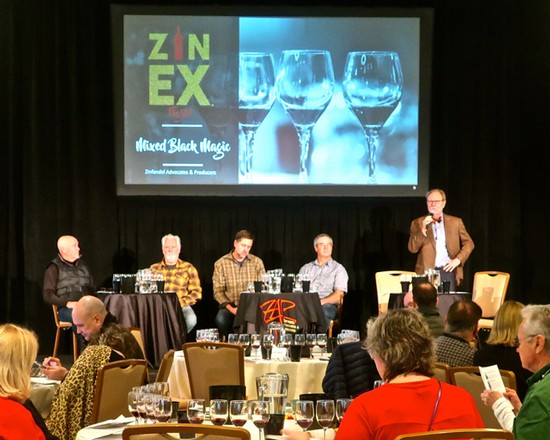 Are the best Zinfandels bottled as 100% varietals, or are they best as products of judicious blending with other wine grapes?
The answer – going by our own tasting notes of 13 different Zinfandels presented during the formal, sit-down "Flights!" tasting put on by ZAP (Zinfandel Advocates & Producers) in the ballroom of San Francisco's Palace Hotel this past January 18th – is probably this: It depends on each site, or particular vineyard, found within each appellation.
Joel Peterson, the longtime winemaker (of Ravenswood Winery fame) and ZAP co-founder who moderated the 13-winemaker panel, started off the event by saying, "Extra varieties add 'magic' to Zinfandel blend" – hence, the discussion's title, "Mixed Black Magic..."
Continue »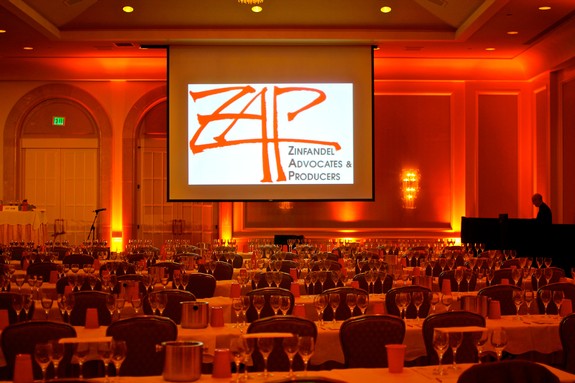 This week – on January 17-19, 2019 – marks the annual San Francisco celebration of Zinfandel put on each year by ZAP (Zinfandel Advocates & Producers). Not every producer of California Zinfandel will be there, but most of them will be, and Zinfandel lovers will have an opportunity to taste and compare from among the very best.
One question, which inevitably comes up whenever there is a big exposition focused on one varietal category: How are California Zinfandels tasting these days?
Then there is the other question, pertinent to us in Lodi Viticultural Area, which is: How do Lodi grown Zinfandels stack up against other California Zinfandels these days?
Continue »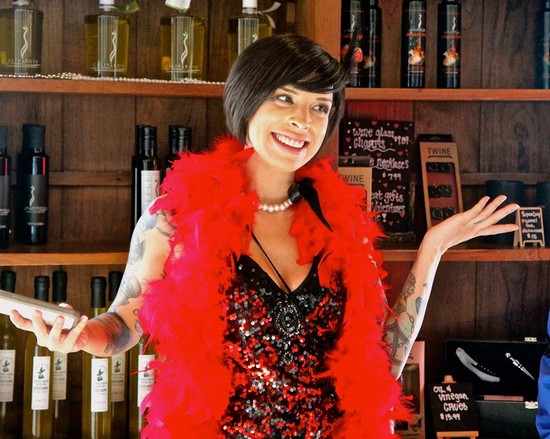 It's ba-a-a-ack... Lodi wine country's most popular yearly event! Lodi's Wine & Chocolate Weekend takes place on the Saturday/Sunday of February 9 & 10, 2019, from 11 AM to 4 PM on both days.
Why is this weekend so well loved? Let us count the ways.
• A chance to drop in on no less than 54 participating wineries (well, at least as many as you humanly can) and
• Enjoy exclusive tastings (from the barrel, verticals of vintages, etc.),
• Lots of edible treats (chocolates and non-chocolaty),
• Live music (at many wineries, including room to dance with your fellow wine and chocolate lovers), and
• Lots of Instagram-worthy moments and settings (including photo booths and backdrops) nearly everywhere you go!
Imagine the possibilities, if not with your main squeeze, maybe with your besties (or all of them!)...
Continue »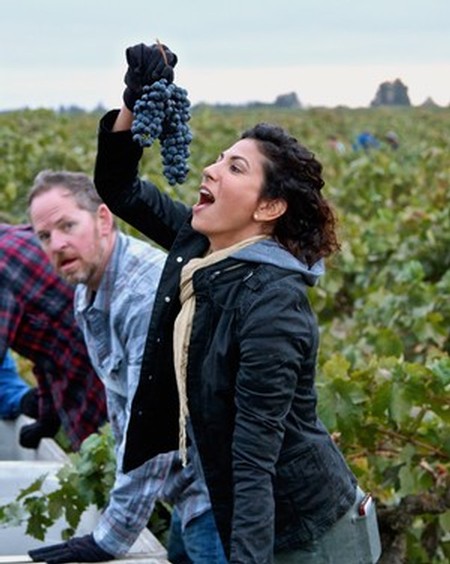 In Part 1 of our Four 2018 wine grape lessons, we discussed how, like all the fine wines of the world, the increasingly impressive wines of Lodi are defined primarily by the grapes that go into them.
Since grape morphology – that is, the size and weight of clusters and berries, color and phenols in skins, proportions of acidity, and all the factors that determine structure, aromas and flavors, and ultimately, the quality and style of wines – is directly impacted by vineyard locations and the decisions of growers and winemakers, it is never surprising to find that terroir (i.e. "sense of place") often trumps varietal expectations in resulting wines...
Continue »