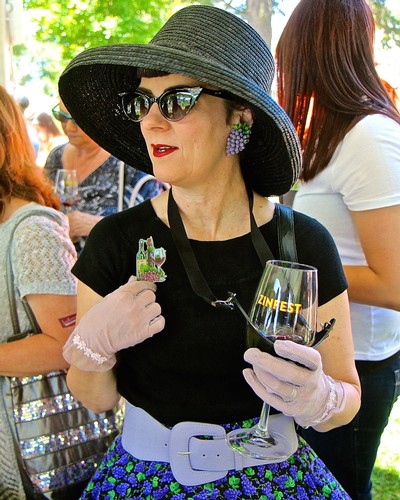 It may be all about the vino – the deliciously round, lush, pure and balanced wines of the Lodi wine region – during the Saturday wine festival at 2017 Lodi ZinFest (May 20, 2017), but you can bet that you will be able to experience the liquid joy of Delta grown grapes in a variety of other stimulating ways.
Starting with the culinary and educational...
Continue »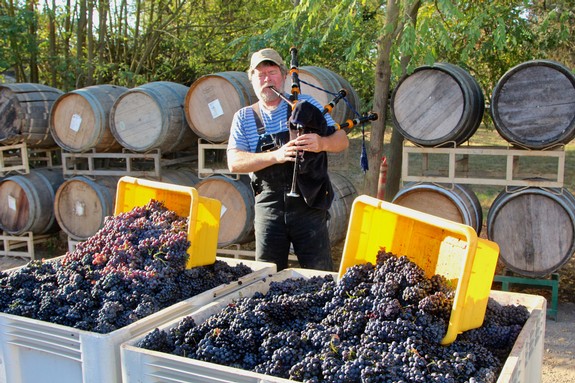 Count Greg La Follette as another widely proclaimed winemaker based outside the Delta who has come to appreciate the distinct beauty of the Lodi Viticultural Area.
Mr. La Follette – who previously established his field creds as a North Coast Pinot Noir and Chardonnay specialist of considerable notoriety at wineries like Flowers, Hartford Family, De Loach, and most recently his own La Follette Wines (formerly called Tandem) – has recently begun selling "futures" for a 2015 Alquimista Cellars Jessie's Grove Ancient Vine Zinfandel ($55). The Sebastopol/Sonoma based Alquimista Cellars is La Follette's latest project, started two years ago in partnership with Patrick Dillon, following a disassociation from his former eponymous business...
Continue »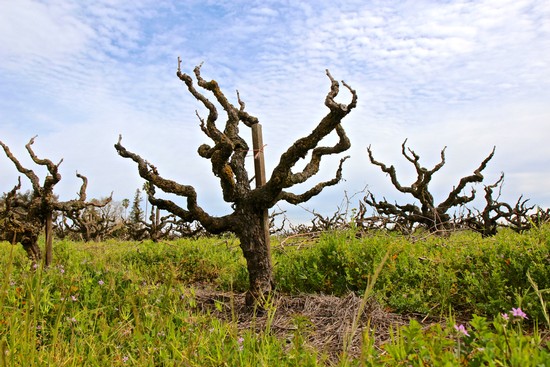 Quietly, individual members of the Lodi Native group have been offering their bottlings of 2014 Zinfandels – the third vintage of wines produced under the auspices of this independent project – at their respective wineries; while a 6-bottle selection packed in handsome wood boxes is available through the Lodi Wine & Visitor Center.
Two things distinguish the 2014 Lodi Native Zinfandels:
1. There were nine different Lodi Native Zinfandels produced in 2014; an increase from the six bottlings of the previous two, inaugural vintages.
2. In the 2014 6-pack box, two of the vineyard selections have changed from the previous two vintages.
Let us back up a little and talk about what the Lodi Native project is all about. It began at the start of 2012, when six of Lodi's top Zinfandel specialists got together to establish a group project dedicated to producing wines under a single label, each one showing off the distinct sensory qualities engendered in different heritage plantings (i.e. vineyards over 40, 50, and in some cases, 100 years old) within the Lodi Viticultural Area...
Continue »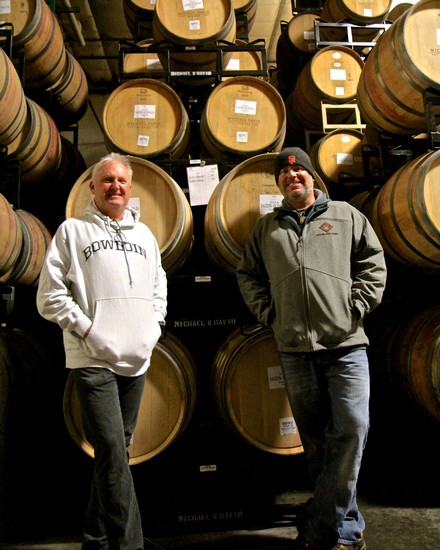 One of the more interesting reports logged by the industry trade publication, Wine Business Monthly, is a yearly list of 30 largest American wine production companies in terms of case sales within the U.S.
In the February 2017 issue of WBM, two companies with direct ties to Lodi – Delicato Family Vineyards (DFV Wines) and Michael David Winery – are listed among the 30 biggest selling companies, which account for "nearly 90 percent of domestic wine sold by volume" (according to WBM). The Lodi Viticultural Area, in fact, supplies a significant amount of wine grapes to many (if not most) of the country's largest producers...
Continue »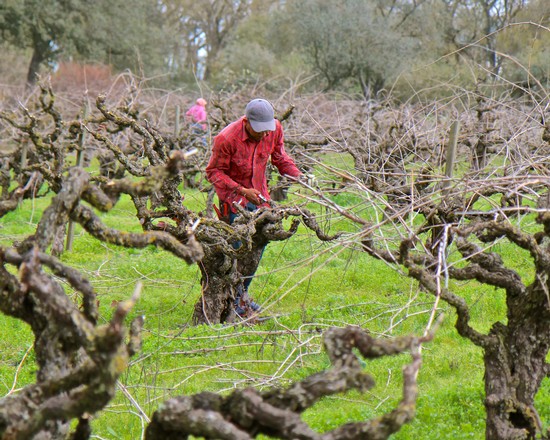 It may look quiet, here in the Lodi Viticultural Area at the end of February 2017. But out in the fields, hundreds of the local industry's most trusted hands are furiously pruning the grape vines before they come out of dormancy, which is typically about this time of year.
Weeks of biblical rains, of course, have delayed the process, which begins as early as November the previous year because, well, there are just so many darned grape vines to attend to...
Continue »

This is Zinfandel Advocates & Producers' ZinEx week in San Francisco; which means, a great excuse to talk about one of our favorite subjects: California Zinfandel in all its wonderful, terroir driven varietal guises.
First things first: Lodi – our AVA (i.e. American Viticultural Area) – grows a lush, gentle, fruit forward style of Zinfandel; an overall style very much an expression of the region's sandy loam soils and moderate Mediterranean climate (comparable to St. Helena, Healdsburg or Paso Robles, Calif.), influenced by cool coastal air funneled through a break through the coastal mountains and the adjacent Sacramento-San Joaquin River Delta...
Continue »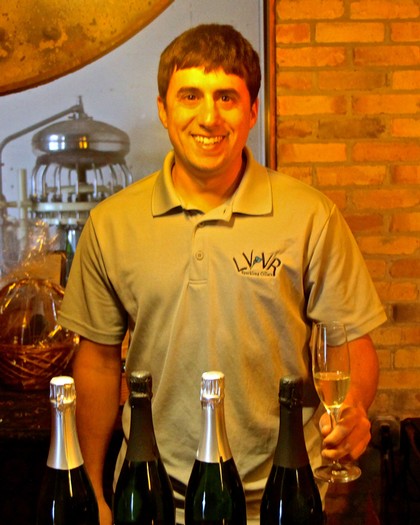 We don't usually talk about traditional Champagne style sparkling wines in our lodiwine.com blog because, frankly, the Lodi wine region has never been associated with finer styles of sparkling wine. Until now.
Quietly, with zero fanfare, Lodi's LVVR Sparkling Cellars opened its tasting room doors to the public this past July 2016; in front of a 6,000-case level production facility tucked behind a big, old wooden door, in the back of the Tuscan Winery Village – located in Lockeford, just east of the City of Lodi....
Continue »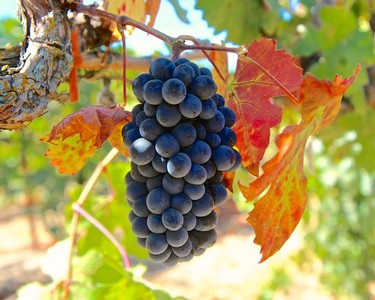 When Paul and Amy Kemp founded their Loma Prieta Winery in 2003, high up on a 2,600-ft.-high site in Santa Cruz Mountains, they planted what other growers and producers in the region have going: Pinot Noir (mostly), with a little Cabernet Sauvignon and Merlot.
And then seven years ago the Kemps took a busman's holiday to South Africa and discovered wines made from the Pinotage grape – a crossing of Vitis vinifera (i.e. European wine grapes) developed in 1925 by South African viticulturist Abraham Izak Perold. Perold thought he was crossing Pinot Noir with Hermitage (a common, if errant, synonym for Syrah), and so he called his new creation Pinotage. In fact, Pinotage is a crossing of Pinot Noir and Cinsaut (just think, it could have been called "Pinotaut").
Whatever the case may be, according to Ms. Kemp, "Paul fell in love with Pinotage... He got so excited about it, he couldn't wait to get home to make some of his own. He found two vineyards in California with Pinotage planted, and a few years later (in 2013), he grafted it over our own vineyard (total of 3.5 acres) completely to Pinotage..."
Continue »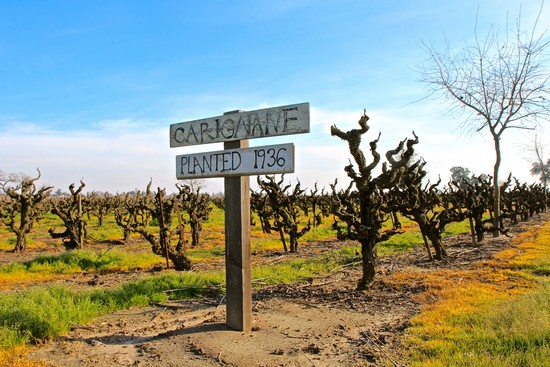 The black skinned Carignan grape makes a totally delicious red wine of vivid, deep color and effusive fruit expression; usually suggesting black cherry or related sensations, such as strawberry, cranberry, raspberry or rhubarb, and sometimes violet or rose petal-like fragrances.
Red wines made primarily from Carignan tend to be dependably well balanced with moderate tannin and better than average natural acidity; usually embedded in a full, richly textured body (typically in the vicinity of 13.5% to 15% alcohol – no higher or lower, mind you, than today's average sized Pinot Noir, Zinfandel, Merlot or Cabernet Sauvignon)...
Continue »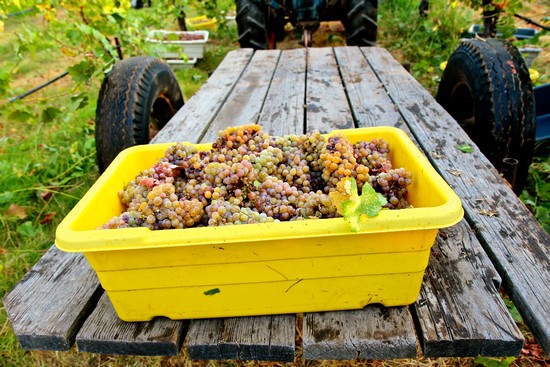 Here, at the start of 2017, it's customary for magazines, blogs and journalists to opine on what consumers will be drinking over the next year. A quick scroll through "the Google" uncovers some of these astute prognostications, such as...
Continue »