Day Trips
Around the World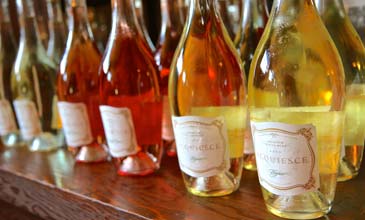 Pack For Your Trip: A picnic basket filled with local olives, San Francisco's famous Molinari Sausage and cheeses from around the world – Camembert or Brie from France, Manchego from Spain or Dubliner (cross between cheddar and Parmigiano) from Ireland. Find all of these savory treats at Cheese Central in historic downtown Lodi (open Monday-Saturday 10:00am to 6:00pm and Sunday 1:00pm to 5:00pm). Bonus: Pick up fresh baked Sourdough baguettes or herbed Focaccia from Dancing Fox Winery, Bakery & Eatery (located right up the street) to compliment your meats and cheeses (open Tuesday-Saturday 7:30am to 9:00am and Sunday 9:00am to 3:00pm).
Bon Voyage: Just because you can't hop the next airplane to a far-away land doesn't mean that you can't experience a taste of those places through unique varietal wines produced from Lodi-grown winegrapes – winegrapes which are typically associated with countries outside of the United States.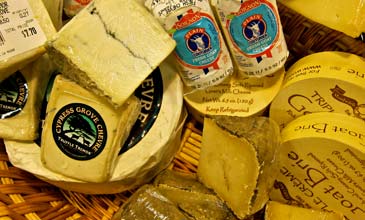 Expose your palate to the rivers and mountains of Germany and the Mediterranean coastline of Italy through the wines at Borra Vineyards. Must try German varietals: Kerner, Gewürztraminer (guh-vurts-TRA-MEE-NER); must try Italian varietals: Vermentino, Barbera. Extend your stay in Italy with a sip of Aglianco (ahl-YANN-ee-co) at Mettler Family Vineyards before allowing yourself to be whisked away to South Africa by their Pinotage – a crossing of Pinot Noir and Cinsault (SAN-soh) with aromas of plum and dark, ripe berries. Purchase a glass of wine (if desired) and spread your picnic blanket on the lawn next to the pond or snag one of several picnic tables adjacent the tasting room to enjoy lunch. After lunch, visit the Southern Rhône Valley of France by touching down at Acquiesce Winery & Vineyards – Lodi's only all-white (and Rosé) wine winery. Rare Rhône find: Picpoul Blanc.
Extend Your Culinary World Tour: Pull up a table at Thai Spices and order the Crab Rangoon followed up with a plate of spicy Pad Thai or visit Pietro's Trattoria and enjoy their signature dish – "Nettie's Homemade Ravioli" with meat sauce. Both restaurants offer a good selection of Lodi wines by the glass or bottle.
Get Your Zin On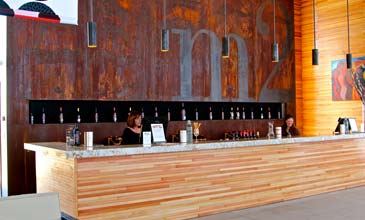 Get Your Facts Straight: While there are over 100 varieties of winegrapes that call the soils of Lodi home, there is one variety in particular that our region hangs its wine hat on; and that variety is Zinfandel. Crushing nearly 40% of the state of California's total Zinfandel crop each year, it's no wonder that Lodi has been dubbed the "Zinfandel Capital of the World" by those in and outside of the region. One of the reasons that make Lodi Zinfandel vines so special is the sheer age of the vines. The majority of the region's gnarly, old head-trained (growing without a trellis system) Zinfandel vines were planted as far back as the late 1880s to early 1900s.
Get Your Zin On: Begin your Zinfandel adventure at Klinker Brick Winery – owned and operated by fifth-generation farmers, Steve and Lori Felten. At such a terrific value, their Old Vine Zinfandel is worth stocking up on. Word of advice: Don't leave without one or more bottles of "Old Ghost" Old Vine Zinfandel. Representing the very best Zinfandel that Klinker Brick Winery produces year over year, this wine sells out annually. Next, head over to McCay Cellars where – if you're lucky – owner and winemaker Michael McCay will be available to taste you through a handful of Zinfandel wines. And don't be fooled by the fact that this tasting room is housed within a warehouse located in an industrial lot. Inside, you'll find industrial-chic décor – corrugated metal siding lined with an eclectic mix of art, chairs and tables made of palate wood, and low lighting suspended in various antique chandeliers.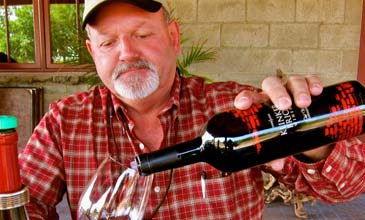 Next up: Lunch. There's nothing that Zinfandel wine likes better than to be paired with some good ol' fashioned barbecue. If you're in town during the week, grab lunch at Tin Roof BBQ (open Monday-Friday 11:00am to 4:00pm); the smoked pulled pork sandwich and Tri Tip chili with cornbread are killer. Visiting over the weekend? Head downtown to Lodi Beer Company (open Sunday-Thursday 11:00am to 9:00pm and Friday and Saturday 11:00am to 10:00pm) for baby back ribs or BBQ chicken pizza.
Complete your immersion into Lodi Zinfandel with stops at both m2 Wines and Macchia – conveniently located less than five minutes of one another along the same country road stretch of Peltier Road. Seek out owners and winemakers, Layne Montgomery at m2 Wines and Tim Holdener at Macchia for tasty tours through their many Zinfandel wines. If you're real lucky, you might even score a barrel sample or two along the way!
Staying in town for dinner? Keep on-theme by dining at Zin Bistro – a quaint hole-in-the-wall located in a tiny shopping center on Lodi Avenue. Whether you're looking for fresh fish, pasta or steak, this restaurant has a little something for everyone (Open for dinner 5:00pm to 8:30pm. Reservations are recommended due to limited seating).
Outdoor Adventure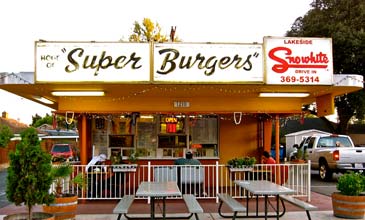 Head Start: Fuel up for an action-packed day at the newly-renovated Lodi Airport Café (open Wednesday-Monday 7:30am to 2:00pm). Local favorites include The Airport Omelet (sausage, grilled onions, sautéed mushrooms, avocado and Jack cheese) and The Focaccia Sandwich – fresh, toasted Focaccia with grilled ham, scrambled eggs and American cheese.
Get Going: Take a short walk from the café past the airport's runway and hangars to The Parachute Center for a little skydiving action. One of the oldest and largest drop zones in the United States (circa 1964), the center is open daily from 9:00am to 3:00pm and requires no reservations.
Calm your post-skydiving high by stopping in for winetasting at Peirano Estate Vineyards or the Lodi Wine & Visitor Center before heading over to Sno-White Drive In for lunch. In operation since 1958, this local landmark serves up burgers (beef, turkey and veggie), fries, freezes and shakes (outside seating only; credit card accepted for orders totaling $20 or more). After lunch, walk directly across the street to Lodi Lake Park where you can rent a kayak, canoe or stand-up paddle board and spend the afternoon languidly paddling around the lake or along the Mokelumne River (rental availability: hourly, half-day or all-day).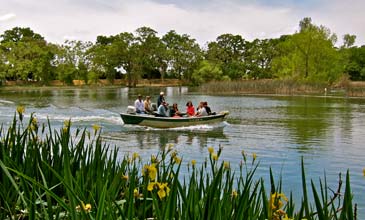 Call it quits for the day or extend the adventure by throwing horseshoes (BYO horseshoes) at one of several horseshoe pits at the lake while grilling up sausage-stuffed pork chops or apple-smoked sausage from Lakewood Meats (open Tuesday-Saturday 7:00am to 6:00pm). Pro tip: Pick up your grill fare earlier in the week or day and keep cool in an ice chest until dinnertime.
Know before you go: Lodi Lake Park closes at dusk; vehicle entrance fee is $4 for residents/$5 for non-residents. Charcoal grills are located throughout the park; BYO charcoal.