Lone Grape Winery
About Lone Grape Winery
Located in a historic winery building, built in 1947, our tasting room is located in one of the old cement wine tanks that can hold 60,000 fallons.
Additional Details
Reserve Tastings: No
Group Reservation Tasting Fee: $8.00 per person
Reservations Required for Groups: No
Group Sizes: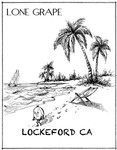 Hours: Fri-Sun 11am-5pm
12470 Locke Road #600
Lockeford, CA 95237
(209) 269-3701
Tasting Fee: $8.00. Refunded with purchase.
Yes
Yes
Yes
Yes
Yes
No
Yes
Yes
No
Photogallery rendered here.