Celebrate Lodi Rosé
| | |
| --- | --- |
| Date: | Sat, Jun 11, 2022 - Sun, Jun 12, 2022 |
| Time | 10:00 AM to 5:00 PM |
| Venue: | Participating Lodi Wine Wineries |
Celebrate Lodi Rosé is a two day celebration which will be held on Saturday and Sunday, June 11 and 12, 2022 at 20-plus participating wineries across Lodi, California. Each location will offer complimentary samples of Rosé wines.
No ticket is required but advance reservations at participating wineries are recommended. All guests must be 21+ to attend.
Participants may visit any of the wineries listed here to receive a free guidebook. The guidebook includes a map and listing of all participating wineries, wine offerings, and activities you will enjoy during your visit.
Please note that some wineries are not open the whole weekend, and several wineries require reservations.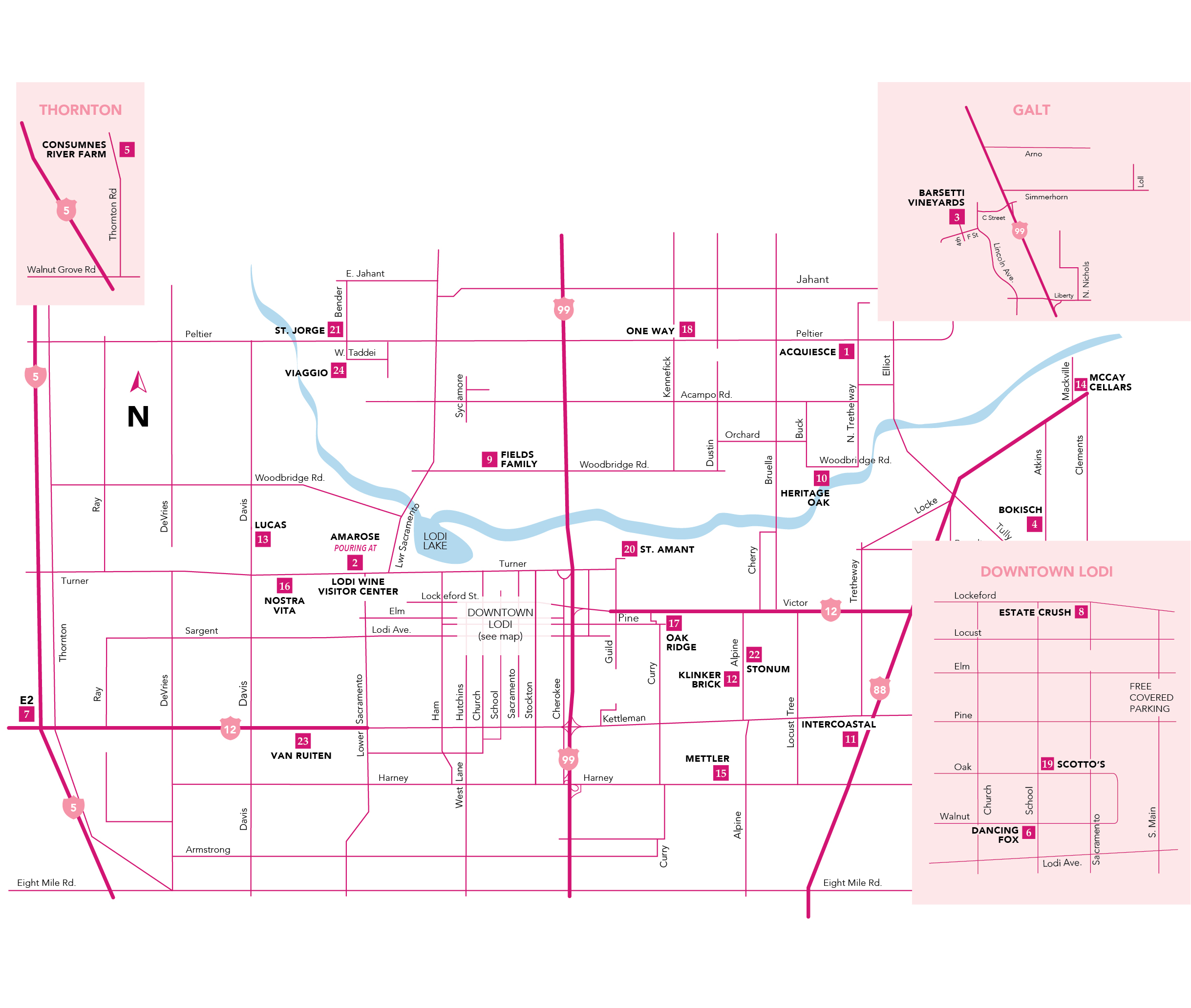 PARTICIPATING WINERIES
1 ACQUIESCE WINERY & VINEYARDS
22353 N. Tretheway Rd., Acampo, 95220
209.333.6102
Sat & Sun 11am-5pm
Featuring 2021 Grenache Rosé and 2021 Cinsaut Rosé paired with a delectable bite. Reservations required.
Visit Site
2 AMAROSE
POURED AT LODI WINE VISITOR CENTER
2545 W. Turner Rd., Lodi, 95242
209.365.0621
Sat & Sun 10am-5pm
Featuring 2021 Rosé (Grenache, Cinsaut, Carignan, and Mourvèdre).
Visit Site
3 BARSETTI VINEYARDS
400 4th St., Suite 150, Galt, 95632
209.744.6062
Sat & Sun 12-5pm
Featuring live music and 2020 Rosé, 2016 Pinot Noir, 2017 Petite Sirah, 2018 Chardonnay, and Old Town Red Blend paired with a charcuterie board. A 30% discount applies to all wine purchase of 4 or more bottles, and 25% all boutique and merchandise items.
Visit Site
4 BOKISCH VINEYARDS
18921 Atkins Rd., Lodi, 95240
209.642.8880
Sat & Sun 11am-5pm
Featuring several vintages of Rosada (Garnacha, Graciano, and Tempranillo) paired with a tapa crafted by Liz Bokisch.
Visit Site
5 CONSUMES RIVER FARM
28305 N. Thornton Rd., Thornton, 95686
209.663.3100
Sat & Sun 12-4pm
Featuring flight of Mourvèdre/Grenache Rosé, Carignane Rosé, and Delta Breeze Sparkling Rouge will be paired with small bites, as well as La Belle Nue Rosé by winemaker Jacylyn Stokes. Live music on Saturday from 1-4pm and Sunday from 12-4pm. Reservations recommended.
Visit Site
6 THE DANCING FOX WINERY, BREWERY, & RESTAURANT
203 S. School St., Lodi, 95240
Sat 12-4pm & Sun 11:30am-3pm
Featuring 2016 Sangiovese Rosé and Firedance white blend paired with house made Focaccia.
Visit Site
7 E2 FAMILY WINERY
9301 W. Hwy 12, Lodi, 95242
209.334.5911
Sat 10:00am-4:00pm
Featuring 2020 Rosé and NV Pinot Noir Sparkling Rosé.
Visit Site
8 ESTATE CRUSH
2 W. Lockeford St., Lodi, 95240
209.368.7595
Sat & Sun 11:30am-4:30pm
Featuring Rosé of Cinsaut, both sparkling and still, from the historic Bechthold Vineyard. Don't miss a fantastic sale on the sparkling rosé. Reservation required.
Visit Site
9 FIELDS FAMILY WINES
3803 E. Woodbridge Rd., Acampo, 95220
209.327.6306
Sat & Sun 11am-5pm
Featuring 2021 Rosé. A 20% discount toward the purchase of wine applies. Reservations recommended.
Visit Site
10 HERITAGE OAK WINERY
10112 E. Woodbridge Rd., Acampo, 95220
209.986.2763
Sat & Sun 11am-5pm
Featuring 2021 Charbono Rosé and 2021 Barbera Rosé. A 10% discount toward the purchase of wines applies. Hot dogs and chips will be available 12-2pm, both days, for $5.
Visit Site
11 INTERCOASTAL VINEYARDS
13731 N. Highway 88, Lodi, 95240
Sat & Sun 11am-5:30pm
Featuring 2019 Sparkling Rosé and 2020 Rosé of Pinotage. Live music by Big Booty Bob on Saturday from 12-3pm. Discounts and wine bundles will be available for purchase during the weekend.
Visit Site
12 KLINKER BRICK WINERY
15887 N. Alpine Rd., Lodi, 95240
209.333.1845 ext. 1
Sat & Sun 11am-5pm
Featuring 2021 Bricks & Roses Rosé. A 15% discount toward the purchase of Rosé wine applies.
Visit Site
13 THE LUCAS WINERY
18196 N. Davis Rd., Lodi, 95242
209.368.2006
Sat & Sun 11am-4:30pm
Featuring Rosé and summer favorites, served on our shaded patio adjacent to our historic ZinStar Vineyard, paired with small bites. Reservations required.
Visit Site
14 MCCAY CELLARS
18817 E. Hwy 88, Clements, 95227
209.759.3900
Sat & Sun 11am-5pm (4:00pm final seating)
Featuring flight of 3 single-vineyard varietals: 2019 Rosé of Grenache, 2019 Rosé of Cinsault and 2019 Rosé of Carignane. A 15% discount toward the purchase of Rosé wines applies. Reservations for groups 6+ required.
Visit Site
15 METTLER FAMILY VINEYARDS
7889 E. Harney Lane, Lodi, 95240
209.369.3045
Sat & Sun 11am-5pm
Featuring 2021 Rosé, live music and a food truck (additional costs may apply). Reservations required.
Visit Site
16 NOSTRA VITA FAMILY WINERY
1150 W. Turner Rd., Lodi, 95242
209.334.0274
Sat & Sun 11am-5pm
Featuring 2019 Serendipity Limited Release Sparkling Rosé and 2020 Rosé of Pinot Noir, special pricing of $38 applies when purchasing the Celebrate Rosé Duo. Reservations requested for groups of less than 6, reservations required for groups of 6+. No children under 10 or pets allowed on-site.
Visit Site
17 OAK RIDGE WINERY
6100 E. Victor Rd., Lodi, 95240
209.369.4758
Sat & Sun 11am-5pm
Featuring 2021 OZV Rosé, live music and $5 Rosé or Frosé by the glass. Complimentary glass of Rosé or Frosé with bottle purchase of 2021 OZV Rosé.
Visit Site
18 ONE WAY WINERY
6539 E. Peltier Rd., Acampo, 95220
209.918.0692
Sat & Sun 12-5pm
Featuring 2019 Cabernet Sauvignon Rosé.
Visit Site
19 SCOTTO'S WINE & CIDER
14 S. School St., Lodi, 95242
209.224.8590
Sat & Sun 1-5pm
Featuring 2021 Mohr-Fry Ranch Reserve Dry Sangiovese Rosé paired with fig jam-topped Brie cheese.
Visit Site
20 ST.AMANT WINERY
1 Winemaster Way, Bldg. 1, Lodi, 95240
209.367.0646
Sat & Sun 11am-4pm
Featuring side by side tasting of our newest 2021 Barbera Rosé and 2019 Barbera (93 pts., Wine Enthusiast).
Visit Site
21 ST. JORGE WINERY
22769 N. Bender Rd., Acampo, 95220
209.365.0202
Sun 12-5pm
Featuring our rosé and unique Rosé port. A 15% discount applies to wine purchases. Reservations required for groups of 4+.
Visit Site
22 STONUM VINEYARDS
16388 Alpine Rd., Lodi, 95240
209.224.8130
Sat & Sun 12-5pm
Featuring 2021 Rendezvous Rosé of Carignan and live music on Saturday, June 11. Reservations required for groups of 6+.
Visit Site
23 VAN RUITEN FAMILY WINERY
340 W. Hwy 12, Lodi, 95240
209.334.5722
Sat & Sun 11am-4pm
Featuring 2020 Sparkling Rosé, 2020 Rosé, and 2020 Rosé of Malbec.
Visit Site
24 VIAGGIO ESTATE & WINERY
100 E. Taddei Rd., Acampo, 95220
209.333.0431
Sat & Sun 11-5pm
Featuring 2021 Grenache Rosé and white wines with live music from 1-4pm.
Visit Site