Oak Farm Vineyards
About Oak Farm Vineyards
Visiting Oak Farm Vineyards (OF), you will experience our passion for wine and hospitality. We invite you to come enjoy our wines as you relax within the sweeping vineyard views and under our historic oak trees surrounding our property. This beautiful setting is a perfect place for a picnic lunch! Structures on the property have a level of history and date back to the mid 1800's.
We joyfully and artistically strive to create exciting small-lot and single vineyard wines from California, our vineyards and the Lodi Wine Country region. Our goal is to keep all the wines in balance and showcase what amazing flavors and aromas the fruit has to offer.
Additional Details
Reserve Tastings: No
Group Reservation Tasting Fee: $5/Person
Reservations Required for Groups: Yes
Group Sizes: 8 or more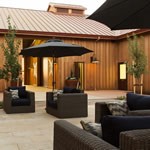 Hours: Daily 11:00am-5:00pm
23627 N. Devries Road
Lodi, CA 95242
(209) 365-6565
Tasting Fee: $10.00. Refunded with purchase.
No
No
No
Yes
Yes
Yes
No
Yes
Yes
Yes
Yes
No
Yes
Photogallery rendered here.