LoCA Wine Store
2014 Bokisch Vineyards Verdejo

This Verdejo is light straw in color with complex aromas of butterscotch, spring almonds, candied orange peel and hints of banana and spring almonds. It is medium bodied with bright acidity and a long finish. Gorgeous flavors of tangerine, white peaches and green apricots pair beautifully with crab, ceviche and tropical fruit salad.
Wine Specs
Appellation
Borden Ranch, Lodi
Vineyard Designation
Clay Station Vineyard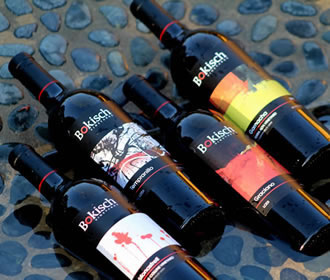 About Bokisch Vineyards
Markus Bokisch grew up spending his childhood summers in Spain with his family. In the Spanish tradition he was given wine with water at meals. As he grew older each year the wine & water strated turning from a light pink to a deep purple. Little did Markus know, his tastebuds from on were programmed towards Spanish wines.
In 1992 Liz & Markus moved to Spain and worked in the Spanish wine industry in Raimat and the Penedes. Upon their return, they purchased their Terra Alta Vineyards property in the Clements Hills, which later became the site of their winery.
Using their Spanish connections they began importing budwood and in 1999 they planted the Las Cerezas Vineyard, known as tehir "motherblock," of Tempranillo, Albarino, and Graciano. They produced their first vintage of Iberian wines uder the Bokisch label in 2001. now they specialize in 11 different award winning wines which also include Garnacha, Garnacha Blanca, Monastrell, Verdelho, and Verdejo.
The adventure doesn't stop here! Markus & Liz have now launched a new brand called Tizona to showcase other varietals thta they love such as Old Vine Zinfandel and Malbec. Their love of farming and winemaking continue to inspire them to explore new varieties with the same sense of adventure, just a whole new direction.