LoCA Wine Store
National Zinfandel Day Technical Workshop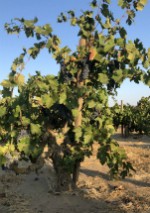 We are currently sold out of this wine.
National Zinfandel Day Technical Workshop
November 14, 2018
8:30AM - 1:00PM
Location: Oak Farm Vineyards, 23627 DeVries Rd, Lodi, CA 95242
More so than any other variety, Zinfandel holds a special place in the hearts and minds of the Lodi winegrowing community. Join Lodi growers and vintners on National Zinfandel Day for an educational dive into all things Zinfandel at Oak Farm Vineyards. Attendees will taste through 16 unique Zinfandels while hearing the farming and winemaking stories behind the wines with panels of leading growers and vintners. Tasting seminars will be followed by a delicious Tri Tip lunch served with Lodi Zinfandel (lunch is included in the ticket price).
AGENDA:
8:30AM – Registration & Networking (Coffee & Pastries will be provided)
9:00AM - Introduction
Topic: The State of Zinfandel
Speaker: Rebecca Robinson, Zinfandel Advocates & Producers (ZAP)
9:15AM - Panel 1: Growers' Perspectives
In the first panel, four growers will share how they are carving out an identity for their Lodi-appellated Zinfandel vineyards. Listen to our farmers discuss how they craft a sense of place for single vineyard Zinfandels and share insights in how they "brand" their vineyards with their winery partners. Attendees will enjoy tastings of wines made from each growers' Zinfandel vineyards while learning the stories behind the grapes.
Moderator: Stuart Spencer, Executive Director, Lodi Winegrape Commission
Markus Bokisch, Bokisch Ranches | Neyers & Tizona Suess Zinfandels
Bruce Fry, Mohr-Fry Ranches | St. Amant Marian's & St. Amant Mohr-Fry Zinfandels
Jeff Perlegos, Stampede Vineyard | Lodi Native & Maitre-de-Chai Stampede Zinfandels
Keith Watts, Keith Watts Vineyards | McCay TruLux & Baron Herzog Zinfandels
10:45 - Panel 2: Winemakers' Perspectives
During the second panel, four winemakers will share their most recent experiences sourcing Lodi Zinfandel grapes from multiple vineyards and talk about how they work with their partner growers to produce exceptional wines. During the panel, attendees will enjoy Zinfandel wines that show off the diverse terroirs and sensory qualities of what the Lodi AVA has to offer.
Moderator: Stuart Spencer, Executive Director, Lodi Winegrape Commission
Derek DeVries, Michael David Winery | Earthquake & Freakshow Zinfandels
Chad Joseph, Oak Farm Vineyards and Harney Lane Winery | Oak Farm Hohenreider & Harney Lane Scottsdale
Mike McCay, McCay Cellars | Lot 13 & Bonnotto Zinfandels
Tegan Passalacqua, Turley Wine Cellars | wines to be determined
12:00 LUNCH
Join our growers and winemakers as we continue celebrating National Zinfandel Day with a Tri Tip lunch paired with - of course - Lodi Zinfandel (lunch is included in the ticket price).