Letters from Lodi
An insightful and objective look at viticulture and winemaking from the Lodi
Appellation and the growers and vintners behind these crafts. Told from the
perspective of multi-award winning wine journalist, Randy Caparoso.

December 7, 2016 | Randy Caparoso
Aaron Shinn foresees a bright future for Lodi winegrowing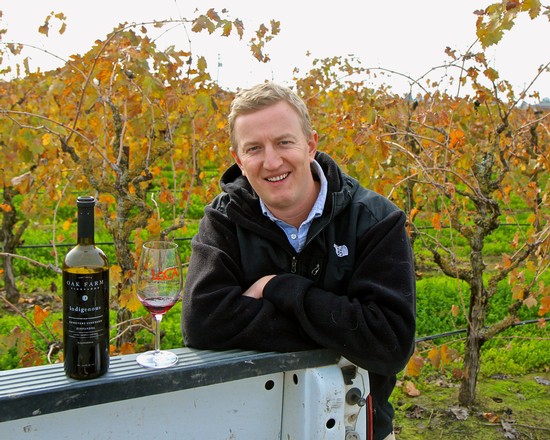 One of the most highly regarded, and more forward thinking, of the Lodi Viticultural Area's winegrowers is Aaron Shinn: Vineyard Manager for Round Valley Ranches, one of the region's largest vineyard management companies; and owner of his own management firm, Shinn Farms.
Like any vineyard manager, Mr. Shinn's talents are measured by results. For instance, Chad Joseph, the vaunted winemaker of note at Oak Farm Vineyards as well as Harney Lane Winery, described Shinn's work as "energy, passion and knowledge." Joseph elaborates by saying, "A lot of growers have the knowledge, but very few have the energy and passion it takes to attend to all the little details necessary to grow grapes with the potential to produce world class wine.
"Not that Aaron makes things complicated. He simply does more than most with the fundamental knowledge of grape growing that he has. Of all the growers I work with, he seems to be the one who is always there at the right time throughout the season, willing to do all the things that make the difference between wines that are just 'good,' and wines that can be great."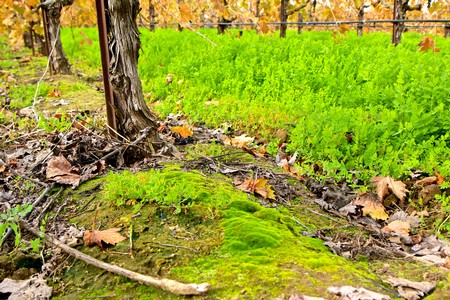 Asked to comment on his working relationship with Mr. Joseph, Shinn tells us: "For me, it has always been a matter of establishing trust. When we tell Chad we've done the shoot thinning, or that we've pulled leaves around the fruit zones on the north-east side of each vine to maximize sunlight in the morning and kept a canopy on the south-west side to shade the fruit in the afternoon, Chad knows we've done that.
"I think the best relationship any grower can have with a top winemaker like Chad is one of absolute dependability – that we're making all the extra passes through the vineyard, going that extra mile to produce the best grapes possible, and to justify a premium price for the grapes."
Shinn is justifiably proud of the fact that one of his Shinn Farms properties – the 7-acre Cemetery Vineyard, a Zinfandel planting located right alongside Cherokee Memorial Park & Funeral Home on the east side of Lodi's Mokelumne River AVA – is the only single-vineyard designate bottling done by Oak Farm Vineyards, which has won more than its share of prestigious awards such as California State Fair's "Best of Show."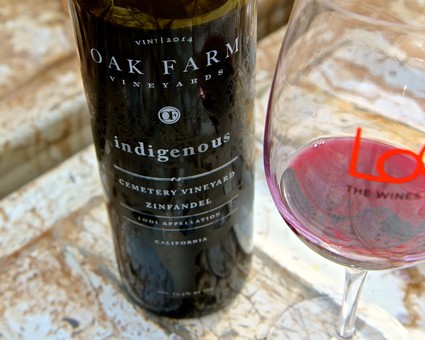 Indeed, the 2014 Oak Farm Indigenous Cemetery Vineyard Zinfandel ($32) has garnered the "Gold Medal/Best of Class" medal at Vineyard Winery & Management Magazine's Grand Harvest Challenge in Santa Rosa, and for good reason: it is a sleek, velvety, restrained yet solid, balanced, sturdy expression of where it is grown (Grand Harvest winners are rigorously judged on the basis of their expression of sense of place, or terroir); finishing with just a sliver of sweet new oak, which many Zinophiles love. The wine is bottled as "Indigenous" because it is native yeast fermented, to amplify intrinsic qualities of the vineyard.
This past Monday (December 5), standing alongside the slender, rusty leafed head trained vines in his Cemetery Vineyard, Mr. Shinn poured a bottle of his 2014 Zinfandel at the back of his truck, stuck his nose into the glass and commented: "By the floral fruit fragrance (suggesting red cherries and just a touch of blueberry purée), and in the lighter elegance in the feel, you can tell that this wine fall right into the style of other Zinfandels in this area, which some people are now calling the Bruella or Victor Triangle – there is a resemblance, almost a Pinot Noir-like character, similar to other Zinfandels from nearby, such as Kirschenmann Vineyard, or one of Mike McCay's."
But it's not just place, according to Shinn, it's always what is put into a vineyard like Cemetery: "This is not what you would call an 'old vine' planting – it was planted only about 35 years ago, on Freedom rootstock. Typical of this sub-area, this is a very sandy piece of property – so well drained, you can drive through here even right after a heavy rain, and never get stuck.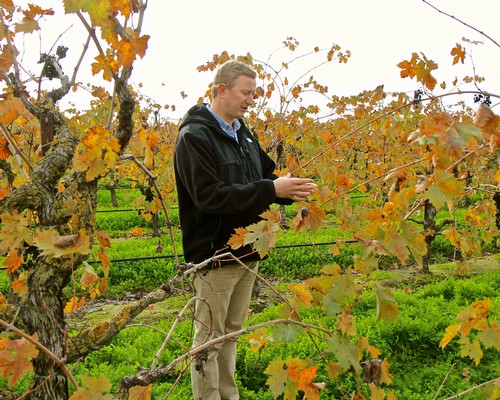 "But to maximize what this soil wants to give you, we prune it to no more than 2 shoots per spur. So instead of the 7 or 8 tons per acre that is possible to get from head trained vines like these, we never get more than 4.
"We also micro-manage each vine to give us maximum quality at lower sugars. We shoot for about 23.5° Brix (i.e. sugar reading), which I think gives the best balance of natural acidity and lower alcohols, usually less than 14%. The fewer 'adjustments' a winemaker has to make, the better. The quality has to be in the grapes before a winemaker gets his hands on them.
"With the lower crop, exceptionally sandy soil, and watering kept to about half as much as comparable blocks in the area, this means Cemetery Vineyard is just about the first Zinfandel picked in Lodi each year – ready for harvest as early as the first week of August."
But what you get, according to Shinn, is a style of Zinfandel that comes "natural to the site." He adds: "Vines are like people – as they mature they tend to stick to the habits formed while they are being raised. This block has never been pushed to produce White Zinfandel, or lower-end wine. We stress the vines, but not to the point where we're inhibiting them. And so the clusters in Cemetery tend to be small, more cylindrical. The berries are also smaller than average, with higher skin to juice ratios. Still, the idea is not to produce the most intense Zinfandel, but a Zinfandel that is most true to the vineyard."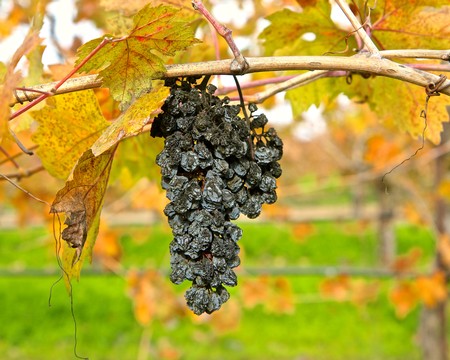 Earlier in the day we got the opportunity to sit down with Mr. Shinn over coffee to delve into his background and other activities; which includes a volunteer post at the Lodi Winegrape Commission as current Committee Chair of Lodi Rules for Sustainable Winegrowing. Our chat...
R.C.: Where does your family fit in with the larger clan of Shinns, who have played a large part in Lodi's history since the 1850s?
A.S.: Someone in my family has always been involved with farming in Lodi for 7 generations. In my immediate side of the family, east side Lodi (i.e. east of Hwy. 99 and the City of Lodi) collided with the west side, and combined into one. Historically, most of the Shinns have been concentrated on the west side – the same way that the German families, like the Mettlers, are concentrated on the east. Suffice to say, I have many relatives; like the Shinns around my age involved with Shinn Ranch, who are my second cousins.
Growing up, though, my family lived in town (City of Lodi), with maybe fewer direct ties to farming. My dad was a schoolteacher, but my uncle (Jonathan Wetmore, owner/grower of Round Valley Ranches), was very much involved in agriculture. Then at one point, my dad and uncle bought a ranch together out on the east side – 40 acres of cherries and grapes, out on Alpine Road. An old Mettler property, as a matter of fact. My uncle farmed the property, and my family lived on it.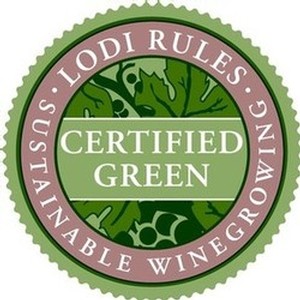 That was my start – how I developed my first fond experiences of the grape business. I was intrigued pretty early on by the idea of managing vineyards. As a teenager, I began pruning, tying vines to stakes and trellises, driving tractors, testing for sugars in grapes... until I reached a point where I knew I wanted to pursue this as a career.
By the end of my teens (while attending Tokay High School) I was officially working for Round Valley Ranches. I attended (San Joaquin) Delta College in Stockton, but my mother put pressure on my uncle not to continue employing me unless I finished college. So I attended Fresno State (University), where I majored in Agricultural Business, which involved some studies in viticulture.
R.C.: What prompted you to branch out with your own vineyard management company, Shinn Farms?
A.S.: While still in school, I had the opportunity to lease a 10-acre cherry orchard, and that's when I started my own business. My "day job," though, was and still is as Vineyard Manager for Round Valley Ranches. Over the past two years I have planted vineyards, and still manage 40 acres of cherries. Shinn Farms is up to about 100 acres total, grapes and cherries. With Round Valley Ranches, we manage over 2,000 acres – doing everything from pruning in the winter to harvesting in the fall, and all the gory details in between.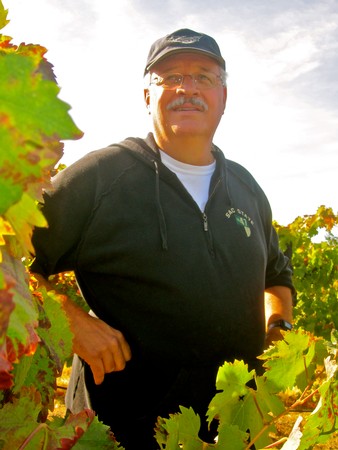 R.C.: How much of vineyards managed by Round Valley Ranches is owned by your uncle?
A.S.: Close to a quarter. The majority is either owned by other people or planted for investment groups – your typical lawyer who might actually look at a property only once or twice a year, or longtime Lodi residents who own, say, 50 acres, who also enjoy seeing their land turned into vineyard.
The exciting thing – for not just Shinn Farms and Round Valley Ranches but also the entire Lodi winegrowing industry – is that our main business may be large, expansive projects catering to big producers like E. & J. Gallo, but we also focus more and more on smaller scale projects for 'niche' producers, such as Oak Farm, Acquiesce, and the Stellina Vineyard. We are selling to a growing number of small, independent wineries, like Jeremy, Riaza, and m2. Estate Crush takes quite a bit from us for their custom crush winemaking. Managing vineyards for big producers can be fun; but in a way, growing for smaller producers, with a stronger emphasis on quality, is more fulfilling.
It's a challenge to focus on smaller projects, but a good feeling because it helps us all to see what really can be done with Lodi grapes when grown for higher-end products. Instead of just farmers who grow grapes, we are part of the process producing special wines.
R.C.: How much of Shinn Farms and Round Valley Ranches is certified according to Lodi Rules for Sustainable Winegrowing?
A.S.: 100%. Because we totally believe in it, and we believe it represents the future for the winegrowing industry.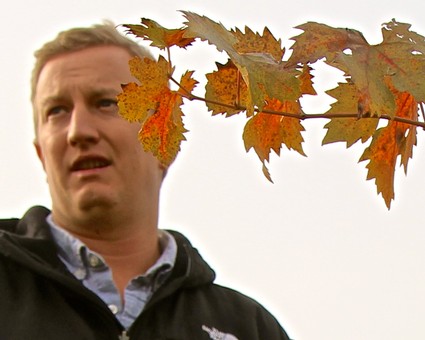 R.C.: In what way?
A.S.: The industry is already moving in that direction. If we don't responsibly manage the resources we have, sooner or later it will be imposed upon us anyway – either by regulatory agencies, or by big wineries who, under direct pressure from consumers, will begin to demand a certified green product.
We can be proud of the fact that here in Lodi, growers began taking that step on their own, way back in 1992. The Lodi Rules program was conceived bottom-up – created because it only makes sense for people living in a community like Lodi to make sure that their land and grapes are farmed responsibly for future generations, or that we don't use harsh pesticides or herbicides that ruin our water, our soil, our way of life.
I think the Lodi growers who started Lodi Rules were also genuinely conscious of the fact that if you develop a program of sustainability – one that is third party audited to insure that the guidelines are followed – you will end up with superior grapes producing higher quality wine, which creates greater demand for those grapes. Sustainability is all about taking our industry to the next level. Judging by the growing prestige of Lodi grapes and wines, it's obviously been working.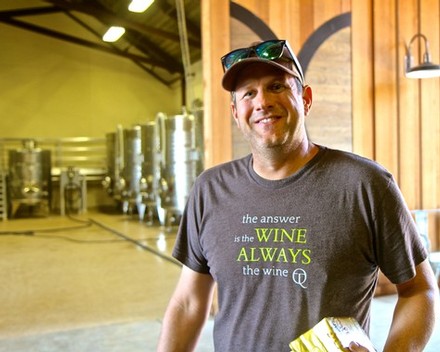 R.C.: So are you also saying that a consumer can infer that any bottle stamped with Lodi Rules Certified Green seal is also probably a superior wine?
A.S.: I truly believe that nine times out of ten, a wine with a Lodi Rules seal is a better wine. Look, I also know there are many growers in Lodi – a majority of them, in fact – who aren't really into Lodi Rules. However, many of them are actually growing sustainably – they just don't see the need to follow Lodi Rules... yet.
While the Lodi Winegrape Commission encourages sustainability, our goal is still to be inclusive. We work just as closely with growers who aren't quite ready to embrace Lodi Rules. We're still all-in-it-together.
That's why I'm so optimistic about the future. Lodi is growing, and we all know we have a long ways to go. But the more variety of grapes we have to offer, the more we go out of our way to farm for smaller high-end producers, and the more we can honestly say there is a strong quality attachment to grapes that are grown certified green, the more we are re-assuring our own future as an industry.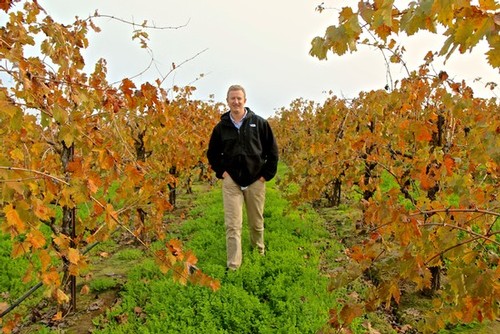 Comments