Letters from Lodi
An insightful and objective look at viticulture and winemaking from the Lodi
Appellation and the growers and vintners behind these crafts. Told from the
perspective of multi-award winning wine journalist, Randy Caparoso.

May 19, 2011 | Randy Caparoso
Wham-bam ZinFest cheese matching
Cheese, like wine, is a product of natural fermentation; and like wine, the variations of end-products are virtually, and deliciously, endless.
Yet as incredibly varied as wines and cheeses can be, matching them really comes down to just a few basic, great notions, which was the subject of last weekend's ZinFest Wine School seminar: entitled Lodi Wine is Cheese Central Friendly, and focusing on four Lodi grown Zinfandels with four unique and delicious cheeses chosen by Cindy Della Monica, proprietor of Downtown Lodi's bright and shiny, new Cheese Central.
The most essential notions entail how we all perceive pleasurable tastes, which is through our the concepts of:
• Similarity
• Contrast
We all understand, for instance, that a scoop of vanilla ice cream is greatly enhanced by a dollop of hot chocolate fudge. The combination works because our senses perceive a pleasing similarity of sweetness in both the ice cream and fudge, and because we also love the contrasting of chocolate and vanilla flavors, not to mention the iciness of the ice cream against the hotness of the fudge. Throw on some bitter tasting walnuts (contrast), whipped cream (sweet similarities plus another contrasting texture) and a cherry (another sweet similarity with the addition of the cherry's flavor contrast), and you got yourself an organoleptic orgy.
But sometimes certain contrasts and similarities don't work so well. Ketchup, for instance, might be a little sweet like ice cream, and its sour/vinegary tomato taste contrasts dramatically with vanilla in the ice cream; but I think we can all agree that this type of extreme matching is less than ideal. Yuck. Better to save the wonderful taste of ketchup for twoallbeefpatties,special sauce,lettuce,cheese,pickles,onionsonasesameseedbun.
Wines and cheeses are matched by the same basic concepts. Only, the sensations we are dealing with in, say, a Zinfandel are the sensations of berries, spice, oak and other aromas and flavors typical of this red wine, plus the basic red wine sensations perceived on the palate: body (contributed by the alcohol), dryness/sweetness (most red zins lacking sweetness), tartness (natural acidity derived from the grape), and bitterness (the tannins derived from skins and seeds with which the wine was fermented, as well as a little from oak aging),
That said, the following is a summary of the cheese and wine matches featured in Ms. Della Monica's ZinFest seminar, along with a few words on how and why the matches worked, as deliciously as fudge on ice cream:
Mimolette with Uvaggio's 2009 Primitivo
France's rare Mimolette cheese, made from cow's milk, comes in an orbular shape and tanned crust; and when you slice into it looks, for all the world, like a cantaloupe, with its vivid orange flesh tinted by annatto, with a lush, round yet moderately firm, faintly hazelnutty flavor somewhat like Edam, with a savoriness similar to a good Parmigiano. The traditional wine match for Mimolette is a soft, fruity white wine, like a Moscato or Chenin Blanc; but the aged quality of the cheese is deep enough to also embrace a red wine of some sturdiness, especially softer, gentler, fruit forward style of Zinfandel such as the Uvaggio Primitivo (the Primitivo grape being a clonal variation of Zinfandel, producing rounder, fruitier expressions of zinfulness). A good word to describe the pleasingly fruitful similarities of taste found in this cheese and wine match: zinsational!
Bermuda Triangle with m2's 2008 Soucie Vineyard Zinfandel
The cutting-edge, triangular shaped Bermuda Triangle cheese is a (modern day) classic Chèvre, made from goat's milk, and crafted by Cypress Grove in Arcata, California. As such, it is almost creamy soft, yet slightly sharp, tangy, and pungently earthy/grassy (as goat's milk cheeses tend to be). It is also crusted and infused with silvery streaks of vegetable ash, which accentuate the earthy qualities, making them an accessible positive. The m2 made pretty much a "perfect" match because of its own, singularly defined qualities: it is one of the rounder, lusher styles of Zinfandels grown in Lodi – juicy and creamy in texture, plump in blackberry flavors – yet firmed up in the middle by modestly muscular tannin and a handsome oakiness. But what makes it especially unique is the pungently earthy, loamy, almost mushroomy aromas and flavors derived from the Soucie Vineyard grapes – virtually no other vineyard in Lodi produces a zin of such pronounced qualities – which rang striking notes of similarity with the earthiness of the Bermuda Triangle… wham!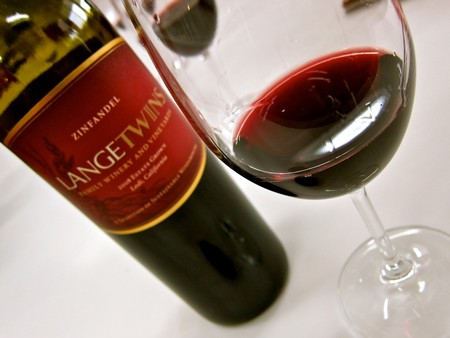 Barely Buzzed with LangeTwins' 2009 Lodi Zinfandel
Made by Beehive Cheese Co. in Uintah, Utah – shout-out to all you Uintahians out there (all two of you?)! Barely Buzzed is an amazingly original, Cheddar style cow's milk cheese rubbed with intoxicatingly smoky, densifying Turkish grind coffee, adding eye opening volume to the crystallized butter/butterscotchy, caramelized taste of this intensely aged cheese. All well aged Cheddars fall squarely in the "best-with-red-wine" category (which is why wines like Cabernet Sauvignon and red Bordeaux are traditional Cheddar matches), but it was the ultra-rich, smoky/spicy (like strong black tea tinged with exotic jasmine/dried plum/allspice nuances), round yet voluminous qualities of this '09 zin that truly made the match… bam! Look for this vintage, just barely reaching the market with the winery's new, dark-gray label, because it's something special: sourced primarily from the stately, thickly gnarled trunked 100 year old vines of the Lewis Vineyard, located on the east side of Hwy. 99 off Victor Rd. (and at around $18, and incredible steal!).
Valdeon with Van Ruiten's 2007 Late Harvest Zinfandel
Even if you're not partial to blue veined cheese, it's hard not to love Valdeon from Spain: made from a mix of cow's and goat's milk to produce a creamy, lusciously soft and silky style of blue that is extremely fine and subtle in the characteristically earthy/salty/sharp qualities of cheeses aged by Penicillium. But a blue cheese it is; and as such, it is best matched by wines with a pronounced degree of sweetness. The Van Ruiten Late Harvest zin fits that description, but its natural sweetness and body is only a third of what is found in, say, a traditional Port; and so it is a sweet red wine that barely falls into the category of "dessert wine." But with the mild and elegant Valdeon, that parsimoniousness is ju-u-ust right: the subtle qualities of the cheese only emphasizing the natural, joyously juicy, wild berry qualities of the wine, and the wine adding just enough sweetness to balance the salty undertones of the cheese. Wham, bam… thank you m'am!
And thank heavens for the glories of artisanal cheeses and the special wines of Lodi!
Comments