Benson Ferry Vineyards
About Benson Ferry Vineyards
This family owned winery produces premium, budget friendly California varietals. Vineyard owners in Lodi for three generations, the Stokes family selects fruits from prime estate & North Coast vineyards, for their delicious bottlings.
Stokes Family Vineyard represents a family tradition of great wine grapes three generations in the making. Bill Stokes, Sr. planted his first 45 acres of Zinfandel near Lodi in 1954, and established additional vineyards during the next decade. His son Tom increased the family acreage in vines from the 1960′s to the 1980′s, both by purchasing vineyard properties and developing new vineyards. Tom's two sons, Bill and Mike, took over active management of the family business in 1985. Under their supervision, Stokes Family Vineyard continues to grow, and now encompasses more than 2,000 acres.
Today Stokes Family Vineyard reflects Bill and Mike's talent for growing classic and cutting edge grape varieties, and utilizing advanced cultivation techniques in theirLodivineyards. As a result of its quality orientation, Stokes Family Vineyard supplies fruit to several ofCalifornia's best-known wineries. In 2001, the brothers established Benson Ferry Vineyards as a label to showcase premium wines produced both from their Lodi vineyards and from other select California vineyards.
Visit Benson Ferry's downtown tasting room, Lodi Wine Cellars conveniently located at 112 W. Pine St. and enjoy a glass of wine in our secluded courtyard.
Additional Details
Reserve Tastings: No
Group Reservation Tasting Fee: $5/Person
Reservations Required for Groups: Yes
Group Sizes: 8 or more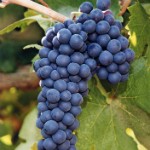 Hours: Wed & Thurs 3:30-8:00pm, Fri 3:30-11:00pm, Sat 1:00-11:00pm, Sun 1:00-5:00pm
112 W. Pine St.
Lodi, CA 95240
(209) 365-6622
Tasting Fee: $5.00. Refunded with purchase.
No
No
Yes
Yes
No
Yes
Yes
Yes
Yes
Yes