Abundance Vineyards
About Abundance Vineyards
Abundance Vineyards is a family owned and operated winery located in Lodi, California. Brothers and owners, Dino and Ron Mencarini stand proud as pioneers in the Lodi winegrowing region since before 1951.
Dino, developed a passion for winemaking as a child helping his grandfather and father blend table wine. In 1961, after years of farming corn and wheat with his brother and father, Dino began solely concentrating on growing wine grapes. Dino and Ron first planted Carignane and Old Vine Zinfandel with hand-made, split, redwood stakes in the Lodi soil.
Along with their flagship wines, Abundantly Rich Red and Old Vine Zinfandel, they also produce Syrah, Petite Sirah, Cabernet Sauvignon, Merlot, Chardonnay and Bountiful Blanc – all award-winning wines. They also just released a Verdelho and Moscato.
After over 14 years of hard work and dedication towards finding a spot on the shelves for quality wine, affordable for the everyday consumer, we are shifting our focus towards our tasting room in the heart of Lodi's wine country; what we call headquarters.
By providing the proper care and commitment, Abundance Vineyards creates a product that flows to the consumer, making memories and stories through good friends, good food and ABUNDANTLY good times!
Abundance hosts live music throughout the year. Please check our website and Facebook for upcoming music dates as well as our extended hours.
Additional Details
Reserve Tastings: No
Group Reservation Tasting Fee:
Reservations Required for Groups: Yes. No groups larger than 10 people.
Group Sizes: 8 or more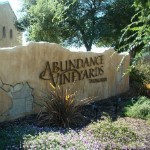 Hours: Daily 11:00am - 5:00pm
1150 West Turner Rd.
Lodi, CA 95242
(209) 334-0274
Tasting Fee: $10.00. Refunded with purchase.
No
No
No
No
No
Yes
Yes
No
No
Yes
No
No
No
No
No
No
No
No
No
No
No
No
No
No
Yes
No
No
Yes
No
Yes
No
No
No
No
No
No
No
No
No
No
No
Yes
No
Yes
No
No
Yes
No
No
Yes
No
Yes
Yes
No
No
No
No
No
No
No
No
No
No
Yes
No
No
No
No
Yes
Photogallery rendered here.