Letters from Lodi
An insightful and objective look at viticulture and winemaking from the Lodi
Appellation and the growers and vintners behind these crafts. Told from the
perspective of multi-award winning wine journalist, Randy Caparoso.

August 22, 2017 | Randy Caparoso
Silvaspoons Vineyards' latest Iberian innovation (Mencía!) and Verdelho harvest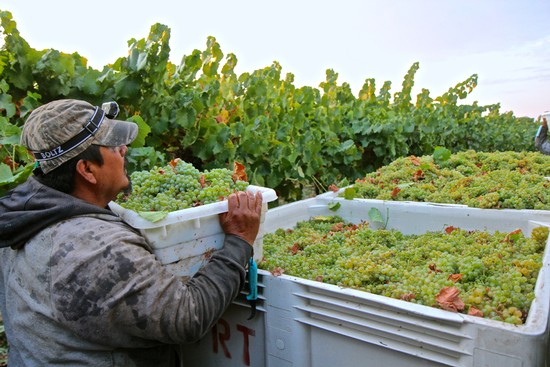 Promising 2017 Verdelho Harvest
6:30 AM, this past Tuesday, August 22 in Lodi's Alta Mesa appellation: Ron Silva's harvest crew had already filled three half-ton macro-bins of just-picked Silvaspoons Vineyards Verdelho – green tinted golden, oval shaped orbs of tropical fruit sensations, zapped with palate slaking, lemon-lime acidity. You could practically taste the type of light, dry refreshingly high-toned white wines these grapes will soon become.
While enjoying a donut break with the pickers, Mr. Silva told us: "This morning's Verdelho pick is going to two Lodi wineries. The grapes this year are nice and juicy, and pretty uniform. Yields look good, and clusters are healthy looking, with very little shot-berry (i.e. smaller sized berries) this year – probably because of the complexity of vine canopies this year."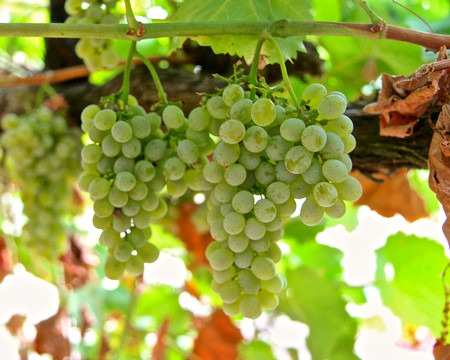 When asked to elaborate on the canopies of leaves grown by the vines this year, Silva explained: "This is my 20th harvest. Like every year, we are seeing something a little different this year. After five years of drought, we had one of the rainiest starts on record. In a way, it's easier to farm during dry years because we can always irrigate exactly as needed – you can add water, but you can't take it away when it's already there.
"The challenge in a wet year is the vines throw out denser canopies, and so it's harder to control sunlight and ventilation, which is very important for vine health and grape ripening. This year we had to go in and pull leaves several times to open things up to let the sun in. We've also been continuing our program of composting every other row, which promotes long term vine health."
Mr. Silva's planting method for virtually all his blocks – from French grapes such as Cabernet Sauvignon, Cinsaut and Tannat, to Portuguese varieties like Touriga Nacional, Tinta Francesa, Tinta Cão, Tinta Roriz (a.k.a. Tempranillo), Souzão and Alvarinho (a.k.a. Albariño) – is on horizontally divided quadrilateral trellises, which splits open the canopies at the top to allow more sunlight and air movement on ripening grapes. But in wet years like 2017, Silva tells us, "leaves can grow so thick that it can get dark underneath – so this year, we had to work harder to bring the vines into balance."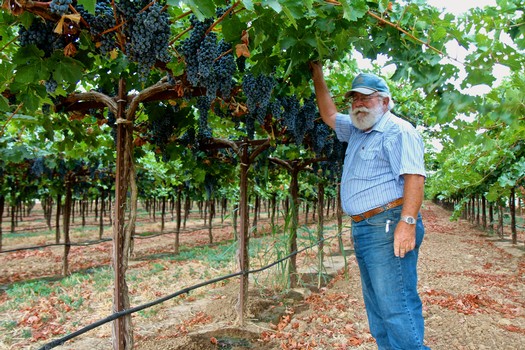 Silvaspoons' Latest Earth-Shaking Varietal (Mencía!)
Between weighing and packing up his incoming Verdelho grapes, Silva took the time to show off the latest addition to his Iberian grape collection: 550 planted vines (just under an acre) of the black skinned Mencía grape – now in their third leaf (planted in 2014), and just about ready for a first-ever commercial harvest.
Picking berries off of the small, dark clusters, Silva exclaimed, "Aren't they delicious already? They're only at about 19° Brix (i.e. sugar reading), and will probably get up to about 23.5° when we finally pick them, at about mid-September. But you can already tell that they have an interesting taste – very juicy, with a unique, earthy complexity. A vineyard's first harvest is often the best, because the plants are still young. At this age, they grows a limited canopy – plus Pedro (Silvaspoons' Vineyard Manager) and his wife have spent a lot of extra time in this block, hand pulling leaves, just to get things perfect the first time around – and as a result, there is an ideal balance of fruit and foliage for optimal quality."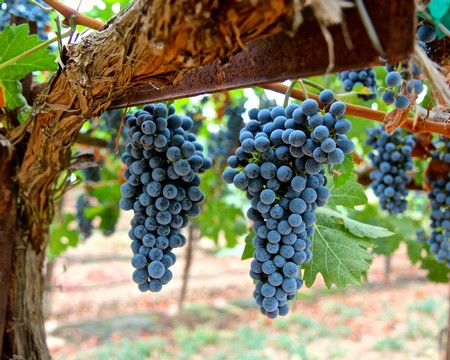 Adds Mr. Silva: "As far as I know, this is the first planting of Mencía in California. This is a grape that I had been wanting to grow for a long time, over 10, 12 years – ever since I first visited the varietal's native region in Spain, called Bierzo, which is in the Galicia region, in the upper western corner of the country, north of Portugal. The soil and climate there, not far from the Atlantic Ocean, is very similar to Lodi's, with our Pacific Ocean influence; and you can just look at and taste the grapes to know that we have a lot in common.
"The first time we visited Bierzo we went as tourists. We walked into one restaurant and asked the owner about Tempranillo reds. But he said that if you like a wine that is just as rich and complex, but half the price of Tempranillo, then you should be drinking the regional reds – Mencía. We tried it, and loved it. We ended up going back to that same restaurant three, four more times just to try more Mencías.
"For years I thought about bringing back cuttings of the grape from Spain myself, but then I found out that U.C. Davis had 3 plants in its nursery, still in quarantine. While waiting for it to become available, I found out that the material went to a nursery in Wasco. I managed to track it down, and two and a half years ago I got my first 550 vines to plant.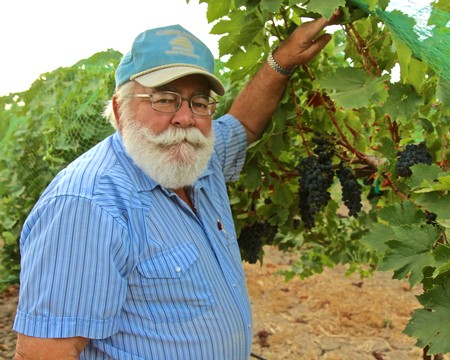 "When we first tried Mencía we were told that it might be related to Cabernet Franc, and that it has a similar structure and complexity, which I like. However, DNA studies show that Mencía is a distinctive grape all its own, unrelated to Cabernet Franc (our note: recent DNA profiling does show that Mencía is identical to the grape grown in Portugal as Jaen do Dão).
"There are several quality levels and price points for Spanish Mencías imported into the U.S. A couple of years ago I went to The Spanish Table in San Francisco and purchased 11 different bottlings of Mencía – there were even more than that on the shelves – priced anywhere from $11 to $35. We drank a bottle about every three days, and found that we generally preferred the wines priced around $18.
"Our first harvest will go to Ursa Vineyards in El Dorado County, who have been one of our best customers for our Iberian grapes ever since we started. We'll also try to get at least a ton, more if we can, to John (Gash) at PRIE Winery in Lodi, to see what he can do with it.
"Who knows? Mencía may be the next big thing. I tell you this – just in the past five years, two of my wines won 'Best Wine In California' awards (an Albariño produced by Oak Farm Vineyards and a Torrontés by Kenneth Volk Vineyards, both awarded Best of Show Awards at recent California State Fair Commercial Wine Competitions). I have a feeling this new grape varietal will also get some attention – it's certainly unique enough!"
A few more photos of Silvaspoons Vineyards' 2017 Verdelho harvest and upcoming Mencía crop: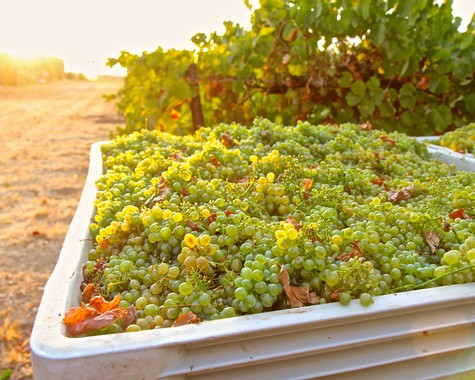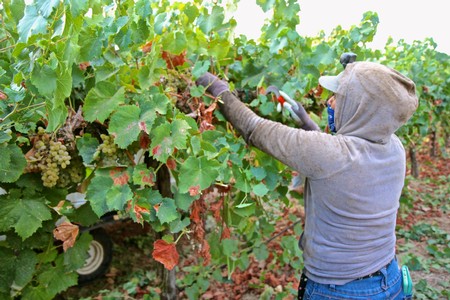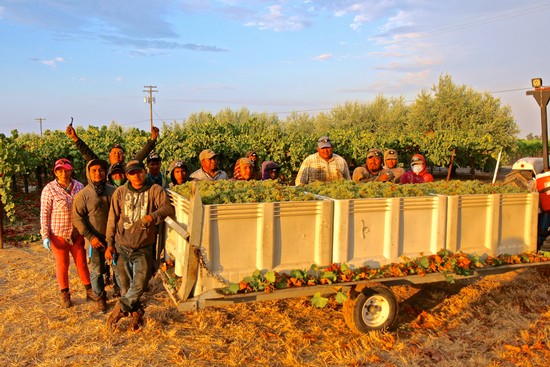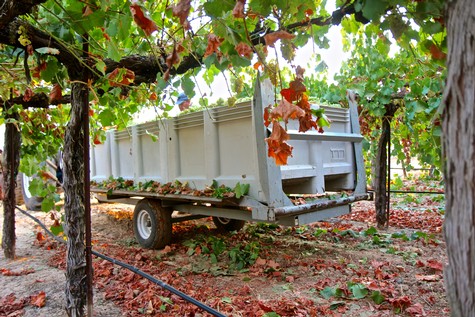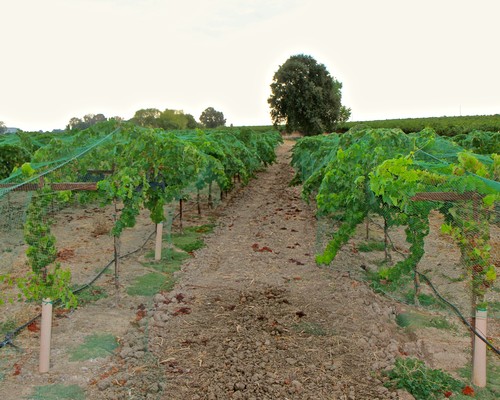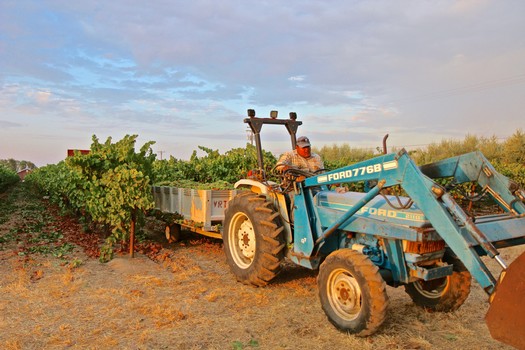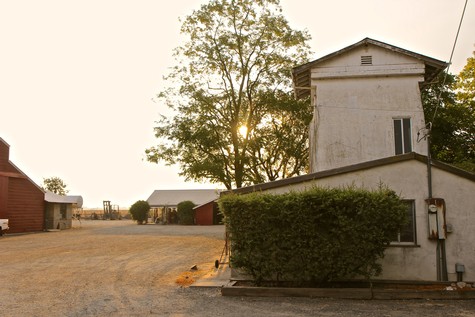 Comments