LoCA Wine Store
2014 m2 Wines Old Vine Zinfandel

A classic Lodi Zinfandel – bold, rich and complex. Tastes of velvety candied black cherry, mocha and licorice accented with dark flavors of blackberries and cassis. The texture is soft and smooth, yet the wine has a dramatic flavor. A very long and satisfying finish reveals hints of sweet plums and uplifting aromas of chocolate, coffee and vanilla.
The grapes were grown in one of the finest Zinfandel vineyards in California. Owned by fifth-generation Lodi native, Kevin Soucie, the vineyard was planted by his grandfather in 1916.
Wine Specs
Vineyard Designation
Soucie Vineyard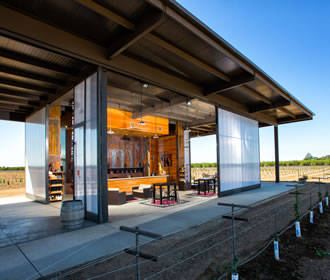 About m2 Wines
m2 creates dynamic, artisanal wines from distinctive vineyards in Lodi, Napa, and the Sierra Foothills. Our first wines were vented in 2004, and two years later, in the fall of 2006, we opened our original winery and tasting room in an industrial park in northeast Lodi. Think "industrial shabby."
We quickly outgrew that space, but it took us a few years to build a new winery. Our new "industrial chic" winery and tasting room on Peltier Road opened in January, 2014. We invite you to come visit us and experience winemaking "m2 style".