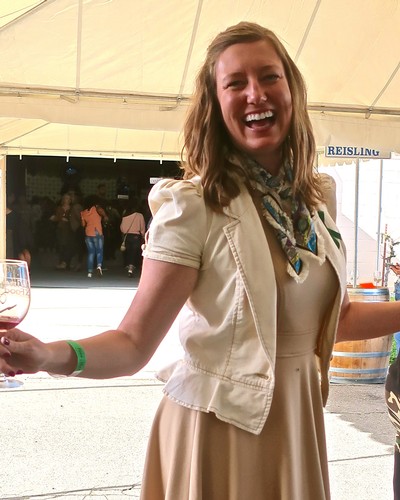 Winemakers are like everyone else. As soon as they get something done, they can't wait to show it off.
Which is why, in early April of each year, the Lodi Wine & Food Festival is the place to be if you, too, can't wait to try many of the local wineries' latest releases – especially some of the previous vintage's whites and rosés, fresh off the bottling lines.
It's also a great opportunity to see where the Lodi wine industry is at in terms of latest styles and grapes. Some of it, of course, is invariably experimental. Wineries will try out this or that idea. If it takes off, they'll stick with it. If not, they move on...
Continue »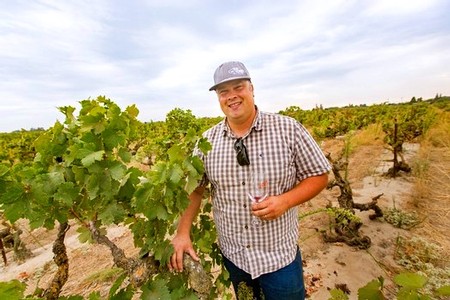 Under the Wine School tent at this year's Lodi ZinFest – taking place Saturday, May 19, 2018 at bucolic Lodi Lake Park – we will be pulling out all the stops to bring some of the wine world's most celebrated winemakers, and most cutting-edge wines, to the stage.
"Celebrated" in what way? San Francisco Chronicle, for one, has described one of our guest speakers, Turley Wine Cellars winemaker Tegan Passalacqua, as "California's great vineyard wanderer," and producer of "today's more interesting California wines." Passalacqua, a Lodi vineyard and home owner, mines Lodi for wines bottled under the fabled Turley wine label, as well as with his own personal Sandlands brand – and if there's one thing Lodi wine country is known for, it's lots and lots of sandy soil...
Continue »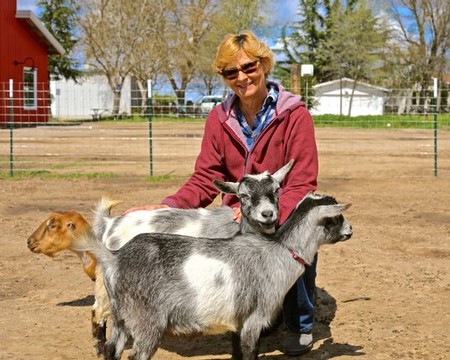 Something exciting is afoot – or shall we say, a-hoof? – at Spenker Winery, a 60-acre winery estate located on the west side of Lodi's Mokelumne River AVA.
This coming June 2018, the Spenker family will officially expand from being an estate grown winery to also being a licensed producer and seller of artisan farmstead cheeses ("artisan" defined as hand-made cheeses, and "farmstead" technically meaning that cheeses are produced only from milk raised on-property). A goat barn is already up and running; and construction of a creamery, which will share space with a new tasting room and retail space, is nearing completion as we speak...
Continue »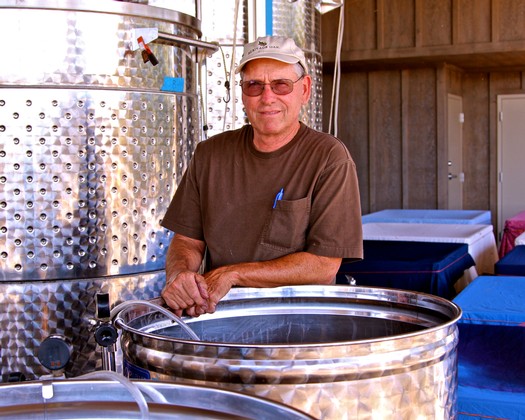 After a visit to Tom Hoffman's Heritage Oak Winery earlier this year, James Beard and Emmy award winning wine journalist Mary Orlin described Mr. Hoffman as the "Blend Master."
 
That is to say: Like all the top wine winery estates, Hoffman grows and produces varietal wines – wines labeled by the grape from which they are made (Chardonnay, Cabernet Sauvignon, Zinfandel, etc.). But more and more during recent years, Hoffman has been dabbling in wines that are blends of multiple grapes; such as his "Spanish Suite" (made from Tempranillo, Grenache and Syrah), a "Portuguese Suite" (Tinto Cão, Souzão, Touriga Nacional and Tinta Roriz), a "French Blend" (Cabernet Sauvignon, Syrah, Petit Verdot, and Petite Sirah), and few more...
Continue »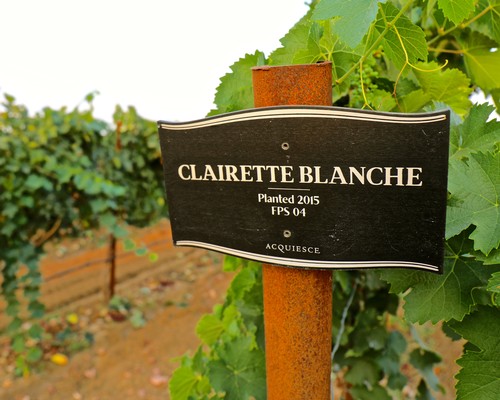 Clairette Blanche. Bourboulenc. These are the two latest white wines produced by Lodi's Acquiesce Winery & Vineyard. Never heard of these grapes? Join the crowd. We'll tell you all about them; but after that it will be up to you to get over to Acquiesce as soon as possible because less than 300 cases were made of these two outstanding varietal wines combined.
As it has been their custom since the release of their first commercial bottlings six years ago, Acquiesce Vineyards has just re-opened its tasting room doors on N. Tretheway Rd. (just south of E. Peltier) for their annual spring-to-fall run, this past Saturday, March 17...
Continue »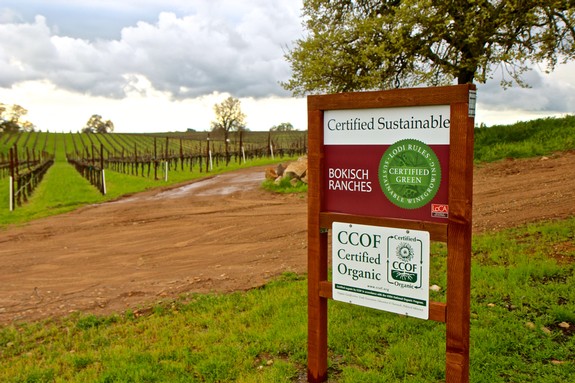 What is the difference between a wine with a sustainably farmed seal – such as LODI RULES's Certified Green, SIP Certified's Sustainable In Practice, LIVE's Certified Sustainable, or others – and one with a certified organic seal such as CCOF's Certified Organic?
Continue »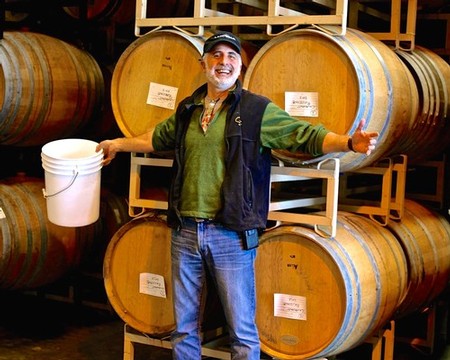 At Covenant Wines in Berkeley late last month (February 2018), winery owner Jeff Morgan laid out his two current Zinfandels, both grown in Lodi, on the table, and issued a challenge to discern the differences... Continue »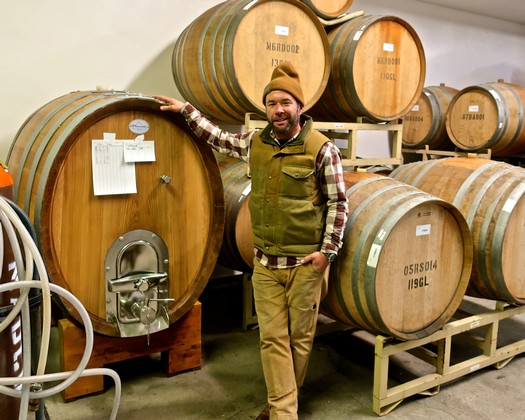 "What I enjoy seeing is people who think they know Lodi Zinfandel – they taste my Zinfandel and say, this isn't Lodi Zinfandel. Then I tell them, this is exactly what Lodi Zinfandel is."
That is what Nathan Kandler, the winemaker of Thomas Fogarty Winery & Vineyards in Santa Cruz Mountains, was saying as he was pouring his own version of Lodi's iconic varietal: the 2016 Precedent "Victors" Lodi Zinfandel ($25), sourced from an "east-side" Lodi vineyard located just north of Victor Rd....
Continue »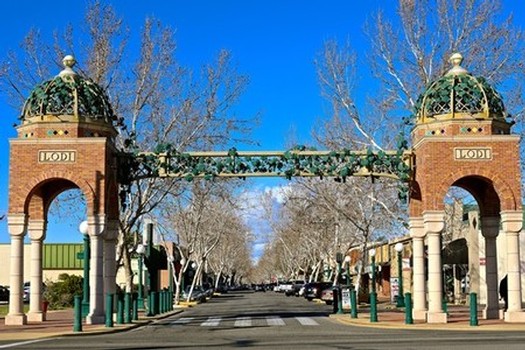 The City of Lodi, like the Lodi Viticultural Area surrounding it for 134 square miles, is built on an abiding foundation; its winegrowing industry nourished by the generosity of Mother Nature (particularly the region's mild Mediterranean climate and deep, fertile soils), and the City itself shaped by the steady hands of enterprising farmers, founding fathers and businessmen, and generations of fully invested families.
Hence, during the early 1990s when the City initiated its Central City Revitalization Plan for its original 55-acre "Old Town," visible aesthetics were prioritized as much as practical capital improvements. Construction of a Lodi Gateway (in the photo below), completed in 1997, now sits astride School St. at the corner of Lodi Avenue, ushering car and pedestrian traffic down a handsomely brick paved road into the historical heart of the City...
Continue »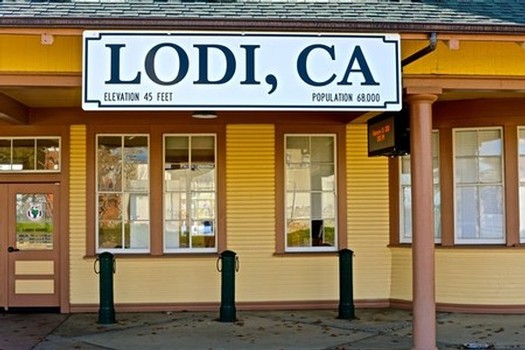 Lodi is not just America's most widely planted wine region. It is also something inextricably anchored to the City of Lodi – first settled in 1846, and incorporated in 1906 – with its own proud past, prosperous present, and even brighter future.
When the vast majority of people visit Lodi wine country today, they arrive by car. Which is a shame, since they are not stepping foot upon the platform of the beautifully restored Lodi Transit Station where they immediately learn that the City of Lodi sits at about a 45-ft. elevation, and is now home to about 68,000 residents – not exactly a tiny community, yet far from a big one. Lots of people would call that "just right..."
Continue »