Paskett Winery
Paskett Vineyards & Winery produces estate-based wines from their own carefully managed vineyards and other Lodi AVA vineyards that meet their farming and harvesting standards. They operate on the deep belief that the best wine comes from the highest quality fruit, carefully tended vineyards, hand-picked harvests, and a commitment to exceptional winemaking. From the aruduous work of tending vines to the art of winemaking, every step of the journey is important to producing exceptional wines.
Additional Details
Reserve Tastings: N/A
Group Reservation Tasting Fee: N/A
Reservations Required for Groups: Yes
Group Sizes: 8 or more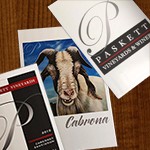 Hours: Fri - Sun, 11:00AM - 5:00PM
11070 E. Woodbridge Road
Acampo, CA 95220
Tasting Fee: $10
Yes
Yes
Yes
No
Yes
Yes
Yes
Yes
Photogallery rendered here.