Barsetti Vineyards
About Barsetti Vineyards
In the early 1900's, Gottardo Barsetti came to America from Switzerland to fulfill his dream of owning and farming his own land. That dream became a reality in 1912, when he came to Galt in the Lodi Appellation of California. After three generations, the Barsetti family continues to fulfill the vision that began over a century ago farming the land that they love with the same passion.
Gotlardo's granddaughter, Janis Varsetti Gray and her husband, Richard Gray, own Barsetti Vineyards. They raise Zinfandel and will be planting Pinot Noir on the property that Janis' father and grandfather had a successful dairy and cattle operation. After years of distributing their wines to grocery chains, they opened their new tasting room in historic Old Town Galt; an area that holds significance to Janis' family history. Our tasting room has all of our wines as well as boutique items, and local olive oils, specialty vinegars, candy treats and jellies.
Additional Details
Reserve Tastings: No
Group Reservation Tasting Fee: $5/person
Reservations Required for Groups: No
Group Sizes: 10 or more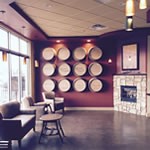 Hours: Thur & Sun 12:00pm - 5:00pm, Fri & Sat 12:00pm - 9:00pm
400 4th St., Suite 150
Galt, CA 95632
(209) 744-6062
Tasting Fee: $5.00. Refunded with purchase.
No
No
No
No
No
Yes
Yes
Yes
No
Yes
Yes
Yes
Yes
Yes
Yes
Yes
Yes
Yes
Photogallery rendered here.