Acquiesce Winery & Vineyards
About Acquiesce Winery & Vineyards
Are you ready for a Rhône awakening? Acquiesce Winery located in the Lodi Appellation of California offers award-winning premium white and rosé wines lovingly created in small batches. After selecting the best Rhône varietals, I carefully craft my unique wines: Grenache Blanc, Picpoul Blanc, Roussanne, Viognier Belle Blanc (white blend) and Grenache Rosé. My vines are sourced from the famed Château de Beaucastel of Châteauneuf du Pape, France and they show a timeless elegance fused with great fruit expression courtesy of Lodi's sandy soils and Mediterranean climate.
Acquiesce – verb: to surrender, to become quiet. Acquiesce has become our mantra -- to submit to nature, to yield to the vineyard, to acquiesce to the grapes so they present their own true character. Attention to detail reigns here with sustainable vines that are lightly watered, grapes that are handpicked and then whole cluster pressed to create wines that are both classic and traditional. For a memorable experience, these food loving wines are paired with small bites in our 100 year-old converted barn tasting room. Please join us for a taste!
Additional Details
Reserve Tastings:
Group Reservation Tasting Fee: $10 Refunded with purchase.
Reservations Required for Groups: Yes
Group Sizes: 6 or more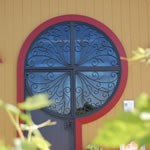 Hours: Fri-Sun 11:00am - 5:00pm
22353 N. Tretheway Road
Acampo, CA 95220
(209) 333-6102
Tasting Fee: $10.00. Refunded with purchase.
No
No
No
Yes
Yes
Yes
Yes
Yes
Yes
Photogallery rendered here.